---
Paul Mayer on 3/30 reported via e-mail: Today at Nelson Lake only one American White Pelican was seen. Alas, no Great White Pelican moving up from Florida. Other birds seen included 3 Ring-necked Ducks, about 12 Ruddy Ducks, maybe 200 coots and a few Common Mergansers.
---
Rich Miller on 3/29 reported via IBET: 2 American white Pelicans at Nelson Lake, Batavia IL.
---
Tim Balassie on 3/28 reported via IBET: Birded Oakhurst FP earlier today (Aurora) and tallied 44 species. Most interesting was a Muscovy Duck located at Lake Patterson, first I've ever seen. Actually not much else other than the expected at this time of year, altho saw my FOY IL Eastern Towhee.
---
Diane Hansen on 3/28 reported via e-mail: I have had another sighting in the category of things I don't expect in my neighborhood. My Sunday morning routine includes a walk around my neighborhood around 7:00 a.m. Yesterday I noticed an unusual silhouette in a tree as I walked along Walnut in Elgin. It was a Wood Duck perched high up in a large tree.

Wood Duck photo courtesy Diane Hansen
---
Tim Balassie on 3/26 reported via IBET: Visited a few spots yesterday in Kane. The reclamation work at Camp Tomo-Chi-Chi-Knolls (Gilberts) continues. Much of the northwest woods has been cleared out, as well as the woods south to the lodge. The work has opened-up many ephemeral ponds and some marsh areas. Seeing some of the old oaks there is well worth the visit. Had 28 species (eBird), including Golden-crowned Kinglet, Pine Siskin, Red-breasted Nuthatch and Wood Duck.

I next visited the several ponds in the Cambridge Lakes Sub-division (Pingree Grove). No Yellow-headed Blackbirds yet, but did find 30 species (also eBird), including:

Common Loon
Bufflehead
Ruddy Duck
American Wigeon
Gadwall
Ring-necked Duck
Northern Shoveler
Lesser Scaup
Blue-winged Teal
Green-winged Teal
Hooded Merganser
Tree Swallow
Eastern Meadowlark
---
Marion Miller on 3/26 reported via text: Four Red-breasted Mergansers at the tip of Boy Scout Island in St. Charles. Three males, one female. Be careful, don't step on the goose egg that's there.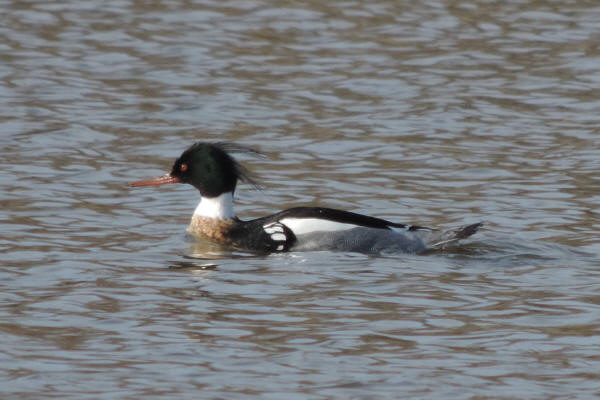 Red-breasted Merganser photo courtesy Marion Miller
---
Walter Lutz on 3/25 reported via e-mail: Seeing female Pheasants is difficult at best, so getting a photo (albeit a poor one) was unusual. At Fitchie Creek F.P.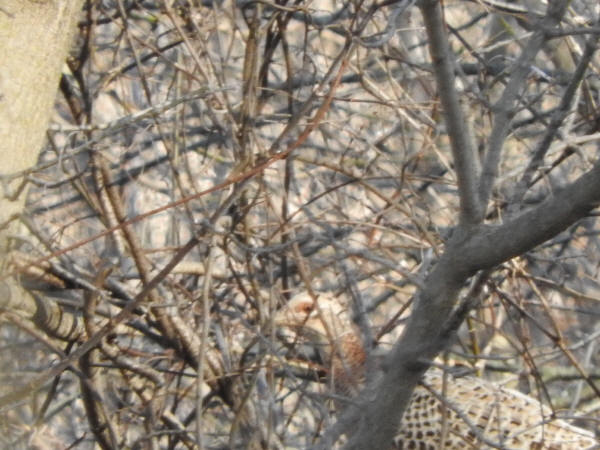 Ring-necked Pheasant photo courtesy Walter Lutz
---
Lisa Williams on 3/25 reported via e-mail: I walked around Nelson Lake this afternoon (3/25) and there was a good variety of waterfowl, plus a few decent land birds as well. Here's the list:

2 sandhill cranes (flying)
American coots – too many to count
1 pied-billed grebe
1 double-crested cormorant
Several northern shovelers
Several scaup (too far away to ID as lesser or greater)
Several mallards
Several Canada geese
6 common mergansers, displaying
1 green-winged teal
1 northern harrier
Pair of red-tailed hawks soaring together
3 golden-crowned kinglets
Numerous song sparrows
Many red-winged blackbirds
Many brown-headed cowbirds
Many European starlings
Many American robins
Many dark-eyed juncos
Several northern cardinals
1 purple finch
Heard what sounded like a Willow or Alder flycatcher but couldn't see it and didn't record the vocalization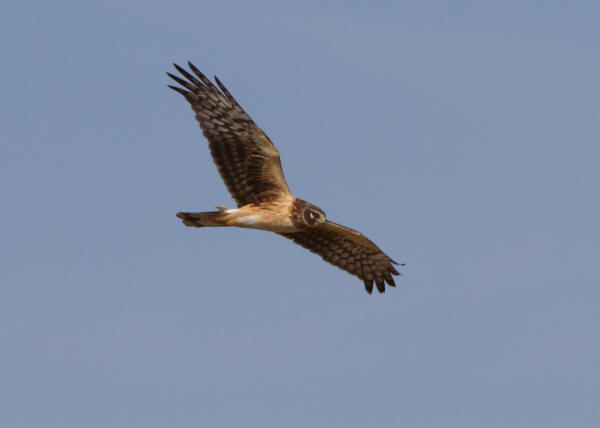 Northern Harrier photo courtesy Lisa Williams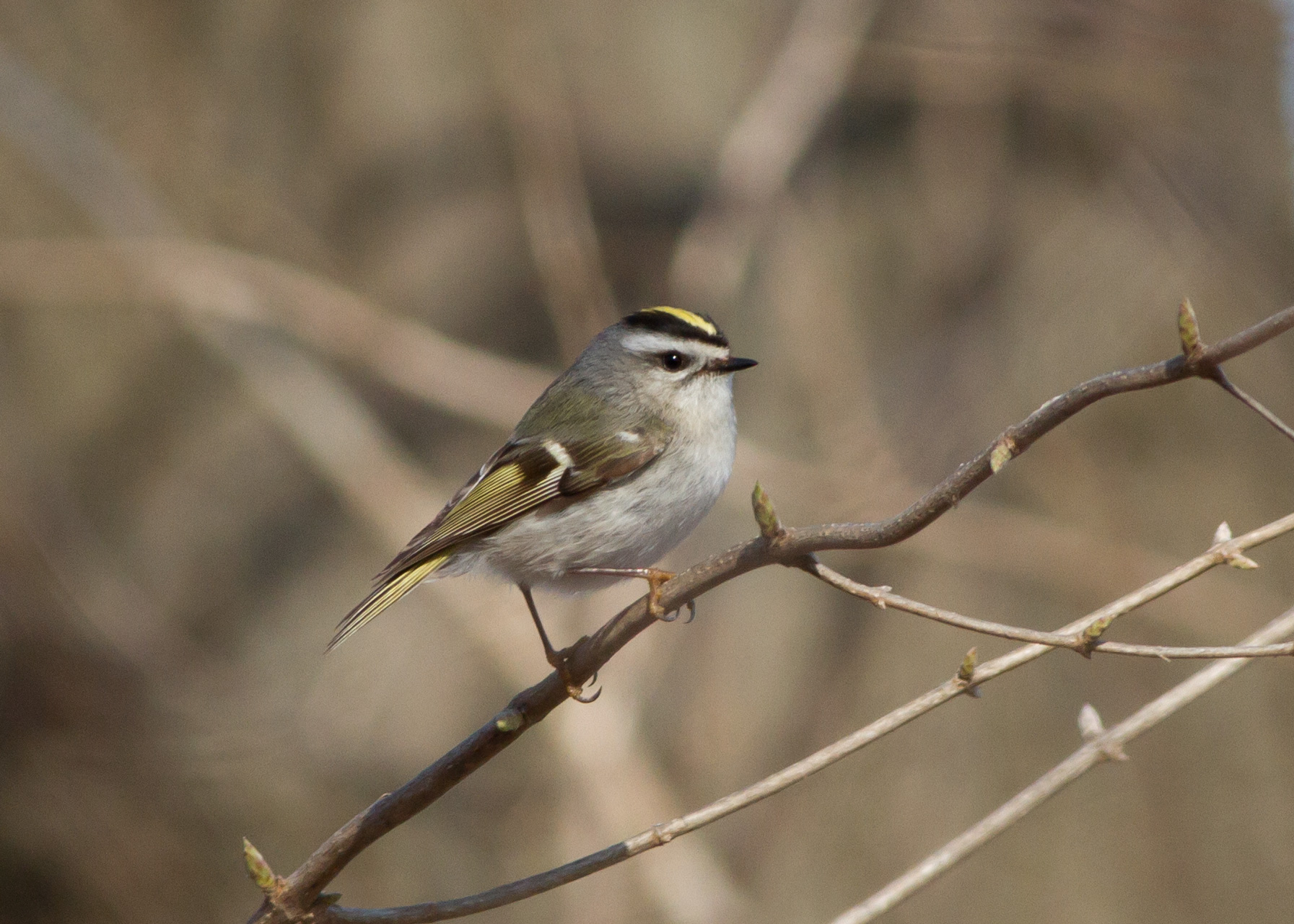 Golden-crowned Kinglet photo courtesy Lisa Williams
---
John Burke on 3/25 reported via e-mail: I am attaching a photo taken this morning at 8:30AM at Crestview park in Batavia, Illinois of Vultures I saw warming themselves at the top of the trees. There were six vultures perched together. It is the first time I have seen Vultures in this park.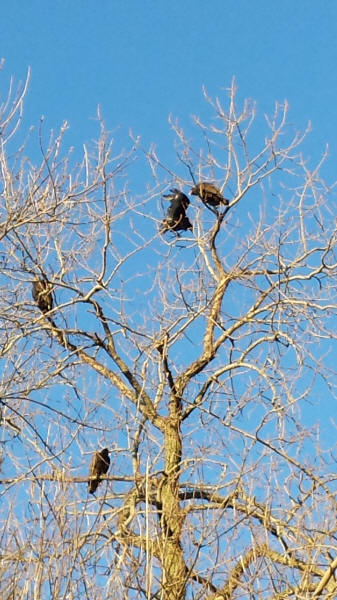 Turkey Vultures photo courtesy John Burke
---
Marion Miller on 3/25 reported via e-mail: Friday morning was a brisk, sunny and musical adventure at Gunnar Anderson. Highlights were 50, if not more, Tree Swallows hawking insects a few inches off the short grass area by the shelter, Yellow-bellied Sapsucker, Fox Sparrows, Carolina Wren, Song Sparrows, Rusty Blackbirds and Eastern Phoebe. All of them were happily vocalizing except for the Sapsucker. Lots of trees and brush have been cleared and the path along the creek to the river doesn't look the same.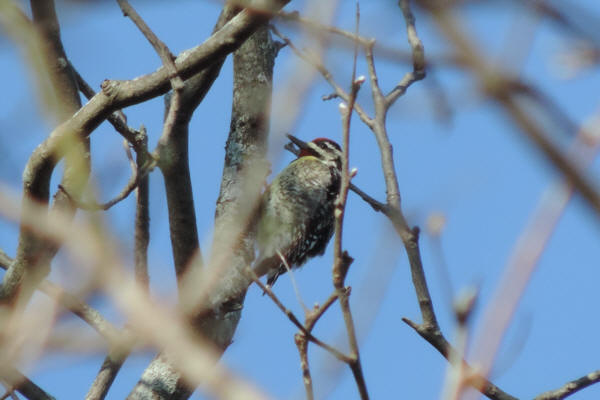 Yellow-bellied Sapsucker photo courtesy Marion Miller
---
John Heneghan On 3/23 reported via e-mail: I have done the Big Rock FP CBC the last few years. Did not see any Red Headed Woodpeckers at Camp Dean (next to BRFP) this past Dec. I was afraid they may have moved on as the folks there had removed a lot of oaks. Got a note today with a picture of a RHWP at a feeder there. Good to see.
---
Rich Miller on 3/23 reported via e-mail: I have noticed the Great Horned Owl sitting on a previously used nest near the Chicago Outlet Mall. Today I decided to stop a snap a photo. If my eyes do not deceive me, there may be two fuzzy chicks near the front. No more clues about the location.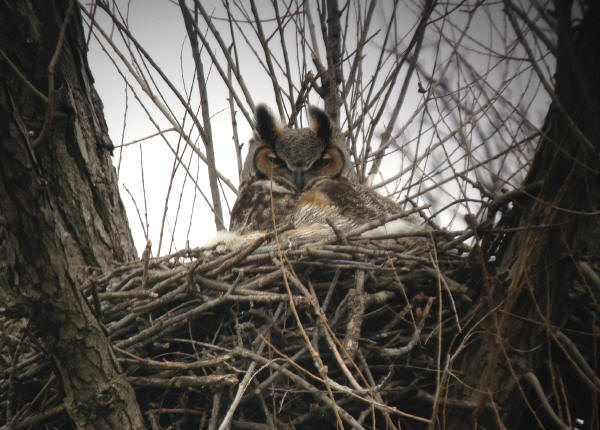 Great Horned Owl photo courtesy Rich Miller
---
Justin Wrinn on 3/17 reported via IBET: Mostly of local interest, but the Great Blue Herons are back on the rookery at Rutland Forest Preserve. I just got a brief look through the trees as I passed by on my way home from work, so I couldn't get an exact count but it looked like at least 5, possibly more.
---
Lucy DeLap on 3/17 reported via IBET: Tuesday morning I didn't see much bird life on the Fox River near the pedestrian bridge; a few Canada Geese, some Mallards and a couple of gulls.

Wednesday morning (and again today), thousands of tree swallows were swooping and diving along the Fox from Barrington Avenue all the way up to the Main Street bridge.
---
Tim Balassie on 3/17 posted on IBET: Ibeters,

Many of you on this list visit the Dunteman Turf Farm complex in Kaneville (Kane Co) during spring and fall migration. As related to IBET two weeks ago by Justin Wrinn, Dunteman has posted new restricted access signage at the entrance to Bateman Rd. Please note that Bateman remains a public road.

That being said, the signage was posted for a reason. Dunteman is experiencing too many trespassing issues, some of which have been the result of birding/photography activity. I have contacted Dunteman in an attempt to smooth things over, and to try to liaise with the effected birding community. To this end I respectfully request that birders observe the following:

1) Please do not trespass on Dunteman property. Bateman Rd. ends at the old farmstead on the north end of Bateman. Do not proceed further than the mailboxes on the east side of the road. Do not turn around in the driveway – do a three-point turn.

2) Please do not leave the right-of-way and walk onto Farm property. Kaneville puts right-of-way at 33' from crown of road. Do not trespass onto the turf fields; stay on public property.

3) To minimize congestion and limit shoulder damage please stay to the right (east) side of Bateman.

4) Bateman is the principle access point for Dunteman ops. Please be mindful of heavy equipment usage. Do not set-up in the middle of the road, and please leave enough room on the road for the movement of Farm vehicles – don't force them onto the shoulder where increased damage will occur.

I do not want to see access to this site restricted. Please be mindful of Bateman Rd usage and respectful of property boundaries and I am sure we will enjoy this site for years to come.
---
Oliver Burrus on 3/16 reported via eBird: Swallows on the Fox River in Carpentersville. Three hundred Tree Swallows and at least 2 Bank Swallows.
---
Tracy Finnegan on 3/16 reported via e-mail: Yesterday around 5pm We stopped at the first pond just west of Deerpath on the north side of Tanner
There were a dozen northern shovelers, two female and one male bufflehead ducks, a coot, mallards and Canadian geese. The nice thing was they were easy to see up close since the road is closer.
We went to Nelson lake afterwards. Over two hundred coots, ducks, buffleheads, shovelers, etc., flock of 50 redwing blackbirds, two sandhills, but they are farther away and hard to get really nice photos.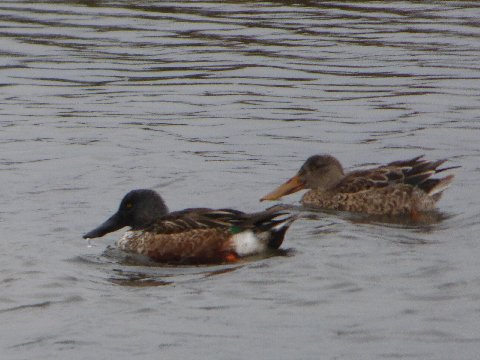 Northern Shovelers photo courtesy Tracy Finnegan
---
Justin Wrinn on 3/15 reported via IBET: I had at least 700 Sandhill Cranes pass over my workplace in west Huntley on my afternoon break today around 3:00, and I have seen hundreds more out the window passing by throughout the afternoon - well over a thousand total. Unfortunately no white ones, but I keep hoping...
---
Mike Optie on 3/15 reported via e-mail: It is 2:45 P.M. on Tuesday, March 15, 2016! I am, again, seeing large flocks of Sandhill Cranes over the Northeast corner of Elgin…..vicinity of I90 and Route 25 (Dundee)! Beautiful sight!
---
Marion Miller on 3/14 reported via e-mail: Noticed 2 male Buffleheads on the Settler's Hill Golf course ponds (Batavia) as we drove by on Fabyan.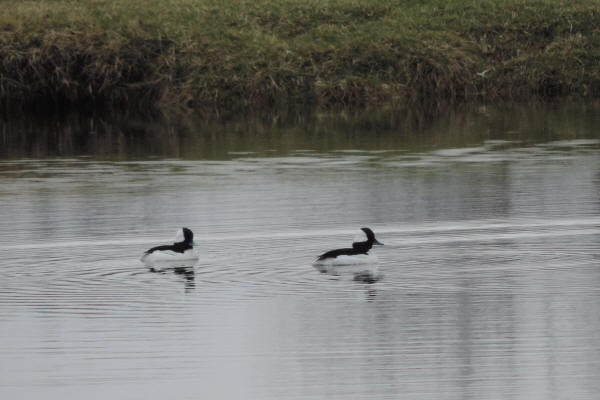 Buffleheads photo courtesy Marion Miller
---
Brendon Lake on 3/14 reported via IBET: ...I decided to stop over again at the Stonegate subdivision on Allen Road in Hampshire. I was a little disheartened to not hear a Western Meadowlark immediately upon arrival, as is often the case when they are present and singing. But not even a minute later one flew into a nearby tree and began to sing loud and clear. I swear, these meadowlarks are getting more and more cooperative every year! It is a great opportunity to see, and hear, the differences between the two meadowlarks, as both are present throughout the spring at this location. One somewhat discouraging thing about today's visit, is a guy was running his dog through the grasses where I am nearly convinced these birds are breeding in the summer. Please stay on the roads when viewing.

Stonegate is on the north side of Allen Road, west of State Street in Hampshire.
---
Wes Sadler on 3/13 reported via e-mail: When to Oakhurst F.P. with my Dad on Friday where he took a photo of a Muscovy Duck. I assume its the same one that was seen on the lake last fall.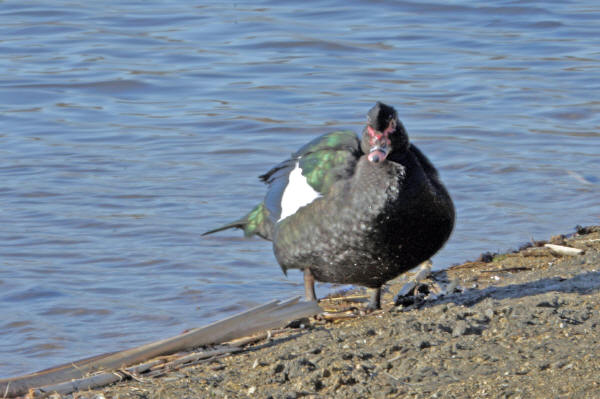 Muscovy Duck photo courtesy Wes Sadler
---
David Philips on 3/13 reported via IBET: Right near dusk on Sunday [at Grunwald Farms Forest Preserve] there were tons of Ring Necked Ducks and at least several pairs of Redhead. All were visible from the first parking lot, near North Lorang road.
---
Eric Secker on 3/13 reported via IBET: Although there have been a few Yellow-rumped Warblers showing up various places, Sally and I were surprised to walk out the front door this morning to see two in our crabtrees including one that was singing away. I wish I could say that it was a sign that the rest of the warblers are on the way, but sadly that's not the case...
Lots of other birds have started up in song as well including House Finches, Northern Cardinals, Song Sparrows, Red-winged Blackbirds, White-breasted Nuthatches, Dark-eyed Juncos, robins, and others. These warm sixty degree evenings have also made for easy and enjoyable listening for woodcocks. I had at least four calling just around the parking lot area at Jelke Creek in Kane Co.
---
Walter Lutz on 3/12 reported via e-mail: Sandhill Crane at Burnidge F.P. today.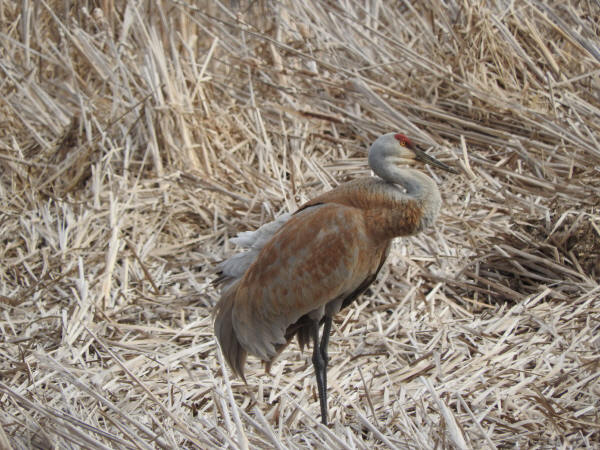 Sandhill Crane photo courtesy Walter Lutz
---
Friday, March 11 was a large-scale Sandhill Crane migration day: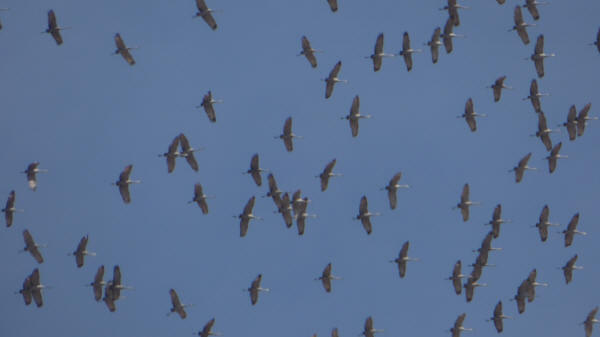 Migrating Sandhill Cranes photo courtesy Tracy Finnegan
Tracy Finnegan, Mike Optie and Ella Mae Goshen via e-mail and Christopher Cudworth and Lucy De Lap via IBET all reported flocks of Sandhills flying over the Fox Valley.
John Hernandez via eBird reported one Whooping Crane with a flock of Sandhills above Algonquin.
---
Sue Wagoner on 3/10 reported via e-mail: After hearing of recent sightings at Nelson Lake, Pat Prieditis and I took a short walk heading south and west from the overlook. It did not take long to see two welcomed species, signs that spring is indeed on the way. After a long personal hiatus from that area, I vow to revisit soon and often! We had two noisy Sandhill Cranes fly over us, and saw another dozen flying over the area and we saw at a distance at least 6-10 Rusty Blackbirds.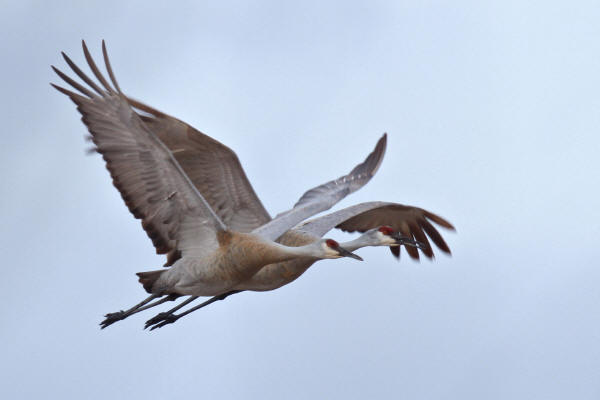 Sandhill Cranes photo courtesy Sue Wagoner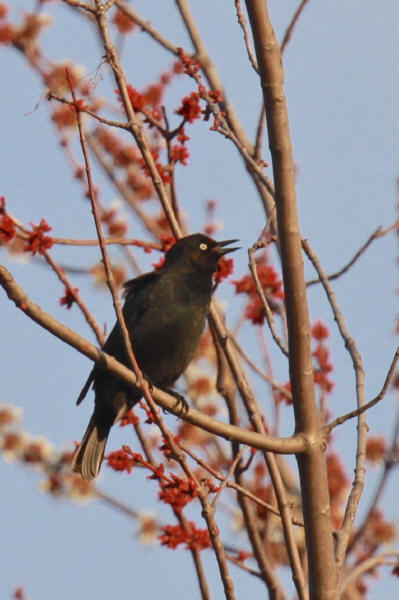 Rusty Balckbird photo courtesy Sue Wagoner
---
Clifford Brown on 3/10 reported via e-mail: His first Eastern Bluebird of the season seen at Tekakwitha Park.
---
John Duerr on 3/9 reported via phone: At 8:40 AM, qt Oakhurst Forest Preserve on the bike path along 5th Avenue, west of the garden plots, at least 50 Common Redpolls.
---
Diane Hansen on 3/8 reported via e-mail: The last thing I expect at 7:30 a.m. on my way to do some pre-Jazzercise birding is a Turkey Vulture on a single-story house in my neighborhood. That was an eye opener. Made it to Burnidge and found 6 or 7 American Wigeon before I had to run off to work out.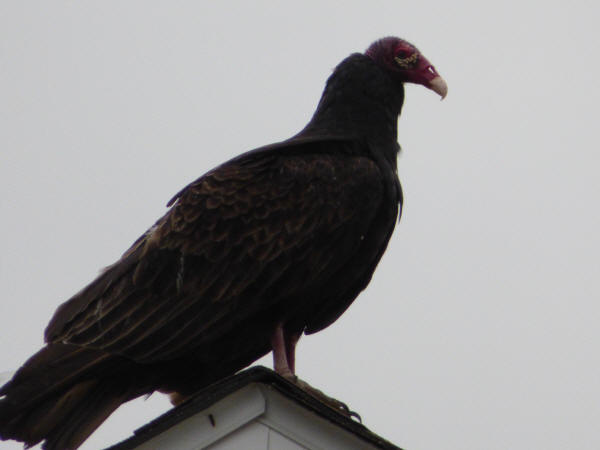 Turkey Vulture photo courtesy Diane Hansen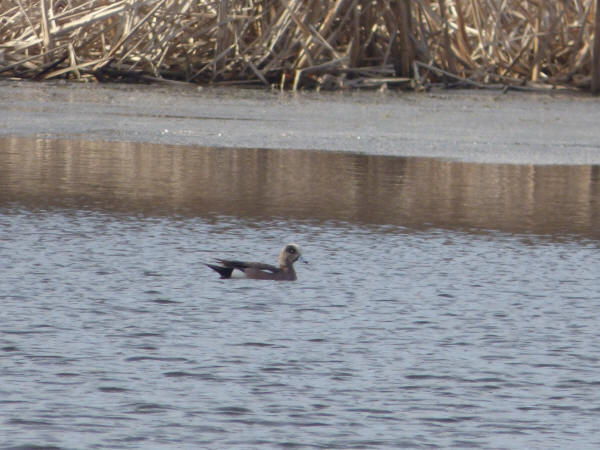 American Wigeon photo courtesy Diane Hansen
---
John Gaglione on 3/8 reported via e-mail: I am not a birder but I have spent a great deal of time outdoors camping, fishing, hiking and hunting. My experience is in IL, WI, UT, MI, VT, TX, MO, CA and Ontario Canada. So I am no stranger to viewing animals and birds. I live on the west side of Aurora. I got home from work a little early today and was sitting on my back deck with my bird dog. He was fixed on something in the sky and was softly whining and on point. When I looked up I was surprised to see 6 or 7 low flying raptors circling and cruising. I did not have my camera but I am as sure as I can be they were Turkey Vultures. I've never seen them in this part of IL let alone in Aurora. Dark brown feathers, wing span of about 6 feet, light brown to tan under wings, bright red heads. They were a little too high to see their eyes or talons.
---
Debbie Wisser on 3/6 reported via e-mail: After birding at Burnidge this morning, and not seeing much, I made a quick drive through the Highland Woods subdivision. I saw a large flock of Canada Geese on the West side of the subdivision near the grade school. I stopped to scan, and saw 12 Greater White-fronted Geese, but there may have been more. I don't like to linger too long when I'm in a residential area.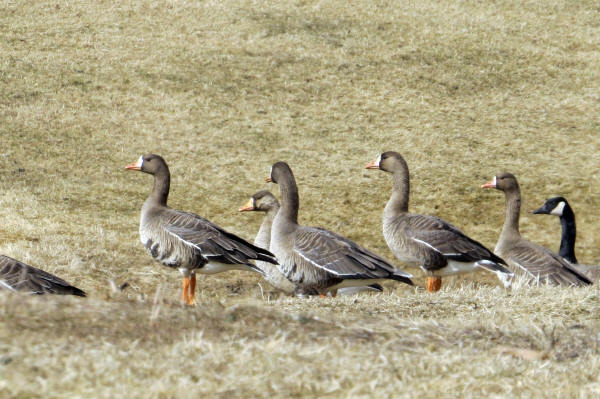 Greater White-fronted Geese photo courtesy Debbie Wisser
---
Diane Hansen on 3/6 reported via e-mail: This Great Horned Owl was seen on the Kane County Audubon walk at Nelson Lake Saturday morning and was one highlight of the 39 species seen.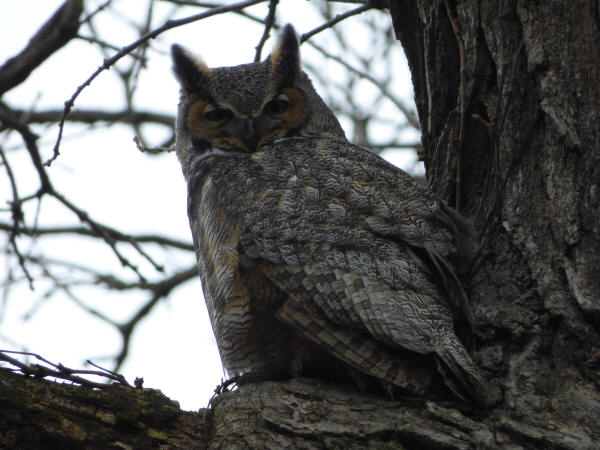 Great Horned Owl photo courtesy Diane Hansen
---
Walter Lutz on 3/6 reported via e-mail: 2 Sandhill Cranes hanging out at the Pingree Grove Water Treatment Plant.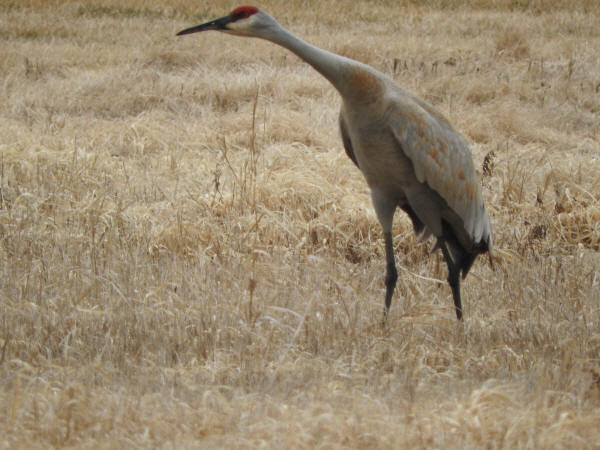 Sandhill Crane photo courtesy Walter Lutz
---
Wes Sadler on 3/5 reported via eBird: Viewing a Brown Thrasher at Oakhurst Forest Preserve.
---
Debbie Wisser on 3/4 reported via eBird: Spotting a Black-crowned Night-Heron at Fabyan Forest Preserve.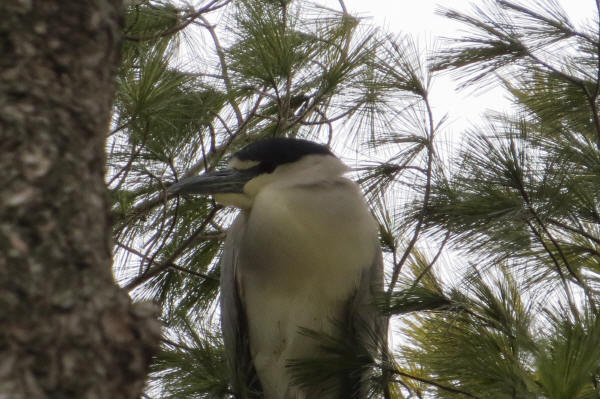 Black-crowned Night-Heron photo courtesy Debbie Wisser
---
Clifford Brown on 3/2 reported via e-mail: A Mute Swan seen at Fabyan Park "brooding on the charmed wave" as Milton so well said it.
---