John Baker on 5/29 reported via e-mail: The (red-necked) phalarope was still there at 8 p.m. on Monday night. (5/29) It was easy to spot on the north side of the fluddle sort of toward the west. Also, I spotted a Whip-poor-will from the bike path near the Windings community center (located off Empire Road in Campton Township) about 9 p.m. on Sunday night (5/28). I was looking for Screech Owls, however, of which I found zero.
Steve Smith on 5/29 reported via IBET: There was a female Red-necked Phalarope at the Kaneland fluddle (Keslinger and Dauberman intersection west of Geneva) Monday afternoon. Also about a dozen semipalmated sandpipers and some spotted sandpipers. The phalarope was feeding in the puddles and occasionally moved from one puddle to another by walking across the mud. Phalaropes walk funny. The bird's legs are thin and short in comparison to body size, and positioned a little too far back to walk gracefully. She carried herself a little bit breast high, somewhat like a duck. Her little legs took short quick steps. "Twinkle toes" may be an appropriate description.
Chris Madsen on 5/28 reported: Persistence and patience paid off, finally producing the (Jack) Pomatto Prothonotary Warbler at Lippold Park in Batavia this morning. On my fifth attempt, at least, to locate this little guy we hit paydirt by waiting maybe a half hour along the shoreline. First he called upstream, then across the river (probably from the islands), then downstream, and finally about 50 feet to our north. We never saw him fly the whole time. When we moved upstream he was calling and flitting about 10 feet above our heads right on the river's edge.
Jon Duerr on 5/23 reported via e-mail: At Big Rock Forest Preserve, at least 4 singing Connecticut. a Hooded W, Scarlet Tanager, and 3-4 Yellow-billed Cuckoos. Also had Redstarts, Blackpolls and Rose-breasted. These were in the forest and its edges north of suspension bridge
Scott Cohrs on 5/23 reported via IBET: This morning I had 3 Connecticut Warblers during a 15 minute walk at Norris Woods in St. Charles. What was even more amazing is that each one sat on an exposed branch and allowed me to watch them sing for several minutes. I wouldn't say I got tired of looking at them, but it might be the first time I've walked away from a Connecticut without any frustration.
The first bird was at the bottom of the hill while the other 2 were along the bike path about 200 yards further north up the river. The spot at the bottom of the hill has been consistently productive for Connecticuts over the past few years. This is the 4th year in a row that I have had a Connecticut within approximately 50 yards of that area. The dates are pretty consistent too, all occurring between May 21st and 23rd. It's almost become a personal 'drive through' for my Connecticut Warbler each spring. Other warblers present this morning were several Blackpolls, Chestnut-sided, and Tennessee. I believe I heard a distant Wilson's but never chased it down.
There is a pair of Prothonotary Warblers that are probably nesting at the far north end of the bike trail at Norris. I had them back on May 5th, and again on the 14th and 15th. I haven't checked on them since, but Jon Duerr had them recently.
Eric Secker on 5/22 reported via IBET: ...We stopped at Keslinger Pond on Sunday afternoon and had a WHITE-RUMPED SANDPIPER, along with a DUNLIN, SEMIPALMATED SANDPIPERS, LEAST SANDPIPERS, SEMIPALMATED PLOVERS, LESSER YELLOWLEGS, and other regulars. The pond is located on Keslinger Rd. (west of RT 47 in the town of Elburn) just west of Dauberman Rd.
Jack Pomatto on 5/21 reported via e-mail: Today had a different mix of warblers at Lippold Park than last week, with the most noteworthy birds being one or two Mourning Warblers ( well seen for a skulker ), the second bird was seen 100 yards from the original Mourning. The Prothonotary Warbler was singing from the same island as last week, possibly indicating a breeding attempt. Twelve species of warblers were observed today.
Chris Madsen on 5/20 reported: While grilling in the back yard in St. Charles last night, we were serenaded by Common Nighthawks, Chimney Swifts, and the neighbor's dog. Argh!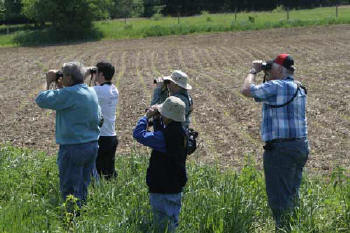 Grunwald FP birders photo courtesy of Dennis Walz
Leo Miller on 5/18 reported via IBET: About 2pm we stopped at the fuddle/wetland area on the north side of Keslinger Rd just west of Dauberman Rd. The shorebird habitat there is excellent! We saw 3 SEMIPALMATED PLOVERS, about 20 peeps (mostly LEAST SANDPIPERS and fewer SEMIPALMATED SANDPIPERS), 6 DUNLIN, 1 LESSER YELLOWLEGS, 1 SPOTTED SANDPIPER and 2 GREATER WHITE-FRONTED GEESE.
Jack Pomatto on 5/18 reported via e-mail: Today the numbers and variety of warblers was low at Lippold Park, but the noteworthy birds included Prothonotary Warbler singing repeatedly on the islands in the river (also flying between islands), and Canada Warbler skulking in the Honeysuckle. The Prothonotary Warblers have been nesting or attempting to nest on islands in this area for at least the last five years. Ten species of warblers were recorded today.
Jack Pomatto on 5/16 reported via e-mail: This morning at 9:00 A.M. a male Black-throated Blue Warbler was seen and heard singing enthusiastically at the north end of Lippold Park, right off of the bike path just south of Glenwood F.P. The bird was working between 10 and 15 ft. above the ground. Nine species of warblers were observed along with three species of thrushes and their haunting songs.
Chris Madsen on 5/15 reported: A late season Hooded Merganser on the Fox north of the bridge near the water lilies(?) at Fabyan Forest Preserve.
Jon Duerr on 5/13 reported via IBET: We found the Blue Grosbeak where Ann Haverstock described in Big Rock Forest Preserve. To clarify my post of last night, when crossing the suspension bridge find a dirt path on the left of the north side of the bridge. Travel approx. 120 yd and listen for the bird on the left of the path.
Jon Duerr on 5/12 reported via IBET: Ann Haverstock found a singing male Blue Grosbeak at the Big Rock For. Pres. at 10:00 A M Saturday. Also numerous migrants including Mourning Warbler. Park in the parking lot at the entrance and walk north to the suspension bridge. Crossing the bridge follow an unpaved path north, off the gravel path which goes east. Then start looking.
Participants on the 5/12 Nelson Lake birdwalk: saw a Bald Eagle on the south end of the lake. Other birds of note included Bobolinks in the fields on the west side and Broad-winged Hawk near the parking lot.
Jack Pomatto on 5/11 reported via e-mail: This morning at Lippold Park, North Aurora, was a beautiful day for birders, but only fair for observing migrants. Eight species of warblers with a female Pine Warbler being most noteworthy, numerous Chestnut-sided Warblers and Northern Waterthrushes. Other species of note Wood and Swainson's Thrushes.
Matt Singer on 5/10 reported via IBET: Today around 11:00, we had 18 little Wood ducklings drop from a nest box right outside our office at the Max McGraw Wildlife Foundation's education center. We had a group of kids ending class which scared the mother off, but soon after the school group left, the mother returned for her chicks. One late chick fell from the nest around 4:00 and we brought it down to one of the ponds where we found the mother and the rest of the ducklings. The chick has rejoined its mother and siblings. Awww. How cute!
Matt Singer on 5/10 reported via IBET: I saw a Bay Breasted Warbler at the Max McGraw Wildlife Foundation (Ed: between Elgin and Dundee on Route 25) yesterday. My warbler sightings also included an American Redstart, Black-and-whites, a Blackpoll, and a Pine Warbler.
Chris Madsen on 5/8 reported: While searching unsuccessfully for a Prothonotary Warbler this afternoon at Lippold Park south of Batavia, I came across a Louisiana Waterthrush. The bird was working the shoreline just north of the tree line that defines the north meadow.
Jack Pomatto on 5/8 reported via e-mail: This morning along the Fox River Trail in Jon Duerr F.P. and Tekakwitha F.P. 11 species of Warblers were observed. The highlights were Golden-winged and Bay-breasted Warblers. The southerly winds brought us more variety here than we have had earlier in the month.
Julie Long on 5/8 reported via e-mail: Sightings on the bird count, May 5, at Ferson Creek Fen were 1 osprey, 4 n. waterthrush and 1 La. waterthrush, 1 wilsons warbler.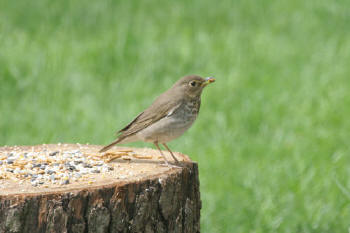 Swainson's Thrush photo courtesy of Sue Wagoner
Sue Wagoner on 5/6 reported via e-mail: A couple of Swainson's Thrushes were at my feeder in Aurora. Also 2 ovenbirds in my yard and a house wren.
Karen Land on 5/6 reported via IBET: I had a single male Rose Breasted Grosbeak at my feeders yesterday (5/5) afternoon. He went to each of my feeders and then disappeared into the brush line.
Jack Pomatto on 5/3 reported via e-mail: Birds seen today at Tekakwitha and Jon Duerr F.P. were Red-headed Woodpecker, Red-eyed Vireo, Baltimore Oriole, N.Waterthrush, Black and white Warbler, as well as the early Yellow-rumped and Palm Warblers. This week I have seen Broad-winged Hawks at four sites along or near the Fox River.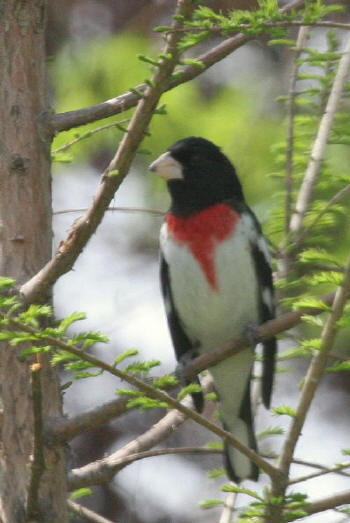 Rose-breasted Grosbeak photo courtesy of Sue Wagoner
Nora Yoshimura on 5/3 reported via IBET: 4 Killdeer hatched on the flat roof on our worksite in Elgin. We are enjoying watching the babies and parents. There is some standing water on the roof. This morning there was also a house finch and a starling getting a drink. The Killdeer drove the starling away.
Jeff Skrentny on 5/2 reported via IBET: Identified 20 species during a brief visit to Nelson Lake on Sunday, April 29. Most notable were Ring-necked Duck, American White Pelican, Double-crested Cormorant, Great Blue Heron, Green Heron, Northern Flicker, Eastern Kingbird, Tree Swallow, Barn Swallow, Sedge Wren, Eastern Bluebird, Yellow Warbler, Eastern Meadowlark.
Bob Andrini on 5/2 reported via e-mail: More newcomers are arriving in our backyard: White-crowned Sparrows, Rose-breasted Grosbeak, and Chipping Sparrows add to this years yard list.
Sue Wagoner on 5/2 reported via e-mail: A Rose-breasted Grosbeak in her yard, at her feeder.