Jeff Smith on 5/31 reported via IBET: (At Sauer Family Preserve in Kane County) at least 6 Wilson's Phalaropes, 2 White-rumped Sandpipers, and 2 Black Terns were seen as well as many of the same shorebirds reported by others. In addition, 2 Upland Sandpipers were heard and 3 Sandhill Cranes gave a low flyby. Dickcissel was a new year bird for me.
Bill Koch on 5/31 reported via e-mail: Not that uncommon in Kane County but I haven't read many reports on them so I thought I would post this.
I hear and see Horned Larks outside my window on a daily basis. I believe there are 4 of them that run around the empty lots by my house on the West side of Elgin. Not a rare bird but it is nice to hear their subtle little song while sitting on the porch. Must be nesting somewhere near. Have not seen any Fledglings yet.
Jack Pomatto on 5/30 reported via e-mail: Today 5/30/08 at Ferson Creek Fen on Rte. 31 north of St. Charles a brief walk on the boardwalk produced 2 Canada Warblers and a Wilson's Warbler, as well as an Alder Flycatcher. A furry sighting was a mink just off of the boardwalk.
Yesterday at Binnie F.P. a short walk contributed another Canada Warbler, a Mourning Warbler, and an Alder Flycatcher.
Bill Saylor on 5/28 reported via IBET: At 1pm today (5/28) at least 2 Wilson's phalaropes were still at Sauer-Prairie Kame FP in Kane Cty. There were probably 3 as I saw 1 male and probably 2 females. A ruddy turnstone was also present. Other birds of note were dunlins (20+), semipalmated plovers (6+), semipalmated sp's (12+), pectoral sp's (10+), and a western meadowlark.
Aaron Nolan on 5/28 reported via IBET: At Max McGraw Wildlife Foundation this morning I heard, then saw my first BLACK-BILLED CUCKOO of the year. Another FOY included a first year male and a female ORCHARD ORIOLE. And my last FOY this morning was a CONNECTICUT WARBLER.
Julie Long on 5/27 reported via IBET: This morning I nearly stepped on a mourning warbler which had probably hit the window on my front porch. It was alert but let me pick it up in order to put it in a paper bag for a little warmth and quiet. After a bit I put the bag in a sunny spot on my back porch and watched him walk out. He sat for quite a while and posed for pictures. I had to leave so decided to leave him in his protected spot. My husband checked on him after a half hour and he was gone, hopefully continuing on his journey. That was one of the few warblers that I did not have on my yard list!
Jeffrey Sanders on 5/26 reported via IBET: today, monday, rena cohen and i went exploring in the wild west.
at sauer family kame f.p in kane county we had all the same species as doug stotz except for the baird's. some of our numbers varied slightly.
big rock preserve in kane county--orchard oriole and cerulean warbler.
Doug Stotz on 5/26 reported via IBET: Numbers of shorebirds at Sauer Family preserve mid-morning were pretty good, certainly up from the numbers that Christopher Cudworth reported yesterday. I had 13 species as follows; 8 KILLDEER, 27 SEMIPALMATED PLOVERS, 1 LESSER YELLOWLEGS, 4 SPOTTED SANDPIPERS, 1 RUDDY TURNSTONE, 50 SEMIPALMATED, 22 LEAST, 14 WHITE-RUMPED, 1 BAIRD'S, 9 PECTORAL SANDPIPERS, 12 DUNLIN, 3 SHORT-BILLED DOWITCHERS, and 8 WILSON'S PHALAROPES. One thing I found was that birds disappeared and reappeared among the grass and mud clumps. I was doing my last sweep of the area when the Turnstone magically appeared. I also saw 2 BLACK TERNS, a dozen BLUE-WINGED TEAL, and a number of grassland birds including BOBOLINK, SAVANNAH, VESPER and GRASSHOPPER SPARROWS and both meadowlarks.
After I left Sauer, I visited a variety of sites, but had trouble finding much of interest. I saw only 9 species of warblers. Highlights were a SORA along Tabler Rd., SEDGE WREN and ORCHARD ORIOLE at Nelson's Lake, WILLOW and ALDER FLYCATCHER, and 2 MOURNING WARBLERS at Lone Grove Forest Preserve, a OLIVE-SIDED FLYCATCHER at Bliss Woods, and a at Hanaford Woods (in the grassland to the west). I ended with 100 species even in Kane County for the day.
Ari Shavit on 5/26 reported via IBET: I Went to see the Wilsons Phalaropes at Sauer this afternoon. there were three Black terns flying around, very nice. The Phalaropes are still there.
Christopher Cudworth on 5/25 reported via IBET: Sandpiper numbers were down (at Sauer family Prairie) this morning (Sunday) at 6 -7:30 a.m. However there were still 10 Wilson's Phalaropes, 4 pectoral, 4 semipalmated sandpiper, 4 spotted sandpiper, 7 least sandpiper, 15+ dunlin, 10+ killdeer. I still have to go through some of my photos to sort out some of the other peeps. The Wilson's Phalaropes are worth the trip.
Gloria Dimoplon on 5/25 reported via e-mail: There was an Olive-sided Flycatcher at Burnidge F.P. Thursday (May 22) and again on Saturday (May 24). From the parking lot walk along the gravel/paved path to the far end on the pond. Look for a dead tree just before the path turns into the woods. The bird was perched at the top of the tree.
Darrell Shambaugh on 5/24 reported via IBET: I went to Red Oak Nature Center about 1:00 PM Saturday. (Kane County on Route 25 between North Aurora and Batavia) There were lots of neat birds there. On the Dolomite Trail along the Fox River an OLIVE-SIDED FLYCATCHER was in a dead tree. The path took a little turn and came out of the woods and there was the Olive-sided Flycatcher so close I could see its eyes without binoculars. I watched it for about 15 seconds, hoping for little song, but it flew away in silence. At least two WOOD THRUSH were singing, and a male SCARLET TANAGER made an appearance. A male ROSE-BREASTED GROSBEAK, an EASTERN PHOEBE, an EASTERN WOOD PEEWEE, 2 RED-EYED VIREOS, a couple BALTIMORE ORIOLES, and 2 SWAINSON'S THRUSH were there. I stood in the flight path that a BLACK-CAPPED CHICKADEE was using to take food to a nest. It flew past at eye-level several times, going to a particular bush overlooking the river and then zooming back into the woods, landing about 12 feet up on a tree. Warblers included BLACKBURNIAN, BLACKPOLL, TENNESSEE, CHESTNUT-SIDED, MAGNOLIA, YELLOW, and AMERICAN REDSTART. There are a lot of CEDAR WAXWINGS along the Fox River in this area. A COMMON NIGHTHAWK flew over about 3:30 PM.

I stopped at Sauer Family Prairie Kame Forest Preserve to check the shorebirds and, hopefully, find a Henslow's Sparrow. There were GRASSHOPPER and VESPER SPARROWS, but no Henslow's. Some of the Red-winged Blackbirds were doing a call that sounded kind of like the first part of the Henslow's hiccup, but inspection through binoculars revealed a 9" black bird with red and yellow epaulets. Shorebirds included 14 DUNLIN, 13 WILSON'S PHALAROPES, 2 LESSER YELLOWLEGS, 4 SEMIPALMATED PLOVERS, about a dozen LEAST SANDPIPERS, 2 SPOTTED SANDPIPERS, and some KILLDEER. About 8 BLUE-WINGED TEAL and some MALLARDS were on the ponds. I couldn't find Scott's funny duck.
AmarAyyash on 5/24 reported via IBET: I was able to sneak away late this afternoon. In fear of the Phalaropes moving on tonight with the south winds predicted, I decided to bird Sauer Family Prarie in Kane County rather than wait until tomorrow. Thanks for the perfect directions Scott.

6+ Wilson's Phalaropes (males and females)
2 White-rumped Sandpipers (thanks Paul)
1 Stilt Sandpiper
4 Spotted Sandpiper
7 Least Sandpiper
8 Semipalmated Sandpiper
7 Semiplamated Plovers
15 Dunlin
8 Killdeer
4+ Lesser Yellowlegs
5 American Pipits
4 Horned Larks
1 Vesper Sparrow
2 Savannah Sparrow
1 Grasshopper Sparrow
2 Western Meadowlark
1 Eastern Meadowlark
Tami Stencel on 5/22 reported via e-mail: This morning (May 22, 2008) I saw two adults with one young Sandhill crane on Fabyan Parkway. They were a short distance from the road--just northeast of the spot where Fabyan Parkway ends, west of Batavia. I've seen other sandhill cranes near this spot before, but I never had the thrill of seeing a little one before.
Scott Cohrs on 5/22 reported via IBET: Mike Madsen and I covered 3 different spots in Kane County on Thursday.
Highlights from each spot are listed below.

Big Rock FP:
N. Parula
Canada Warbler
Cerulean Warbler
Bay-breasted Warbler
Lincoln's Sparrow
Acadian Flycatcher
Bobolinks
Veery
Gray-cheeked Thrush
Blue-headed Vireo

Sauer Family Prairie:
1 Black-bellied Plover
60+ Dunlin
1 (possibly 2) White-rumped Sandpipers
10 Wilson's Phalaropes (this may be a low count, they were everywhere as we walked around the lake)
Several Am. Pipits
Bank Swallows
Bufflehead
Green-winged Teal
1 very interesting hen duck

Aurora West:
Canada Warbler
Palm Warbler
Bobolinks
Olive-sided Flycatcher
2 Clay-colored Sparrows
Sue Wagoner on 5/21 reported via e-mail: After returning from a visit to Magee Marsh, Ohio (Warbler Wonderland to some)-- I think I brought some back with me-
In the past few days I have seen in my own backyard (in Aurora): Common yellowthroat, Empidonax flycatcher, Swainson's thrush, Grey-cheeked thrush, Oven bird, female American Redstart, Catbird, and Magnolia warbler.
Michael Hogg on 5/20 reported via IBET: There were 11 Wilson's Phalaropes at 1:00 PM today in the wet area to the west of R47 just south of Big Timber Rd. This is to the south of Huntley.

Dunlin are still passing through. I found one flock of 34 another with 17 and a singleton.
Bill Meier on 5/19 reported via IBET: At least one Nashville Warbler at Rotary Park in St. Charles. The Magnolia Warblers still remain.
Christopher Cudworth on 5/19 reported via IBET: I neglected to mention that on Friday morning last week, when I birded Nelson Lake, there was still one white pelican present. It was posted up behind some cattails where a crew of 6-8 of them often sat through April within view of the east side deck. I was on the west side looking east and the bird was preening both wings and seemed healthy enough. But that was from 400 yards away.
On Sunday morning (6:15-8:15) I birded a small chunk of Fabyan Forest Preserve in Geneva, the woods south of the parking lot on the east side of the preserve. There was a fallout of warblers so I didn't move far. Among the notables: PARULA, BLACKPOLL, CHESTNUT-SIDED and MOURNING. I was hearing the Mourning for 15 minutes or so and patiently worked my way toward the bird. They spook and move if you approach too quickly. As it was, the bird popped up out of a small shrub, stared me down a few seconds, sang, and then arrowed off to another hiding spot. I would imagine this bird will still be there today and tomorrow. They tend to park it a couple days during migration in Fabyan. One can also find CONNECTICUT on the east side frequently.

Finally, I witnessed some cardinal mating behavior. The male bird approached a female along a limb walking very tall, but swaggering like a parrot does with its wings held stiffly. Its crest was up and it sailored up to the female for about two feet along the limb. Really interesting to watch. That cardinal looked a lot like a cockatiel or a budgie in its act. The female rebuffed him.

There were so many birds singing you could not easily distinguish them and it would have been wasteful in the time I had to bird to wander very far. It would have been interesting to get to the west side, because there were many thrushes, bluebirds, orioles and towhees about as well.
Julie Long on 5/18 reported via e-mail: There were not many warblers at (Ferson Creek) fen on Sunday morning but I did have a Canada and Wilson's warbler, as well as several N. Waterthrushes. Along Ferson Creek from the Ferson Creek park, the singing N. Parula was still in the sycamore trees. He was also there on the bird count day.
Eric Secker on 5/18 reported via IBET: All the rarities mentioned from this preserve are still present mid day today including the RUDDY TURNSTONE, 3 WILLETS, 5 WILSON'S PHALAROPES, 45 SHORT-BILLED DOWITCHERS, many DUNLIN, 2 or 3 SEMIPALMATED PLOVERS, and other common shorebirds. Also still a couple AMERICAN PIPITS, WESTERN MEADOWLARK, VESPER SPARROW, and GRASSHOPPER SPARROWS.
Ginny Widrick on 5/17 reported via e-mail: The KCA birdwalk this morning at Big Rock Forest Preserve yielded 62 species. Terry Murray led a group of eighteen birders whose sightings included:
Great Blue Heron
Great Egret
Cooper's Hawk
Red-Tailed Hawk
Ruby-throated Hummingbird
Eastern Wood-Pewee
Willow Flycatcher
Least Flycatcher
Eastern Phoebe
Great Crested Flycatcher
Eastern Kingbird
Red-eyed Vireo
Tree Swallow
No. Rough-Winged Swallow
Barn Swallow
White-breasted Nuthatch
Blue-Grey Gnatcatcher
Eastern Bluebird
Swainson's Thrush
Wood Thrush
Brown Thrasher
Cedar Waxwing
Tennessee Warbler
Yellow Warbler
Chestnut Sided Warbler
Magnolia Warbler
Yellow-Rumped Warbler
Blackpoll Warbler
American Redstart
Ovenbird
Common Yellowthroat
Hooded Warbler
Wilson's Warbler
Canada Warbler
Scarlet Tanager
Eastern Towhee
Chipping Sparrow
Field Sparrow
Lark Sparrow
Savannah Sparrow
Grasshopper Sparrow
Rose-Breasted Grosbeak
Indigo Bunting
Eastern Meadowlark
Baltimore Oriole
Tim Kuesel on 5/17 reported via IBET: After enjoying the splendid morning warbler-festing at Montrose from 6 to 9 AM, Craig Taylor suggested we head west to try our luck at the Kane County...forest preserve, variously marked as
both Sauer Family Preserve or Prairie Kame Forest Preserve, (which is how it shows on the DeLorme Gazetteer, page 27). Immediately upon parking in one of the roadside pull-offs, we heard WESTERN MEADOWLARKS sounding off as we exited the Taylor Explorer. While making the easy walk through dry ankle-high grass out to the ponds, we heard GRASSHOPPER SPARROWS vocalizing around us and saw and heard BOBOLINKS. Pausing to scope at several points before advancing around the closest pond, we first got a group of 3 WILSON'S PHALAROPES sighted, then 3 WILLETS, then a single RUDDY TURNSTONE. Other readily recognizable shorebirds were at least 20 SEMIPALMATED PLOVERS and 30 DUNLIN as well as about 20 SHORT-BILLED DOWITCHERS.
Then up behind us walked more scope toters, a group from Starved Rock Audubon which included Darrell Shambaugh and John & Cindy McKee. While we were scoping with them, Darrell found the first of several AMERICAN PIPITS walking the shoreline mud, 2 more WILSON'S PHALAROPES turned up, and BANK SWALLOWS joined in the swallow mix. This to add to the PECTORAL, SPOTTTED, and LEAST SANDPIPERS, and both YELLOWLEGS species, actively feeding with the also very numerous noisy KILLDEER.
Scott Cohrs himself was the next scope-toter to trudge through the grass and join the line-up. While we were catching him up to speed on how we had relocated everything in his report except WHITE-RUMPED SANDPIPERS and the BLACK TERNS, wouldntchaknow, 12 BLACK TERNS decided to float right in, passing over the pond closest to us, doing their synchronized dip-dip-dip routine, squeaking along the way. A perfect end to a super morning, with two mother lodes of good birds and done by noon.
John Duerr on 5/17 reported via e-mail: Saturday May 17 Sauer Family F P. The shore bird diversity continues to build along these wetlands. 4 Willets were present at 9:00 AM (a county species for me)! Also, 2 pair Wilson Phalaropes, numerous Least, Semipalmated, Lesser Yellowlegs, Greater Yellowlegs, Pectorals, White-rump Sandpipers, Short-billed Dowitchers, with a couple Long-billed. Scott (Cohrs) just called to say a Ruddy Turnstone and 16 Black Terns moved in since we where there.
Melinda Johnson on 5/17 reported via e-mail: I saw a Rose-breasted Grosbeak while sitting on my porch this morning at Riverwoods Christian Center (5 miles north of St. Charles, east side of the river). Also, the local Red-headed Woodpecker was making the rounds today, and I had a nice view of him!
Julie Long on 5/16 reported via e-mail: There were 72 species of birds at Burnidge on Friday, May 16. For me the best bird was a white eyed vireo in the same area with all of the bobolinks. I think that is the east side from the picnic area. It is to the left if you are looking at the picnic area from the parking lot. There were a variety of warblers, none highly unusual. There were many rose breasted grosbeaks, a couple of scarlet tanagers, and many of the normal nesting birds.
Scott Cohrs on 5/16 reported via IBET: I hit several Kane County spots on Thursday. Overall, it was pretty disappointing. It felt as though passerines were non-existent, at least for May 15th. I only had 19 species of warblers, with Wilson's as the only new warbler of the year for me. Things were very quiet.

The most productive stop for me was the Sauer Preserve south of Kaneville. The back ponds attracted 11 species of shorebirds including White-rumped Sandpiper, a Dunlin, several Short-billed Dowitchers and 3 Wilson's Phalaropes. Pipits were still present, and several Bobolinks were in the fields. 2 Black Terns were foraging low over the water with the swallows.
Christopher Cudworth on 5/16 reported via IBET: Every year at the northern edge of the west side woods at Nelson Lake, there is a YELLOW BREASTED CHAT that sings and occupies the oak/understory habitat. To get there quickly and easily, park at the lot off Main Street one half mile west of Nelson Lake road (west of Batavia from Randall). Take the trail east from the lot (a grassy two-track). When you get to the former fencepost (wooden) turn left and take the grass path to the farthest you can go left. The chat has annually liked that patch of woods. You'll hear a guttaral creak, high pitched whooop! (slightly ascending at times) and raspy geck-geck-geck calls.

The thing I like about chats is their curiosity. If you imitate the bird (which I happen to be able to do reasonably well) they will almost always perch over head and check out the area, talking back. This particularly bird is almost orangey yellow under the beak. A lovely specimen, as they used to say.

There were not many other warblers moving through the woods, much to my disappointment. I did have one BLACKBURNIAN at the southern edge of the western woods.

SANDHILL CRANES were calling and feeding on the western edge of the marsh near the viewing platform. Otherwise it was a lot of regulars: BLUE GRAY GNATCATCHER, INDIGO BUNTING, LEAST FLYCATCHER, WHITE BREASTED NUTHATCH, COOPER'S HAWK, NORTHERN ORIOLE, YELLOW THROAT, SEDGE WREN, HOUSE WREN, WHITE CROWNED SPARROW, RED BELLIED WOODPECKER.
Julie Long on 5/15 reported via IBET: I was pleased to see a summer tanager outside an upstairs window late this morning. In the evening there was a very small flock of warblers in the yard--palm, magnolia, and Nashville along with a scarlet tanager and rose breasted grosbeak. I live a a mile west of the Fox River in an old subdivision with many mature oak trees. On the west side of us is Randall Rd and Leroy Oakes Forest Preserve.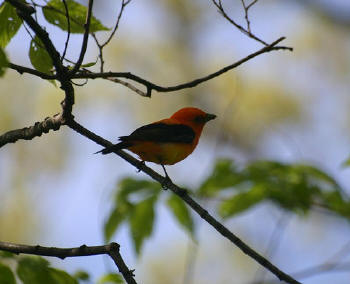 Orange-variant Scarlet Tanager photo courtesy Ken Schneider
Ken and Mary Lou Schneider on 5/15 reported via e-mail: Hawk's Bluff Park in Batavia (to be formally dedicated this weekend) has turned out to be a nice migrant trap. Over the past several days we have seen 9 warbler species (Yellow-rumped, Yellow, Nashville, Black-throated Green, Chestnut-sided, Blackburnian, Magnolia, Black-and-White, American Redstart), plus other species as noted in my Blog today http://blog.rosyfinch.com.

This Scarlet Tanager that Ken photographed there yesterday has its usual bright red plumage replaced by bright orange. At first he thought it was an oriole, but quickly noticed that the heavy bill and lack of wing bars characterize it as a Scarlet Tanager. The Sibley guide illustrates this color variant. The photo is cropped but not retouched or enhanced.

We are heading back to Florida for a couple of weeks but look forward to spending June in Illinois.
Ginny Widrick on 5/15 reported via e-mail: The (R)Andrini Ramblers© saw a possible Lazuli Bunting today at the picnic shelter west of the garden plots at Campton Hills Park. In all, twelve birders led by Jon Duerr spotted 41 species.
Bill Meier on 5/15 reported via IBET: I know it's getting repetitious, but another warbler visited the small stand of conifers in the northwest corner of Rotary Park. Usually in a couple of days the warbler activity is finished here. This time it was a very active Magnolia Warbler. Several other unidentified warblers made a brief appearance. Also an American Redstart stopped for a snack. 43 seconds of Magnolia Warbler video is here: magnolia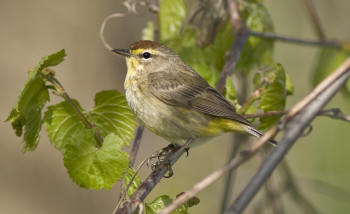 Palm Warbler photo courtesy Bryan Hix
Bryan Hix on 5/15 reported via e-mail: I saw a variety of warblers early this morning 5/15/08 at Burnidge F.P. I included a picture of a Palm warbler. I saw yellow-rumped, palm, and yellows. As well as a flock of at least 15 cedar waxwings, 4 kingbirds, baltimore oriole (pair), meadowlark, thrasher, catbird, 3 yellow throats, 1 waterthrush, 2 male and 1 female-evening grossbeaks, pair blue wing teal, drake wood duck. The amazing thing is that I didn't move more than 20 yards and was only there for one hour before work. I was able to take some of my best bird pictures yet today. Migration season is always fun!
Chris Bowman on 5/15 reported via e-mail: Yesterday, I saw a Little Blue Heron fly up from a retention pond across from the Woods St/Lewis St corner in the Sterling Manor area of Geneva about 1/2 mi south of Delnor Hospital. Spotted him there a couple early mournings last spring also. Yesterday, he flew a few yards in front of me at eye level --- definitely a Little Blue.
Mark Bowman on 5/15 reported via e-mail: Few days ago at Norris woods, I spotted an tanager shaped all orange bird, other than gray wings. It was not an Oriole. Think it was a Scarlet Tanager morph. Keep an eye out for this oddity.
Bill Meier on 5/12 reported via IBET: This Cape May warbler was putting on the feed bag in a small group of conifer trees located at the northwest corner of Rotary Park in St. Charles. This spot has been a reliable warbler stopping point in the past. But only for one or two days. 1 minute and 8 second video at cape may video.
Chris and Mark Bowman on 5/12 reported via e-mail: Today at Norris Woods: Nashville Warbler, Yellow Throated Vireo, Magnolia Warbler, Red Start, Red Breasted Grosbeak, Blackburnian Warbler.
Nelson Lake: Osprey, Yellow Warbler, Common Yellowthroat, Nashville Warbler, Louisiana Waterthrush, Veery Thrush.
Julie Long on 5/10 reported via e-mail: For Ginny Widrick and I the highlight birds of the day were 4 cerulean warblers, 2 each at Norris and Tekawitha (along with a blue wing warbler there and assorted grosbeaks and tanagers), 2 bobolinks at Meadow Ridge subdivision on Bolcum Rd, 2 red headed woodpeckers at Wild Rose Springs homeowners trail, 2 carolina wrens at Norris, and 2 orchard orioles, one each at Ferson Creek Fen and Leroy Oakes.
Bill Koch on 5/10 reported via e-mail: Went to LeRoy Oakes at lunchtime Friday. Pretty basic outing with the following being the most interesting.
4 Rose Breasted Grosbeaks, 1 Chestnut Sided Warbler, 3 Yellow Warblers, 3 Cat birds & 2 Common Yellow Throats. I saw some Cowbirds and thought one looked a little odd. Took a closer look and I believe the bird was a first year Blue Grosbeak. He had Brown and Blue Plumage all over and I noticed the dark around the eyes down to the bill. He was located down by Ferson Creek. Later took off into the woods.
Afterwards I also ruled out other birds of this size that have blue plumage. To big for an Indigo bunting, I know it wasn't an Eastern Bluebird. Wasn't a grackle either.
John Heneghan on 5/10 reported via IBET: This AM we had a Baltimore Oriole at our suet feeder in LaFox. We put an orange in the feeder in lieu of suet yesterday and lo and behold we had an Oriole this morning. To all doing the Bird Count, have a Fun Day!!!!
Whip-poor-will photo courtesy Bob Andrini
Chris Madsen on 5/9 reported via IBET: This morning between 10 and 11:30 a total of 15 birders viewed what we think is a Whip-poor-will at Jon J. Duerr Forest Preserve just south of South Elgin on Route 31. The bird was roosting in a tree about 12 - 15 feet over a secluded pathway in a stand of oaks. It is possible that the bird is a Common Nighthawk, but as the group studied three field guides while looking at the bird (in admittedly less than ideal light) the consensus was Whip-poor-will. All three field guides varied in their depictions of the birds but the best match was Whip-poor-will. Now at home, the bird closely resembles the drawings of the adult bird in The Sibley Guide to Birds. The photo at right buttresses the Whip-poor-will conclusion.

To locate the bird: Walk northeast from the parking lot on what was the old drive through the park (Not the path that goes near the river). Upon reaching a parking area that is now home to a pile of wood chips, turn around and look back into an oak(?) tree. The bird was stretched horizontally on a limb about 12 - 15 feet over the path.
Aaron Nolan on 5/9 reported via IBET: Today I birded Max McGraw Wildlife Foundation and these are the notable birds I saw...

Great-crested Flycatcher
Red-eyed Vireo
Yellow-throated Vireo
Indigo Bunting
Scarlet Tanager
Baltimore Oriole
Canada Warbler
Magnolia Warbler
Chestnut Sided Warbler
Ovenbird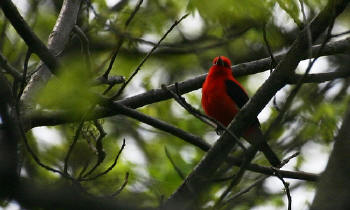 Scarlet Tanager photo courtesy Ken Schneider
Ken and Mary Lou Schneider on 5/9 reported via e-mail: We saw this Scarlet Tanager at Lippold Park yesterday morning. Warbler sightings (and identification) were hampered by the stiff breeze. I have a full report with several other photos in today's blog at blog.rosyfinch.com.
Mark Bowman on 5/9 reported via e-mail: Seen at Otter Creek last evening: sora and common snipe (he flew up and landed 10 ft from me spinning around on the ground acting injured so there must have been a nest nearby).
Sue Wagoner on 5/8 reported via e-mail: I didn't have to go far for my birding today-- Started with a female mallard in my birdbath (she later cleaned the bird feed from the dish feeder-- she and hubby are hanging at the neighbor's pool, where the pool cover has about 6 inches of water)-- from there things got better, in my back yard-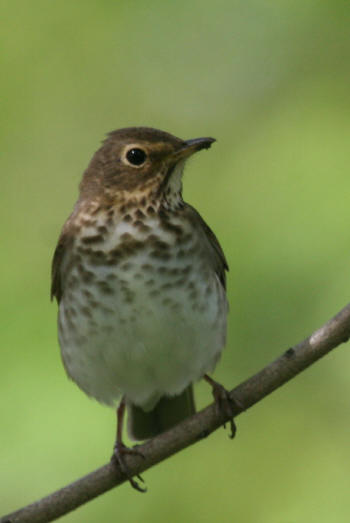 Swainson's Thrush courtesy Sue Wagoner
2 House Wrens checking out a birdhouse in my yard (a first for my neighborhood). I love their chattiness, spunk and constant energy.
1 female and 2 male Rose-Breasted Grosbeaks (there are many this year, it seems)
A pair of Brown-Headed Cowbirds (yes I accept them!)
White Throated Sparrow
Chipping Sparrows
Ruby-Crowned Kinglet
2 male Redstarts
Swainson's Thrush (this guy kept his eye on me as I was digging in my yard)-- 3 times he flew into branches about 10 feet from me... (the 2nd and 3rd time I had my camera!)
Bob Andrini on 5/8 reported via e-mail: I did my monthly BCN count at Norris woods today (Thurs) and among the 41 species of birds were 7 species of warblers, 3 species of vireos, 4 species of swallows on the river, 2 very quiet Rose-breasted Grosbeaks (probably there was a female somewhere around), and great views of a Summer Tanager. We also observed one Canada Goose fighting with another (as in being on top of and pushing the one under water. The one under water came up about 10 feet away - after escaping and swimming underwater (I have never seen one stay under for that length of time - about 5 sec.)
John Heneghan on 5/7 reported via IBET: On the way to work and home yesterday and this AM, I saw a pair of Sandhill Cranes in the field on the North side of Main just west of the intersection with Nelson Lake. I have seen Sandhills there frequently. We had a pair of Indigo Buntings and a male and female Rose Breasted Grosbeak at the feeders (in LaFox) today.
Mary Shesgreen on 5/7 reported via e-mail: I just had a pair of indigo buntings at my bird feeder in Elgin. Amazing! I did not even know these birds ever visited feeders. I have never before seen them in any town-- only out in farm country or in a nature preserve.
Chris Bowman on 5/7 reported via e-mail: At Jon Duerr Forest Preserve on Tuesday: Black Throated Green Warbler, Bay Breasted Warbler, Rose Breasted Grosbeak, Worm Eating Warbler.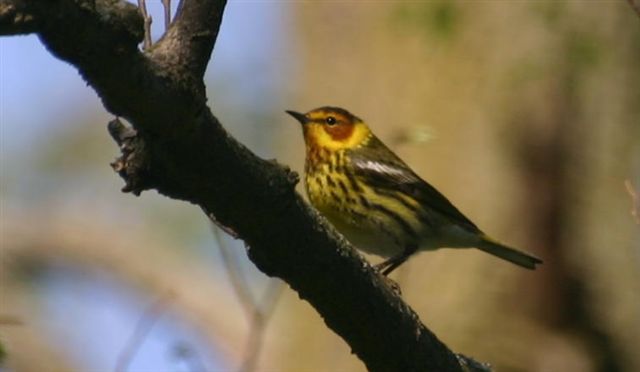 Cape May Warbler photo courtesy Ken Schneider
Ken and Mary Lou Schneider on 5/6 reported via e-mail: Ken photographed this male Cape May Warbler at Lippold Park in Batavia this morning. Also saw Blue-winged and Nashville Warblers.
John Heneghan on 5/5 reported via IBET: This evening we had a (ruby-throated) hummingbird show up at our feeder (in LaFox). We had a female and what I presumed was her young last summer. We were wondering if they or she would return. Glad to see a hummingbird again!!
Bill Koch on 5/5 reported via e-mail: To add to what Mark Bowman saw at Otter Creek. I did a quick walkthrough of Otter Creek wetlands this morning to see if I could find the King Rail that was reported earlier. Not found.

Got a great view of a Northern Harrier hovering over the marsh she then flew to the south. Saw a Marsh Wren that was singing constantly on the south side by the path. Yellow, Palm and Common Yellowthroats were the warblers seen. Heard several Meadowlarks in the area and viewed one sora that sang its strange song. A Catbird and a singing Warbling Vireo were viewed by the bridge crossing the creek on the South west side.
Mark Bowman on 5/5 reported via e-mail: On 5/4 at Otter creek: swamp sparrows, yellow warbler and sora most notable birds seen, did not see the king rail. At J Duerr it was very active with many scarlet tanagers, orioles, palms, yellow rumps, a couple black throated green warblers and 2 red headed wood peckers. Did not get any pics because my battery ran out.
Karen Land on 5/5 reported via IBET: As I reported last week, we have a catbird that has been around in our backyard bushes (in Batavia). We have been seeing at least one (but we think we have two) for the last 5 days now. Saturday one was making it's rounds around a white oak tree that we have about 10 feet from the picture window in our family room. As I sat right by the window, he was enjoying checking out the decorative glass balls I have hanging in the tree. At one point he perched on top of the ball and tried to see if it was something edible. Today there has been a catbird at the water dish several times.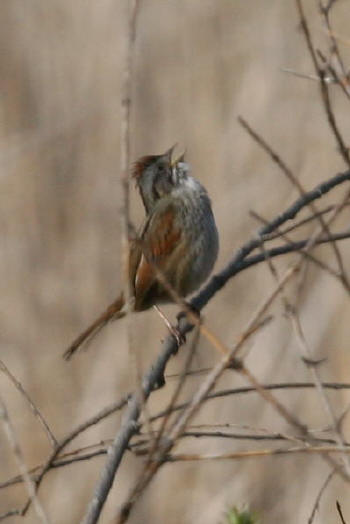 Swamp Sparrow photo courtesy Sue Wagoner
Sue Wagoner on 5/4 reported via e-mail: Sunday morning at Lippold Park, and into Glenwood Park I saw the following: Many Palm Warblers and Yellow-Rumped Warblers, Baltimore Orioles, several noisy House Wrens, White Throated Sparrows, Wood Ducks, Cat birds, Common Yellow throat, Blue-Grey Gnatcatchers, 1 Magnolia Warbler, 1 Chestnut-sided Warbler, 1 Oven Bird, 1 Rose-Breasted Grosbeak.

Also a few days ago I shot (camera-wise) this Swamp Sparrow singing away at Nelson Lake (one of several)...
Jon Duerr on 5/4 reported via e-mail: A pair of Wilson Phalaropes were seen Sunday morning in the flooded field along Davis Rd, northwest of Big Rock. The pond is smaller and a spotting scope is handy. Also, Short-billed Dowitcher and Lesser Yellowlegs.

Big Rock FP: Tennessee, Nashville, Chestnut-sided, Parula, Yellow-rump. Palm, Orange-crowned Warblers, Least Flycatcher, Great Crested Flycatcher.
Melinda Johnson on 5/4 reported via e-mail: Hi! I spotted a Redhead Woodpecker in the Oaks trees, in my yard, at Riverwoods Christian Center late this afternoon! I notice that I had seen one back on 4/12/08 also - must be the same one, as there is lots to feed on here! Also, while not unusual to see in the Spring - I've noticed that there are two families (one of 6, and one of 5) of new Canadian goslings grazing in my yard now! I looked a little further North along the Fox, and haven't seen any others emerging yet. Also seen in the past couple of days: a few Brown Wrens, a male and female pairing of Gold Finches, and a Yellow Rump Warbler. I saw a blue colored bird the other day, but couldn't see it well enough (or long enough) to identify it for sure. I think it may have been an Indigo Bunting, as I have seen them here in years past.
Christopher Cudworth on 5/4 reported via IBET: At Fabyan Park in Geneva/Batavia, on the west side by the south side of the Japanese Garden there was a singing Yellow Throated Vireo at 7:30 a.m. this Sunday morning. In this same location a singing Great Crested Flycatcher, numerous palm warblers and a secretive waterthrush (northern) in the Japanese Garden itself.
Darrell Shambaugh on 5/3 reported via IBET: I was in St. Charles at dawn Saturday and had some time to kill. My first stop was Riverside Park, at Division Street and Route 25. This park was loaded with birds, including a PROTHONOTARY! I've stopped at Riverside park several times since I found it a few years ago. It's on my way to work, and it's a nice stop to waste a few minutes. I've always thought the river and a little pond there should attract Prothonotary Warblers, and today one was actually there. It was especially pretty when the early morning sun shown on it. Other birds at Riverside Park included at least 2 NORTHERN WATERTHRUSH, about 15 YELLOW-RUMPED WARBLERS, 10 PALM WARBLERS, 1 YELLOW WARBLER, 1 COMMON YELLOWTHROAT, 2 WARBLING VIREOS, a WHITE-EYED VIREO, at least 5 BALTIMORE ORIOLES, an EASTERN KINGBIRD, 2 SWAMP SPARROWS, 4 WHITE-THROATED SPARROWS, 3 BLUE-GRAY GNATCATCHERS, a CEDAR WAXWING, a RED-BELLIED WOODPECKER, a bunch of AMERICAN GOLDFINCHES, a BELTED KINGFISHER, and a GREY CATBIRD. A couple AMERICAN COOTS were in the Fox River.

About 6:30 AM, I went to Ferson Creek Fen. It was still sunny, but the wind was picking up and it was getting colder. A couple EASTERN KINGBIRDS were chasing around there. By the boardwalk to the river 3 NORTHERN WATERTHRUSHES were chasing each other. Three YELLOW WARBLERS were singing. At least 8 SWAMP SPARROWS were within sight from the trail. A COMMON YELLOWTHROAT, BLACK-CAPPED CHICKADEE, and BLUE-GRAY GNATCATCHERS were along the trail. Ferson Creek Fen is the best place I know of to see Blue-gray Gnatcatchers. They are always there from late April to September.

I went to Fabyan Forest Preserve to look for a Yellow-throated Warbler. I struck out on this species again, and there was no strange hybrid there either. There were a ton of YELLOW-RUMPED WARBLERS and PALM WARBLERS. I was up to 17 PALMS and 14 YELLOW-RUMPEDS before I lost count. Two ROSE-BREASTED GROSBEAKS flew over. On the gravel trail extension north of where the blacktop ends I almost stepped on a flicker. WHITE-THROATED, SONG, SWAMP SPARROWS, BLUE-GRAY GNATCATCHERS, BALTIMORE ORIOLES, DOWNY WOODPECKER, WOOD DUCK, and EASTERN KINGBIRDS were along the gravel extension.

By the time I left, it was getting cold and windy, and the sun was no longer out. I went to Glemwood Park, south of Batavia on Route 25. It started sprinkling just before I got there. The only birds of note were a BELTED KINGFISHER, a YELLOW WARBLER, and a GREAT CRESTED FLYCATCHER. I only stayed a few minutes because it was cold, windy, and raining.

I stopped at the Red Oak Nature Center on route 25. There were a lot of swallows over the river. All I could find were BARN and NORTHERN ROUGH-WINGED. An EASTERN WOOD PEEWEE was between the river deck and the visitors center. I saw another EASTERN KINGBIRD there too, the fourth place where I saw Eastern Kingbirds today. The only warblers were Yellow-rumped and Palm. I didn't stay here long either because it was getting colder and windier.

In the wetlands by the Aurora Outlet Mall the only birds I saw were a couple DOUBLE-CRESTED CORMORANTS.

There were about 8 DOUBLE CRESTED CORMORANTS in their normal tree at the Kane - Kendall County line. The river is too high for shorebirds.
John Heneghan on 5/3 reported via IBET: I had the pleasure of hosting a Rose Breasted Grosbeak and a Baltimore Oriole today at my feeders. I had RBG's last summer but I was pleasantly surprised to see the Baltimore Oriole. I also had many Goldfinches, Purple Finches, Chipping sparrows, Chickadees, Grackles, Brown Headed Cowbirds, Cardinals, Mourning Doves, Downy Woodpeckers, Red Bellied Woodpeckers and a Flicker.
I plan on putting out oranges to see if the Oriole stays around.
Mark Bowman on 5/3 reported via e-mail: 5-2 at J Duerr preserve, saw golden winged warbler, yellow rumps, catbird, palm warbler, black and white warbler and thanks to John Duerr himself who pointed it out to me [thanks John], I got a lifer in the orange crowned warbler. Baltimore orioles and white crowned sparrows were also present. John saw scarlet tanagers but it started raining so I did not see them. Stopped for a short time at Norris Woods and saw a female Northern Parula.
Claire Dassy on 5/2 reported via IBET: I'm in constant hopes of catching the blue bunting on my feeder (in Algonquin), but it seems I may have missed the opportunity. Today while obsessively peering out the door in search of the bunting I found a eurasian finch instead.
http://www.flickr.com/photos/quietnature/2460496508
Heidi Hohman on 5/2 reported via e-mail: Two beautiful male bobolinks competing for territory at Burnidge Forest Preserve this morning Fri. May 2.
Karen Land on 5/2 reported via IBET: During the height of the heavy rains this morning, there was a catbird tucked under the cover of a pine tree in my backyard (in Batavia). He enjoyed hopping up and down around the trunk and would then scoot back and forth to a near by tree. I watched him for about a half hour. We usually only get one or 2 a season.
Gloria Dimoplon on 5/1 reported via e-mail: I stopped by Burnidge F.P. this morning for a short walk. Notable birds: an Eastern Kingbird and a pair of Soras. Lots of yellow-rumped and palm warblers. A brown thrasher, hermit thrush and several swamp sparrows.
Steve Smith on 5/1 reported via IBET: I had a very cooperative King Rail at Otter Creek wetlands in St. Charles tonight. I saw him at first only a dozen feet off the trail. He looked at me and leisurely walked back into the cattails. A couple of minutes later he started calling and was still calling when I left a half hour later at 7:30 PM. He was at the NW corner of the preserve at the S end of the boardwalk in that corner of the park. If he is calling you can hear him for 100 yards.

Other birds tonight included Palm, Yellow Rump, Common Yellow Throat, and a nice bright Blackburnian. Lots of Song and Swamp Sparrows. Heard Sedge Wren and Sora.
Christopher Cudworth on 5/1 reported via IBET: At 7:15 in Batavia I observed a lone nighthawk flying over my backyard. On a southern wind.
Jack Pomatto on 5/1 reported via e-mail: Today, 5/1/08, there was a nice mix of birds at J.J. Duerr F.P. that included:
Least Flycatcher
Warbling Vireo
Golden-winged Warbler
Blackburnian Warbler
Common Yellowthroat
Mark Bowman on 5/1 reported via e-mail: 4-30 at Fabyan Park; nice day outside, saw Baltimore oriole, black and white warbler, black throated green warbler, yellow rumps, palms and blue gray gnatcatchers among other more common birds.