Doug Stotz on 5/31 reported via IBET: I visited a variety of forest preserves in western Kane Co this morning. The highlight was the WESTERN KINGBIRD reported by Scott Cohrs yesterday at Headwaters Conservation Area (east of Anderson Rd. on south side of [Beith] Rd.). I saw it about 11:10 along a tree line on the east edge of the reserve. It flew from there down to another tree just east of a pond about .3 miles south of [Beith]. From there it flew off to the SE and I lost it. Also at Headwaters I had a SORA, SEDGE WREN, 3 WILLOW FLYCATCHERS, an ORCHARD ORIOLE and several DICKCISSELS. At Johnson Mound Forest Preserve there was a MOURNING WARBLER by the first parking area, and a WHITE-EYED VIREO up on top near shelter no. 3. Along Pouley Rd. (west of Johnson Mound, east of Headwaters) just south of Keslinger Road there was a singing BELL'S VIREO on the east side of the road. At Bliss Woods, there was an ACADIAN FLYCATCHER and a singing BLACK-THROATED GREEN WARBLER. Various places with water (including Carson Slough, Tanner Trails, the pond north of Elburn FP, etc.) produced nothing of note but lots of broods of MALLARDS and WOOD DUCKS and a scattering of BLUE-WINGED TEAL.
---
Scott Cohrs on 5/30 reported via IBET: I found a probable Western Kingbird this morning at Headwaters CA in Kane County. It was seen in flight along the west edge of Headwaters heading north/northwest over a farm field. I lost it over a ridge as it flew into a landscape company property. I say probable Western since I didn't get to see it perched, but it was clearly a gray-backed, yellow-bellied Kingbird with dark wings and tail. I may have also seen the bird a couple hours later on another pass through the area. I had a bird with a long dark tail and clear white outer tail feathers fly in front of my car and then over the fence line, giving more credence to Western Kingbird. I know there are a few people trying to relocate the bird. Hopefully it is re-found; I imagine it is still in the area. I would concentrate on the area near Beith and Anderson Rds, then expand from there. There are quite a few large fields that it could be hiding in.

Otherwise, Headwaters was slow, aside from a Wilson's Snipe that is most certainly nesting.

Elburn FP had a couple Yellow-bellied Flycatchers, but was also pretty quiet.

At Lone Grove FP, a Canada Warbler was present about 100 yards from the parking lot. I am positive I heard a Blue Grosbeak sing twice in the parking lot, but could never locate it.
---
Scott Cohrs on 5/29 reported via phone: A Ruddy Turnstone in breeding plumage was spotted Friday night and Saturday afternoon at Pillsbury pond at the intersection of Kautz and Averill roads, just north of Route 38 and just west of the golf course/airport.
---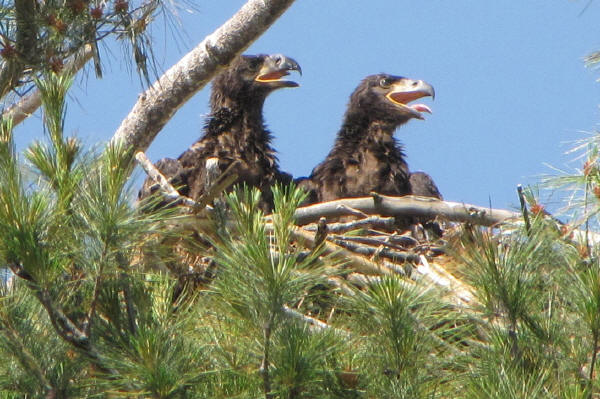 Ron Dickenson shares this photo of the hungry (?) Mooseheart eaglets.
---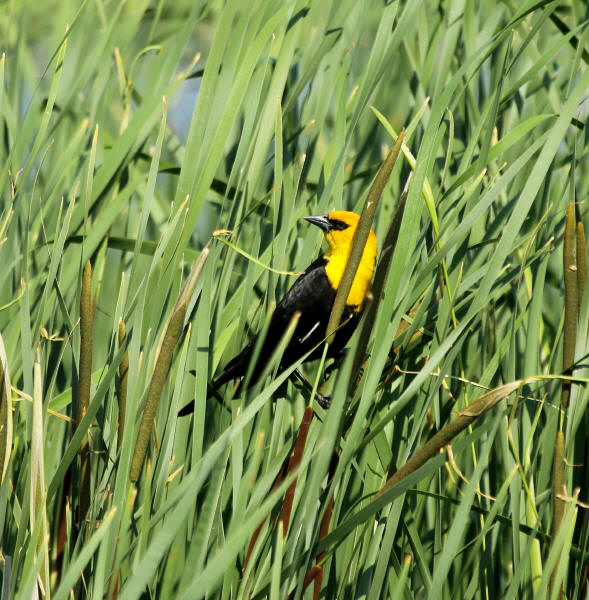 Bob Andrini submitted this photo of one of four Yellow-headed Blackbirds
at Prairie Green Wetlands in Geneva.
Bryan Hix on 5/26 reported via e-mail: After a brief downpour this afternoon, I drove through Burnidge FP and heard and saw dozens of yellow warblers singing all over the place. I did see 3 chestnut-sided warblers in a couple of choke cherries (seems to be one of their favorite trees) and 1 Nashville warbler as well. Bobolinks are setting up territories in several open areas also. The heat seems to have pushed a lot of the other warblers from what I can tell.
---
Chris Nelson on 5/26 reported via e-mail: There are a couple of red-tailed hawks with babies nesting in a gutter on the roof of the Kane County Judicial Center. Itís fascinating to watch them hunt.

In the pond below, I also have seen blue herons, cranes and many variety of ducks. And of course the unexciting Canada geese.
---
Ron Dickenson on 5/25 reported via e-mail: A photo update of the eagles at the Mooseheart nest.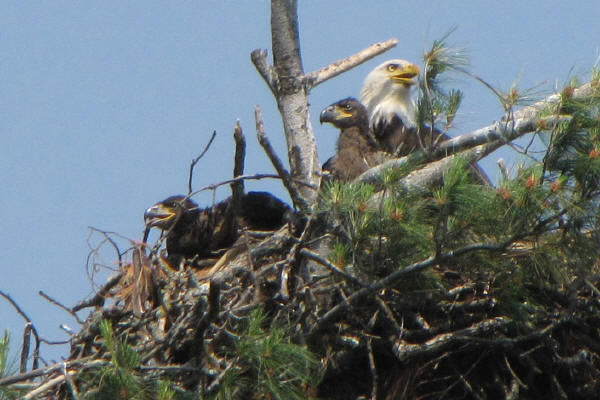 Bald Eagle and eaglets photo courtesy Ron Dickenson
---
Julie Long on 5/24 reported via e-mail: Both the northern parula and yellow throated warbler were singing for much of the afternoon at the Fabyan Garden area on Sunday while I was volunteering there as a master gardener docent. Apparently the heat was not bothering them.
---
Christopher Cudworth on 5/24 reported via IBET: While warming up for a run with a buddy this morning a Northern Parula was singing in the sycamore trees directly north of the first parking lots on the west entrance.
---
Bob Andrini on 5/24 reported via phone: There are at least four male Yellow-headed Blackbirds calling in the small cat-tail patch at Prairie Green Wetlands in Geneva.
---
Laura Palasz on 5/23 reported via IBET: At Aurora West (Kane County) this evening there were at least 2 singing HENSLOW'S SPARROWS at the north end of the prairie loop. They were also singing there last week. Also 1 week ago I heard a SORA calling from the wetland area.
...on 5/18 there was a singing MOURNING WARBLER at Big Rock in Kane County. I tried and tried to spot the little devil, since that would be a lifer for me, but he was hunkered down and singing his little heart out just across the big bridge alongside the creek.
---
Scott Cohrs on 5/23 reported via IBET: Though I didn't come across many of what I would consider true migrants, had a pretty good morning in various stops throughout southern Kane. The most interesting thing to me was the presence of 4 (!!) Acadian Flycatchers in a fairly small area of Bliss Woods. All of these were found in the area west of the parking lot along the bike trail between Bliss Road and the clearing further west. Three were north of the path, and one was south. All were extremely vocal. I'm usually lucky to come across 1 or 2 Acadians each year in Kane, so 4 was surprising. Darrell Shambaugh had an Acadian last year in this general area on the east side of Bliss Road by the shooting range. I tend to forget about Bliss Woods, but it has good habitat for Acadians and I wouldn't be surprised if one is present every year at some point.

A little later in the morning and a tad further north, I saw a pair of Black-billed Cuckoos at Hannaford Farms. There was also an Orchard Oriole and a Red-headed Woodpecker at the same spot.

The Aurora West Clay-colored Sparrows and Bell's Vireos were both present, and a Yellow-billed Cuckoo gave me the cuckoo sweep that I rarely enjoy. Many Willow and Alder Flycatchers were around, including one bird that literally sang both songs. I watched it at the top of a shrub, and it gave an Alder call. There is a relatively short window around here to positively ID these birds and watch them sing, so I decided to enjoy him for a little bit. He proceeded to throw me a change-up and do a perfect Willow song. He continued this for several minutes. Not sure what to make of this one. My list can't afford any lumping, so maybe I shouldn't mention this experience...

The Prothonotary Warbler at Les Arends was easy this morning. You could get him from the parking lot. Only other interesting birds at Les Arends were Blackpoll and Wilson's Warblers.
---
Christopher Cudworth on 5/22 reported via IBET: Following a bike ride Saturday morning I took a short bird walk along Ferson Creek at the northern end of Leroy Oakes Forest Preserve in St. Charles. I anticipated either a Connecticut or Mourning Warbler and was rewarded with a beautiful singing Mourning Warbler in a circular little hedgrow 30 yards off the Ferson Creek stream bank where the former oxbox topography is now partly overgrown with thrashy shrubs. The bird obligingly popped through a hole in the hedgerow so I could see it, albeit in shadow, before returning to its annoyingly skulking habit of singing from the deepest thickets.

Other than the Mourning Warbler, there were numerous Black and White Warblers singing, Yellowthroat, Yellow Warbler and both Red-Eyed and Warbling Vireo.

A steady supply of Orchard Orioles can be found singing near the Great Western Trailhead. I counted 6 last week. Down to 2 this week.
---
Jack Pomatto on 5/20 reported via e-mail: Today, 5/20/10 at Tekakwitha F.P. a Broad-winged Hawk was seen soaring over the Fox River and then proceeded to very purposely head back to the ridge above the river at the top end of the Tekakwitha forest. This behavior and it being late in migration might indicate a bird possibly attempting to set up a territory. Those birding either Jon J. Duerr F.P. ( Blackhawk F.P. ) or Tekakwitha might want to keep an eye out for the bird/or birds. Nesting Broad-wings are an uncommon occurrence in our area.
A Connecticut Warbler was heard singing at the Tekakwitha F.P. side of the bike bridge along the Fox River Trail along with six other species of warblers.
---
Noel Rooks on 5/20 reported via e-mail: There are a group of 3 or 4 sandhill cranes that appear to be nesting and/or breeding at the farm and pond behind my home at Wenmoth Rd and Fabyan Parkway. It's private property so I have only sighted them from a distance, but hear them quite often. I also sighted one on the middle school grounds about one month ago, across the street from the farm. This is the second season I have heard them.

Also, yesterday I sighted a great egret at Peck Farm Park.
---
Ron Dickenson on 5/19 reported via e-mail: A photo report from the Eagles' nest.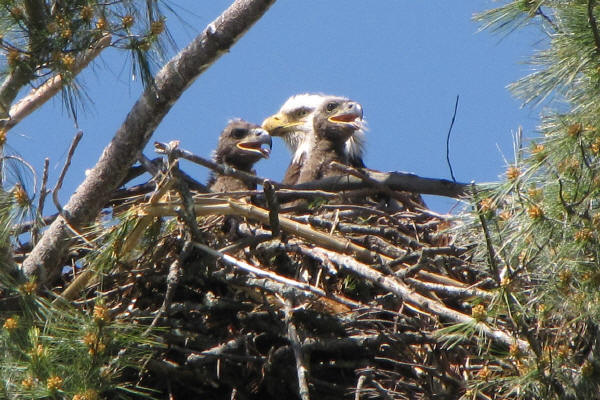 Bald Eagle and eaglets photo courtesy Ron Dickenson
---
Tim Balassie on 5/19 reported via e-mail: A couple of new arrivals. Fitchie Creek FP had two very cooperative Lark Sparrows last Sunday (16 May). These birds were located next to the most northern path.

Sighted a Common Nighthawk at Pingree Grove FP on 18 May
---
Sue Wagoner on 5/18 reported via e-mail: Just because he is a common resident does not make him any less regal. This Cardinal, seen at the Batavia quarry bike path, was among the few species I saw this morning, along with lots of Catbirds, a couple of Warbling vireos, a Yellow rump warbler and Robins.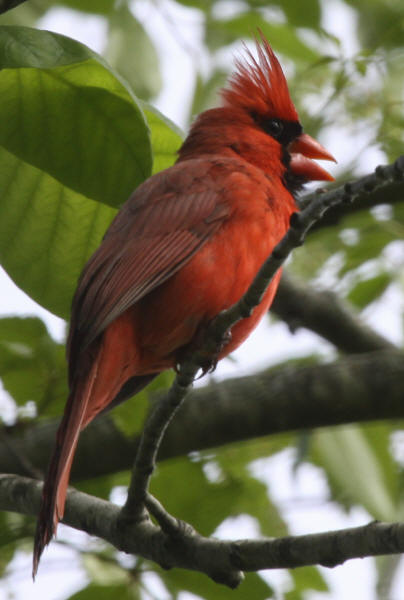 Northern cardinal photo courtesy Sue Wagoner
---
Ken Schneider on 5/18 reported via e-mail: We walked in from the north entrance of Nelson Lake this morning, hoping to find Bobolinks before our return to Florida, but saw none. Neither did we hear any Henslow's Sparrows or Dicksissels. We heard Sedge Wrens singing about every 100-200 feet along the loop trail. One pair appeared to have a nest at the very edge of the mowed grass, as they became very excited when I approached the spot from which I heard singing, providing a photo-op. A Willow Flycatcher was singing near the Audubon bridge.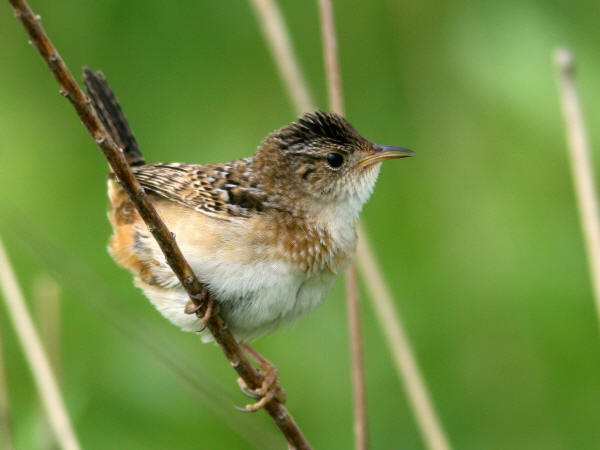 Sedge Wren photo courtesy Ken Schneider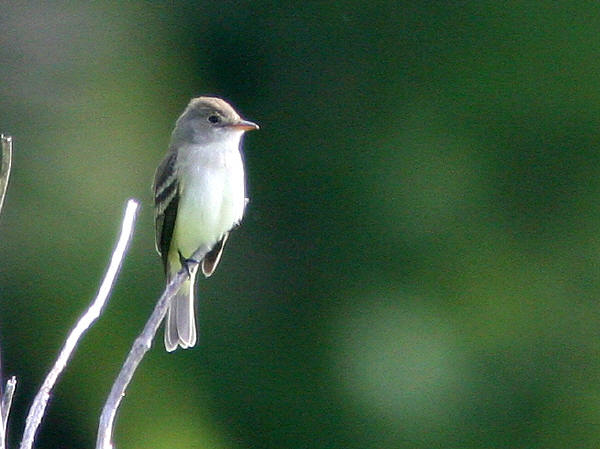 Willow Flycatcher photo courtesy Ken Schneider
---
Deborah DeBoer on 5/18 reported via e-mail: On 5/14/10 there was a Sand hill Crane in my yard for about an hour. I live in Sugar Grove, across from Carson Slough. It was pretty fun watching him walk around and sleep! He was not in a hurry!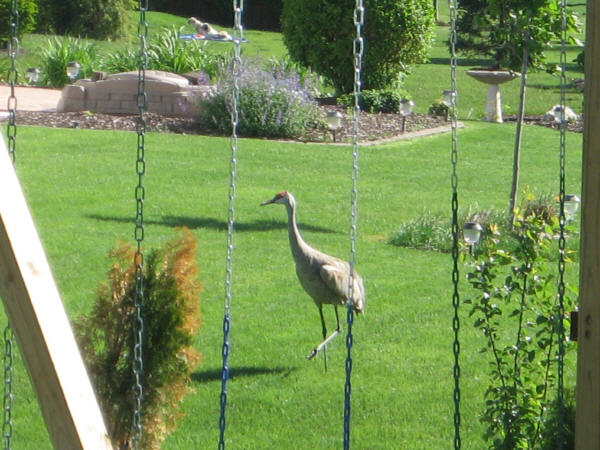 A "yard bird" Sandhill Crane photo courtesy Deborah DeBoer
---
Richard Miller on 5/17 reported via e-mail: Here's a picture of a fisherman coming home with his catch.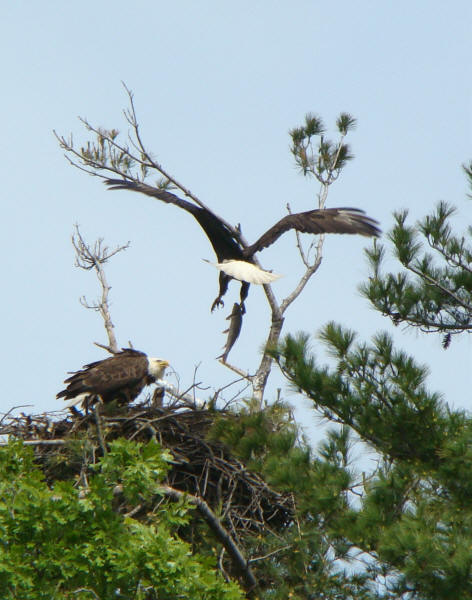 Eagles photo courtesy Richard Miller
---
Ken Schneider on 5/16 reported via e-mail: At Hawk's Bluff Park in Batavia's Tanglewood Hills subdivision this morning I saw an Orange-crowned Warbler. I also photographed the Mooseheart Bald Eagle nest with two eaglets from the south end of the park. I am concerned that observers inside the Mooseheart property were approaching within the 100 meter/330 foot "no disturbance" perimeter established under USFWS guidelines. The landowner has responsibility for enforcing this provision, unless Illinois law/regulation is even more restrictive. If disturbance results in a "take" of an eaglet (e.g., injury or death due to premature fledging or nest abandonment), Mooseheart could face Federal sanctions. Do any KCAS members have contacts within the Mooseheart organization? Further, cars were stopping on the shoulder of Randall Road and even making U-turns across traffic lanes, creating a hazardous situation. Observers should know that there is safe and quite adequate viewing available from the wood chip path in Hawk's Bluff Park on the west side of Randall Road. (Also attached is a photo of a Savannah Sparrow that visited our daughter's Batavia yard this afternoon while I was cooking a BBQ).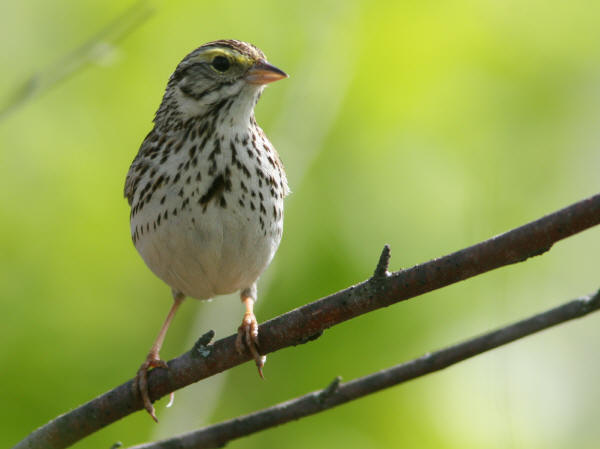 Savannah Sparrow photo courtesy Ken Schneider
---
Jackie Bowman on 5/16 reported via e-mail: Chris & I went to the Prairie Street bridge this morning in St. Charles. Just on the west side of the bridge we watched a flock of Cliff Swallows gathering mud from a small puddle to build their nest.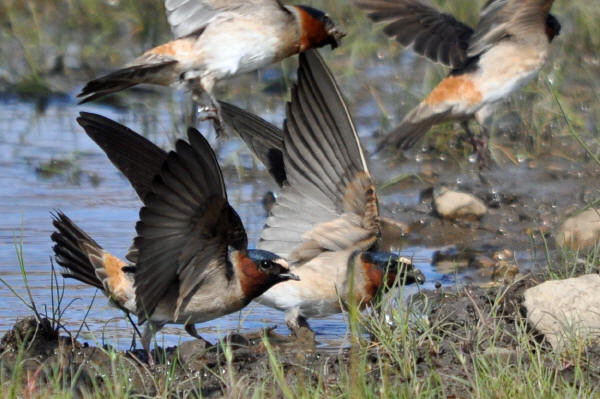 Cliff Swallows photo courtesy Jackie Bowman
---
Paul Mayer on 5/15 reported via e-mail: Jon Duerr and I visited Prairie Green this morning to see if the flooded conditions had attracted any shorebirds. We were not disappointed. Least Sandpiper, Semipalmated Sandpiper, Killdeer, Spotted Sandpiper and Short-billed Dowitcher were all present. But, the highlights were a male Yellow-headed Blackbird chasing a female and a Peregrine Falcon chasing a flock of crows. But Crows are smart and the Peregrine never managed to get one out of the trees.

Please remember if you go to Prairie Green that the fields are planted and not to walk across them.

Good birding.
---
Ron Dickenson on 5/15 reported via e-mail: Ron shares this photo update of the Mooseheart Bald Eagle nest: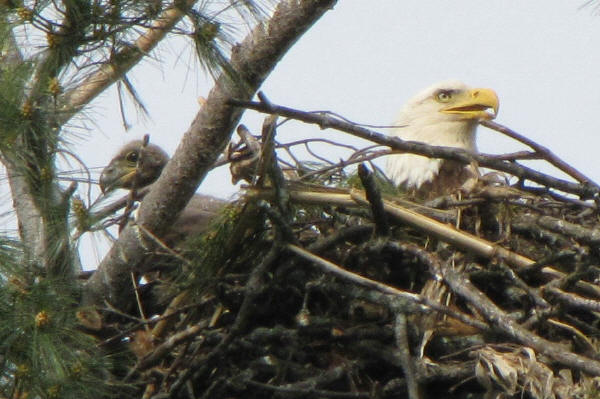 Bald Eagle and eaglet photo courtesy Ron Dickenson
---
Ken Schneider on 5/15 reported via e-mail: This morning at Les Arends, I heard but did not see: White-eyed Vireo, Yellow-throated Vireo, and Northern Waterthrush. Heard and finally did see an Orchard Oriole, at the southmost parking area. Under overcast skies I got poor photos of Yellow and Blackpoll Warblers, Eastern Wood-Pewee, Swainson's Thrush and Veery. On to Jones Meadow Park (Batavia Park District, North Aurora), where I finally was able to photograph the Soras that I have heretofore only glimpsed fleetingly, at the eastern margin of the wetlands. High water seems to have forced them up on the berm between the retention pond and wetlands. More photos on my FLICKR page.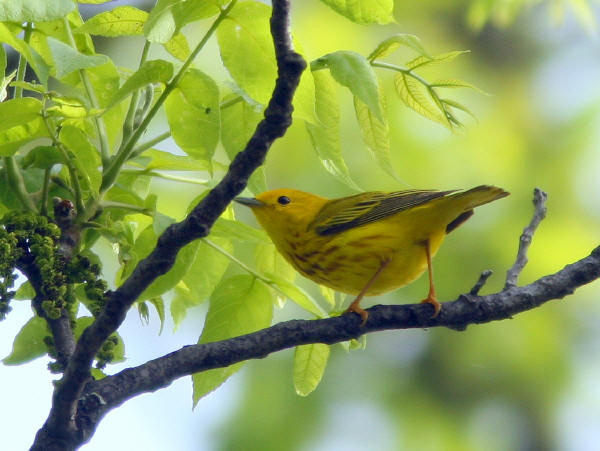 Yellow Warbler photo courtesy Ken Schneider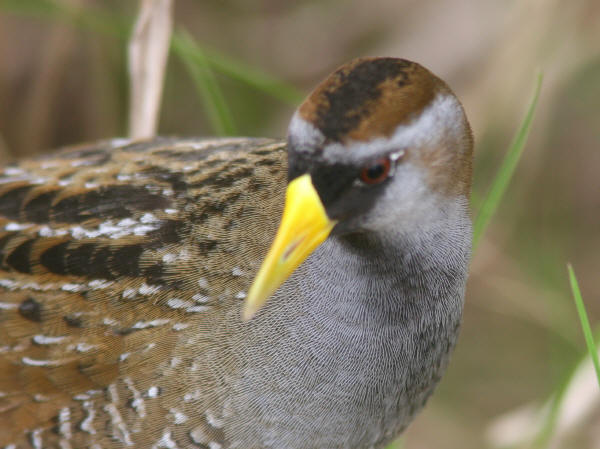 Sora photo courtesy Ken Schneider
---
Bryan Hix on 5/15 reported via e-mail: The warbler activity was pretty good again early this morning (6:15) at Burnidge and Rutland FPs, but many were in much denser undergrowth than yesterday for the most part. I had some new firsts for me with a Black-Throated Green Warbler and a Canada Warbler. I tried Duerr FP, and there was very little activity today. Other birds observed:

Cape May Warbler
Chesnut-sided Warbler
Blackburnian Warbler
American Redstart
Magnolia Warbler
Yellow Warbler
Common Yellowthroat
Yellow-Throated Warbler
Black and White Warbler
Yellow-Rumped Warbler
Palm Warbler
Golden-Winged Warbler (female)
Connecticut Warbler (@ Rutland FP)
Unidentified Waterthrush (really couldn't tell which one)
Scarlet Tanager
Rose-Breasted Grosbeak
Eastern Towhee
Indigo Bunting
Red-headed Woodpecker (1st sighting in 3 years!)
Numerous Ruby-Throated Hummingbirds
Blue-Gray Gnatcatchers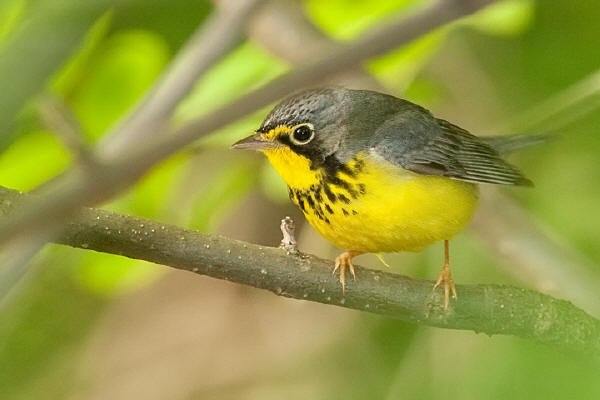 Canada Warbler photo courtesy Bryan Hix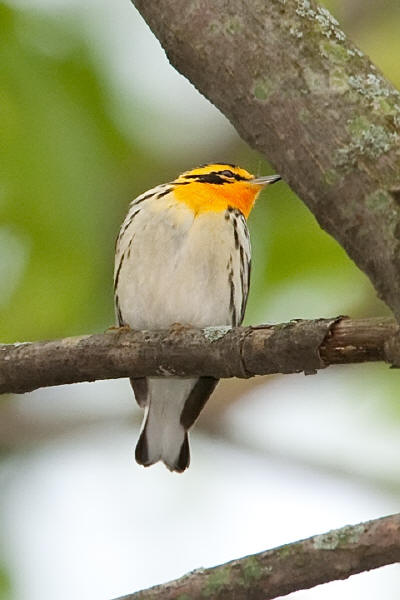 Blackburnian Warbler photo courtesy Bryan Hix
---
Ken Schneider on 5/14 reported via e-mail: Mary Lou and I observed the Mooseheart Bald Eagle nest from the west yesterday and could not see any eaglets. We were concerned because of the severe wind and rain storms that passed through. This morning we watched for 2 hours from the 2nd story deck of a home just east of the property. Only one adult was at the nest and we must have just missed a food drop, as the adult was actively feeding both eaglets. At Les Arends a brief walk yielded Northern Waterthrush (heard only), Chestnut-sided Warbler, and a vociferous White-eyed Vireo. More photos on my FLICKR page.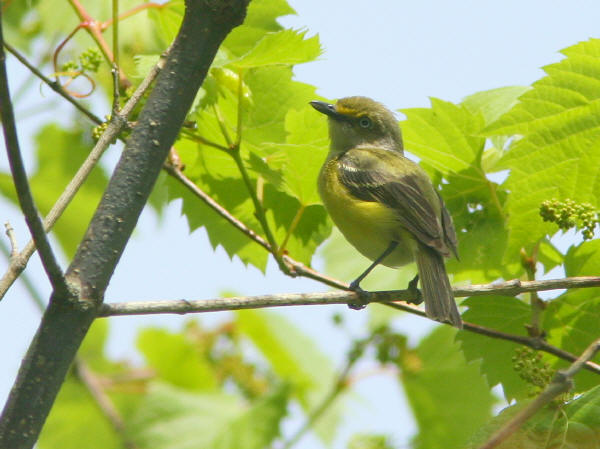 White-eyed Vireo photo courtesy Ken Schneider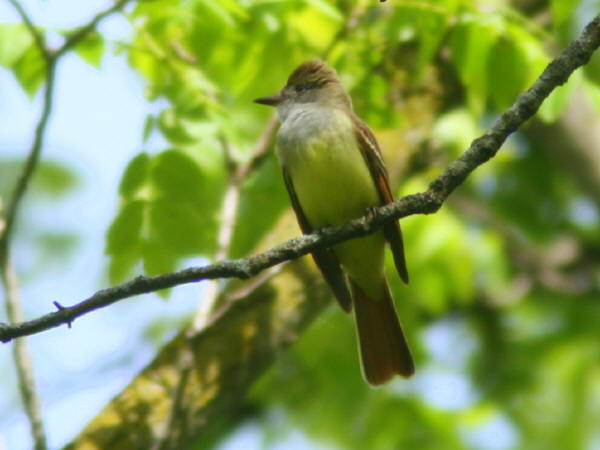 Great Crested Flycatcher photo courtesy Ken Schneider
---
Liz Gerity on 5/14 reported via e-mail: A Red-headed Woodpecker is coming to our feeders today [in Campton near Garfield Farm]. First one we've seen here in years, although they nested here in the '80s when we first moved in.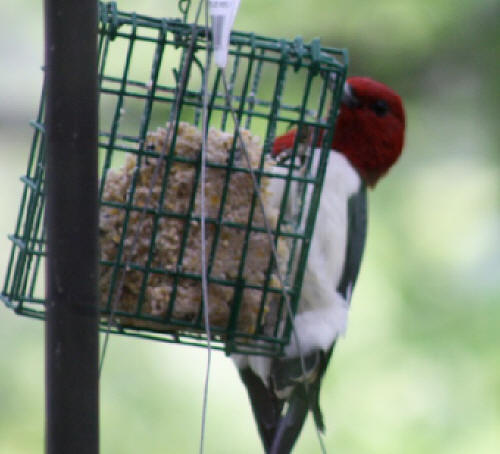 Who wouldn't want one of these at their backyard feeder?
Red-headed Woodpecker photo courtesy Liz Gerity
---
Bryan Hix on 5/14 reported via e-mail: Today was MUCH better for warblers and other birds. I was at Burnidge this morning and saw the following (all the warblers were within 100 yards of each other):

Magnolia Warbler (several)
Palm Warbler (everywhere)
Black and White Warbler (2)
Yellow-Rumped Warbler (dozens)
Chestnut-sided Warbler (3)
Blackburnian Warbler (1)
Yellow-Throated Warbler (1)
American Redstart (5)
Yellow Warbler (several)
Golden-Winged Warbler (1)
Nashville Warbler (2)
Winter Wren (1)
Eastern Kingbird (4)
Great Crested Flycatcher (1)
Catbird (several)
Thrasher (2)
Bluebird (pair)
Rose-breasted Grosbeak (8+)
Warbling Vireo (5+)
Common Yellowthroat (several)
Veery (1)
Indigo Bunting (1)
Tree Swallow
Bank Swallow
Northern Rough-Winged Swallow
Barn Swallow
Sora Rail (1)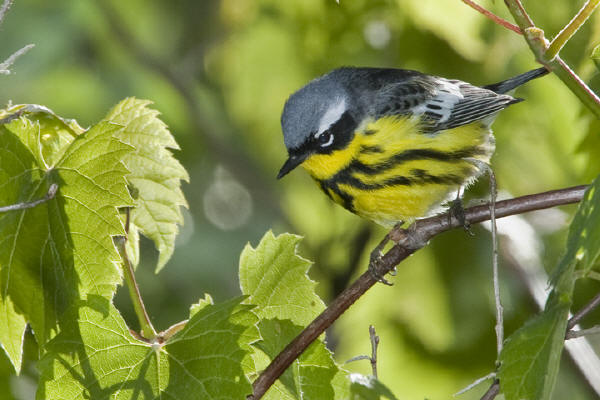 Magnolia Warbler photo courtesy Bryan Hix
---
Roger Reason and Nancy Bent on 5/12 reported via IBET: Dozens of Bank Swallows were observed Wednesday afternoon flying over the Fox River between the foot bridge in Dundee and the Main Street bridge in Carpentersville. Lesser numbers of Cliff Swallows and Rough-winged Swallows were also present.
---
Pete Moxon on 5/11 reported via phone: Today at Jon Duerr Forest Preserve, he saw and/or heard:

Kentucky Warbler
Cerulean Warbler
Prothonotary Warbler
Golden-winged Warbler, 2
Bay-breasted Warbler, 2
Blackpoll
Northern Parula, 2
Black-throated Green Warbler
Hooded Warbler
Magnolia Warbler
Northern Waterthrush, 7
Tennessee Warbler, 12
Nashville Warbler, 3
Yellow Warbler, 2
Common Yellowthroat, 2
Palm Warbler, 7
Yellow-rumped Warbler, 4
Black-and-white Warbler
Ovenbird
Connecticut Warbler
Lincoln Sparrow
Red-headed Woodpecker, 2
Baltimore Orioles, 8 - 10
Red-eyed Vireo, several
Yellow-throated Vireo
Bank Swallow, 15 - 16
Cliff Swallow, 5
Barn Swallow, several
Tree Swallow, several
Northern Rough-winged Swallow, several

Another birder reported a Black-throated Blue Warbler that Pete didn't see.

---
Jon Duerr on 5/11 reported via phone: There is a singing Kentucky Warbler at Jon Duerr Forest Preserve at the entrance to the walking trail next to the rear parking area. This is not the bike trail. The bird was first heard on Saturday, was still there this afternoon.
---
Ken Schneider on 5/11 reported via e-mail: On the morning of May 10th we visited the west bank of the Fabyan FP and heard a Yellow-throated Warbler singing loudly near the Japanese Garden. After almost 1/2 hour we finally saw it and obtained some poor photos. Had white-lored White-crowned Sparrows there as well. Am not familiar about the expected mix, but lately all the others I have seen were black-lored. Many Warbling Vireos were present.

Later in the morning I visited Hawk's Bluff Park and saw a Bay-breasted Warbler and an American Redstart.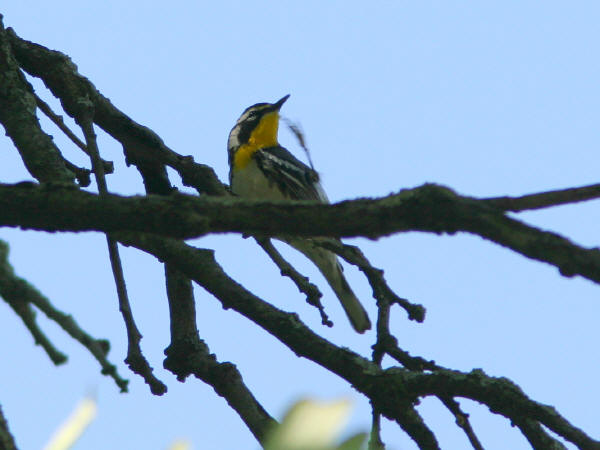 Ken Schneider shares this photo of the aptly-named Yellow-throated Warbler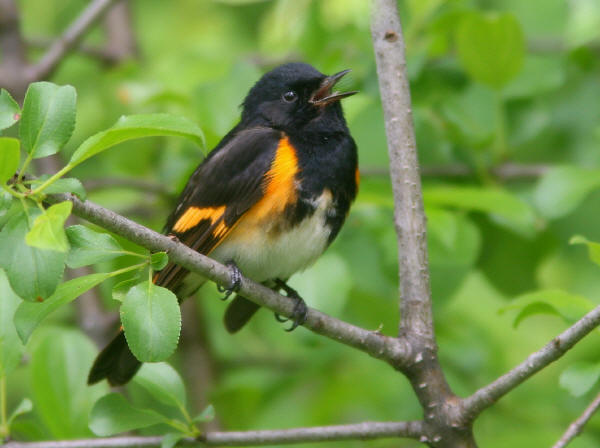 American Redstart photo courtesy Ken Schneider
---
Bryan Hix on 5/10 reported via e-mail: Took the day off and spent it with my camera looking for birds. Started the day out in Rutland FP, a small FP off Big Timber. Saw over a dozen Palm Warblers, 2 Chesnut Sided Warblers, 2 Nashville Warblers, several Blue-Gray Gnatcatchers, 3 Black and White Warblers, 20+ Yellow Rumped Warblers, 4 Kingbirds, Nesting Great Blue Herons, 2 Baltimore Orioles, 2 Warbling Vireos.
Then I moved on to Fabyan FP by the river. Ran into a couple other birders there who had reports of a yellow-throated warbler. I didn't see much there except several Baltimore Orioles and 2 Cooper's Hawks and a mix of sparrows. The wind started kicking up and kept the activity down.
Next I stopped over at Nelson lake and saw only Yellow-Rumped Warblers. Common Yellowthroats, Palm Warblers, and Yellow Warblers along with all the other regular species that have been around for a while. That pretty much ended the day. I envy those folks who see 12-15 different types of warblers. Must have good ears or be at the right place and the right time!
---
Angela A. on 5/10 reported via e-mail: We spotted a pied-billed grebe in Fabyan Park on Saturday. Also, lots of orioles and one ruddy duck along the Fox River in North Aurora today.
---
Yeanette Johnson on 5/10 reported via IBET: Walked along Blackberry Creek on the Gilman Trail from Bliss Woods FP toward the RT 56 spur & back this morning. The walk did not produce nearly the amount of birds I had along the river yesterday at Les Arends. It was still a beautiful morning to be out birding! Here are some of the highlights;

BROAD-WINGED HAWK
CHIMNEY SWIFT
ROSE-BREASTED GROSBEAK
SCARLET TANAGER
BLACK-AND-WHITE WARBLER
CHESTNUT-SIDED WARBLER
TENNESSEE WARBLER
YELLOW WARBLER
NASHVILLE WARBLER
YELLOW-RUMPED WARBLER
NORTHERN WATERTHRUSH
AMERICAN REDSTART
OVENBIRD
COMMON YELLOWTHROAT
SONG SPARROW
WHITE-CROWNED SPARROW
WHITE-THROATED SPARROW
DOWNY WOODPECKER
RED-BELLIED WOODPECKER
---
Ron Dickenson on 5/10 reported via e-mail: Ron shares this as photographic assurance that two eaglets are in the Mooseheart nest: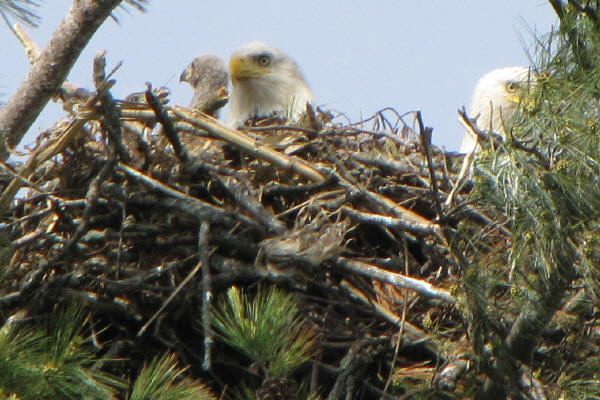 Bald Eagle parents and chicks photo courtesy Ron Dickenson
---
Bruce Rowland on 5/10 reported via e-mail: I found a first year male Summer Tanager (mixed red and green, green wings, very large bill) in Delnor Woods Park [in St. Charles] on Sunday May 9th at 10:00 am. It was located north of the parking lot feeding in the shrubs and trees along the eastern edge of the woodlot along the path. Got great views from about 20 feet, often near eye level. Watched it for about 5 minutes before moving on. Did not relocate after I returned past this spot.

A male Scarlet Tanager was also singing from a tree top not far away from this bird.
---
Yeanette Johnson on 5/9 reported via IBET: After participating in the Spring Count yesterday, I planned to take a leisurely walk along the river with my Yorkie this morning. Well, I got a pretty good work out picking up my Binos time and time again! Here is the list;

BLACK THROATED BLUE WARBLER
BLUE-WINGED WARBLER
GOLDEN-WINGED WARBLER
TENNESSEE WARBLER
NASHVILLE WARBLER
YELLOW WARBLER
CHESNUT-SIDED WARBLER
MAGNOLIA WARBLER
CAP MAY WARBLER
YELLOW-RUMPED WARBLER
BLACK-THROATED GREEN WARBLER
BLACKBURNIAN WARBLER
PALM WARBLER
BLACK AND WHITE WARBLER
AMERICAN REDSTART
OVENBIRD
NORHTERN WATERTHRUSH
LOUISIANA WATERTHRUSH
SCARLET TANAGER
SONG SPARROW
WHITE-CROWNED SPARROW
ROSE-BREASTED GROSBEAK
INDIGO BUNTING
RED-WINGED BLACKBIRD
BALTIMOR ORIOLE
AMERICAN GOLDFINCH
SPOTTED SANDPIPER
DOWNY WODPECKER
HAIRY WOODPECKER
NORTHERN FLICKER
WARBLING VIREO
RED-EYED VIREO
AMERICAN CROW
WHITE BREASTED NUTHATCH
VEERY
GREY-CHEEKED THRUSH
SWAINSON'S THRUSH
WOOD THRUSH
GRAY CATBIRD
AMERICAN ROBIN
---
Cathy Martens on 5/9 reported via e-mail: Today we went to the Tanglewood Hills subdivision and found the viewing area for the eagle nest on the Mooseheart property. We had a scope set up and my daughter Stephanie was the first to see that there are actually 2 eaglets! Then my husband and I also saw them, so there are definitely 2 of them! We only saw one parent, who stayed on the nest the entire time we were there, feeding and watching over them. It was a wonderful Mother's Day gift to see them!
---
Paul Mayer on 5/8 reported via e-mail: During the May 8th Bird Count, one Yellow-headed Blackbird was found at the Prairie Green Wetland. The bird was heard by Bill Koch and Paul Mayer but kept itself buried deep in the cattails and went unseen.
---
Julie Long on 5/8 reported via e-mail: That she, Ginny Widrick, and Carli Bergeson saw a black throated blue warbler, golden winged warblers and a white eyed vireo at Leroy Oakes in the scout camping area for the bird count today. On the other side of Leroy Oakes, south of Dean St and west of Horlock Prairie and the pond was a singing chat. We had 17 species of warblers today, mainly in areas near Ferson Creek, with a total of 83 species in our count area which also included Ferson Creek Fen, Norris Woods, and the Wildrose area subdivisions and a couple of wetlands near Bolcum road.
---
Ron Dickenson on 5/7 reported via e-mail: That thus far he has seen only one Eaglet. Here's a photo from Wednesday.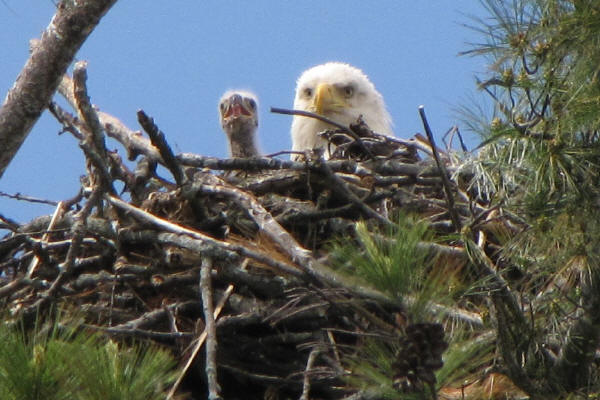 Eagle and chick photo courtesy Ron Dickenson
---
Mark Bowman on 5/7 reported via IBET: At Leroy Oaks in St Charles the sun was under but it was very birdy. The leaves are making it tough, especially to take any pics, they are staying fairly high up in the trees.

3-4 golden winged warblers
1 blackburnian warbler
4 nashville
1 yellow rumped
2 palm
1 yellow
3-4 black and white warblers
multiple baltimore orioles
and rose breasted grosbeaks
2 common yellowthroat
1 yellow throated vireo
---
John Heneghan on 5/7 reported via IBET: This AM, at the feeders in the front [in Big Rock], we had a Rose Breasted Grosbeak, White Crowned Sparrow, Indigo Bunting, Red Bellied Woodpecker, Goldfinches, House Finches, Bluejays, ect.
In the back yard, Palm Warblers were seen and heard, Blue Gray Gnatcatchers, a Yellow Rumped Warbler, House Wren, Eastern Bluebirds (still working on the nest in the bird house), a female Western Tanager, female Coopers Hawk, Catbird (heard), Thrasher (heard).
---
Jack Pomatto on 5/7 reported via e-mail: On Thursday May 6, 2010 three Broad-winged Hawks were seen migrating through Tekakwitha Woods Forest Preserve at 1:00 P.M. in a mini-kettle.
---
Bryan Hix on 5/6 reported via e-mail: I finally saw my first Ruby-Throated Hummingbird today! I just happened to be looking out the kitchen window when a male flew up to my feeder. Also earlier today as Burnidge FP, I saw dozens of common yellow throats and a first for me, a warbling vireo that posed very nicely for several photos.
---
Patrick Webb on 5/6 reported via IBET: Stopped at Nelson Lake tonight around 6pm. No one was there looking for the recent Ruff when I showed up. I ended up taking a stroll around to the North section and got great looks at about 5-6 species shorebirds. Highlight was the (2) LONG-BILLED DOWITCHERS.
---
Nancy Bent and Roger Reason on 5/6 reported via IBET: We arrived about 7:00 [Wednesday night] at Nelson Lake in search of the Ruff. The bird walked out of the cattails just south of the mudflats on the northeast corner of the lake at about 7:30. The light was fading but the smaller head and bill, "dumpy" body shape and distinctive scaliness of the scapulars were all clearly visible. Another birder arrived in time to see the bird before it flew off to the west.

Ruff photo courtesy Bob Andrini
---
Mark Bowman on 5/5 reported via e-mail: At Nelson earlier today there were some nice phalaropes, short billed dowitcher, lesser scaup [per Joe Lill], lesser yellowlegs, shovelers, blue winged teal, sora, solitary sandpipers and a few peeps but no ruff at that time.

At Prairie Green, least sandpiper and spotted sandpiper seen along with a number of pipits. Did not see the green winged teals there today.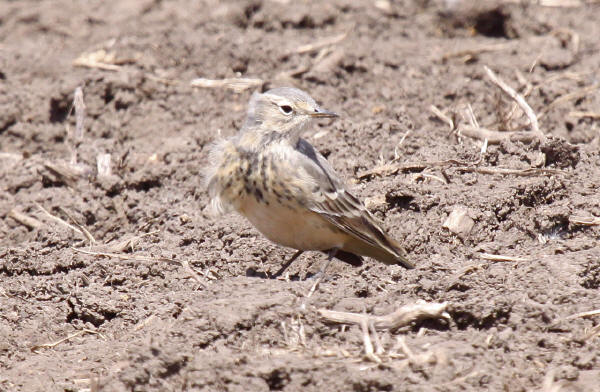 American Pipit photo courtesy Mark Bowman
---
Ken Schneider on 5/5 reported via e-mail: This morning at Nelson lake, Mary Lou and I missed the Ruff at around 8:00 AM. We did see the first Bobolink (a male) we had ever seen in the east prairie, and also saw an Eastern Kingbird. We returned at 5:00 PM and were delighted that the Reeve [female Ruff] was in sweet scope view! Yesterday morning, at Lippold Park, we had Scarlet Tanagers, Rose-breasted Grosbeaks, and Baltimore Orioles-- no waterthrushes.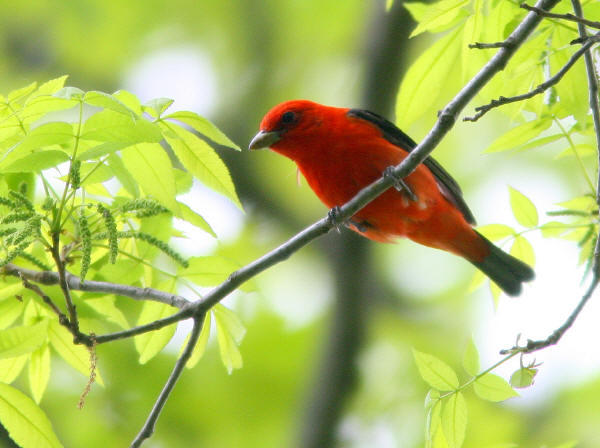 Scarlet Tanager photo courtesy Ken Schneider
---
Ann Haverstock on 5/5 reported via IBET: The ruff was at the NE corner mudflat again this afternoon. I stayed from 3 to 3:45 pm. Great light. As I left with Darrell Shambaugh, there were a couple of birders heading out.
---
Mike Madsen on 5/4 reported via IBET: Arriving at Nelson Lake after 7:30 p.m., I quickly located a large group of birders but was disappointed to be told that both of my target shorebirds were not there. At about 7:45 I heard the distinctive calls of WILLETS. With some searching, I was able to find 11 of them along the north shore of the lake. I continued to scan with hopes of relocating the RUFF that had been reported there as well. By this time it was literally sunset (the preserve closes at that time) so I ran with my scope to the northeast to the point where the trail begins to descend. At that location, I was able to see a very good candidate in a small opening where I could see the east end of the lake. The bird had the correct size, shape, and feeding pattern for a Ruff but colors were very difficult to pick out in the fading light (it was right next to a Solitary Sandpiper for size comparison). Twice the bird did some interesting behaviors, where it would throw its chest forward and drop its wings down and back, doing a shuffling forward strut like it was doing a courtship dance. I was later told that the Ruff was doing that behavior when others observed it earlier, so I have good reason to believe that the bird is actually still present (or at least was at sunset).
---
Eric Secker again on 5/4 reported via IBET: It sounds like a number of people were able to get on [the Ruff] this afternoon. It's unfortunate to hear that some people later in the evening felt the need to walk out towards the edge of the marsh despite my concerns for the birds there. I also hope they weren't responsible for flushing the bird, which coincidentally or not, disappeared before the 5:30-7pm group arrived. I will try very hard to leave it
respectfully at that.
---
Jeff Chapman on 5/4 reported via IBET: A group gathered to look for the reeve from about 530pm to 7pm and could not relocate it at Nelson Lake Marsh in Kane County. None of the previously reported 12 willets were present, and no phalaropes were seen. It's certainly possible the reeve is in some of the tall grasses...
---
John Heneghan on 5/4 reported via IBET: Spent a few hours at Big Rock FP in Kane Cty this afternoon. Among the birds seen were Common Yellowthroat, Yellow Warbler, Black And White Warbler, Northern Waterthrush, Song, Field, Grasshopper and White Throated Sparrows, Blue Gray Gnatcatcher, Northern Oriole, Palm Warbler, Kildeer, Gray Catbird, Eastern Phoebe, both sexes of Eastern Towhees, Turkey Vultures, Eatern Bluebird, Eastern Meadowlark, Red Tail Hawk, Kestrel, Coopers Hawk, Red Bellied Woodpecker.

At Home [in Big Rock]:
Red Headed Woodpecker still making appearances at the suet feeder and the Bluebirds are still working on a nest in the birdhouse, though the neighbors kid is riding a dirt bike in the field out back and hopefully this will not disturb the pair.
---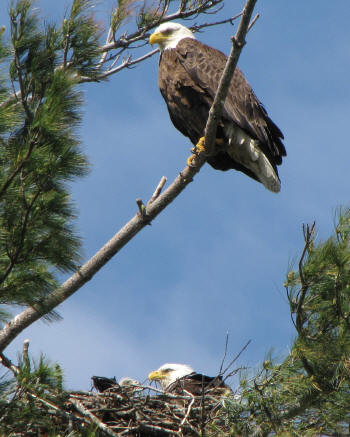 Thanks to Ron Dickenson for the first photo of the first known eaglet in recent Kane County history.
Ron Dickenson on 5/4 reported via e-mail: First Eaglet sighted at Mooseheart today.
---
Eric Secker again on 5/4 reported via IBET: The [Ruff] was behind some reeds but just came out again on the close shore. Jon Duerr and his wife are here now as well, viewing the bird along with myself, my dad, and Pete Moxon who all found the bird.

Things to look for: It is a Reeve. Maybe a juvenile or transitioning into adult plumage. Bigger than the Lesser Yellowlegs and smaller than the Greaters. Note the unique head shape, clean buffy breast, scapulars blowing up a lot in the wind at times. Very large black spots and very brown / buffy color on the feathers. The legs are not bright orange, more towards green. Also the diagnostic "white u" and dark edge to the tail.

Again don't walk too far down to the marsh or you'll disturb the cranes and other birds in the area. I took a few digiscope photos but I don't have my Nikon. They are still good enough to ID it though and I will post them later.

Also, I forgot to mention that there were also 4 WILSON'S PHALAROPES along with the WILLETS and other birds.
---
Eric Secker on 5/4 reported via IBET: I am out with my dad and Pete Moxon at Nelson Lake (Dick Young F.P.).

We are looking at a definite RUFF at the north end of the marsh along the mudflats. Go north from the platform along the trail and there are a few openings where you can scope it out. If you go further there is a trail that goes down closer to the marsh. You can walk this a bit but don't go too far as there are other birds nesting in the area. The bird looks like a juvenile or transitioning into adult plumage. The legs are not bright orange.
Also there are at least 8 or 9 WILLETS.
---
Michael Tartaglia on 5/3 reported via e-mail: Saturday 5/1 was a good backyard bird day in North Aurora, 1/4 mile East of the Fox River. New sightings in my yard were a Blue-gray Gnatcatcher, Solitary Vireo (now Blue-headed Vireo), and Common Yellowthroat Warbler. House Wrens are suddenly chattering, as are Chimney Swifts. A few White-throated sparrows, and a Sharp-shinned hawk also visited my yard. These are in addition to the regulars: Black-capped Chickadee, Robins (galore), Grackles, Starlings, Cardinals, House Sparrows. House finches, here last week, have not been visible or audible.
---
Robin Moseley on 5/3 reported via e-mail: We went back to Burnidge Forest Preserve at dusk to see if the Turkey Vultures we saw Sunday evening might have come back to the dead trees on the big lake. Unfortunately they were not there. We did see three Solitary Sandpipers working the west shore of the lake near the dead trees, several Goldfinches, two pairs of Blue-Winged Teals, and a Blue Heron flying over the lake. We did not walk around the lake, but I could see there were more sandpipers working the shoreline further away.
---
Julie Long on 5/3 reported via e-mail: I had two singing (dueling?) northern parulas on Monday am at Ferson Creek Park on rt 31. That would be the park on the south side of Ferson Creek. They were in the sycamore trees, one bird on each side of the creek.
---
Scott Cohrs on 5/3 reported via e-mail: Headwaters was full of sparrows yesterday. White-crowned, White-throated, Song, Vesper, Savannah and Swamp were present in large numbers. In addition, a Clay-colored was singing and feeding along the limestone path that is to the west of the parking lot. You could actually hear him from the parking lot. Also, a Lark Sparrow was along the path that heads south. This is the 5th Lark Sparrow that I have seen this spring in Kane County, and the 4th location that I know of. I have thought in the past that Headwaters would be a good location for one.

Other new arrivals at this location include 3 Bobolink and a Western Meadowlark (have not heard one at this location before).
---
John Heneghan on 5/2 reported via IBET: Interesting day in the yard. First of all the Red Headed Woodpecker I mentioned the other day is still making appearances, it was seen 4 times today at the feeders. That in itself was a good day, at least for me. I get a phone call from Tricia telling me that a pair of bluebirds are bringing nest material into the bird house I put up a while ago. She also describes what I think is a house wren in the yard.

When I get home, I grab my scope and sit on the back porch and watch the birdhouse (it is a bluebird type house). Soon a female bluebird arrives with nest material and goes into the house. This continues for a while with the male showing up eventually. Knowing the adverserial relationship with house wrens. I continue to watch the bluebirds and wren which is calling away from a brush pile close by. The wren seems to keep its distance, though a robin feeding chicks nearby chases the female bluebird a few times. All at once, the wren flies into the birdhouse and the female bluebird is there in an instant, chasing the wren away.

A chickadee shows up (At one point I had considered placing cedar shavings in the birdhouse as a pair of chickadees were going in an out.) Again, the female bluebird shows up to chase the chickadee away. I watched the bluebirds for quite a while. I hope we end up with a bluebird family!
---
Sue Wagoner on 5/2 reported via e-mail: On the Saturday morning (5/1) KCA Nelson Lake walk, among many other species, we saw this White-crowned sparrow eating dandelion seeds along the path.

Today, 5/2 [a] Swainson's thrush was singing in my yard- a song reminiscent of a Veery's... very rich and echo-y. Also his alert call was a soft, fast "whhip" Every year I get one or more Swainson's migrating through my yard but don't often hear them singing.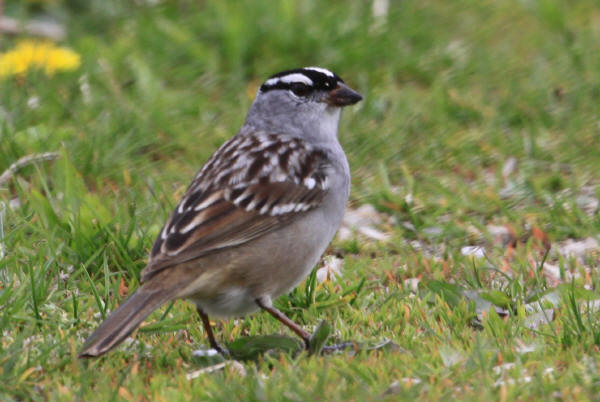 White-crowned Sparrow photo courtesy Sue Wagoner
---
Robin Moseley on 5/2 reported via e-mail: Late afternoon on the large lake with dead trees, [at Burnidge Forest Preserve] we spotted 5 Turkey Vultures, several Lesser Yellowlegs, and pair of Blue-Winged Teals on the west part of the lake within a 100 feet of each other.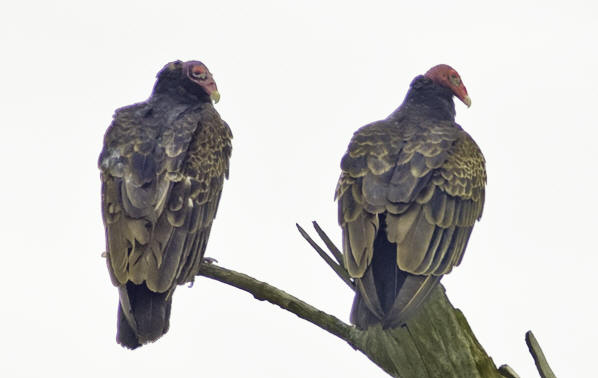 Turkey Vulture photo courtesy Robin Moseley
---
Bryan Hix on 5/2 reported via e-mail: I went to a couple of places today to see what migrants had arrived. First stop was Burnidge FP. Many more Yellow Warblers are here now and singing all day long. I also saw my first Nashville Warbler of the year along with a couple of Brown Thrashers, several Field Sparrow and White-Crowned Sparrow. At the larger pond on the west side, there were 4 Greater Yellowlegs, a Red-Tailed Hawk being harrassed by just about every other bird, and a Belted Kingfisher. The highlight of the day was seeing a male Bobolink calling and doing its territorial flight show in the open field.

In the afternoon, I headed to Fabyan Park in Batavia and saw more Yellow Warblers, a female Hooded Merganser fly up into a nest hole in a broken branch of an oak tree by the Japanese Gardens, and my first Baltimore Oriole (my 5 year old son actually got that one!). All in all, much better than the past weekend.

Bobolink photo courtesy Bryan Hix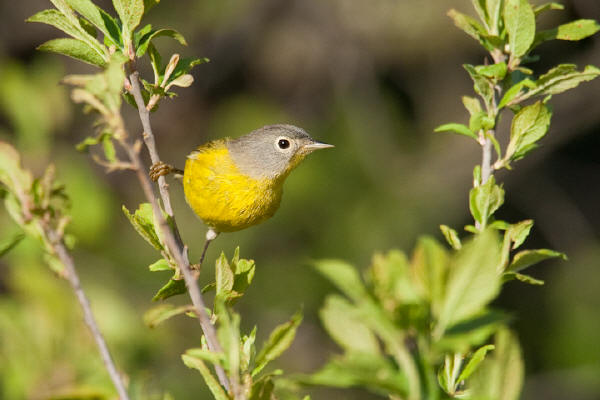 Nashville Warbler photo courtesy Bryan Hix
---
Christopher Cudworth on 5/2 reported via IBET: This morning (Sunday, May 2) the YELLOW-THROATED WARBLER was singing in the sycamore just across the service road from the west end of the Japanese Tea Garden.

A NORTHERN PARULA WARBLER was signing in a sycamore tree just north of the archway path north of the Tea Garden.

Also at Fabyan (7:00-8:00 a.m.)

EASTERN BLUEBIRD (nest building in a hollow tree just east of the main
bridge)
YELLOW RUMPED WARBLER
PALM WARBLER
EASTERN PHOEBE
BELTED KINGFISHER
TREE SWALLOW
BARN SWALLOW
ROUGH WINGED SWALLOW
DOUBLE CRESTED CORMORANT
GREAT BLUE HERON
MALLARD
CANADA GOOSE
WHITE BREASTED NUTHATCH
NORTHERN/BALTIMORE ORIOLE
CARDINAL
CATBIRD
BLUE JAY
GREAT BLUE HERON
WARBLING VIREO
Yesterday during a 40 mile bike from Batavia, to Kanevile, to Big Rock, Sugar Grove and home, I heard or saw pretty good numbers of the following species in the open fields:

Grasshopper Sparrow
Savannah Sparrow
Horned Lark
Western Meadowlark
Eastern Meadowlark
Vesper Sparrow
---
Ann Haverstock on 5/2 reported via e-mail: Western Meadowlarks have returned to Sauer Family Prairie Kame Forest Preserve. Yes, that is the full name of that preserve. You can see and hear them near the farthest electrical towers west of the parking lot. The tower at the NW corner of the wetland had a perched bird singing. I do not claim to be a photographer but I can document a bird.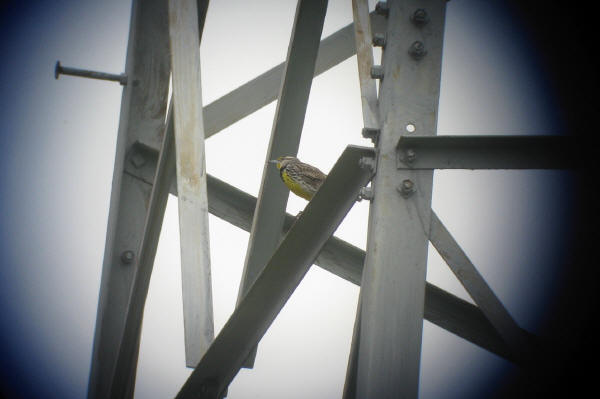 Western Meadowlark photo courtesy Ann Haverstock
---
Bill Koch on 5/2 reported via e-mail: I birded a portion of nearby Fitchie Creek FP for an hour and a half this morning and had a 47 species outing. I parked at the Nessler Road Parking lot by Prairieview Elementary and walking south on the bike path produced some Eastern Meadowlarks and some good sparrows. I heard and viewed three Henslowís sparrows along with White-Crowned, Field, Song, and Savannah sparrows. I heard Dickcissel here last year and hope they return.

I then headed south on the crushed Limestone path near the creek. Birds of note included Rose-Breasted Grosbeak, Eastern Towhee, Gray Catbird, Wood Thrush, Brown Thrasher, and Green Heron. In the grassy portion of the fields off the path there were about 8 Bobolinks calling in different places.

The path winds around into a nice Oak Forest that has a small pond on the left. Warblers there included Palm, Yellow Rump, Yellow, Common Yellowthroat and Louisiana Waterthrush. Also there were Wood Ducks, a Scarlet Tanager and Baltimore Oriole.

I didnít go any further but the Bike path and Limestone Path continue to the main entrance at Russell Rd with a lot more prairie land in between.
---
Ken Schneider on 5/1 reported via e-mail: Our daughter's Batavia home is in the flight path of the Mooseheart Bald Eagles as they return with prey from Nelson Lake. I did not know the location of the nest and assumed it was hidden by trees on the property, which is posted. On a brief bird walk in Hawk's Bluff Park, I happened to look across Randall Road and saw a lone adult Bald Eagle roosting by the nest. It was joined about 15 minutes later by a second adult. No food was brought in, and I did not see any chicks. Judging by the behavior of the parents (watching closely but not brooding) they must still be rather young, but capable of thermo-regulation-- maybe two weeks old or less. We are monitoring a nest near our Florida home, the first in Broward County since DDT was banned, so this is quite a coincidence! The Florida nest has fledged three chicks this spring, but we are concerned that one may have been injured or killed on its first flight. Learn more at my website.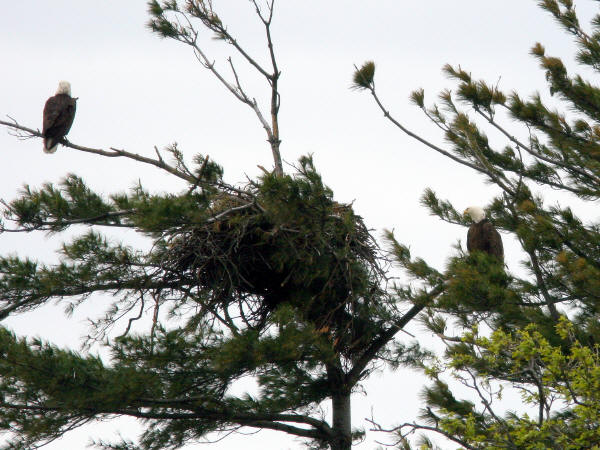 Bald Eagles flank their nest at Mooseheart. Photo courtesy Ken Schneider
---
Kim Girard on 5/1 reported via e-mail: In my yard (Wasco area) the morning of May 1 - two male, 1 female Baltimore Orioles; this afternoon, male Rose-Breasted Grosbeak. First of year for both.
---
Scott Cohrs on 5/1 reported via IBET: In news from yesterday, I was able to relocate one of the Smith's Longspurs at Sauer FP in the early afternoon. Almost amazing, considering the tempest. One species that I did not see mentioned anywhere were the two Lark Sparrows that were present in the field just west of the parking lot. That is the 3rd location that I know of that
has had Lark Sparrows in Kane this spring. That traditionally has been a very tough bird in the county.
---
Bryan Hix on 5/1 reported via e-mail: It appears that the strong south winds blew in some new birds in the past couple of days. I was out around 7am this morning in Burnidge FP and heard and saw several Yellow Warblers, one Palm Warbler, small flocks of white-crowned sparrows, and 4 Spotted Sandpipers (along with many other species that have been here a while). These are the first Warblers besides one black and white that I have seen this year near my house, so hopefully there are plenty more on their way.

| | |
| --- | --- |
| | |
| Yellow Warbler photo courtesy Bryan Hix | |
| | |
| Palm Warbler photo courtesy Bryan Hix | |
---