Jason Sturner and Kelly Moran on 11/29 reported via IBET: Sorry about the late post, but last weekend we saw 6 TUNDRA SWANS and a BALD EAGLE at Nelson Lake/Dick Young Forest Preserve (Kane Co.). Haven't noticed any IBET postings about the swans at this location so I thought I'd mention it.
Yeanette Johnson on 11/26 reported via IBET: Yes the [Sandhill Cranes] kept John company as he keep watch over the Weber Grill today [in Aurora]. As a nice large group passed over he motioned for me to take a peek out the front door & I was thrilled to see all of the birds in the sky above! Our feeders were busy all day with the likes of:
RED-BREASTED NUTHATCH
BLACK-CAPPED CHICKADEE
NORTHERN CARDINAL
DOWNY WOODPECKER
MOURNING DOVE
AMERICAN GOLFINCH
DARK-EYED JUNCO
BLUE JAY
HOUSE FINCH
HOUSE SPARROW
COOPER'S HAWK
MALLARD
GREAT BLUE HERON (on the golf course pond two doors down)

Happy Thanksgiving to all
Karen Land on 11/26 reported via IBET: Between 10:30 and 11:30 this morning (11/26) two small groups of sandhills where first heard and then seen front my back deck [in Batavia] flying directly over.
John Heneghan on 11/25 reported via IBET: While working on a home project [in Big Rock], I saw a Tufted Titmouse at one of the feeders and a beautiful male coopers hawk has discovered the feeding bonanza at our feeders. While I enjoy watching the flight of the coopers, I wish he would predate elewhere as I try to run a "clean and safe bird diner"!!!
Bob Andrini on 11/24 reported via e-mail: At Prairie Green yesterday we had great looks at a Northern Shrike - we saw him at a few different spots around PG.
Yeanette Johnson on 11/21 reported via IBET: Lisa and I birded Carson Slough this afternoon. In addition to the TUNDRA SWANS(5), we also spotted AMERICAN WIGEON, GREEN-WINGED TEAL, GREAT BLUE HERON, MALLARD, AMERICAN COOT, HOUSE FINCH, and DARK-EYED JUNCO.

Later in the evening as the sun set Lisa, John, and I birded Nelson Lake Marsh (West Side) in order to find a possible SHORT-EARED OWL. No can do on the that particular species, but we did see a GREAT HORNED OWL on the walk back to the car. Other highlights of the evening birding session were: NORTHERN HARRIER(4), SANDHILL CRANE, RING-NECKED PHEASANT, some Deer, and a very vocal group of Coyote!

What a wonderful way to spend the entire day!!!
Chris Madsen on 11/21 reported: Spotted a very wary Northern Shrike yesterday afternoon at Nelson Lake. The closest he'd let me approach was about 50 yards. I'm sure that if I wasn't toting my camera, I could have gotten closer. The shrike was seen at the south end of the lake where the forest preserve district has conducted a controlled burn. All of the open field at the south end west of the woods was torched. At least three Ring-necked Pheasants seemed to be getting accustomed to their new surroundings, calling and flying around, in the unburned area between the path and the lake. Did not see the Bald Eagle yesterday, but he was present Monday at about noon when I unsuccessfully chased Jon's report of the Tundra Swans at Nelson. Waterfowl was scarce, and other than 10 - 15 Ruddy Ducks and a lone Lesser Scaup, little of interest to report. As I left the preserve, a flock of 50 - 60 Sandhill Cranes flew over my truck on Main Street, flying to the west.
Yeanette Johnson on 11/20 reported via IBET: A brief stop at Carson Slough (Denny Road Marsh) produced 3 TUNDRA SWANS. Two adults and one juvenile. They were alternating between napping & preening during the time I observed them.

I also visited Oakhurst FP in Kane CO. Things were pretty quiet but I did see:
AMERICAN WIGEON
PIED-BILLED GREBE
MALLARD
AMERICAN COOT
GREAT BLUE HERON
RED-TAILED HAWK
COOPER'S HAWK
Darrell Shambaugh on 11/19 reported via IBET: About 3:00 PM Thursday there were 5 TUNDRA SWANS at Carson Slough. One Cygnet was with 4 adults. Also present were 8 AMERICAN BLACK DUCKS.

[Another place] I checked:

Peck Lake

Every November there is a day (or several) that this lake is completely covered with CANADA GEESE. I was there about 2:30 today and there were geese coming in constantly. Tonight or tomorrow may be that big Canada Goose day there. The only other species I saw was a female-type HOODED MERGANSER. All the geese were Canadas. No Cackling, Greater White-fornted, or Snows were there.
Pete Moxon on 11/19 reported via phone: Observations from Sauer FP this afternoon: 8 Tundra Swans on the main pond, 60 - 80 Lapland Longspurs with a few of the birds making a non-Lapland call (these were by the tree farm on the north side of the property), Horned Larks, a hunting Northern Harrier, 2 Gadwalls, a few Northern Pintails, lots of Mallards, an American Wigeon, a Black Duck, 1 Blue-winged Teal, a few Green-winged Teal, and plenty of American Coots.
Jackie Bowman on 11/19 reported via e-mail: Pack of 5 Purple Finches were feeding on sunflower seeds at my backyard feeder yesterday (11/18) evening in Geneva
Bob Andrini on 11/17 reported via phone: Two Tundra Swans at Carson Slough/Denny Road Marsh at 9:00 AM.
Scott Cohrs on 11/16 reported via e-mail: A few sightings from yesterday:
- a flock of 10 Snow Buntings was in the parking lot of the Kane County Cougars stadium yesterday. They were in the southwest corner of the lot, where it is loose gravel. 3 cold looking Killdeer were with them. Can't remember ever seeing Snow Buntings 'in town'.
- I had a LeConte's Sparrow in the far-west grasslands of Prairie Green
- a Northern Shrike was hunting the hedgerow when I was walking back to the car
- Snow Goose was with the Canada Geese on Peck Road
- Lapland Longspurs were flying over all morning
Jon Duerr on 11/16 reported via phone: As of 8:50 AM, 30 Tundra Swans are within view of the eastern platform on Nelson Lake.
Jon Duerr on 11/15 reported via e-mail: Sunday Nov 15. Batavia Quary bike trail south. Not very much activity However, a Carolina Wren gave forth a short song as we passed the area of the old dam. Other than the Wren, only found the winter regulars.
Yeanette Johnson on 11/15 reported via IBET: Lisa and I spent a good part of the day birding. What a difference a few hours can make in the number of species and sheer numbers of birds. We started the day at Nelson Lake Marsh & ended our day there as well. We checked out a few others spots just to see what was around!

Nelson Lake Marsh (AM):

SANDHILL CRANES (flyovers on the way to the marsh)
RUDDY DUCK
RING-NECKED DUCK
CANADA GEESE
AMERICAN COOTS
NORTHRRN HARRIER (west side)

Tanner Road Marsh & Surrounding Ponds:

MALLARD
GREAT BLUE HERON
CANADA GEESE
PIED-BILLED GREBE
AMERICAN COOTS
RING-NECKED DUCK
NORTHERN SHOVELER
AMERICAN BLACK DUCK
AMERICAN KESTREL
AMERICAN TREE SPARROW (on the way to the marsh)

Nelson Lake Marsh (PM visit numbers were definetly up):

NORTHERN PINTAIL
GADWALL
RUDDY DUCK
NORTHERN SHOVELER
AMERICAN BLACK DUCK
GREEN-WINGED TEAL
RING-NECKED DUCK
MALLARD
CANADA GEESE
AMERICAN COOT
BALD EAGLE
SANDHILL CRANE
RUSTY BLACKBIRD
RED-WINGED BLACKBIRD
EUROPEAN STARLING
Frank Angileri on 11/15 reported via IBET: I traveled out to Nelson Lake this morning, no BALD EAGLE sighting, but I did see three SANDHILL CRANES flying low through the preserve. Also viewed twenty AMERICAN COOT along with many MALLARD DUCKS and CANADA GEESE.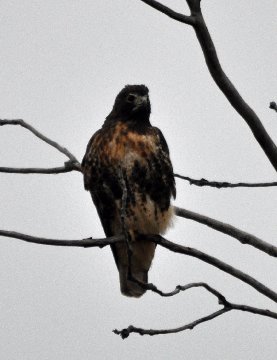 Western Rufuous Morph Red-tailed Hawk photo courtesy Jackie Bowman.
Jackie Bowman on 11/14 reported via e-mail: Saturday, November 14, 2009 between 2:30 & 3:30pm I spotted and photographed a Western Rufous Morph Red Tail Hawk. He flew between and perched on three trees just to the North of Portillo's Hot Dogs on Randall Road in Batavia. His markings of black and orange and his call before flight were all quite remarkable. I last saw him flying to the West at about 3:30pm after taking this shot.
Kim Girard on 11/13 reported via e-mail: At 11 a.m. today (Nov. 13) a bald eagle flew right by the main viewing platform at Nelson Lake. Another fly-by about 30 min. later, on opposite side of lake. Beautiful!
Christopher Cudworth on 11/12 reported via IBET: As an experiment of sorts I hiked to the top and over the Settler's Hills landfill in Geneva. I was curious to see if there were any types of field birds up there. The landfill is covered with a medium-length coarse green grass pocketed by washouts. The weather today was windy (SE: 15mph) and there were absolutely no birds found on that hill. The lone species I saw flying even was a Canada Goose to the southeast that was skirting the huge cloud of white smoke raised by a prairie burn at Fermi Lab. It was interesting to watch the burn progress from a high vantage point. You could see the hillside turn black.

But alas, not one pipit on top of that landfill. And I'm not sure it's good habitat for much of anything. This is the 5th time or so I've been up there, and the most I have to show for it are some passing goldfinches and a few house sparrows. I checked it during early October to see if hawk migrations were visible, but it was too calm and warm a day. Nothing but red tails.

While golfing the course below one summer I did find a pair of clay-colored sparrows.

I'll keep trying. What was once a hotspot for gulls each winter is now a chilling promontory with very few birds so far.

The view is interesting. But not in terms of birds.
Yeanette Johnson on 11/11 reported via IBET: Lisa and I ventured out to enjoy a beautiful day of birding. Here are some of the highlights of our day:

Nelson Lake Marsh (Kane Co):
NORTHERN PINTAIL
GREEN-WINGED TEAL
AMERICAN BLACK DUCK
MALLARD
LESSER SCAUP
RING-NECKED DUCK
GADWALL
RUDDY DUCK
AMERICAN COOT
CANADA GOOSE
NORTHERN SHOVELER
AMERICAN TREE SPARROW

Big Rock Forest Preserve (Kane Co)
AMERICAN PIPIT
RUSTY BLACKBIRD
SWAMP SPARROW
RED-BELLIED WOODPECKER
WHITE-BREASTED NUTHATCH
HAIRY WOODPECKER
DOWNY WOODPECKER
BLUE JAY
RED-TAILED HAWK
RED-WINGED BLACKBIRD
COMMON GRACKLE
EUROPEAN STARLING
DARK-EYED JUNCO
NORTHERN CARDINAL
Sue Wagoner on 11/9 reported via e-mail: Mystery bird- immature White-crowned sparrow because of the pinkish bill and ill-defined whitish throat. [Reference her 10/31 post with pictures.]
Frank Angileri on 11/9 reported via IBET: I arrived Nelson Lake in Batavia at noon today, as I was about to walk onto the steel observation deck, I viewed an immature BALD EAGLE (4 year old) fishing just to the northwest of the deck. It made two unsuccessful attempts at catching something to eat before it flew off out of viewing range. I also saw approximately 50 AMERICAN COOTS and over 350 MALLARD DUCKS.

Christopher Cudworth on 11/9 reported via IBET: The following waterfowl species were present on the main lake [at Nelson Lake/Dick Young Forest Preserve] this morning:
(6:15 a.m.-6:40 a.m.)

GADWALL (12)
SHOVELER (26)
RING-NECKED DUCK (35)
CANVASBACK (2)
PINTAIL (1)
BLACK DUCK (2)
MALLARD (EST 600)
CANADA GOOSE (450)
CACKLING GOOSE (13)
GREEN-WINGED TEAL (6)
RUDDY DUCK (21)
COOT (300 /EST)
WOOD DUCK (3)
LESSER SCAUP (3)

Also: 2 sandhill crane on southwest corner of lake
Darrell Shambaugh on 11/7 reported via IBET: Saturday afternoon a NORTHERN PARULA was on the east side of the Fox River [at Fabyan Forest Preserve]. It was along the branch that goes from the main trail down to the river. It was a first-year female.
Karen Land on 11/7 reported via e-mail: Driving south on Randall Road at 8 am this morning, an adult Bald Eagle flew overhead from the Mooseheart property westward. Towards Nelson Lake perhaps?
Bill Koch on 11/3 reported via e-mail: After going out to Fermi Lab today and striking out on the Harris's Sparrow I decided to look for some sparrows at Otter Creek Bend Wetland Park along the tree line. Found very little there for birds. Viewed Swamp Sparrows, Song Sparrows, Blue Jays and 1 Cardinal. On my way out I spotted a Northern Shrike on the top of a tall tree just east of the first boardwalk as you walk west of the parking lot. The bird then flew 30 yards south to the trees near the farm fields. I followed it through some very wet marshy land to get a second view. Not sure if I was in park district land or private property though. . I watched as it swooped down in some tall grass several times presumably hunting for sparrows or the numerous grasshoppers still around.