---
Tim Balassie on 11/30 reported via e-mail: Thought the membership might be interested in this hybrid Canada Goose I saw near Aurora West. Possible Canada x Graylag cross.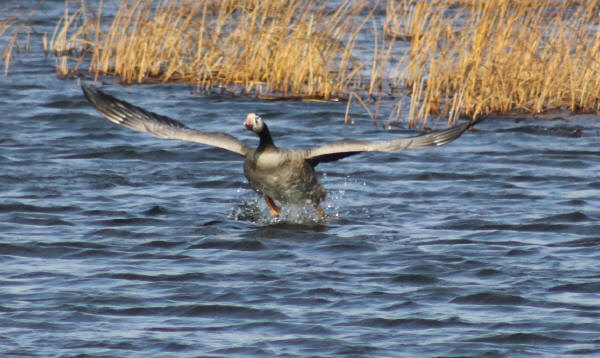 Canada Goose hybrid photo courtesy Tim Balassie
---
Christopher Cudworth on 11/28 reported via IBET: I cycled past the nest in the pine trees at Mooseheart. One of the adult eagles was perched near the nest they used last summer.

Perhaps they want to keep the great horned owls away come winter.
---
Jean Spitzer on 11/28 reported via IBET: Following lunch today, Sunday, we decided to see birds at the Red Oak Nature Center in Batavia on Hwy.25, north of Butterfield Rd. on the Fox River.

We've been there before. To our delight we saw a few Hooded Mergansers among the Canada Geese. Upon talking with Eric, an employee at the Center, he showed us a flock of Common Golden Eye a bit south of the Hooded Merganser on the River. As we walked north on the trail, the flock of a dozen Common Golden Eye, all flew together north up the river, even heard their wing whirr, which my husband played on his PDA with a National Geographic chip for bird ID. The feeders are filled which are outside the large window so the birds come, and can be observed while eating. The Center closes at 3 PM, so we drove north, we saw some feral Mallards on the River north of Batavia where the large wind mill is, on the east side of the Fox River. Eric told us Bald Eagles come to this area each winter, as they nest up the creek coming out of Mooseheart into the Fox River. Of course the Eagles are not here yet, but they come each winter.

We also saw:
Red Tail Hawk
Downey Wood Peckers
Goldfinches
M. Doves
Ring Billed Doves
B C Chickadees
Northern Cardinal
W B Nuthatch
Dark Eyed Juncos

What a beautiful day for anything outside...
---
Karen Land on 11/28 reported via IBET: Since Thanksgiving Day we have seen 4 Sandhill Cranes flying low in the area near and around the Braeburn Marsh which is at the corner of Fabyan Parkway and Randall Road in Batavia. Today around noontime we saw probably the same 4 foraging in the reconstructed grass area along the creek that feeds the Marsh just north of Portillo's. One lone heron was spotted standing on the ice in a pond east of Peck Road and Keslinger. Other ponds that we visit along Keslinger were all frozen.
---
Liz Gerity on 11/25 reported via e-mail: Four large flocks of Sandhill Cranes flying over the Campton Forest Preserve at about 2:30 pm on Thanksgiving Day.
---
Scott Cohrs on 11/23 reported via IBET: I had been inside all morning working, jealously watching all the reports of cranes, etc. About 12:30, I was taking the kids out to the car and heard Sandhills approaching from the northwest. Pretty good timing I thought, until I looked up and noticed the two large, white birds with black wingtips at the trailing edge of the flock. Took me a second to realize they were Whoopers. Very good timing indeed! They circled the Walgreens at the corner of Peck and Route 64 before drifting off to the southeast...

In somewhat belated news, there was a Ross's Goose at Pillsbury Pond (across from the DuPage Airport) yesterday afternoon. Also, there were 2 immature geese at the industrial park ponds (just north of the Pella Ponds). One was an immature blue Snow Goose, but the other looked rather odd and may have been a Snow/White-fronted hybrid. That is a combo that I have not seen before. Unfortunately, the storms were rolling in quick and I did not have chance to take a closer look.
---
Tim Balassie on 11/21 reported via e-mail: Had my first Fall Kane Co Rough-legged Hawk on Saturday, 11/20, at Hampshire Forest Preserve.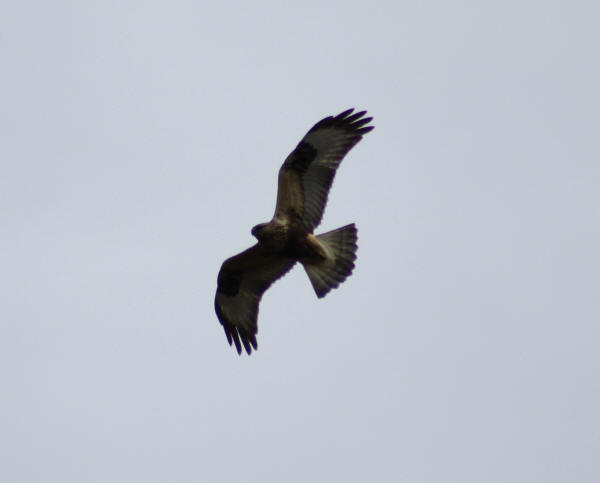 Rough-legged Hawk photo courtesy Tim Balassie
---
John Heneghan on 11/21 reported via IBET: Our feeders [here in Big Rock] seem to be doing well. We have had both Red Breasted and White Breasted Nuthatches as well as Chickadees and Juncos. Yesterday we had a Brown Creeper nearby and this AM, had 8 Pine Siskins among the Goldfinches. Both Downy and Hairy Woodpeckers and a Red Bellied Woodpecker at the Suet. A Coopers Hawk has made appearances looking for an easy meal.
---
Walter Lutz on 11/18 reported via e-mail: Thursday Elgin west side between 3:00 & 3:30 p.m. about 150 Sandhill Cranes in 3 separate groups flying south.
---
Eric Secker on 11/18 reported via IBET: I was driving back home on Rt. 72 going west around 12:00 or 12:15. Somewhere near Rt. 59 I saw a very bizarre dark bird coming in from the north over the shopping center. I slowed down and pulled over to watch an ANHINGA fly south right over the road towards the large quarry lake south of Rt. 72. This is right on the border of Kane and Cook Co. After checking the map, it looks like I got a two county bird, which is always fun for a lister.
---
Mark Bowman on 11/15 reported via e-mail: Just had my 1st PINE SISKIN at the bird bath this afternoon. Simultaneously I had a frenzy with cardinals, red bellied woodpecker [Mr Ham !], white breasted nuthatch, house finches, chickadees and juncos

At PRAIRIE GREEN, Chris and I had a lot of AMERICAN TREE SPARROWS, about 5 SNIPE, a group of mallards and a great blue heron. As usual, those snipe were not cooperative to get a good pic !!

At NELSON LAKE, we had a lot of tree sparrows also, with a few FOX SPARROWS, 4 great blue herons, a coopers hawk and a red tailed hawk. No trumpeter swans seen
---
Gloria Dimoplon on 11/15 reported via e-mail: Even as the water level continues to fall at Burnidge some migrating waterfall have found a safe haven. There were fourteen Green-winged Teal on the pond this morning at 8:15 am. In the woods above the pond I found a flock of 20+ Purple Finch. In the Highland Woods sub-division west of Burnidge there was a flock of Northern Shovelers on one of the ponds.
---
David Johnson on 11/14 reported via IBET: ...found one lone Ross's Goose in with some 400 Cackling Geese, just on the north side of I-88 but farther west between Dauberman and Watson at mile marker 104 and 1/4 on the N side of I-88. It appeared that all the geese we're flying over the interstate into that "pond" area just E of Dunteman Sod Farms on the S side of I-88. I observed at least 12 Snow Geese also mostly "Blues" on the edge of the flock. There were several thousand geese out in these plowed cornfields just off the Interstate.

The Ross's Goose was rather close to the Interstate (I-88). A DeLorme will be helpful for local roads off the Interstate where it is safer to scope the geese.
---
Bob Andrini on 11/13 reported via phone: Six Trumpeter Swans (5 adults and 2 juveniles) at Nelson Lake this morning.
---
Mark Bowman on 11/13 reported via e-mail: For the second morning in a row, I have had a FOX SPARROW at my feeder area, so watch out for those winter birds coming to your feeders ! I'll try to get a pic if the sun ever comes out ! I have also had this handsome RED BELLIED WOODPECKER coming frequently. I will try to get a shot of his "red belly" sometime as he is quite the character !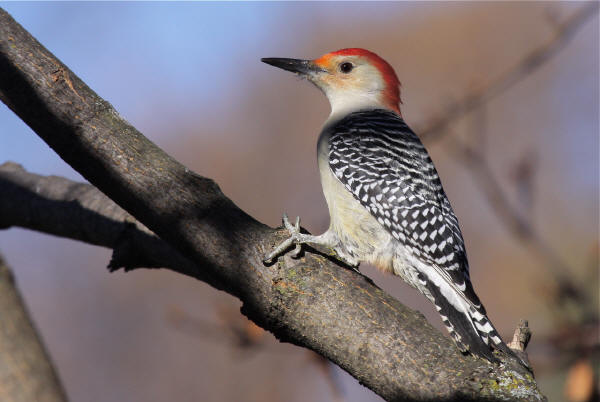 Red-bellied Woodpecker photo courtesy Mark Bowman
---
Sue Diaz on 11/8 reported via e-mail: Today at midday I spotted a bald eagle in the area of Main Street and North Lorang. It circled and circled, heading gradually north, from the Grunwald Farms Forest Preserve area, over my neighborhood on Greenbrier Dr., and then over the stone quarries to the north. I was in such shock that I forgot I had a camera phone until he was pretty small in the sky. But his white head, huge white tail and fingerlike plumes on his wings were unmistakable.

It was a glorious sight! Thought Iíd share.
---
Ken Schneider on 11/8 reported via e-mail: I set out westward on Seavey Rd this morning, determined to see Snow Buntings and longspurs. First looked for the Ross's Goose in the pond off Deerpath, but found only lots of Canada Geese and Mallards. Bad start! I continued past Bliss, and near the end of the pavement I began to see flocks of smaller birds in the corn stubble. Most were very difficult to identify. Most that I could ID were American Pipits and Horned Larks. Then, right on the road, two birds appeared in the same binocular view-- a Lapland Longspur and a Snow Bunting! Success! I eventually sorted out four or five Snow Buntings and two more longspurs. These were my first seen in the lower 48 states. None of my photos were very good, thanks to the harsh lighting conditions. But not complaining, as we are heading back to Florida with a nice going-away present.
Also spotted an American Kestrel on a light pole off Deerpath near Seavey.

Snow Bunting (L) and Lapland Longspur (R) photos courtesy Ken Schneider

American Kestrel photo courtesy Ken Schneider
---
Chris Madsen on 11/6 reported: After finding basically nothing on the water this morning on a mostly frozen Nelson Lake, Carla and I decided to chase Scott's Ross's Goose at the Mirador subdivision. We whiffed on the goose but did come up with at least 6 Green-winged Teal and 2 American Wigeon. We continued south to the wetlands next to the auto mall at Orchard Road and the tollway, but found little of interest. Next, we crossed Orchard Gateway Boulevard to check the ponds behind Woodman's where we stumbled upon a male Northern Pintail.
---
Marion Miller on 11/6 reported via e-mail: Rich and I went to the ponds at Mirador subdivision Saturday afternoon and saw our first beautiful male Northern Pintail along with many Gadwall, Ruddy Ducks, Mallards, American Coots and Canada Geese. Also saw 4 Sandhill cranes at the waterís edge and a Great Blue Heron. No Rossís Goose sited.
---
Mark Bowman on 11/5 reported via e-mail: Today around noon, I was in the backyard of my house [in St. Charles] and 15 SANDHILL CRANES were flying over. I saw them because I heard them calling. They were heading southeast
---
Scott Cohrs on 11/4 reported via e-mail: There has been a Rossís Goose hanging out around the ponds in the Mirador subdivision (south of Nelson Lake on Deerpath). It was been there since at least Oct. 24th. From what I can tell from people who have relocated it, it seems easiest to find during mid-day out on the ponds. Other times I think it heads west into the corn fields to feed.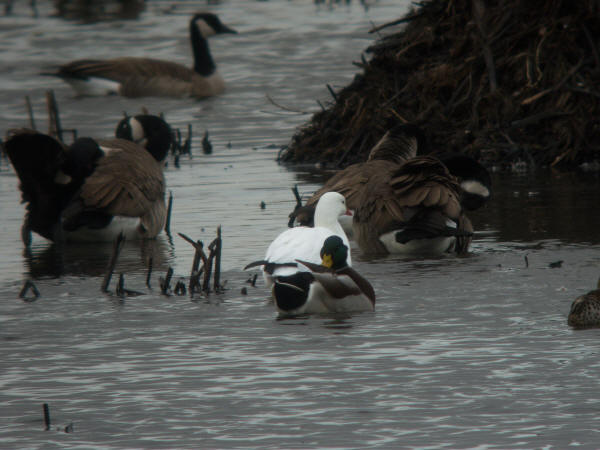 Ross's Goose photo courtesy Scott Cohrs
---
Walter Lutz on 11/3 reported via e-mail: Tuesday @ Nelson Lake. Hiked around the lake. Most of the usual including lots of red-winged blackbirds, 2 ring-necked pheasants, 2 northern harriers, american tree sparrow but the most intruiging was a light-greyish, small swan along the west shoreline. Juvenile mute swan? It was too far for a good look.

(Also: opossum, one very large whitetail buck & 3 turtles on the small pond)
---
Ken Schneider on 11/2 reported via e-mail: This morning I set out to visit Sauer Farm in hopes of maybe seeing longspurs, but just after I left the driveway I encountered a large flock of American Pipits wheeling over the road and the vacant lot in front of our North Aurora condo. I pulled over, and some of the birds settled down right next to the car. The flock kept rising and returning to the ground-- they appeared to be streaming in from the west. There were possibly 100 birds, and all were pipits-- no Horned Larks or hoped-for longspurs/Snow Buntings.

Sauer Farm had no trails through the tall prairie and I only saw a few sparrows. Later, from the east platform at Nelson Lake I saw a lone swan that was too far away to identify. Its straight neck and nearly horizontal bill, along with no evident bulb on the bill suggested it was not a Mute Swan, and possibly a Tundra.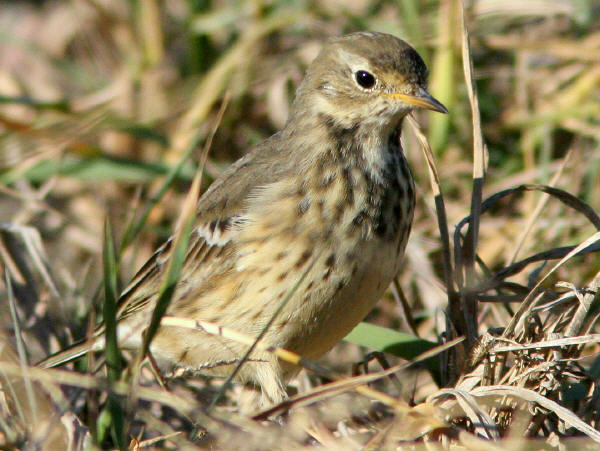 American Pipit photo courtesy Ken Schneider
---
Matthew Lorenz on 11/2 reported via IBET: At about 4 p.m. this afternoon on my way home I spotted a Peregrine Falcon sitting a top a telephone pole eating a bird outside of Burlington. I managed to turn around and had my camera with me and captures several images of it. This is the first time I've seen a Peregrine Falcon.
---
Ken Schneider on 11/1 reported via e-mail: I got out to Prairie Green around mid-morning today and found more than a dozen American Tree Sparrows in the hedgerow and trees along the entrance path from Peck Road. Also many Savannah, Song and White-crowned Sparrows. Saw four Horned Larks in the corn stubble, plus hundreds of Canada Geese. The pond held over 50 Mallards and 5 Green-winged Teal. Saw a Cooper's Hawk, and looked for the Northern Shrike to no avail.

Two men in a white unmarked pickup drove up to the pond from the west side and baited it with about 10 gallons of shucked corn. Is hunting allowed there?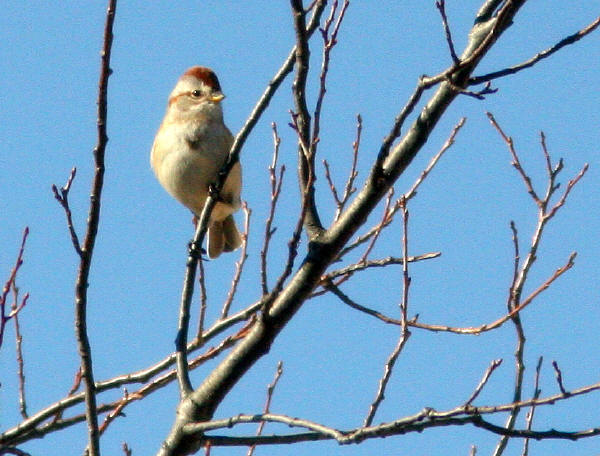 American Tree Sparrow photo courtesy Ken Schneider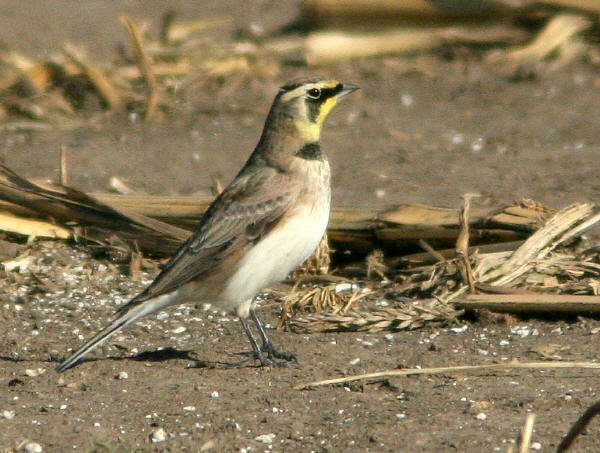 Horned Lark photo courtesy Ken Schneider
---