---
Karen Land on 11/28 reported via IBET: I began hearing Sandhill Cranes about 9 am and have since heard 3 more flights. I haven't made it outside quick enough to see them plus half of the sky is blocked by tall trees in my backyard. I'm about 6 blocks west of the Fox River [in Batavia].
---
Michael Hogg on 11/27 reported via IBET: ...Birding was pretty slow around the Kane County sod farms with the exception of 3 Eurasian Collared Doves on Walker Road and a flock of 40 to 50 Lapland Longspurs on O'Brien Road...
---
Dawn Bassett on 11/27 reported via IBET: Flock of around 50-75 sandhills flying over intersection of Orchard Road and Illinois Ave in Aurora at approximately 2:30 p.m. 11/27 heading south.
---
Karen Land on 11/27 reported via IBET: Saturday, about 11 am 11/26 we sighted an adult Bald Eagle on the east bank of the Fox River by Quarry Pool in Batavia. Today we saw one in a tree on the east side opposite Batavia City Hall about 9 am. We scouted the River again later but did not see much of anything. My partner drives Randall through Mooseheart daily to and from work and has seen one and two adult Bald Eagles several times a week in the pines near where the old nest was.
---
Jon Duerr on 11/26 reported via e-mail: A flock of dabblers was at the north end of the lake at 9:30 AM, including 150 Mallards, 1 Black Duck, 5 Green-wing Teal, 8 Pintail, 20 Gadwall and 3 Coots. Canada Geese were scattered around the lake.
---
Rich Miller on 11/24 reported via e-mail: Marion and I were went out this morning early to hopefully catch a glimpse of a Surf scoter - but no luck. We were at Whalon Lake. On our way home however, we spotted three pairs of Red Tail Hawks along the route back home. These two were on a high voltage wire tower located just south of Woodmans on Orchard Ave. As I pondered the view, the (slightly altered) lyrics of a holiday tune came to mind... Red tails roosting on an open wire. Happy Thanksgiving to all!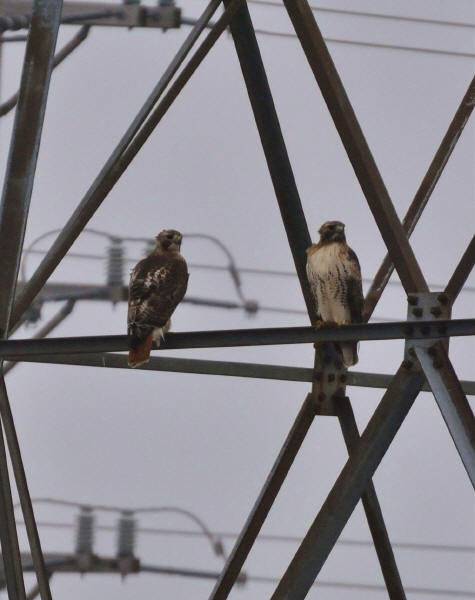 Red-tailed Hawk pair photo courtesy Rich Miller
---
John Heneghan on 11/24 reported via IBET: I started filling the feeders [in Big Rock] about a week ago. Last year we had pine siskins show up and pretty much were seen throughout winter.

This AM, we had pine siskins at the thistle feeder mixed in with goldfinches. We continue to have white breasted nuthatches, keeping an eye out for red breasted nuthatches which we had last winter and titmice.
---
John Heneghan on 11/20 reported via IBET: I received a phone call from my friend Dave who is working near Elburn Forest Preserve on Rt 38 in Kane Cty. A large flock of Sandhills were overhead head heading SSE.

A flock just flew over the house here in Big Rock (next to Big Rock FP) heading mostly South but getting blown around. The lighting prevented me from seeing if any Whoopers were in the flock, which numbered about 100 birds.
---
Darrell Shambaugh on 11/19 reported via IBET: I left work at 7:30 AM and went to the Pillsbury pond on Kautz Road north of Route 38. There were about 400 CANADA GEESE, 2 NORTHERN SHOVELERS, 4 AMERICAN COOTS, 35 MALLARDS, and a single white SNOW GOOSE.
---
Bob Andrini on 11/18 reported via e-mail: Look at these Turkeys that were in the neighborhood [in St. Charles] today - you think they are looking for a HOME for Thanksgiving???

Wild Turkeys photo courtesy Bob Andrini
---
Ron Dickenson on 11/15 reported via e-mail: More on the Mooseheart eagle nest.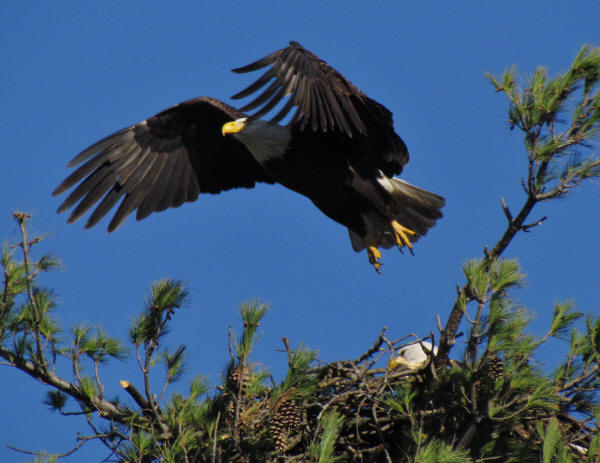 Bald Eagles at the new Mooseheart nest photo courtesy Ron Dickenson
---
Margaret Myers on 11/13 reported via e-mail: Eagle at Mooseheart taken by Steve Myers 11/12/2011 near Hawks Bluff.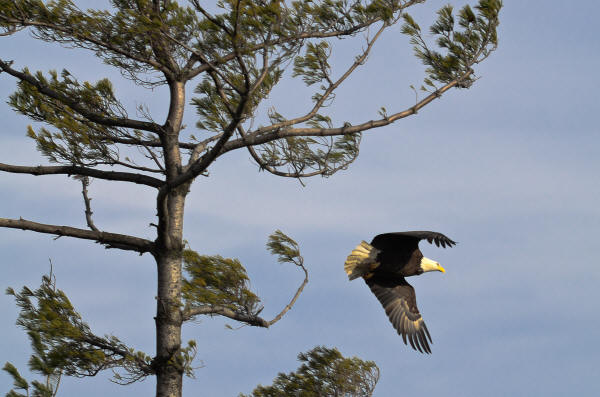 Mooseheart Bald Eagle photo courtesy Steve Myers
---
Bob and Kathy Andrini on 11/12 reported via phone: Had a small flock of Pine Siskins and one Redpoll this morning along the bikepath at Quarry Park in Batavia.
---
Beau Schaefer on 11/12 reported via IBET: Well, I think I may have been that guy that I really don't ever want to be this morning. When I got to Carson Slough at 6:15 am this morning, it was covered with waterfowl, including some white ones. So I got my scope out and checked it out from the top of the roadside berm. Had real nice looks at 5 SNOW GEESE (1 blue morph), 6 CACKLING GEESE, and a real nice ROSS' GOOSE. The swans were down at the far end, however, so I thought that I would step down off the berm to the mowed grass trail right below and walk down to them. The berm is at least 100 yds from the waterfowl, mind you, so it never crossed my mind that stepping down to the trail would flush them. But that's exactly what happened, right after talking to Jeff Thomas and waiting to meet him, Jake, and Matthew Cvetas. Every stinking bird took off, save for the swans, which I finally got a good look at and was able to satisfy myself that I could ID them as 4 TUNDRA SWANS. I apologize to anyone else who may have hoped to see these birds. It still bothers me that I flushed them before the others in my party could see them. Hopefully they may return to roost later. Anyway, thanks to Marion Miller and Scott Cohrs for the updates and info on this nice spot.
---
John Janunas on 11/11 reported via e-mail: At Carson Slough - four Tundra Swans-a-sleeping and two White-fronted Geese-a-swimming.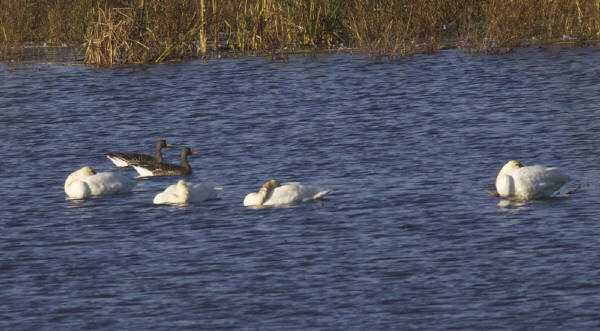 Tundra Swans and White-fronted Geese photo courtesy John Janunas
---
Marion Miller on 11/10 reported via e-mail: Seen a mixed flock of Horned Larks and Lapland Longspurs in the fields on Seavey Rd. west of Bliss Road around 11am. Four Tundra Swans remain at Carson Slough.
---
Jackie Bowman on 11/10 reported via e-mail: We have a pair of GREAT HORNED OWLS frequenting our [Geneva] neighborhood. The female was very cooperative for a photo, the male however is quite shy. Keeping my fingers crossed that they may nest and provide a baby or two in the spring.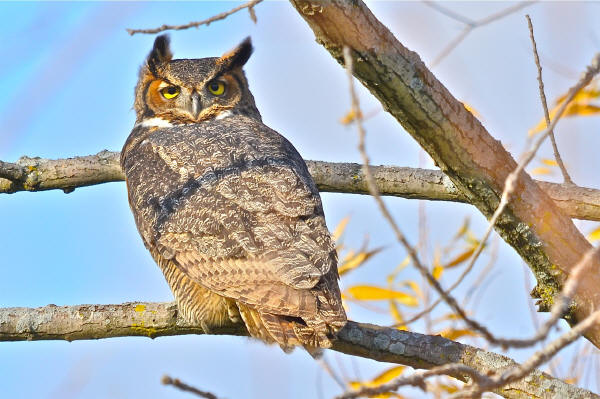 Great Horned Owl photo courtesy Jackie Bowman
---
Marion Miller on 11/7 reported via e-mail: Rich and I visited Carson Slough yesterday in search of the Tundra Swans and found 4. Conditions were so windy that scope views were good to identify the rounded border near forehead and bill, as well as the distinct eye, but could not see any yellow tear spot by the eye. Did go back today at 10:30 and found 8 swans! Positively identified 6 as Tundra Swans. Without the wind factor able to scope view the yellow lore on 4 of the 8. Two of the swans could not be identified due to obstructions from tree branches. Also noted some Pied-bill Grebes and one other larger grebe with a much longer neck. Couldn't get a good identification on that one. If anyone goes out there be on the look out.
---
Chris Madsen on 11/5 reported: It seems hard to believe that these could be Jon's swans from nine days ago, but if so, they only traveled about 3.5 miles as the big bird flies. Carla and I had three Tundra Swans this afternoon at Carson Slough/Denny Road Marsh. The only other remarkable sighting at Carson was ~30 Green-winged Teal. Other notables for the afternoon include 3 Northern Pintails amongst 500(!) American Coots at the slough opposite the entrance to Elburn Forest Preserve and 5 Wilson's Snipe, 2 at Mirador subdivision just south of Nelson Lake and 3 at Braeburn Marsh behind Trader Joe's in Batavia.
---
Eric Secker on 11/5 reported via IBET: My wife and I checked Binnie FP and Camp T. area at Freeman Kame. We had one flyover COMMON REDPOLL at Binnie. Otherwise nothing unusual.
---
Ron Dickenson on 11/4 reported via e-mail: More pictures from Mooseheart as the Bald Eagle pair build a new nest.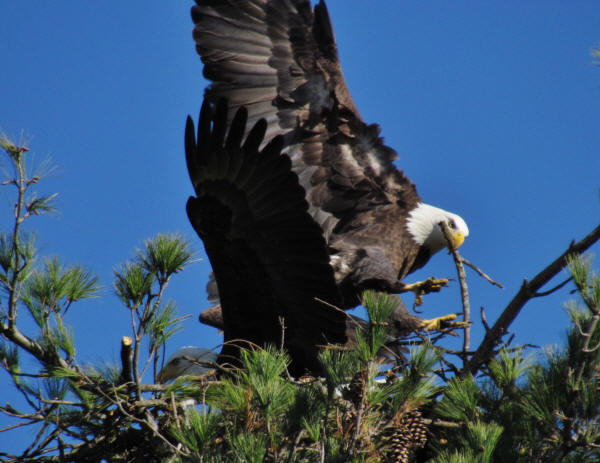 Bald Eagles working on new nest photo courtesy Ron Dickenson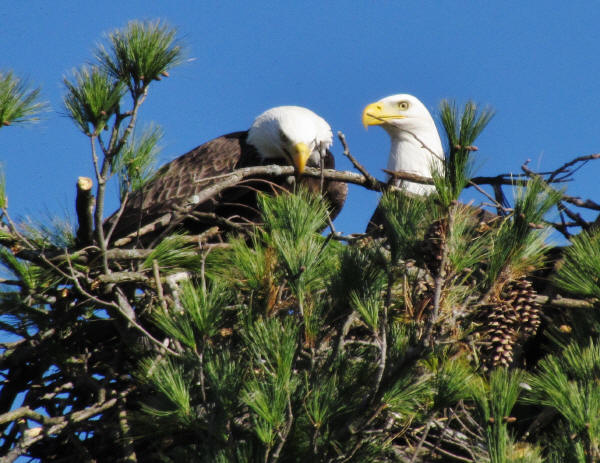 Bald Eagles working on new nest photo courtesy Ron Dickenson
---
Jon Duerr on 11/4 reported via e-mail: 5 Purple Finches eating Green Ash Seeds in parking area of Jon J Duerr For. Pres. Friday at 9:00 AM. Otherwise the preserve had very few birds.
---
Bill Koch on 11/3 reported via e-mail: On Wednesday 11-2 I was driving west of Elgin when I spotted a large group of Canada Geese in a field at Silver Glen and Denker roads. A Snow Goose was with the group and was foraging about 25 yards away from the road. Didn't have time to see if it was still there today but the geese usually fly to the river at night then out to the corn fields during the day. It is probably still in the area.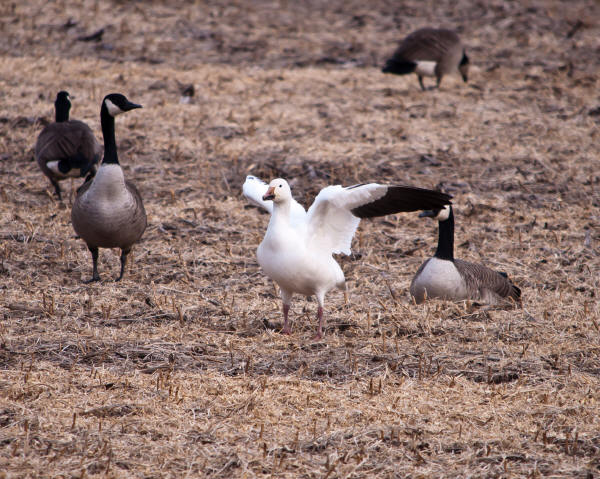 Snow Goose photo courtesy Bill Koch
---
Kurt Frieders on 11/1 reported via e-mail: The past few days there have been a lot of raptors on our property (in Aurora township). We have had a pair of Great-Horned Owls in the yard calling to each other most nights. Each day we see at least one Red-Tail Hawk as well as a Cooper's Hawk most days. Today I saw both a pair of Northern Harriers above our field, and later saw a pair of Red-Shouldered Hawks flying over the same field.
---