---
Ethan Gyllenhaal on 11/30 reported via IBET: Sorry for not posting this earlier, but the solitaire at John J Duerr Forest Preserve was relocated today around 11AM. It was first seen briefly in its classic location, then crossed to the S side of the tracks, where it put on a show in the red cedars for a minute or two before flying off to the tree line on the SW edge of the open area. Briefly came out again before going back into the woods.

I also checked out the gulls on the Fox River off of Gail Borden Library (thanks to Eric Secker for reporting gulls from there recently). There were primarily Ring-bills feeding at the dam by the bridge, but more Herrings were in the group sitting on the ice. There was one bulky adult Thayer's Gull in the middle of the flock. Tough bird to pick out, but dark eyes and very pale underside of p10 (when visible) help. This spot looks like it has decent potential, with ~1280 Ring-bills and ~75 Herrings."
---
Chris Madsen on 11/30 reported: To add to the Lesser Black-backed Gull discussion, Carla and I had one yesterday on the Fox behind the driver's license facility in Elgin. We did not find one further north behind the Elgin library.
---
Brendon Lake on 11/29 reported via IBET: Hey everybody, I had some time out in Kane County today, starting just before 8:30, nothing special in the Carpentersville/Dundee area save for an adult Bald Eagle by the Village Squire flying north over the river. The Gail Borden Library was good today, I was able to pick out an adult Lesser Black-Backed Gull sitting on the ice with many Ring-Billed and Herring Gulls. There may have been other goodies but nothing stood out to me. Finally, the Townsend's Solitaire at Jon Duerr FP is still present, giving brief but satisfying looks at about 9:50 a.m. in the same area as usual. A note on the Solitaire, the trolley will be operating on weekends up until the end of the holiday season for a Polar Express kind of thing, thanks to Marion Miller for alerting us to that! Finally, I took the long way home going down many rural roads checking corn field after corn field, and I didn't have the same kind of luck those on the lakefront did looking for Snowies. Many Red-Tailed Hawks and an American Kestrel at least provided some entertainment.
---
Diane Hansen on 11/29 reported via e-mail: Wednesday I took my new camera to Jon Duerr to see what would be there and as I was leaving with my frozen fingers and some pix of cardinals and chickadees I heard a flock of pure white above me and was able to get a couple shots of these swans.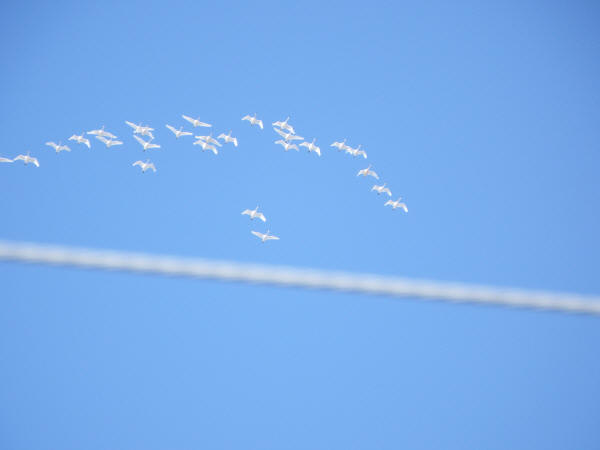 A bevy of swans photo courtesy Diane Hansen
---
Denise Plocharczyk on 11/29 reported via e-mail: We saw a lone American Coot on the Fox River floating down river with 5 Mallards just south of the Tekawitha Woods.
---
Eric Secker on 11/28 reported via IBET: Still few ducks on the river this fall and winter. Nothing new today in the Dundee area but behind the Gail Borden Library in Elgin we came across another large group of mostly RING-BILLED GULLS that also included an adult LESSER BLACK-BACKED GULL. Further to the north of the library there was also a BALD EAGLE sitting out on the ice.
---
Eric Secker on 11/27 reported via IBET: Nothing much on the river today although I hear an occassional Bald Eagle is seen this week by others.

We had one female COMMON GOLDENEYE on the river between Dundee and Carpentersville and about 300 HERRING GULLS but nothing rare.

Up by the dam there are 1000-1100 RING-BILLED GULLS but again I was unable to pick anything out in the group of 600 near the dam. Another group of 500-600 was too far away to scope out.
---
Chris Mussachio on 11/27 reported via e-mail: Looks like we are starting to get some Bald Eagle action in Dundee again.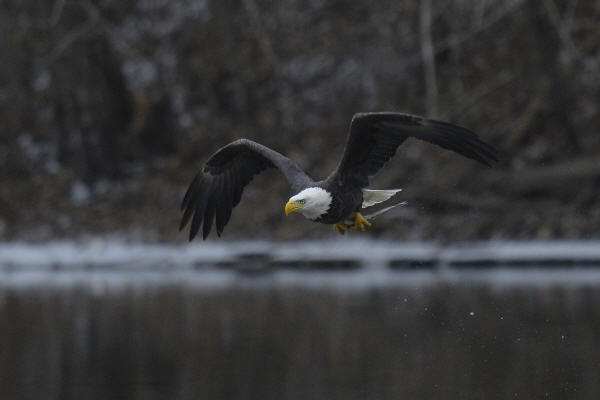 Bald Eagle photo courtesy Chris Mussachio
---
Walter Lutz on 11/26 reported via e-mail: Spotted 4 Eastern Bluebirds at Fitchie Creek F.P Monday morning.
---
Jim Narovec on 11/25 reported via e-mail: Lone Bald Eagle spotted 11/24 perched in tree along the west bank of the Fox River in Carpentersville. Have spotted one to two eagles in the same tree at various times during the past week now that it has gotten colder.
---
Roger Hotham on 11/22 reported via IBET: Margaret and others saw the [Townsend's Solitaire] this AM.
---
Sean Fitzgerald on 11/22 reported via IBET: The Townsend's Solitaire continues at Jon Duerr FP (Kane Co) as of 4:09pm yesterday evening in the same cedar dominated area adjacent the railroad tracks. Good birding.
---
Marion Miller on 11/21 reported via e-mail: Checked some ponds (Tanner Rd, Mirador Subdivision, Carson Slough and Settlers Ridge subdivision) for waterfowl. Most of the waters were empty except for the back pond (on Parkside Dr) at Settler's Ridge. Hundreds of Canada Geese and Mallards were there along with the following highlights: Snow Goose (Dark adult) and Green-winged Teal. Also drove Seavey Road from Bliss Rd to the Black Sheep Golf Club and had a large "drive" of 300+ Lapland Longspurs. Two Northern Harriers were also in the area.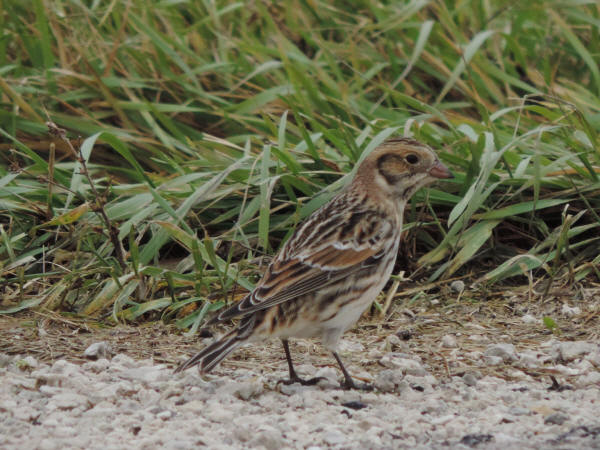 Lapland Longspur photo courtesy Marion Miller
---
John Heneghan on 11/20 reported via IBET: Got a brief view of the Townsend's Solitaire at Jon Duerr FP in South Elgin this afternoon about 1:15. It took a while for it to show as there was a Coopers Hawk watching the area.
---
Jeff Andresen on 11/19 reported via e-mail: At 1 p.m. on Nov. 19 at the observation deck of Red Oak Nature Center in Batavia, there was a male Belted Kingfisher on a tree limb across the Fox River for several minutes before flying over the river. Walking North a few hundred feet, I saw a female Belted Kingfisher flying over the river.
---
Jon Duerr on 11/19 reported via eBird: In addition to the continuing Townsend's Solitaire, Jon saw a very late Baltimore Oriole at Jon Duerr Forest Preserve.
---
Walter Lutz on 11/18 reported via e-mail: Monday about 4 pm west Elgin - about 50 Sandhill Cranes migrating S/SE.
---
Darrell Shambaugh on 11/16 reported via IBET: About 2:30 this afternoon in the rain, this is what was on the pond at Grunwald Farm (about a mile west of Route 47 on Main Street):

40 Ring-necked Ducks
8 Lesser Scaup
1 Pied-billed Grebe.

And two fishermen standing on the shore in the wind and rain! (I never got out of the car)
---
Roger Hotham on 11/12 reported via IBET: Several people observed the [Townsend's Solitaire] today. It is difficult to see as it feeds on the berries of the red cedar trees. The best chance is when it moves from tree to tree or area to area. (perhaps every 20 minutes.) The cedar trees are fairly abundant but spread widely in a large abandoned gravel mining pit. I would guess the food source could last many weeks perhaps depending on the numbers of arriving starlings, robins, & waxwings. A yellow rump warbler stayed all last winter.
---
Pete Moxon on 11/12 reported via text message: 2 tundra swans at Nelson Lake sleeping on the ice.
---
Pete Moxon on 11/11 reported via e-mail: At Nelson Lake today, began Count in light driving RAIN, becoming SLEET & then SNOW by counts end. -- "Wind Strength" variable @ survey rating of 4-5 -- CLOUD COVER @ 100% SOLID Dark Overcast.--Temps @ upper 30s dropping rapidly to 32° in brief time during last 1/2 hour of count. All birds viewed from viewing platform. Unable to ascertain definitive ID on some spec on far W & S sides of marsh due to precipitation/lighting conditions. SEE NOTE ON Bohemian Waxwing under CEDAR WAXWING comments.

108 Canada Goose
2 Wood Duck male & female
16 Gadwall
10 American Black Duck Several tucked in along Cattail edges, many eventually disappearing out if view into flooded cattails @ N. end
64 Mallard
1 Mallard (Domestic type) 1 white domestic duck
7 Northern Shoveler
2 Northern Pintail
69 Green-winged Teal Many were foraging in & out of cattails, along S facing cattail edges & out of wind on N/W edge of marsh. At one point a large group( aporx40+)flew in from N . -but landed directly in cattails at N/W. corner out of view & wind.
11 Ring-necked Duck some oc these also moved into cattais & out of view.
2 Lesser Scaup
1 Bufflehead
106 Hooded Merganser 59 drakes in breeding plumage, 47 female &/or 1st Spring males. 106 were all easily & simultaneously viewable for a while on NEAR EAST side of marsh- for2 consecutive counts before moving out of view--NOTE- MORE Definitely present,- as (Befor Count small #s had disappear into cattails in N/E corner & along near E edges, & S/E end out of view). After count apprx 38 disappeared behind cattails @ NNW cornr. -Poss.most Ive seen @1 site-away fr Lake Michgn
2 Ruddy Duck 2 female.-it appeared possibly more present on far W side of marsh beyond reasonable viewing ID distance under these viewing conditions. see checklist comments.
4 Pied-billed Grebe
3 Great Blue Heron
2 Northern Harrier 2 juveniles
1 Bald Eagle Adult
14 American Coot
5 Ring-billed Gull
26 Cedar Waxwing NOTE:: NEAR CERTAIN -BOHEMIAN WAXWING PRESENT IN AREA. & more Cedar Waxwing present than the 26 I viewed & counted. A couple flocks stopped in platform area before taking off again (I did NOT stop viewing Waterfowl to count them all). Then upon hearing a Bohemian Waxwing vocalize, along with a couple Cedar Waxwings,- I looked up IMMEDIATELY & located 3 Waxwing Spec. just as they took flight. 1 was larger & bulkier, but NO definitive visual fieldmarks were obtained as they were backlit as they flew into heavy overcast sky.
8 Lapland Longspur Flyovers, giving rattle call as they passed overhead heading South
4 Dark-eyed Junco
4 Rusty Blackbird

At Tanner Rd. Marsh in North Aurora,
2 Cackling Goose
230 Canada Goose
1 Gadwall
37 Mallard
5 Northern Shoveler
2 Pied-billed Grebe
1 Juvenile Black-crowned Night-Heron

At Grunwald Farms Forest Preserve near Kaneville,
1 American Black Duck
4 Mallard
39 Ring-necked Duck (more males than females)
1 Pied-billed Grebe
1 Great Blue Heron
---
Heidi Hohman on 11/11 reported via e-mail: I counted 137 Sandhill Cranes at 12:40pm Sunday above Raceway Woods. Waited for more but only that first wave came over. They gain altitude from the Fox River bluffs so I hear them first, then I see them circling above my house every year.
---
Kurt Frieders on 11/11 reported via e-mail: This past weekend brought several different species of good birds to our property (in Aurora township). We had four Tundra Swans fly over our property on Saturday. We also had a first ever Wilson's Snipe for our property in the cornfield. Some Cackling Geese have been mixed in with the Canada Geese, and we had a single Snow Goose in the field. A White-Breasted Nuthatch and a Cedar Waxwing cooperated for some fairly close photos. We currently have more American Goldfinches at our feeders than we ever have before. At one point we had 10 on the sock feeders and another 6 on the tube feeder. The usual suspects are also around such as Cardinals and Downy Woodpeckers.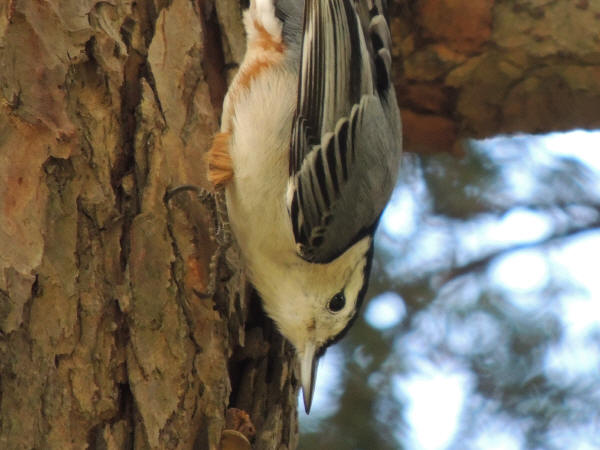 White-breasted Nuthatch photo courtesy Kurt Frieders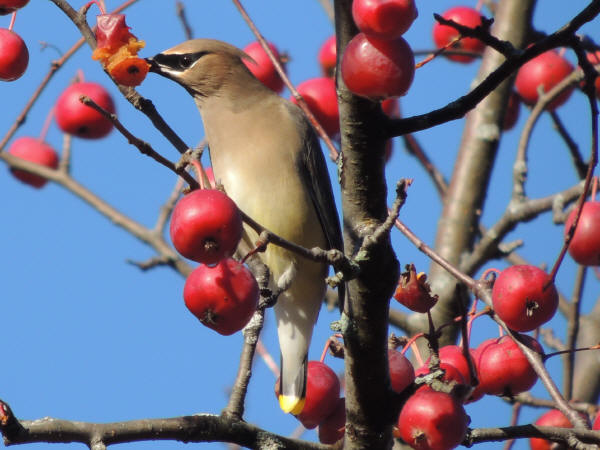 Cedar Waxwing photo courtesy Kurt Frieders
---
Ann Haverstock on 11/11 reported via IBET: Townsend's Solitaire is still present at Jon Duerr For. Preserve, Kane Co. Bird was seen for about 8 minutes between 8:15 and 8:30 a.m. along the tracks. Park by restroom and take tracks East to the curved area.
---
Walt Lutz on 11/10 reported via e-mail: Sunday morning at Burnidge F.P.: Among the usual, a Northern Mockingbird at the large open field on the south side, a Common Snipe at the far southeast corner near the railroad tracks and some Northern Shovelers and Green-winged Teal on the large pond. A few Sandhill Cranes going south.
---
Al Stokie on 11/8 reported via IBET: Hello Bird People,

Others have posted that the Townsend's Solitaire was still around today so I will only mention that along with about 20 other birders I did get to see it at a little after 8 a.m. Twice it flew in for very close looks but most of the time it was feeding in the Cedar/Juniper trees on both sides of the tracks. There are many trees with berries so if food is it's only concern the bird may stay a while.
The one at Lyons Woods near Illinois Beach stayed all winter with fewer berry trees in that area.
There are Cooper's Hawks here which could be a problem but the Lyons Woods bird had to deal with a Northern Shrike which wintered there so maybe our visitor can deal with things that want to eat it. Margaret who found this bird birds here often & will keep track of future sightings if the Townsend's sticks around...
---
Patrick Connolly on 11/8 reported via IBET: Solitaire present at 6:50am, Friday, 11/8. Same area as yesterday, near tracks just a bit away from parking lot.
---
Brendon Lake on 11/7 reported via IBET: Hi all, the Townsend's Solitaire was quite a treat today! It was along the train trolley tracks, just a short walk from the parking lot along the tracks would get you to the spot. There will be a telephone pole with a rather large cedar tree just to the left of it, it is from this general area that the bird was seen. I was there for a few hours and towards the later part of the day (at about 3p.m.) the bird disappeared, and wasn't relocated until roughly 3:30-3:45. When it resurfaced, it came from the woods on the right hand side of the tracks, landed briefly on a telephone pole, then not too long after headed back to these woods. It may have had something to do with the two Cooper's Hawks that were also seen in the area. There is a trail from the parking lot (not the one that goes along the river) that would also be worth checking if people come up empty near the tracks, as that trail would take you near where the Solitaire disappeared late in the day. I left at around 4:30p.m., at which time the bird was still back in the woods as far as I knew. Hope this helps!
---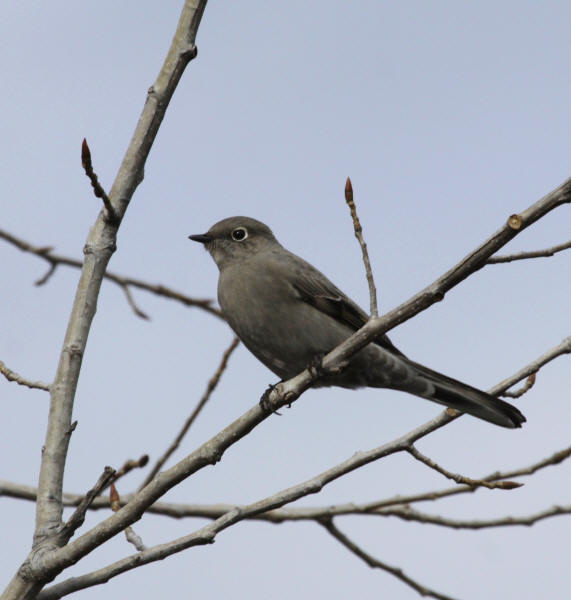 Townsend's Solitaire photo courtesy Bob Andrini
---
Jackie Bowman on 11/7 reported via e-mail: Thank you Margaret Mechtenberg, Bob Andrini and Pete Moxon for identifying, locating and reporting this fabulous Kane County sighting!!!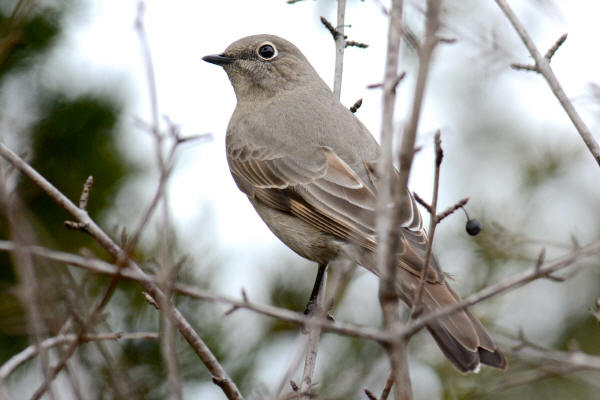 Townsend's Solitaire photo courtesy Jackie Bowman
---
---
Margaret Mechtenberg on 11/7 reported via phone: Margaret reported seeing a Townsend's Solitaire at John Duerr Forest Preserve this morning. The bird was later located about 150 yards down the tracks from the trolley station that is located next to the parking lot.
---
John Janunas on 11/4 reported via e-mail: Snow Geese around 1:00 at Peck Farm.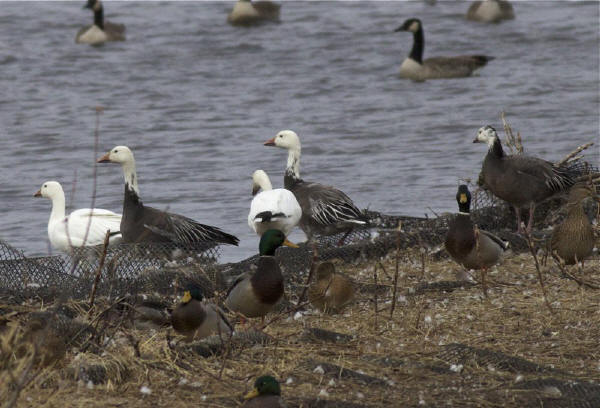 Snow Geese photo courtesy John Janunas
---
Jackie Bowman on 11/3 reported via IBET: Chris and I are currently watching 3 Snow Geese and 3 Blue Morph Snow Geese at the southern end of Peck Farm Lake.
---
Brendon Lake on 11/2 reported via IBET: Hey everybody, I was out birding some local Kane County patches today...My primary target for today was waterfowl diversity, and I ended up doing very well. First highlight was a blue-morph Snow Goose at a pond in the Highland Woods subdivision in Elgin. The entrance I came through was off of Coombs Road between Highland Ave. and Route 20. This is minutes away from Burnidge Forest Preserve. Speaking of which, that was my next stop, highlights being great close looks at Green-Winged Teal and a pair of Sandhill Cranes flying very low overhead. The South Elgin Dam had nothing too exciting, save for a Belted Kingfisher...
---