---
Sue Wagoner on 11/28 reported via e-mail: I had 3 Pine Siskins at my feeders today- a "backyard lifer" for me and I know others have had them too.
Also at Aurora West yesterday, 11-27, and a few days ago I saw a Northern Shrike on the west side of the preserve, on trees along the north-south path on the east edge of the burned prairie... also saw it once on the east edge of the woods.
I have seen a male Northern Harrier... twice over the east prairie area (the loop that goes behind the middle school) and once over the burned prairie on the west side. (No photos).
---
Urs Geiser on 11/27 reported via IBET: I made a loop through Kane and DeKalb Counties today.

My first stop was at Hampshire F.P. (Kane). That's where the first of several flocks of SANDHILL CRANES started flying over, over 200 at this location. The most unusual land birds were a late RUBY-CROWNED KINGLET, a GOLDEN-CROWNED KINGLET, and a HERMIT THRUSH...

...Back in Kane Co., now on Main St. west of Kaneville, there were many geese feeding in the corn fields, however the only non-Canadas were CACKLING GEESE, plus a hybrid Canada with a whitish head. I did notice two white birds among them, though, but they turned out to be TUNDRA SWANS! I also found another small flock of SNOW BUNTINGS.

A larger longspur flock flew around Scott Rd. but didn't settle down close enough for good looks.
---
Jim Narovec on 11/27 reported via e-mail: Spotted two Bald Eagles in their favorite tree along the west bank of the Fox River in Carpentersville on Thanksgiving morning.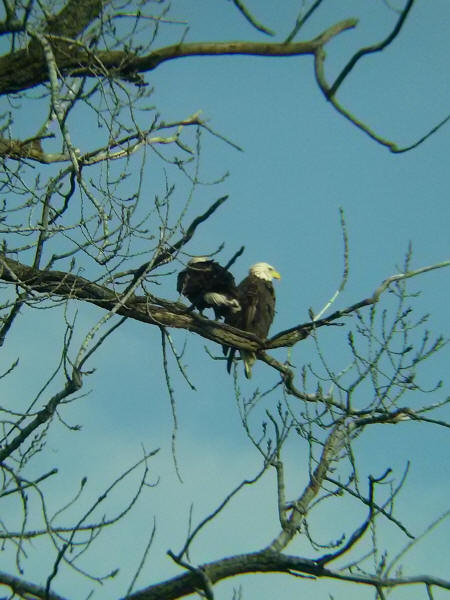 Bald Eagles photo courtesy Jim Narovec
---
Walter Lutz on 11/23 reported via e-mail: Peregrine Falcon this Sunday morning at Jelke Bird Sanctuary in Sleepy Hollow/West Dundee. Been there many times and that's a first for me. It was carrying a small bird, likely a Junco.
---
Rebecca Schmid on 11/22 reported via e-mail: My husband took this photo this afternoon after driving back and forth between Elgin and Carpentersville all afternoon. We had just about given up when he noticed all of the gulls at the Carpentersville dam taking to the air. We were eating lunch and he probably would have flown right past unnoticed if not for them.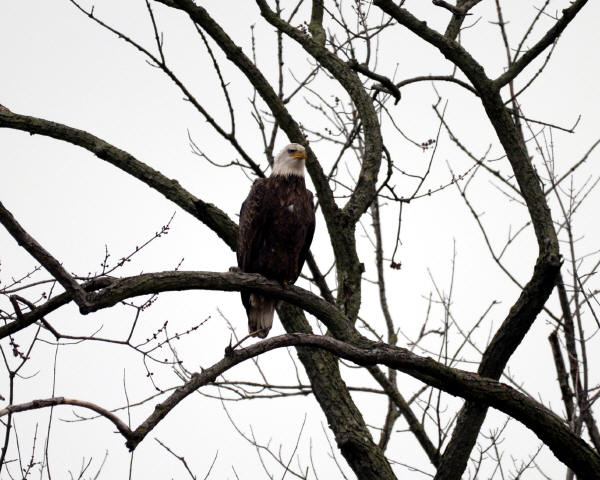 Bald Eagle photo courtesy Kevin Schmid
---
Eric Secker on 11/21 reported via IBET: I checked a few spots midday during my lunch break.

At the water treatment plant off Slade Ave. in Elgin, mostly frozen so not much but some geese and Mallards.

By the Village Squire in West Dundee, there were six Common Mergansers. Further north along the river in Dundee there were 3 or 4 Common Goldeneye and 3 Hooded Mergansers.

At the Carpentersville Dam, there was one Bald Eagle that didn't stay long once some people came by and a couple Common Mergs. I scanned through the Ring-billed and Herring Gulls but didn't pick out anything unusual. There were more gulls farther north almost out of view.

I didn't have time to check below the dam by Gail Borden Library or further north.
---
Bob Montgomery on 11/19 reported via e-mail: Hi folks –
Update on Fox River birds: In Elgin the female Harlequin Duck was still present below the Elgin Dam hanging out with the flock of mallards this afternoon (Wed.). Most of the river was frozen up above the Dam and the Surf Scoter was not found.
Further up river at the Carpentersville Dam a large mixed flock of Ring-Billed Gulls and Herring Gulls contained a non-breeding plumaged adult Lesser Black-backed Gull.
---
Kurt Frieders on 11/18 reported via e-mail: Our yard and property (in Aurora township) has seen a lot of good birds lately. We have seen three different Snow Geese (including this one photographed in our field). A drake American Black Duck has been hanging out with a flock of mallards on our property. Each night of the past week we have been serenaded by a Great-Horned Owl in one of the trees in our yard. Our Red-Bellied Woodpecker has returned from his summer hiatus to visit our peanut feeders. A pair of Blue Jays have been grabbing whole peanuts daily. It also appears that we have a Gray Catbird overwintering with us for the second straight year. Until a week ago we had a few Eurasian-Collared Doves visiting us amongst a massive flock of Mourning Doves. We also continue to be blessed by our usual suspects like Cardinals, Goldfinches, and House Finches.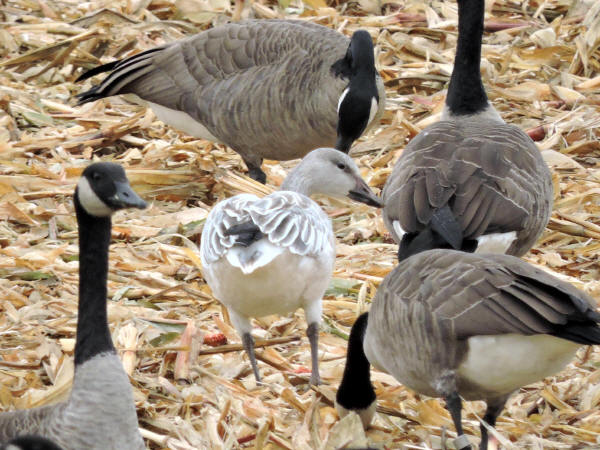 Snow Goose photo courtesy Kurt Frieders
---
Gordon Garcia on 11/18 reported via IBET: There is a Harlequin duck sitting just offshore on the east bank of the Fox River, just to the north of Hemens Auditorium. If it is the same duck that was present last week it had an injured right leg, but was apparently able to fly. If someone can confirm the bird needs assistance you may want to report to Chicago Bird Collision Monitors 773-988-1867. The duck did not move while I was there today.
---
Pat Asher on 11/18 reported via IBET: I just saw a flock of 30-40 Sandhills fly just south of my house moving to the east in Gilberts, Il
---
John Leonard on 11/16 reported via eBird: Seeing the Harlequin Duck on Sunday morning south of the Kimball Street bridge in Elgin.
---
Bob Fisher on 11/16 reported via IBET: Karen and I managed to get scope views of the Surf Scoter as it swam with a lone Mallard on the west side of the river, north of the Kimball St Bridge in Elgin, Sunday morning, around 10:30 AM. The snow was falling pretty heavily at the time. We viewed it from the far N end of the library parking lot, and the bird was north of that overlook spot.
---
Lucy DeLap on 11/16 reported via IBET: The rufous hummingbird is nowhere to be seen today. He lived in our backyard here in East Dundee from 11/6 - 11/15. We saw him frequently every day. But not today.

While I am saddened by his absence, I am glad he stayed here, hopefully gathering enough energy to continue on to his destination fully fueled.

Congratulations to those that were able to stop by for a viewing. Joshua Little's blog has some fabulous photos of our visitor.

I will leave the feeders up for the next few weeks and will post any future sightings. I'll also be leaving the feeders up again next fall in hopes of a repeat performance.
---
Marion Miller on 11/15 reported via text: Male Surf Scoter above dam in Elgin. View from library. Found by Andrew A and Joshua L.
---
Marion Miller on 11/14 reported via e-mail: Finally Pine Siskins returned to our backyard (Batavia) feeder this morning. Hopefully Common Redpolls will follow soon!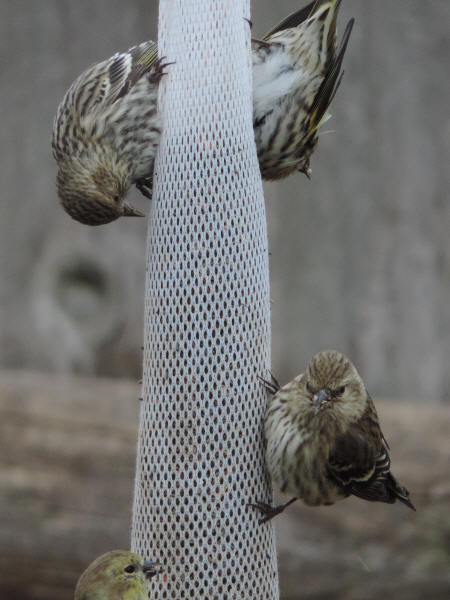 Pine Siskins photo courtesy Marion Miller
---
Lucy DeLap on 11/13 reported via e-mail: I have a Rufous Hummingbird living in backyard in East Dundee. He has been here since 11/6. I have 2 feeders that I left up after spotting him in mid-October. He feeds many times each day at both feeders, sits on the wires viewing his habitat, and appears to roost in our arborvitaes or in our prairie plant beds.

I believe it to be an immature male as I have gotten a number of good sightings of a glittery orange patch at the base of his throat.

Now that it is cold, I bring in the feeders at night then return them at first light. This morning he was looking for them at 6:20 and came right to feed a few minutes later right after I had put one up. It was quite a sight to see him at the feeder with the snow flying around him!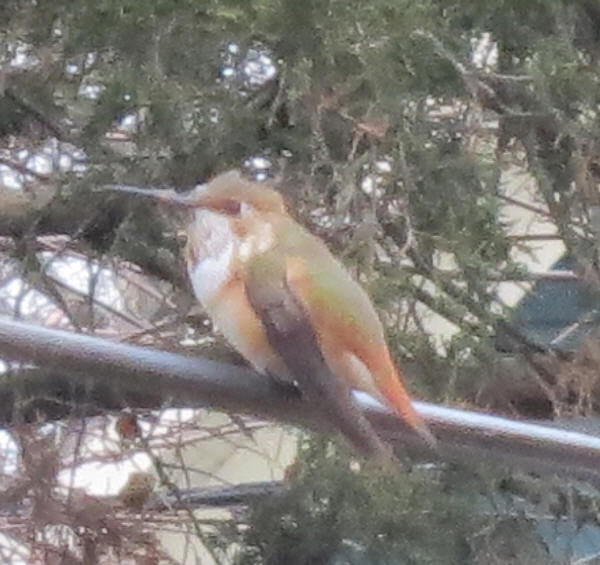 Rufous Hummingbird photo courtesy Lucy DeLap
---
Kathy Deen on 11/11 reported via e-mail: She and her seven-year-old daughter saw a Bald Eagle "at rt 31 and boncosky rd west dundee on our way home from school. There is a big horse barn and an open field for the eagle to look for food!"
---
Tim Balassie on 11/10 reported via text message: At 1:20 this afternoon, a raft of twenty-seven Bonaparte's Gulls off Boy Scout Island in St. Charles.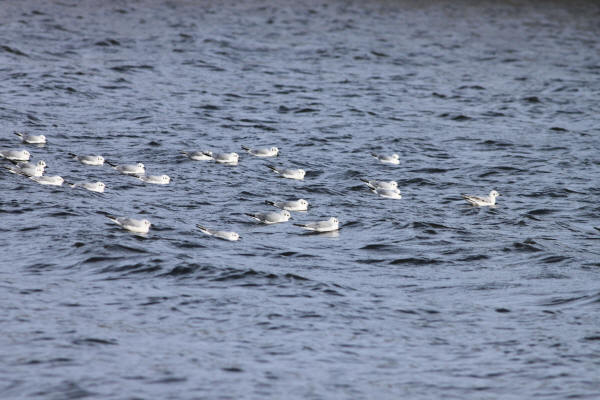 Bonaparte's Gulls photo courtesy Tim Balassie
---
Patrick Ricketson on 11/9 reported via e-mail: I was excited to find a Harlequin Duck mingling with a group of domestic mallards where the Fox River bisects Walton Island in Elgin.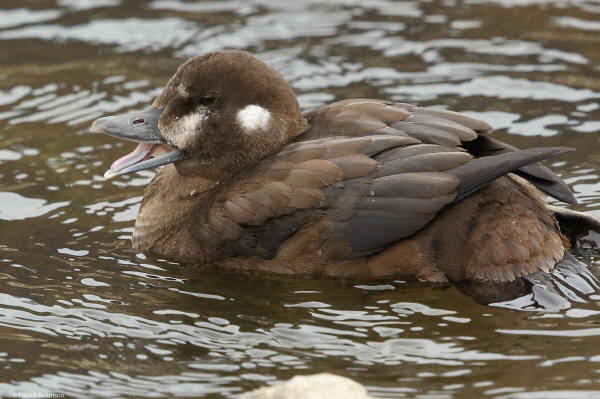 Harlequin Duck photos courtesy Patrick Ricketson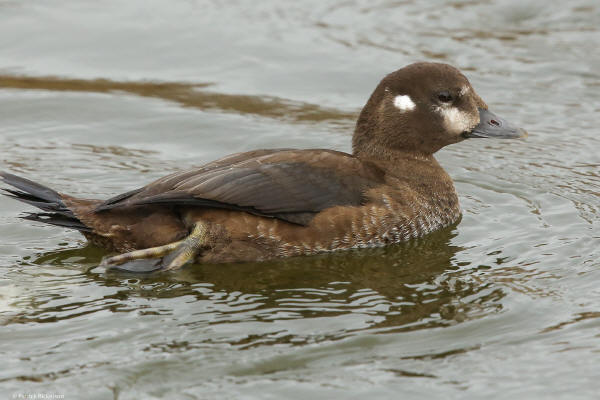 ---
Jon Duerr on 11/7 reported via text message: At 7:20 this morning there were 21 Tundra Swans at Nelson Lake. At 7:40 they took off and flew to the east.
---
Marion Miller on 11/6 reported via e-mail: Thursday afternoon there were 4 Northern Pintail Ducks and many Green-winged Teal on a pond in Settlers Ridge subdivision (Sugar Grove). The pond is located south of Parkside Dr.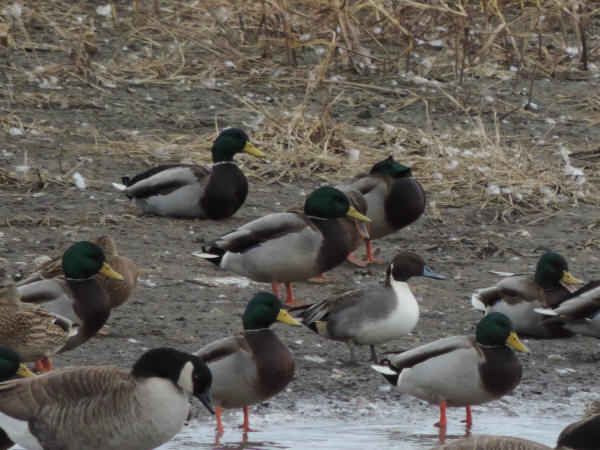 Northern Pintail photo courtesy Marion Miller
---
Jeff Mckenzie on 11/3 reported: For the last two weeks, a Monk Parakeet has been visiting his backyard feeders in Geneva.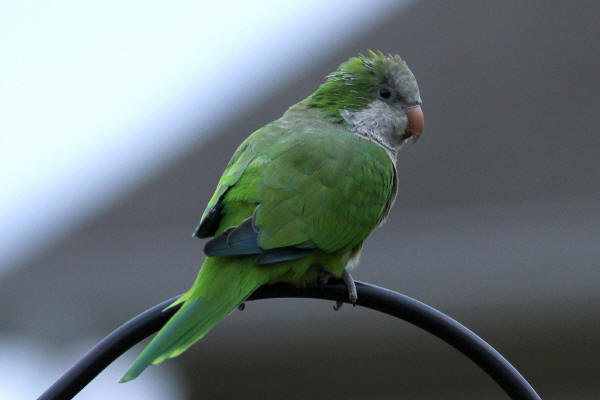 Monk Parakeet photo courtesy Chris Madsen
---
Bill Ahlgren on 11/2 reported via e-mail: Spotted this Dark morph Snow Goose while out Sunday afternoon with Art Johnson at Hupp Park in Aurora. Behind Aurora Fire Dept. at Indian Tr. and Illinois Ave.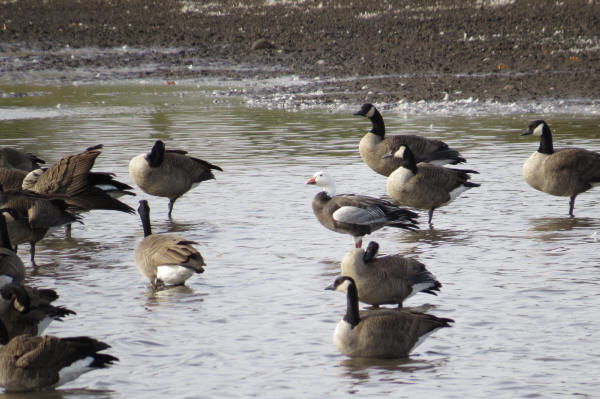 Blue Morph Snow Goose photo courtesy Bill Ahlgren
---
Marion Miller on 11/1 reported via e-mail: Rich, Theresa Lecompte and I checked out a pine stand along Florence Rd in Big Rock on Thursday morning. Our target birds were owls. Although we came up empty on them we did have a good variety of birds. Highlights were: Pine Siskins, Brown Creeper, Golden-crowned Kinglets and many Fox Sparrows kicking up the leaf litter.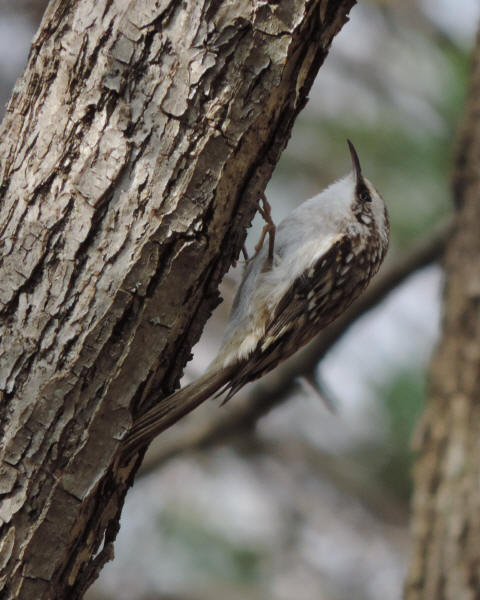 Brown Creeper photo courtesy Marion Miller
---
Eric Secker on 11/1 reported via IBET: Right now (4:30) there are over 40 Pine Siskins feeding on the ground in our parking lot at Judson University. They probably just arrived from spots further north. Let's hope more winter finches are on the way as well.
---