---
Walter Lutz on 11/28 reported via e-mail: Big crane movement today - saw roughly 1650 Sandhill Cranes from Burlington Prairie Forest Preserve this morning. Also a Red-Shouldered Hawk.
---
Bob Andrini on 11/25 reported via e-mail: On our bird count this morning at Norris Woods we had 2 Eastern Bluebirds and a very cold looking Double-crested Cormorant (he was sitting on a log in the river with his wings outstretched - and maybe even shivering).
---
Marion Miller on 11/25 reported via e-mail: I was surprised to see a female Eastern Towhee in our backyard (Batavia) on Monday. It was frolicking in the snow near our brush pile. She did not return on Tuesday.
---
Kurt Frieders on 11/23 reported via e-mail: Things have been pretty busy in our yard lately (in Aurora township). Our pair of resident Red-Tailed Hawks were kind enough to pose together for a photo today. We also recently have been visited by both Coopers and Sharp-Shinned Hawks recently. A pair of Tundra Swans were in our field on Saturday, giving me a great look at them. They also vocalized. Our resident male Red-Bellied Woodpecker has been spending pretty much the entire day in our yard. We have also been visited lately by a White-Breasted Nuthatch, which is actually a very uncommon occurrence in our yard. Pine Siskins have been on our thistle feeder in good numbers. We also continue to be visited by Chickadees, House Finches, Goldfinches, Cardinals, Juncos, Blue Jays, and the rest of the usual suspects.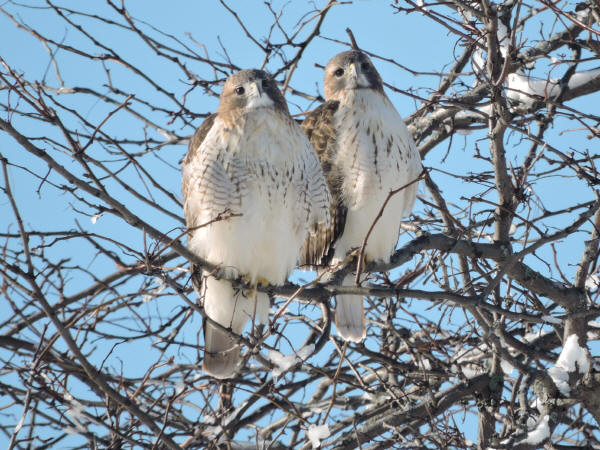 Red-tailed Hawks photo courtesy Kurt Frieders
---
Justin Wrinn on 11/22 reported via IBET: I counted 1183 Sandhill Cranes flying over Burnidge this morning between about 9:30 and 11:45 in numerous groups, all heading south. Most of them came directly over the park or just to the east or west except for one group of 155 way to the east (barely in binocular range) that looked to be heading down the Fox River. I am guessing a lot of these were the same birds Richard Bisbee saw earlier in western Lake Co.

Nothing else too unusual at Burnidge this morning, although I managed 43 species, which was quite a bit more than yesterday. Highlights were a juvenile Bald Eagle soaring over the lake (which was completely frozen by the way after it had finally filled back up again with the recent rain) and a trio of new birds for my Burnidge list: Snow Bunting, Lapland Longspur, and Horned Lark. Full list is here.
---
John Heneghan on 11/22 reported via IBET: Did a quick trip today in South Kane Cty. Saw big flocks of both Horned Larks and Lapland Longspurs along Prairie East of Dugan. Trees Sparrows in numbers were along the road in Big Rock Forest Preserve. Checked the quarry for waterfowl, it was empty. Roads were pretty bad in Kane Cty.
---
Walter Lutz on 11/22 reported via e-mail: Had a great, great morning at Muirhead Springs F.P. Had 2 Whooping Cranes fly practically right over me heading south. What a sight! If you live near Nelson Lake it would be worth a quick check.
---
Debbie Wisser on 11/20 reported via e-mail: I birded Burnidge Forest preserve today with a group of friends. It was a fairly quiet walk without many birds until we were surprised by a Short-eared Owl flying right over our heads. It flew past us into a tree at the edge of the prairie, and it stayed perched long enough for us to get pretty good looks at it through the branches. It then flew out into the open and away for another clear, in flight look. This was the highlight of the morning for all of us.
---
Justin Wrinn on 11/20 reported via IBET: Mostly of local interest, but I found a Trumpeter Swan this morning with a flock of Canada Geese in the field north of Big Timber Rd just east of Rutland Forest Preserve and about a quarter mile west of Powers Rd. I could only stop for a couple of minutes since I was running late for work, but I got a good look with my binoculars in good light (it was maybe 200-300 feet out). I ruled out Tundra because it was huge compared to the Canada Geese. There also wasn't any yellow visible on the bill, and there was no apparent separation between the black bill and the eye.
---
Bob Andrini on 11/19 reported via e-mail: There is a 'funky' goose in the area. Kath saw this bird on Main Street in Batavia. I took this picture and sent it to the waterfowl expert, Bob Montgomery and he identified it as a hybrid between a Canada Goose and a domesticated Grayling Goose.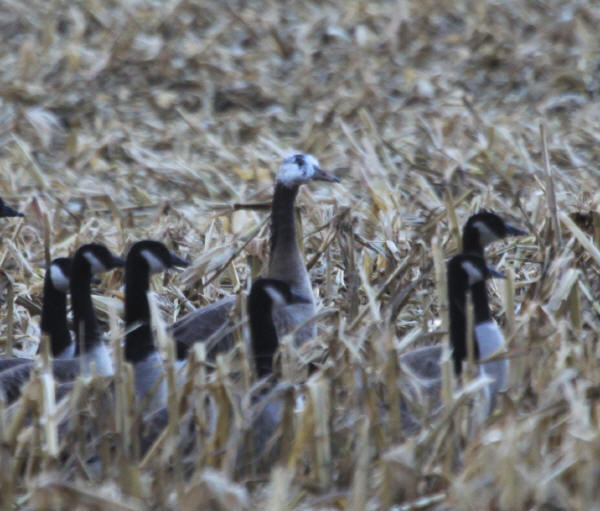 "Funky" (hybrid) goose photo courtesy Bob Andrini
---
Chris Bowman on 11/19 reported via e-mail: Went west to the Elburn Forest Preserve Wednesday 11/18 afternoon, hoping to find a Kane County Lifer Redpoll. Success was achieved. There are many good feeding seed trees for these birds, in the back corner (southwest corner), where the entry road comes to an end. Saw 3 Redpolls mixed into a couple large groups of Pine Siskins. This has apparently been a classic location for them. Thanks to Scott Cohrs for his report this weekend.
---
Scott Cohrs on 11/16 reported via eBird: Located at least five Common Redpolls at Elburn Forest Preserve on Sunday morning.
---
Gerda Boone on 11/15 reported via e-mail: Bald eagle soaring over Randall Rd. & Fabyan near Trader Joes and Walmart intersection Friday noon 11/13. Flying very low.
---
Chris Madsen on 11/15 reported: Carla and I stopped by the Mirador subdivision ponds in North Aurora yesterday afternoon. Highlights included two Northern Pintails, 2 Ruddy Ducks, Blue-winged Teal, Green-winged Teal, Northern Shovelers, American Coots, Great Egret, Red-tailed Hawk, Northern Harrier, and 8 - 10 American Wigeons.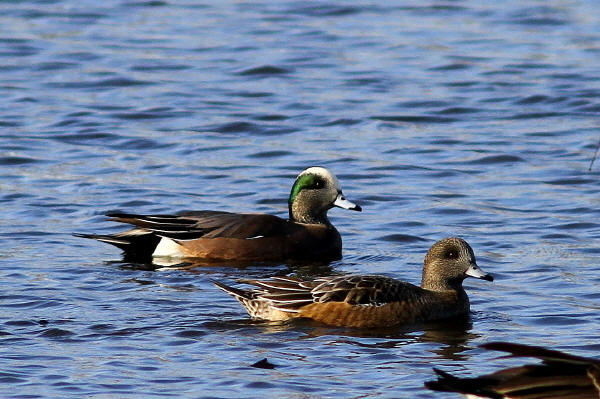 American Wigeons photo courtesy Chris Madsen
---
Justin Wrinn on 11/14 reported via IBET: The Pingree Grove White-faced Ibis was a no show this morning even though several birders including myself searched for it at different times throughout the morning. The surface of the pond mostly froze over last night, so that may be a factor. It was last seen by Brendon Lake yesterday afternoon.

Also, I noticed some people have been entering ibis sightings in eBird using the "Pingree Grove WTP Marsh" hotspot. This is not really correct - the WTP (water treatment plant) marsh, known for its Yellow-headed Blackbirds in summer, is to the west on the other side of Reinking Rd, south of Wester Blvd and north of the large fenced in pond behind the police station and water treatment plant (this pond is considered part of the hotspot). The subdivision pond where the ibis is beeing seen is considered a separate location by most local birders and doesn't have a hotspot (although it probably should since it can be quite good for waterfowl)...
...Mostly of local interest, but I found a Woodcock again early this morning at Burnidge FP in the usual location just north of the west parking lot - I am still seeing it almost every morning I go. I wonder how long it will stick around.

Later, on the Kane County Audubon walk at Hampshire FP, we got a good close up look at a Common Redpoll as well as good numbers of Purple Finches and a few Pine Siskins. Predictions of a good year for winter finches in northern IL seem to be holding true so far...
---
Brendon Lake on 11/14 reported via e-mail: The Hampshire Forest Preserve bird walk this morning was a big success! Eight participants, plus myself, took part in the walk. Of note, 28 species were recorded, including a lone Common Redpoll that popped out of some low scrub at close range for many participants to see. Also there, around a dozen of each Purple Finch and Pine Siskin, two Red-Tailed Hawks, a Hermit Thrush, and a late Turkey Vulture most notably. Great morning to be out birding, and wonderful company was to be had as well!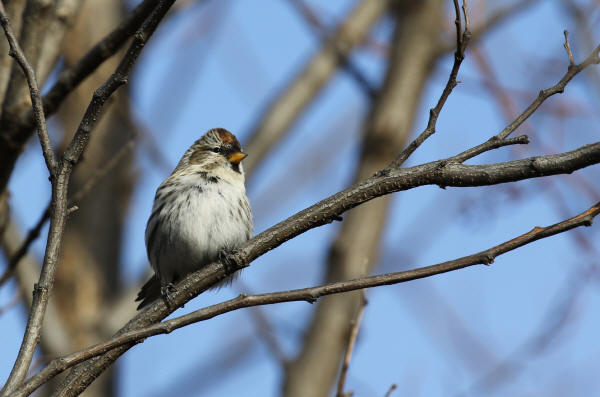 Common Redpoll photo courtesy Brendon Lake
---
John Heneghan on 11/12 reported via e-mail: Had a Red Breasted Nuthatch show up today [at our feeders in Big Rock]. Did not get any last year and saw only 1 at Hoover in Kendall Cty.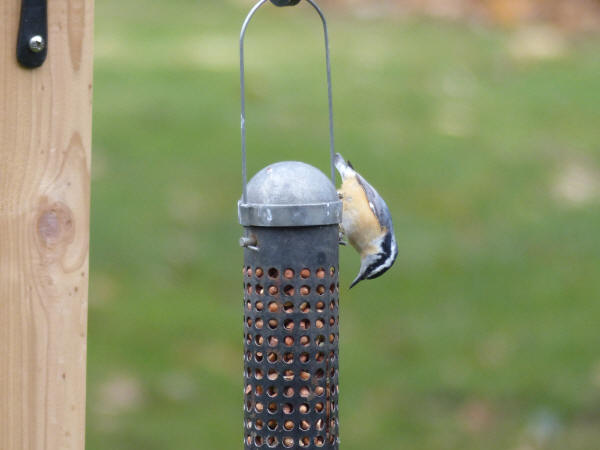 Red-breasted Nuthatch photo courtesy John Heneghan
---
Editor's Note: Marion Miller shared this 11/10 Illinois Birding Network Facebook posting by Ari Rice:
"A quick word about the Pingree Grove ibis:

The bird disappeared for a little over an hour around 2:30 today, and after seeing it fly in from a marshy area at the southernmost end of the pond, Rebecca Rice, Jerry Goldner, and I had great looks from the vantage point along Boathouse Road.

However, one of the homeowners whose property lies here has been getting irritated by the number of birders camping out in her backyard. If you decide to see the ibis from here, please be mindful of this person's needs by sticking close to the water and not intruding on her lawn."
Please, folks, let's "be mindful" of everyone's private property. Trespassing isn't cool.
---
Chuck Berman on 11/10 reported via IBET: 11 am. The sun shines off [the White Ibis'] emerald-hued back as it forages in the water just off of shore near the weeds on the south end of the pond.
Directions GPS 715 Catamaran Circle, Pingree Grove, which will take you to Boathouse Drive. Park on Boathouse and look way across the pond. I walked to the west (right, or, same side as homes under construction) to a much closer angle and got great looks through a scope. There were many green-winged teals nearby and a pondful of Canada geese.
---
Gordon Garcia on 11/9 reported via e-mail: Two photos I took Sunday afternoon in Pingree Grove, IL of the juvenile White-faced Ibis.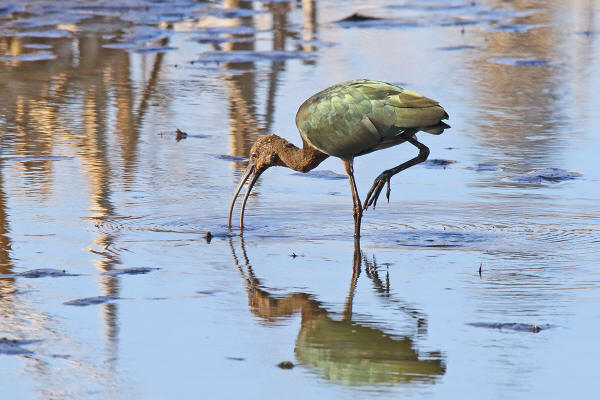 White-faced Ibis photos courtesy Gordon Garcia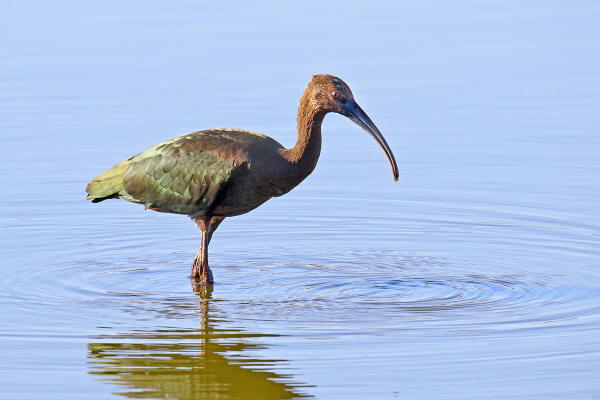 ---
Karen Lund on 11/9 reportede via IBET: At 11 am, ibis remains in previously reported location. He's on the far side of the pond. Can be seen with binos, scope would be better.
---
Al Stokie on 11/9 reported via IBET: Hello Bird People,
When looking for rare birds I prefer to have birders with who spot things better than I do but the 2 folks who usually fill that roll, Andy Sigler & Bob Erickson, couldn't make it as Andy has a banged up foot & Bob was back to work. So I was on my own but since an Ibis is a fairly large bird I figured I had a chance. Arrived at the gravel, potholed Highland Rd at about 7:30 a.m. but no one was there with the Ibis in a scope view so I got to work looking from Highland where you can see most of the marsh area. Did not see an Ibis but I did see lots of ice at the edges of the water. I was NOT glad to see that! Looked for about 10-15 min with no luck & then there it was much closer than I had been looking in a channel fairly close to Highland. But that was just the start of the battle as I wanted to see the red in the eye. But try as I might I could see no such thing partly as the Ibis was pretty far away & the sunlight was not at it's best angle to see details. Even at 60 power the eye just looked dark.
But thanks to directions from Marion Miller I had 2 other places to look from & the 1st one offered very close looks with perfect lighting. This was the spot mentioned by Karen Lund in her post from today. It's by house #714 where Boathouse & Outrigger meet. Here I was about 40 ft. away from the Ibis & I cranked up the power again to 60. But even then the eye looked dark until the Ibis turned it's head a certain way allowing the light to hit the eye just right. I was able to see the red color 4 or 5 times but only for a few seconds each time. So if you think you'll see the red with bino's I doubt it & even with a good scope it's not easy. You may have to settle for looking at some of the photo's from Marion & others that show the red. Out of a total of 25 min of close viewing all I got were those few views of red for short durations. I worked for this one!
Later I saw on ebird that Ted W was there before me but was gone before I arrived. Would have saved me some worrying had I had found Ted looking at the Ibis but, in a way, I'm glad I found it on my own & by myself to boot. Spent so much time with the Ibis I hardly looked at anything else.
Thanks to Tim B for finding the Ibis & to Brendan L & Justin W for placing the info on IBET & to Marion for the added directions.
Next a 2 hour visit to Burnidge F.P. where I used to visit with some regularity when my cousin & her family lived near by about 10 years ago. I have seen my 1st & only Yellow Headed Blackbird & Common Gallinule/Moorhen for Kane County here. But today I really could only say I had a nice walk & saw the expected Winter birds. But I walked some trails I used to walk & 1 new trail & enjoyed the fine weather. I'll leave the rare bird finding here to Justin who covers this place & reports often.
Bird-Of-The-Day to the Ibis, White Faced I think & Runners-Up to all the Green Winged Teal at both locations as they really do look very nice.
---
Matthew Cvetas on 11/8 reported via IBET: Marion Miller texted me a photo clearly showing a red iris on this bird. That would make this a juvenile WHITE-FACED IBIS. Way to go Marion and Rich!
---
Justin Wrinn on 11/8 reported via IBET: Ibis still present at 11:30am on the west side of the pond towards the north end, same spot I saw it yesterday afternoon.
---
Jackie Bowman on 11/8 reported via IBET: Plegadis Ibis Species continues at same location noted in Brendon Lake's report and map as of 8:50am, Sunday, 11/08
---
Walter Lutz on 11/8 reported via e-mail: The Ibis was still present this morning around 7 a.m. Found in the same pond feeding in a small inlet at the SW part of the pond. See Ebird for specific location.
---
Justin Wrinn on 11/7 repoted via IBET: It looks like no one has mentioned this on IBET yet. On Thursday afternoon a Glossy/White-faced Ibis was found by Tim B. in the large pond in the subdivision along Catamaran Circle in Pingree Grove. It was still there when I went late this afternoon, feeding along the west edge of the pond, near the north end. I have no experience separating Glossy and White-faced Ibis, but several people with more expertise saw it on Thursday, and it seems most likely an immature Glossy, although no one felt confident to make a definite ID. It was kind of back lit when I saw it today, so I couldn't tell much detail - it looked mainly dark brownish with no white on the face
---
Brendon Lake on 11/7 reported via IBET: Hey everybody, surprised this hasn't been made very public, so here goes. An immature plegadis ibis was found on the 5th by Tim Balassie. The bird was visible along the far SW shore of the pond on Catamaran Circle, a road on the far eastern end of the Cambridge Lakes subdivision in Pingree Grove. This pond is east of Reinking Road, directly across the street from the Pingree Grove Water Treatment Plant Marsh. As of today (the 7th), the bird was still present and photographed. I thought I would post for anyone interested. Here is a link to a map, showing where the bird was seen (on the 5th at least) and where best viewing was from. Even at its closest, a scope was necessary for quality views.
---
Christopher Cudworth on 11/6 repported via IBET: During yesterday's building wind storm, I visited the "old" entrance off Nelson Lake Road at Dick Young Forest Preserve two miles west of Randall on Main Street.

The temps were still in the high 60s, with strong SW winds.

Was pleasantly surprised to discover a group of eight Purple Finch (3 male, 5 female) in the bushes surrounding the front pond. This was both sheltered and a hub of activity thanks to a still-leafed shrub with red berries. Robins by the dozen were coming in and out of those shrubs.

A dispersed group of cedar waxwings, probably 25 in all, was cycling in an out of the bushes as well.

In these trees was also a small group of Rusty Blackbird. Three that I saw. Two female, one male. More were heard on the path heading west, where in the mature oak forest at the north end of the preserve, a large mixed flock of grackles and red-winged blackbirds were staged and singing up a storm. Concentrations of these birds is huge this time of year, and getting to the marsh before dawn or right at dusk is quite a treat to see, with thousands of blackbirds in murmurations heading in to roost.

The high winds kept everything else quiet. But if you're in the vicinity, this food source may still attract some interesting species.
---
Tim Balassie on 11/5 reported via text: Spotting, at about 1 PM, an immature Glossy Ibis at Cambridge Lakes subdivision in Pingree Grove, on the far east pond, east of Reinking Road.
---
Justin Wrinn on 11/4 reported via IBET: Following up yesterday's late Sedge Wren, I found two late Le Conte's Sparrows at Burnidge this morning, just slightly south of where I had the Sedge Wren. They were very cooperative and allowed me to study them from close range for about 10 minutes. They were in a strip of tall dead grass along the north side of the mowed path that parallels the road to the north (opposite the lake) just inside the west (Coombs Rd) entrance, maybe 300 feet east of the gate. They had moved slightly to the west when I last saw them.

Two Woodcocks were also very active in the fog before sunrise, flying around and occasionally peenting in their usual spot north of the west parking lot.

Full list of species is here.
---
Justin Wrinn on 11/3 reported via IBET: I found a late Sedge Wren at Burnidge this morning in the field north of the road close to the west (Coombs Rd.) entrance, maybe 100 ft. north of the road and a few hundred ft. east of the mowed path along the west edge of the field. I heard it calling and was pretty sure it was a sedge wren, but it is getting late for them, so I wanted to get a visual. 10 or 15 minutes later I finally tracked it down in the tall grass/weeds and got a nice close up look. It's been a few weeks since I had one in this area, so it's most likely a migrant rather than a breeder still hanging around.

Also of note: Continuing Woodcock, continuing pair of Sandhill cranes, getting late Orange-crowned Warbler, and a very striking adult male Pintail near the east end of the lake (first site record for eBird).

Full list is here.
---
Mark Bowman on 11/2 reported via e-mail: At Oakhurst today with Chris, we did not find the snow bunting but we did find the Muscovy duck.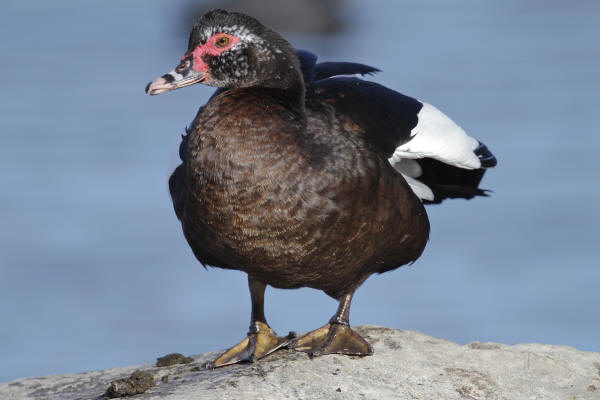 Muscovy Duck photo courtesy Mark Bowman
---
Chris Madsen on 11/2 reported: Highlights of yesterday's walk led by Wes Sadler at Oakhurst Forest Preserve included five(!) Purple Finches and this lonely Snow Bunting found along the lakeshore.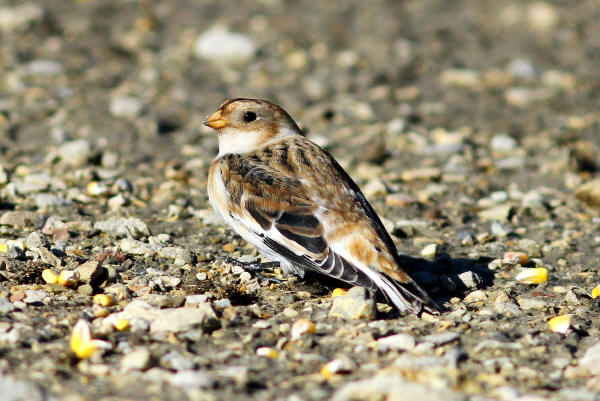 Snow Bunting photo courtesy Chris Madsen
---