---
John Heneghan on 11/30 reported via e-mail: 5 Sandhill cranes were seen feeding with geese in the field at Deerpath South of Sullivan.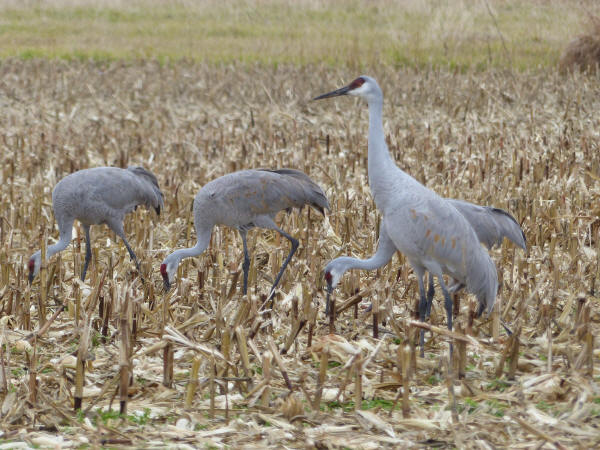 Sandhill Crane photos courtesy John Heneghan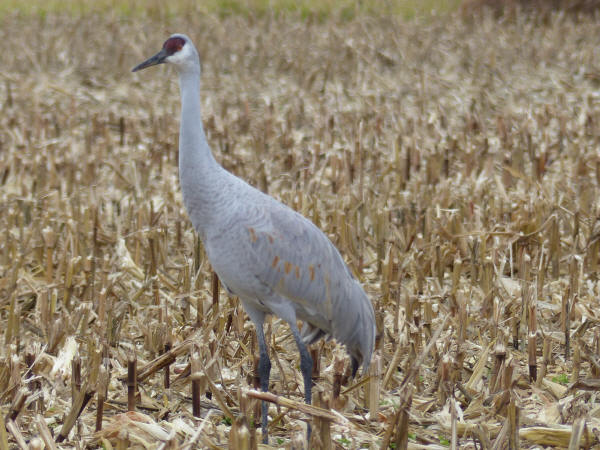 ---
Paul Richardson on 11/20 reported via e-mail: Well, now that the leaves have finally fallen off our Maple tree look what we found today! Mr. Screech owl.

Paul Richardson and Lou Stotts, central Elgin. Thanks to Lou for spotting it, although she thought it was a hornets' nest. I said hornets hang from branches, not sit on them.

Eastern Screech-Owl photo courtesy Paul Richardson
---
Steve Huggins on 11/20 reported via IBET: Not much time for birding today but while visiting the inlaws in Huntley I was able to check out the large numbers of geese in the area around Huntley Outlet Mall at Freeman Road. 12 Cackling Geese and 5 White-fronted Geese were the highlights. Also had a migrating group of 33 Sandhill Cranes overhead.
---
Jon Duerr on 11/17 reported via eBird: Finding at Jon Duerr Forest Preserve, an Orange-crowned Warbler which he commented was "viewed from 12-15 feet in sun; plain brownish yellow with faint eye line, yellow under rump, no wing bars."
---
John Heneghan on 11/14 reported via IBET: A Ross's Goose was seen at the Exel parking lot pond off Indian Trail Rd yesterday (11/13). This is just east of Orchard Rd in west Aurora. Also seen was a Greater White Fronted Goose with Canadian and Cackling geese at the retention pond on the north side of Sullivan across from the IL Math and Science Acad. This is where I saw a Ross's goose last week. A Greater White Fronted goose was also seen at the retention pond south of the fire station at Illinois and Orchard Rd in west Aurora. These sightings are in the same area.
---
Christopher Cudworth on 11/14 reported via IBET: I stopped at the wetland at the corner of Fabyan Parkway and Wenmoth Road west of Geneva. This morning there was a collective flock of 25 green-winged teal and one female shoveler in the wetlands on the west side of the road. There also appears to be an increase in the water height at this spot, likely the result of the beavers that appear to have taken up residence there, evidenced by a five-foot high lodge. That's a good sign.

This morning at our feeder in North Aurora, there was a russet Fox Sparrow feeding with the regular crew of juncos, house sparrows and house finches. The Fox Sparrow was dominant among the birds, but flighty when it detected movement inside the house.
---
Sue Wagoner on 11/12 reported via e-mail: I, like many others, am seeing Red-Breasted Nuthatches in my yard (2 of them), carrying sunflower seeds from my feeder to store in many places, including my neighbor's gutters.
There is a disintegrating Bald-Faced Hornet's nest under the eaves above my patio, showing empty cells. While hanging my laundry the other day I saw a Nuthatch hide a sunflower seed in one of the cells, pounding it in. Of course I went to get my camera but since they hide their seeds in many different places, I did not see a repeat of that!
Nice to see the little guys after about 3 years without them!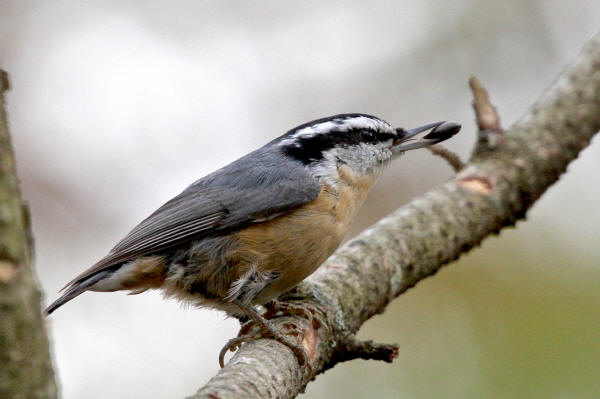 Red-breasted Nuthatch photo courtesy Sue Wagoner
---
Chris Madsen on 11/7 reported: For a little Sunday morning exercise, Carla and I opted for the full Nelson Lake loop. The lake was seemingly blanketed with American Coots. In amongst the swimming sea of black was the distinctive white head of a displaying Hooded Merganser. Approaching the Audubon bridge, we came across this Rusty Blackbird, which was joined by four others while I was photographing him. Over on the west side of the lake, this pretty Common Buckeye entertained us for a few minutes along the main paved path.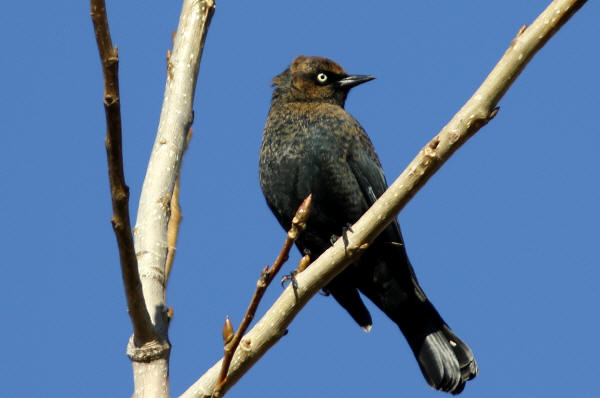 Rusty Blackbird photo courtesy Chris Madsen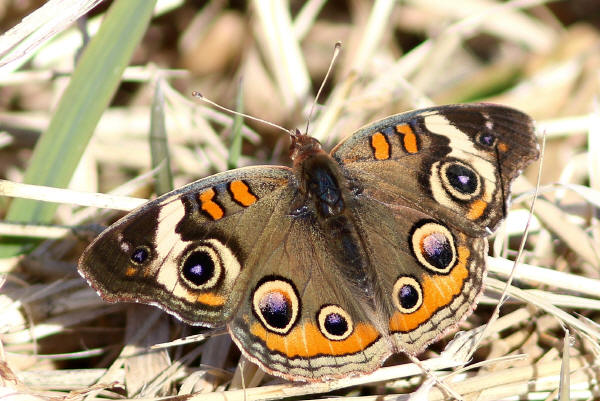 Common Buckeye photo courtesy Chris Madsen
---
Diane Hansen on 11/6 reported via e-mail: The weather for the November Kane County Audubon Nelson Lake walk on Saturday could not have been better. Among the 44 species seen were several species of ducks, a Northern Harrier, a Bald Eagle, Sandhill Cranes, a Yellow-rumped Warbler and some Purple Finches.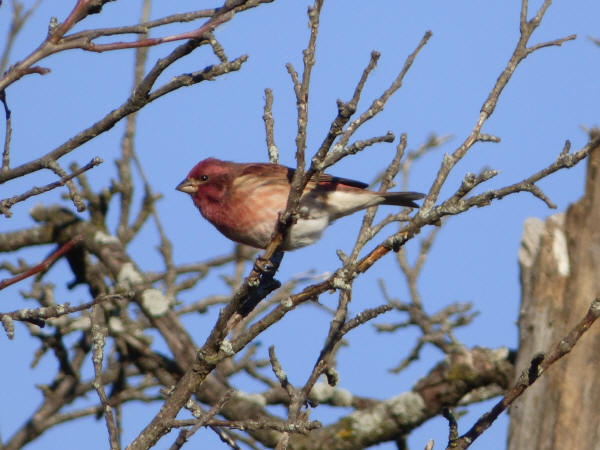 Purple Finch photo courtesy Diane Hansen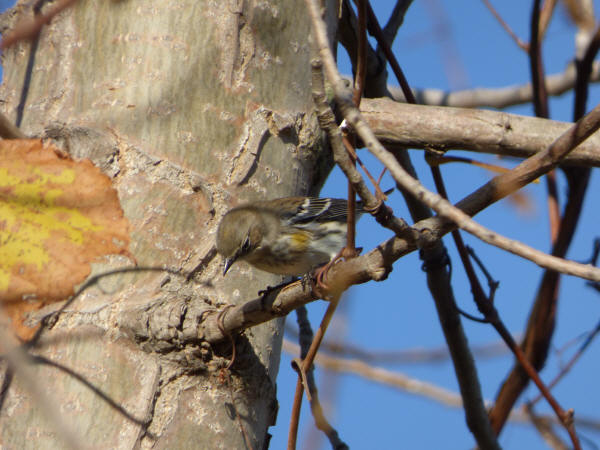 Yellow-rumped Warbler photo courtesy Diane Hansen
---
John Heneghan on 11/3 reported via IBET: A Ross's Goose was seen with Canadian Geese in a retention pond on the North side of Sullivan across from IL Math and Science Academy in west Aurora.
---
Lucy De Lap on 11/2 reported via IBET: I had a red-breasted nuthatch at my suet feeder today [in East Dundee]. While I see the white-breasted variety frequently, this is the first red-breasted I've seen in since 2012.
---
Daryl Coldren on 11/2 reported via eBird: That 3 American White Pelicans continue at Nelson Lake. He also heard a Virginia Rail.
---