Marcia Nye on 10/28 reported via e-mail: This morning was my first visit to Prairie Green. The highlight of the visit was two Snow Buntings in the grasses (see attached photo). Other birds of note were a Northern Shrike and male American Kestrel.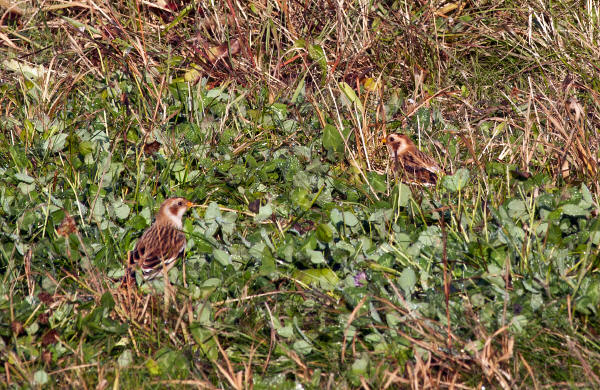 Snow Buntings photo courtesy Marcia Nye
---
Jon Duerr on 10/27 reported via phone: At 8:30 this morning, six Tundra Swans at Nelson Lake along with a few Gadwall and Redheads mixed in with many Canada Geese.
---
Andrew Aldrich on 10/26 reported via IBET: Hello! Stopped at Oakhurst before work this morning and flushed a WILSON'S SNIPE near the lake. Site bird for me. Also of note were a flock of close to 30 migrating WOOD DUCKS flying over. Didn't list it on ebird, but there was a possible Red-shouldered Hawk calling in the woods. I wasn't able to spot it, and there were BLUE JAYS calling nearby, so I'm leaning towards mimic. Complete list below:

CACKLING GOOSE 10
CANADA GOOSE 100*
WOOD DUCK 27
MALLARD 12
PIE-BILLED GREBE 6
AMERICAN COOT 100*
WILSON'S SNIPE 1
RING-BILLED GULL 2
MOURNING DOVE 2
DOWNY WOODPECKER 2
BLUE JAY 2
AMERICAN CROW 2
BLACK-CAPPED CHICKADEE 5
WINTER WREN 1
GOLDEN-CROWNED KINGLET 1
RUBY-CROWNED KINGLET 4
AMERICAN ROBIN 8
YELLOW-RUMPED WARBLER 1
EASTERN TOWHEE 1
SONG SPARROW 4
SWAMP SPARROW 2
WHITE-THROATED SPARROW 15
WHITE-CROWNED SPARROW 2
DARK-EYED JUNCO 5
NORTHERN CARDINAL 2
RED-WINGED BLACKBIRD 50*
*estimates

Happy birding!
---
Ron Dickenson on 10/25 reported via e-mail: Another photo of the Mooseheart eagles at their new nest.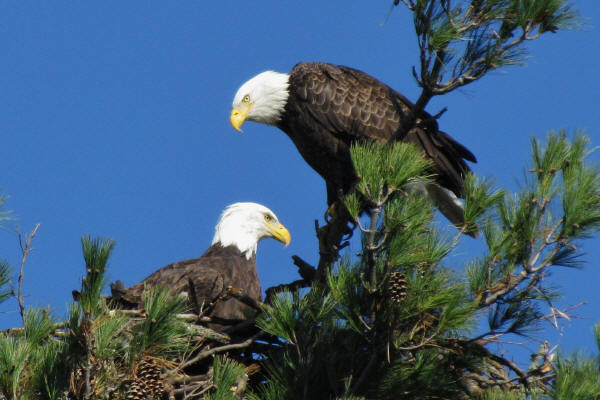 Bald Eagles working their new nest at Mooseheart photo courtesy Ron Dickenson
---
Marion Miller on 10/24 reported via e-mail: Stopped by for a quick look at Brauburn Marsh in Batavia this morning. Besides hundreds of Canada Geese it was nice to see 3 Short-billed Dowitchers doing the "sewing-machine" method of foraging in water almost up to their bellies. A few Mallards and Ring-billed Gulls were also present.
---
John Cebula on 10/24 reported via IBET: Nelson Lake Marsh Nature Preserve/Dick Young FP (Kane Co.), Kane, US-IL
Oct 21, 2011 12:00 PM - 2:10 PM
Protocol: Traveling
4.0 mile(s)
Comments: Poor sight-lines from observation platform because of trees.
31 species (+1 other taxa)

Canada Goose 150
Mallard 12
Blue-winged Teal 5
Northern Shoveler 14
Ruddy Duck 7
Northern Harrier 1
Red-tailed Hawk 1
American Kestrel 1
Killdeer 2
Rock Pigeon 1
Yellow-bellied Sapsucker 1
Downy Woodpecker 2
Eastern Phoebe 5
Blue Jay 2
American Crow 2
Black-capped Chickadee 5
Ruby-crowned Kinglet 1
Eastern Bluebird 4
Hermit Thrush 1
American Robin 200 Many flocks in shrubby areas at south end of Nelson Lake.
European Starling 3
Cedar Waxwing 12
Yellow-rumped Warbler 12
Eastern Towhee 1
Fox Sparrow 4
Song Sparrow 2
Swamp Sparrow 1 I enjoyed the single longest, clearest view of this species that I think I have ever had.
White-throated Sparrow 15
Dark-eyed Junco 50 Probably a lot more. These were feeding on trail on south side of lake (shrub on south side; weedy field to the north).
sparrow sp. 4
Red-winged Blackbird 2 I was surprised that I neither saw nor heard more blackbirds. Earlier in the day, just a few miles to the east, I located large numbers at Fermi Lab in DuPage County.
American Goldfinch 6

Glenwood Park Forest Preserve (Kane Co.), Kane, US-IL
Oct 21, 2011 2:30 PM - 3:05 PM
Protocol: Traveling
1.0 mile(s)
Comments: Fly-fishermen up and down the river, so there was a lot of human actiuvity.
11 species

Canada Goose 10
Mallard 9
Great Egret 1
Turkey Vulture 1
Killdeer 4
Ring-billed Gull 1
Belted Kingfisher 2
American Crow 2
Black-capped Chickadee 1
American Robin 23
Cedar Waxwing 12
---
Christopher Cudworth on 10/23 reported via IBET: I had an hour before church to visit Prairie Green this morning. And while I did not get Nelson's there were many interesting birds on a calm, somewhat foggy morning:

COOPER'S HAWK
RED-TAILED HAWK
KILLDEER (est 150)
CANADA GOOSE
SNOW GOOSE (2, white phase)
SWAMP SPARROW
WHITE-CROWNED SPARROW
SONG SPARROW
LINCOLN'S SPARROW
SAVANNAH SPARROW
YELLOW-RUMPED WARBLER
HOUSE FINCH
ROBIN
RED-WINGED BLACKBIRD
MALLARD
BLACK DUCK (1)
GREAT BLUE HERON
CROW
PIGEON
MOURNING DOVE
STARLING
BLACK-CAPPED CHICKADEE
It is late in the season for the migrating sparrrows but iif after this storm passes through tonight the weather stabilizes a little I'm going to visit again with goal of spending a bit more time.
---
Ron Dickenson on 10/23 reported via e-mail: Here's additional pictorial confirmation that the eagles are working on a new nest at Mooseheart.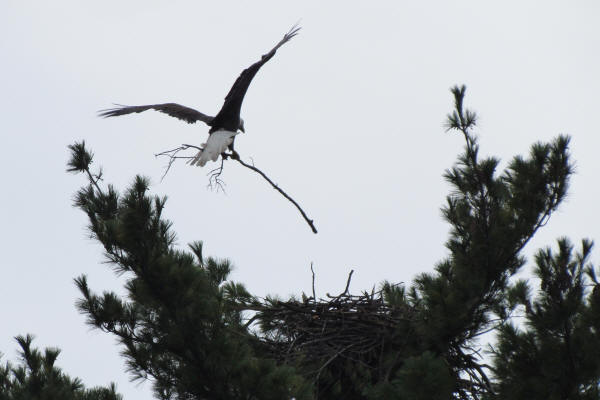 Building the new Mooseheart nest photo courtesy Ron Dickenson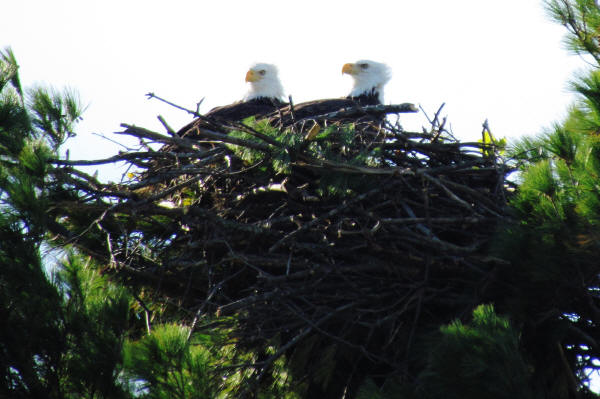 Checking the new Mooseheart nest for size photo courtesy Ron Dickenson
---
Rich Miller on 10/22 reported via e-mail: Marion and I were driving home north bound on Randall Rd. We had been at Johnson Mound in the morning and Larry had mentioned that he thought he saw something that looked like a new eagle nest. I told him I would check it out on the way home. Sure enough, our eagles have been working on a new nest! It is among the same small group of pines as before. Just south and west of the old site. Polish up those bazooka lenses boys and girls - We're BACK!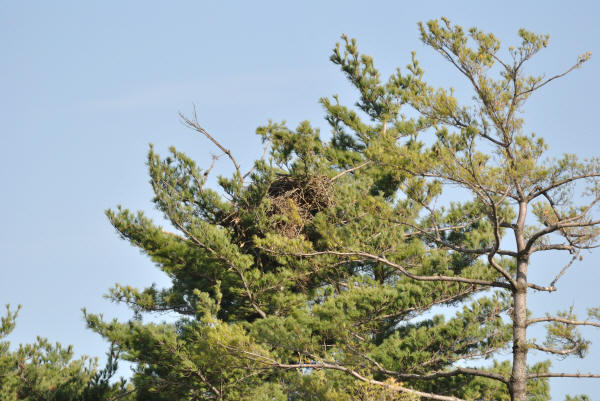 New Mooseheart eagle nest photo courtesy Rich Miller
---
Jason Frey on 10/22 reported via IBET: Nelson Lake 6am to 10am: 37F - 44F Mostly Sunny, light frost. Notable Birds Present:
N Harrier (imm.)
Bald Eagle (mature)
A. Widgeon
Redhead
Ruddy Duck
Gadwall
Purple Finch
Rusty Blackbird
*Predawn many ducks present which had left by 8am

Les Arends 11am 50F
Notable Birds Present:
Phoebe
Golden-crowned kinglet
---
Bill Koch on 10/21 reported via e-mail: I visited Burnidge Forest Preserve today at noon. The main pond had at least 8 to 10 each of the following birds: American Wigeon, Northern Pintail, Gadwall, Mallards, Northern Shovelers, Coots. 2 Pied-billed grebes and 1 American Black Duck.
There were also several Fox Sparrows in the reeds by the pond.
---
John Heneghan on 10/18 reported via IBET: We have new arrivals this morning in Big Rock. I am happy to see a Ruby Crowned Kinglet in the yard, the first I have seen in the yard. Also present were White Breasted Nuthatches, a Brown Creeper and Black Capped Chickadees. Our Hummingbirds have left as I have not seen them for a few days. I leave the feeders out for late migrants. I have not started filling the seed feeders yet, but probably will soon.
---
Scott Cohrs on 10/17 reported via IBET: I flushed a Yellow Rail at Prairie Green this morning while walking the perimeter of the marsh. It flushed from some flooded grass at the northeast corner of the marsh and dove into some taller cattails. That was the last I saw of it. Most of the sparrows from yesterday were still present, including at least 2 Nelson's and a LeConte's. I did flush a Sora on the SE side of the marsh, so beware. I walked this same route yesterday morning and had no rails at all, so they either came in overnight or did a better job of hiding yesterday.

Quick stop earlier at Nelson Lake turned up a small assortment of ducks including Ring-necked, Pintail, Ruddy, A. Wigeon, and Green-winged Teal. There was also a lone Bonaparte's Gull and one each of Greater Yellowlegs and Pectoral Sandpiper...
---
Curt Frieders on 10/17 reported via e-mail: We spent a lot of time outside this weekend, and were lucky enough to get to observe a lot of birds. On my creek (in Aurora township) we saw Great Blue Herons, a Belted Kingfisher, Mallards, and Wood Ducks. In the field we had Goldfinches, Canada Geese, Cackling Geese, and a Red-Tail Hawk. On Sunday night for the second time in a week we had a Great Horned Owl.
---
Marion Miller on 10/15 reported via e-mail: Rich and I did a quick walk by Nelson Lake in search of the Hudsonian Godwit. No sighting after about an hour of searching. Did see our FOS Fox Sparrows. Also Ruby-crowned Kinglets, White-throated Sparrows and Goldfinches were actively moving in the brush. A raft of American Coots and Ring-necked Ducks were seen on the water. Enjoyed watching the Ring-necked Pheasant we flushed during our ramblings.
---
Stephen Pack on 10/15 reported via IBET: I ran by Lake Nelson at 6:30 this morning. There were high winds and lots of Canada Geese, two Sandhill Cranes, several Mallards, as well as about 45 Green-winged Teals. There were also several land birds, such as a Red-bellied Woodpecker. Although the habitat looked great, I was unable to find any shorebirds, and no Hudsonian Godwit.
---
Kurt Frieders on 10/14 reported via e-mail: There wasn't a lot to see today during my brief walk @ Oakhurst FP due to the strong winds. However, the highlight was a male Blackburnian Warbler...There really was nothing else out of the ordinary. A big flock of Coots moved in, as well as some more Pie-Billed Grebes. There are still quite a few Cedar Waxwings, Northern Flickers, and Yellow-Rumped Warblers. I also saw a Hairy Woodpecker, Cardinal, Blue Jay, and Gray Catbird.
---
Dustin Holschuh on 10/13 reported via e-mail: Arrived at prairie green around 930. Parked at the church and braved the rain and wet vegetation . Walked through about 2-3 inches of water and then .... Bam there they were found in the cattails and wet grassy area.

5 Nelson's Sharp-tailed Sparrow
2 Leconte's Sparrow
5 White crowned sparrow
1 Swamp Sparrow
1 Song sparrow
4 Savannah Sparrow
1 Great Egret
1 Great blue heron
2 Coots

But the best was yet to come . After shopping with my wife we stopped at Nelson lake. All were seen from the observation platform .

75 Canadian geese
5 Bluebirds
3 White crowned Sparrows
2 Mallards
2 Forster's Tern
1 Redheaded Woodpecker
1 HUDSONIAN GODWIT

Awesome Birding !!!;
---
Marion Miller on 10/11 reported via e-mail: While Rich and I were driving down an I-88 entrance ramp today at 9:30a we got a nice view of a roosting Great Horned Owl. A nice start to our day.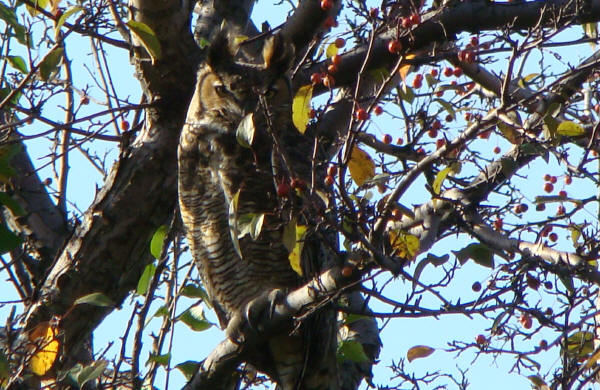 Great Horned Owl photo courtesy Marion Miller
---
Jon Duerr on 10/11 reported via IBET: ...I just returned from Prairie Green, Geneva where there are at least 5-6 Sharp-tailed Sparrows. It is a beautiful morning and birds are active. Besides the Sharp-tails I saw the normal assortment of wetland-wet prairie species. No LeContes's seen. Prairie Green is west of Geneva along Peck Rd...
---
Rich Miller on 10/9 reported via e-mail: Spotted a snow goose this evening at 5p (10/9/11) after getting off from I-88 at Orchard Rd. The bird was reasonably close and seemed content to stay put. Hopefully it will be there in the morning should someone want to go out for a look. It was in the pond just south of the Ford Dealer.
I know a Nelson's sparrow photo as recently posted, but I was able to get a few really good close-ups on Saturday.

Snow Goose photo courtesy Rich Miller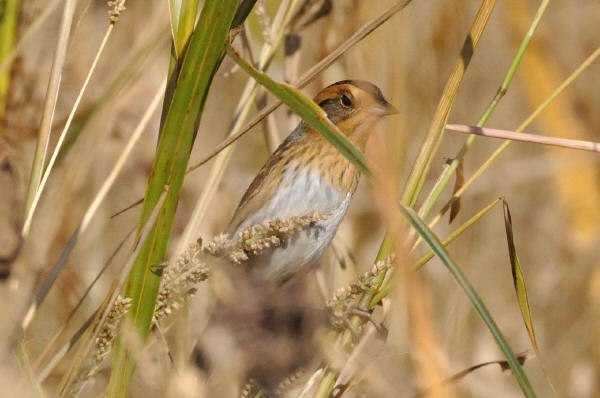 Nelson's Sparrow photo courtesy Rich Miller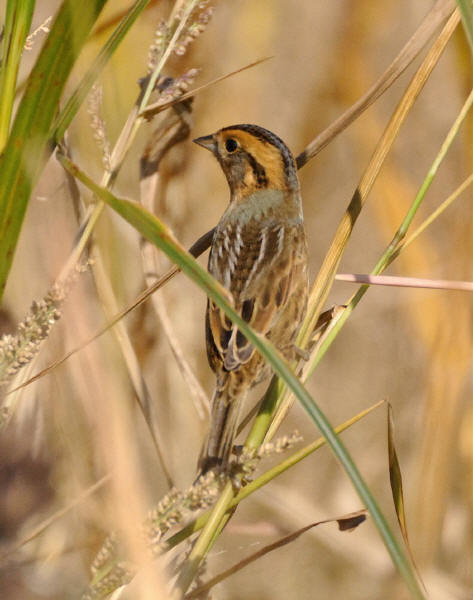 Nelson's Sparrow photo courtesy Rich Miller
---
Pete Moxon on 10/8 reported via text message: On Friday evening at Sauer Family Forest Preserve, no water was observed in the main pool, but one of the others had a little. Birds included 5 Sedge Wrens, 2 Marsh Wrens, 3 Wilson's Snipe, Lincoln's Sparrow, Grasshopper Sparrow, Chipping Sparrow, Vesper Sparrow, and other expected sparrows, 2 Bobolinks, Dickcissel, Eastern and Western Meadowlark.
---
Bob Montgomery on 10/8 reported via e-mail: Prairie Green 10-7-11;

Nelson's Sparrows still present feeding in millet/barnyard grass on west side of marsh I flushed at least 4 but only one set out and let me have a nice long view.

Osprey flew over.

4 sora were flushed one an apparent young on showing pale secondaries. All flew into cattails.
1 Virginia rail
1 female hooded merganser

nice list of other common sparrows including Vesper and Swamp.
---
Pete Moxon on 10/7 reported via phone: While birding yesterday at Prairie Green Wetland, Pete saw 13 - 14 Nelson's Sparrows, 3 Bobolinks, 1 Dickcissel, lots (~60) Savannah Sparrows, and a probable Henslow's Sparrow. In addition, White-crowned, Swamp, Song, and Vesper sparrows, 7 Soras, 2 Coots, 6 Canada Geese, and 16 Meadowlarks, one possibly a Western.
---
Jon Duerr on 10/4 reported via e-mail: Oct. 3 and 4 "Boy Scout Island" Rt 31 north edge of St. Charles an immature eagle has been sitting at top of dead tree on the peninsula. Seen 7:45 to 9:30 AM.
---
Don Blecha on 10/3 reported via IBET: Jackie, Chris and Mark Bowman helped me achieve another LIFER! A Nelson's Sharp-tailed Sparrow in Prairie Green, Kane Co. There was 10-12 Nelson's working the low-lying grasses along the Marsh. There was also many swamp, savannah, and a few Lincoln's there too.

To view the Nelson's Sparrow, click this link.
---
Andrew Aldrich on 10/2 reported via IBET: Hello! Lots of birds this morning at Oakhurst Forest Preserve in Aurora. Species of note below, conservative estimates in parentheses.

PIE-BILLED GREBE 2
AMERICAN COOT 8
RED-BREASTED NUTHATCH 1
WINTER WREN 2
RUBY-CROWNED KINGLET 5
HERMIT THRUSH 2
BROWN THRASHER 1
OVENBIRD 1
TENNESSEE WARBLER 2
ORANGE-CROWNED WARBLER 2
NASHVILLE WARBLER 3
COMMON YELLOWTHROAT 1
NORTHERN PARULA 1
PALM WARBLER (10)
YELLOW-RUMPED WARBLER (75)
BLACK-THROATED GREEN WARBLER 6
*FOX SPARROW 1
LINCOLN'S SPARROW 2
WHITE-THROATED SPARROW (30)
WHITE-CROWNED SPARROW (11)
*DARK-EYED JUNCO 4
EASTERN MEADOWLARK 2
*First of the season

Happy birding!
---
Bob Andrini on 10/1 reported via e-mail: Along with 51 other birds on the Nelson's Lake walk, we had a sighting of the first Junco of the fall season - little early for them!!!!!
---