---
Ken Schnieder on 10/31 reported via e-mail: This morning around 10:00 AM we checked out the corn fields westward along Seavey Road to Sugar Grove. On the north side of the road where it bends just east of Black Sheep Golf Club we found a few Lapland Longspurs among the large flocks of Horned Larks. They were skittish, so high wind and distance kept me from getting any good photos.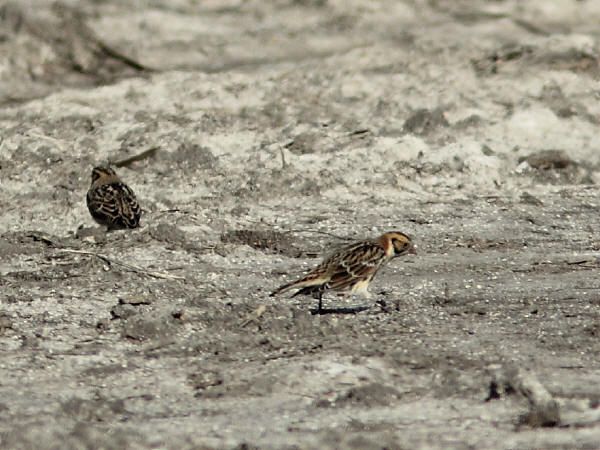 Lapland Longspurs photo courtesy Ken Schneider
---
Eric Secker on 10/29 reported via IBET: We have had a CAROLINA WREN back at Judson again lately singing in the woods along Tyler Creek. Yesterday we had four including that bird and also had three very upset Carolina Wrens in the neighborhood just south of Judson. I believe they were upset at a nearby Red-tailed Hawk.

Lots of Juncos and sparrows are moving through as well as a few Purple Finches and Pine Siskins. On the Fox River at Judson we have had a few ducks including Green-winged Teal, Gadwall, and Am. Black Ducks.
---
Rich Miller on 10/26 reported via e-mail: Driving home today on Randall Rd. I spotted TWO eagles perched in the original nesting tree [at Mooseheart]. There were no signs of nest building as yet. I will certainly be looking upward as I drive by in days to follow. Sorry for the poor picture quality. I had to use my "second string" equipment I keep in my car.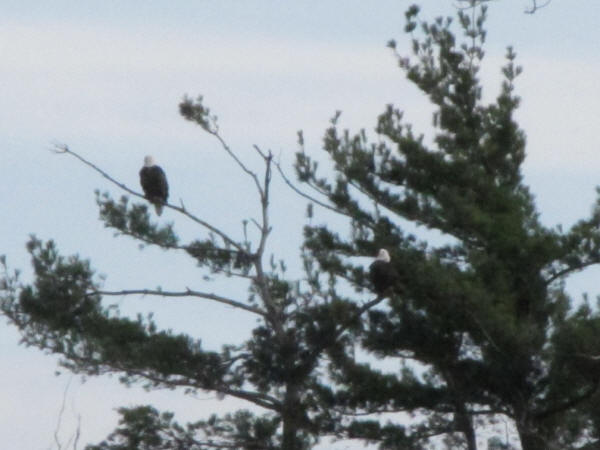 Bald Eagles at Mooseheart photo courtesy Rich Miller
---
Chris Mussachio on 10/26 reported via e-mail: This little Eastern Bluebird was soaking up some sun today at Buffalo Park. I did see the Bald Eagle there, but only because I spooked it out of a tree on the east side of the river. I didn't even know it was there until it flew off. It was in a tree that still had leaves on it.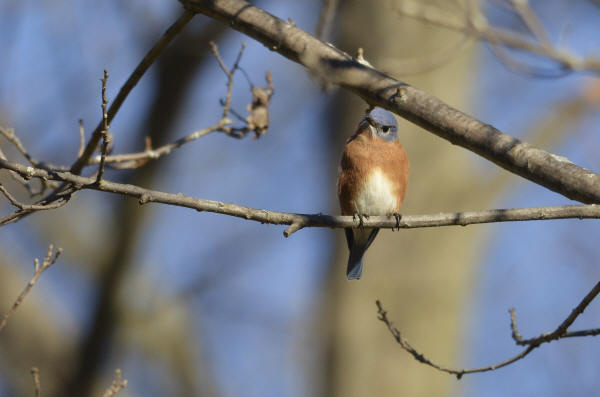 Eastern Bluebird photo courtesy Chris Mussachio
---
John Bender on 10/25 reported via IBET: Saw one Snow Goose with a flock of Canada Geese at the intersection of 72 and 20 in Hampshire IL near Pingree forest preserve
---
Julie Long on 10/25 reported via e-mail: I have had 5 or so female or young purple finches hanging out at my feeders all week, plus one which hit the window and died unfortunately. Also there have been fox sparrows, white crowned and white throated sparrows, along with a red breasted nuthatch and the normal tufted titmice and other yard birds. If you want to check them out, feel free to wander around my yard. There are feeders front, back, and side. I live at 4N179 Thornly Rd, St Charles. Dan and I are not always home but if we are not home, feel free to look for them, or photograph them.
---
Ken Schneider on 10/25 reported via e-mail: On our first morning since returning to Illinois, Mary Lou and I got out early to the east side Nelson Lake. We immediately encountered a flock of 20+ Purple Finches that ranged from the observation platform into the woodlands to the south. Only one or two were in adult male plumage. We only were able to stay for about a half hour, but we also saw and photographed a Brown Creeper.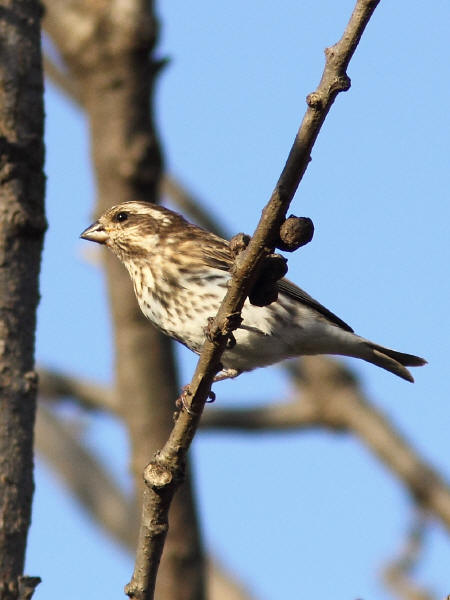 Female Purple Finch photo courtesy Ken Schneider
Male Purple Finch photo courtesy Ken Schneider
---
Chris Mussachio on 10/24 reported via e-mail: Caught this Red-tailed Hawk on the hunt at Buffalo Park in Algonquin.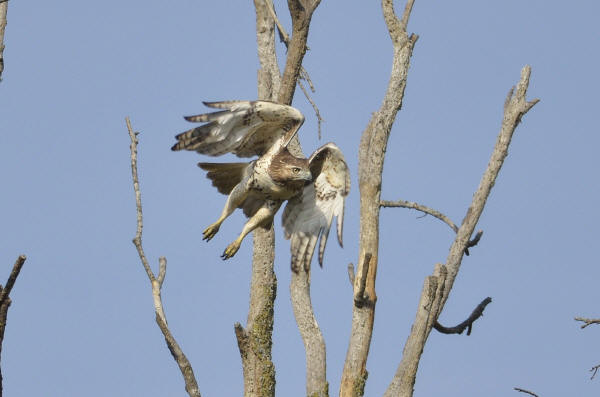 Red-tailed Hawk photo courtesy Chris Mussachio
---
Kurt Frieders on 10/23 reported via e-mail: We have spent a lot of time outside on our property (Aurora township) the past few days and have seen a lot of good birds in that time period. We finally have been able to add the Red-Bellied Woodpecker to our yard list. How that bird has eluded our yard for so long has amazed us. However, we have seen and photographed this beautiful male the past two days. A Belted Kingfisher has been patrolling our creek each and every morning. A juvenile Red-Shouldered Hawk has been perching in a tree on our creek line the last three days. We also have seen our resident Red-Tailed Hawks on the telephone poles the last two days. A Cooper's Hawk was sitting on our fence by our bird feeders yesterday. There was a flock of twenty Snow Geese that flew over our house on Sunday. Possibly most surprising to us was a Tundra Swan in our field on Saturday morning. We also have seen many Cackling Geese mixed in with the Canada Geese, and have seen our resident Great-Blue Heron daily. Wood Ducks have been quite abundant on our creek, and a Blue Jay is storing peanuts for the winter in our yard.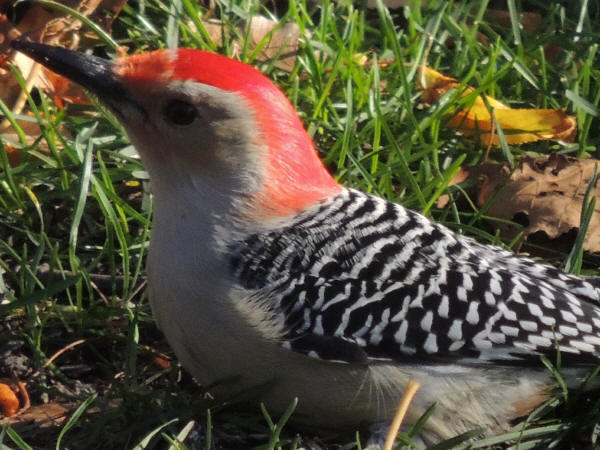 Red-bellied Woodpecker photo courtesy Kurt Frieders
---
Jim Narovec on 10/23 reported via e-mail: Getting close to that time of year again, Bald Eagle spotted in a tree along the west bank of the Fox River in Carpentersville at 12pm on 10/22. In the same tree they have been perching on the past few years.
---
Bob Andrini on 10/22 reported via e-mail: The birds seem to be eating more seed than in past years - possibly due to the lack of moisture for seed production this past summer??????
As you can see from this photo, the goldfinches and siskins (the top two birds) are busy at work eating our thistle feed.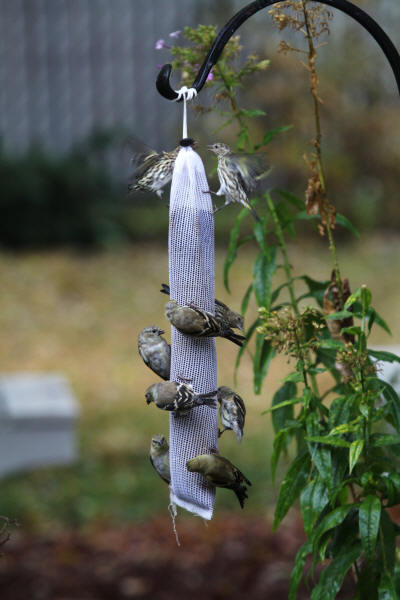 Pine Siskins (at top of feeder) and American Golfinches photo courtesy Bob Andrini
---
Bob Andrini on 10/20 reported via e-mail: We had this Fox Sparrow beauty visit our backyard this week. The Ruby-crowned Kinglet accompanied the KCA walk at SEBA park today (Sat).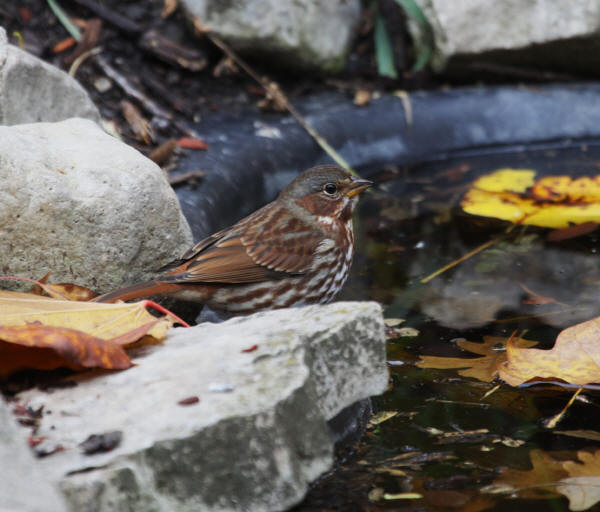 Fox Sparrow photo courtesy Bob Andrini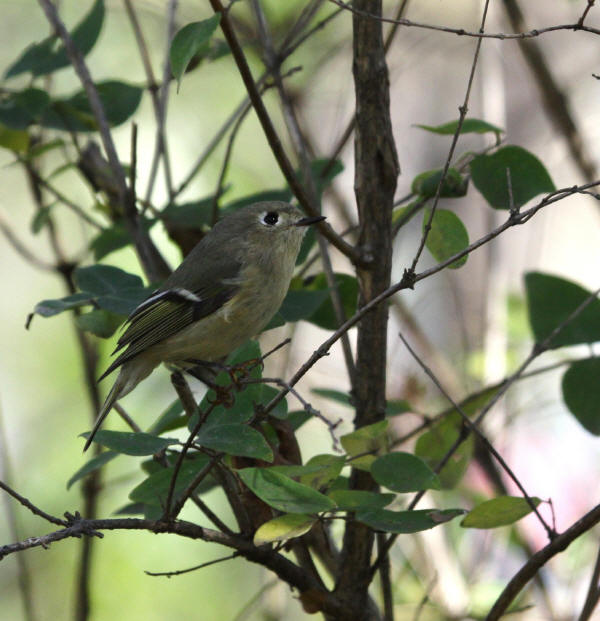 Ruby-crowned Kinglet photo courtesy Bob Andrini
---
Erik Secker on 10/13 reported via e-mail: Twice now in the past few weeks Sally and I have seen a couple of Brewer's Blackbirds down in the lawn outside our apartment window at Judson University in Elgin (near Tyler Creek F.P.). A pretty cool "backyard bird" for us.
---
Kurt Frieders on 10/11 reported via e-mail: A lot of different birds have recently been calling Oakhurst FP home. We really enjoyed seeing some Red-Breasted Nuthatches in the conifer trees. Today a Horned Grebe joined a flock of Pie-Billed Grebes. There are currently a lot of Yellow Rumped Warblers and Blue Jays flying around at all times. A Red-Tailed Hawk perched on a fire hydrant off the side of the road. Several Hermit Thrushes have been viewed lately. There are still some Chimney Swifts and Tree Swallows left. Several Golden-Crowned Kinglets have also been viewed.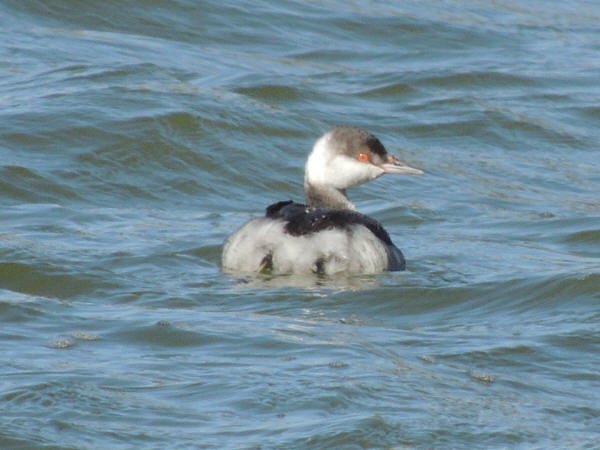 Horned Grebe photo courtesy Kurt Frieders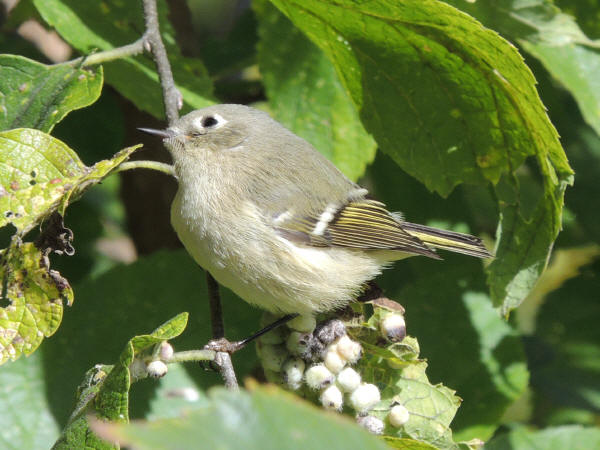 Ruby-crowned Kinglet photo courtesy Kurt Frieders
---
Nick Barber on 10/7 reported via IBET: There was a dark buteo perched along Rt. 38 just west of Peck Rd around 5:30 pm today. I pulled up to the bird and got a nice look before it flew away, but without binocs I'm not sure of the ID.

I'm leaning toward dark Rough-leg, but I can't rule out a young Harlan's or young dark Red-tail. Hopefully somebody can check for it tomorrow. It was perched next to the big road salt storage silo.
---
Theresa LeCompte on 10/6 reported via e-mail: On this morning's Nelson Lake walk, our group spotted 38 species. If it hadn't been for Sue Schneider's keen eye, we might have missed this GREAT HORNED OWL.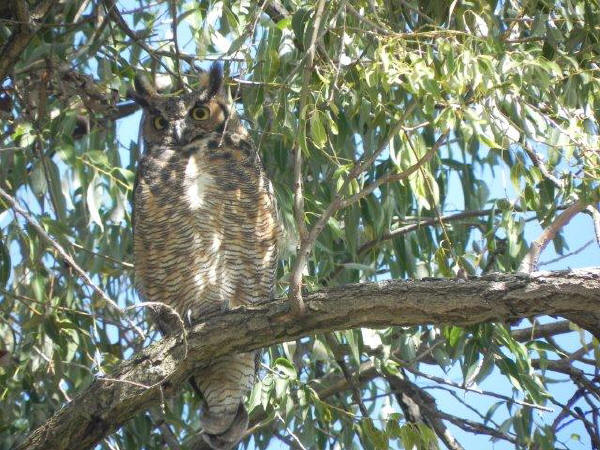 Great Horned Owl photo courtesy Theresa LeCompte
---
Christopher Cudworth on 10/5 reported via IBET: Yesterday at Dick Young while on a 4 mile walk I encountered a flock of 18 American Pipit in the newly mowed hillside area on the main limestone path leading to the west. The birds were staying in this area.

Very little else active other than a pair of Meadowlark, a savannah sparrow and some yellow rumps.

This morning at Prairie Green I worked like crazy to relocate the Nelson's [Sparrow] I had 3 days ago. No sign of that bird, but there was a Lincoln's flying ahead of me as I moved slowly through the first field west of the Baptist Church.

At the main "lake" there were 15 Swamp Sparrows, an estimated 75 Savannah sparrows. Interestingly, among these birds there was wide spread in coloration.

One form was quite pale, almost on the order of a grasshopper sparrow, while the other form was intensely dark, to the point of looking blackish brown on the two head bars especially. These birds also had overall darker plumage including pronounced breast markings, but were definitely Savannah sparrows. Studying the Sibley's was actually confusing as I had long looks at both of these variations and it seems there is either two races or simply wide variation within the local and migrating individuals.

All locals birds I see in the summer months are the paler version with pronounced yellowish lores and facial pattern.

The darker Savannah's are much less yellow in the face and have a more defined stickpin, but are definitely not Song Sparrows. Would be interested in clarification on these plumage variations by people with more experience.

Also, there were 5 sandhill cranes, quite vocal and active, on the corn fields at Prairie Green, Geneva.
---
Bill Koch on 10/5 reported via e-mail: Found three Snow Geese in my neighborhood pond today while out walking the dog. Located in the Providence Subdivision on the West side of Elgin. One of the white ones has a smaller bill than the other. Possibly a Lesser Snow Goose. 8 Northern Shovelers were mixed in with the many Canada Geese and Mallards.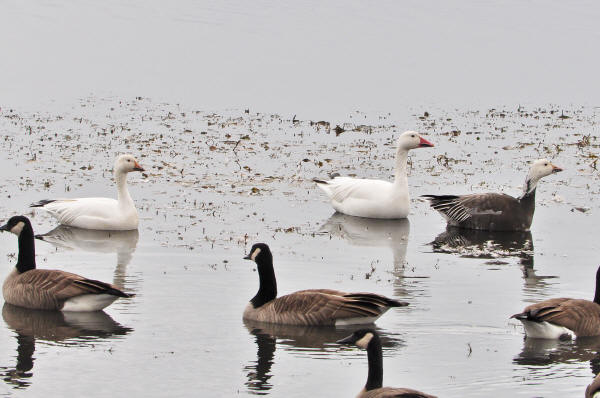 Snow Geese photo courtesy Bill Koch
---
Marion Miller on 10/4 reported via IBET: At 6:30pm spotted a blue-morph juvenile Snow Goose with the many Canada Geese on the Braeburn Marsh off Randall Road, in Batavia. Two very vocal Sandhill Cranes also present. Many more ducks and geese were flying in but it was getting too dark to identify different species. Hope to check it out early tomorrow morning before work.
---
Jackie Bowman on 10/4 reported via e-mail: Today while driving home I saw a BROAD WINGED HAWK flyover and land at the top of the tree overlooking the Geneva Community Gardens at Peck Road & Bricher. He perched in the tree for a few moments and then flew off screeching to the North. Wish I had my real camera with me, as my little point & shoot did no justice!
---
Chris Mussachio on 10/3 reported via e-mail: Who says a rainy day is no fun. 1 Red-tailed hawk at Judson College on the hunt and 1 Red-tailed hawk at Buffalo Park posing for me about 30 feet away and 3 feet off the ground. I sat in my car with the window rolled down for 20 minutes before it flew away. It don't get no better than that. Thank you, Mother Nature.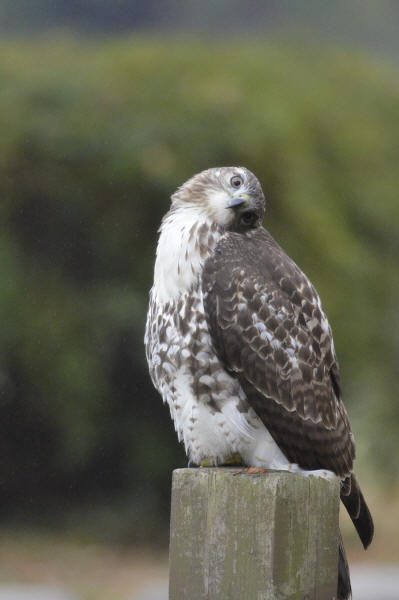 Red-tailed Hawk photo courtesy Chris Mussachio
---
Sean Fitzgerald on 10/2 reported via eBird: Spotted 35 species on a walk Tuesday morning at Prairie Green Wetlands in Geneva. Some of the more interesting species included Ring-necked Pheasant, Sandhill Crane, Wilson's Snipe, Horned Lark, Red-breasted Nuthatch, Sedge Wren, Marsh Wren (6), Common Yellowthroat, Palm Warbler, Yellow-rumped Warbler, Vesper Sparrow, Savannah Sparrow (42), 2 Le Conte's Sparrow (Kane County bird #234!), Song Sparrow, Lincoln's Sparrow, Swamp Sparrow (18), White-throated Sparrow, White-crowned Sparrow, Indigo Bunting, Dickcissel, Bobolink, and Eastern Meadowlark. The Le Conte's was located near the parched "wetland" area.

Le Conte's Sparrow photo courtesy Sean Fitzgerald
---
Marion Miller on 10/2 reported via e-mail: Theresa LeCompte and I visited Settlerís Ridge [subdivision in Sugar Grove] with our target bird being a Nelsonís Sparrow first reported by Sean Fitzgerald on eBird. After some high grass stomping and mud trudging, we found it along with Lincolnís, Swamp, Savannah, Song and White-crowned Sparrows. Also visited Culverís Forest Preserve off Hankes Road. The falling leaves, color changes and beautiful weather made for a very enjoyable walk through the woods. Birding highlights at Culvers: Blue-headed Vireo, Magnolia Warbler, Nashville Warbler, many Yellow-rumped Warblers, Yellow-bellied Sapsucker, Ruby-crowned Kinglets and Hermit Thrushes.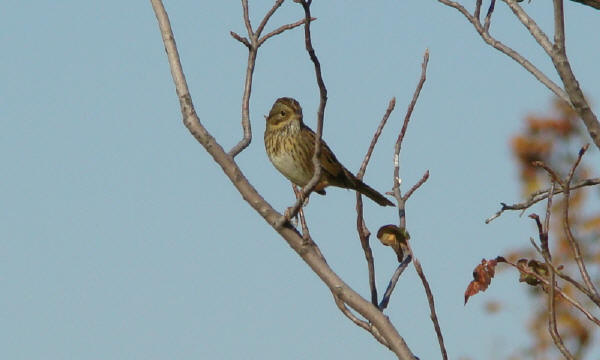 Lincoln's Sparrow photo courtesy Marion Miller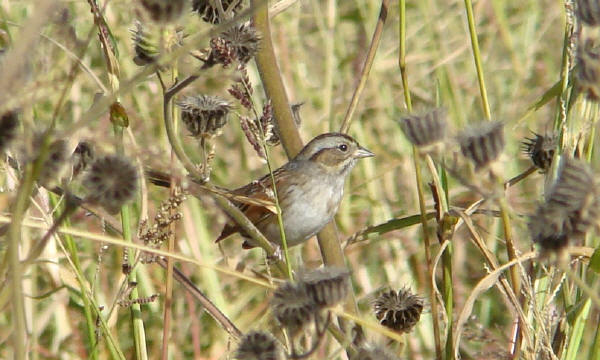 Swamp Sparrow photo courtesy Marion Miller
---
Chris Weishaar on 10/1 reported via IBET: I birded the Japanese Gardens/Fabyan Forest Preserve along the west side of the Fox yesterday, late morning. Fairly common list, with the highlight being the Black-throated green and a mink, both inside the Japanese Gardens along the north edge of the pond near the waterfall.

Canada Goose
Wood Duck
Mallard
Great Blue Heron
Great Egret
Turkey Vulture
Cooper's Hawk
Red-tailed Hawk
Killdeer
Mourning Dove
Chimney Swift
Red-bellied Woodpecker
Blue Jay
Black-capped Chickadee
Red-breasted Nuthatch
White-breasted Nuthatch
Eastern Bluebird
American Robin
Tennessee Warbler
Yellow-rumped Warbler
Black-throated Green Warbler
Northern Cardinal
Common Grackle
American Goldfinch
---