---
Bob Andrini on 10/25 reported via e-mail: The Hudsonian Godwit has been seen the past 2 mornings (Monday, Kath and I, Tuesday KCA ramble) at the Sugar Grove Fuddle. Both times the bird was seen early in the morning. If people go, they should not get out of their car near the metal barrier for fear of chasing it away and preventing others from seeing it.
Here is a picture showing the underwing markings characteristic of the Hudsonian Godwit.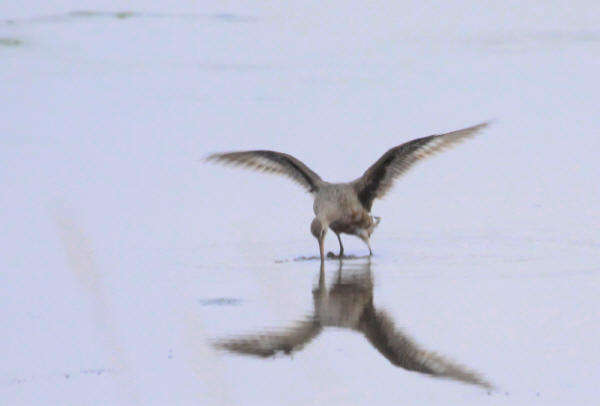 Hudsonian Godwit photo courtesy Bob Andrini
---
Daryl Coldren on 10/25 reported via IBET: 30 American White Pelicans at Nelson Lake Tuesday afternoon.
---
Liz Gerity on 10/25 reported via e-mail: Red-breasted nuthatches have been visiting my feeder in Campton for several days.

Also, a Chimney Swift tower was erected at Headwaters Park this week.
---
Julie Long on 10/24 reported via IBET: The Hudsonian Godwit was still hanging out at the fluddle/pond on Route 47 south of Sugar Grove.
---
Bill Ahlgren on 10/24 reported via IBET: He refound the Cattle Egrets at the Exel ponds on Indian Trail Road in Aurora.
---
Christopher Cudworth on 10/24 reported via IBET: At 7:00 am Monday morning there are 40+ white pelicans at Dick Young FP on the Nelson Lake wetland. Fishing and perched on west end. Visible from east viewing platform. Also had what appeared to be two snowy egrets departing in company of two common egrets about ten minutes ago. Yellow feet were visible even in dim light. Smaller in size than the commons. Flew southeast
---
Bill Ahlgren on 10/23 reported via e-mail: Two Cattle Egrets were found this morning at Mirador Lake area by me and Art Johnson. North Aurora IL.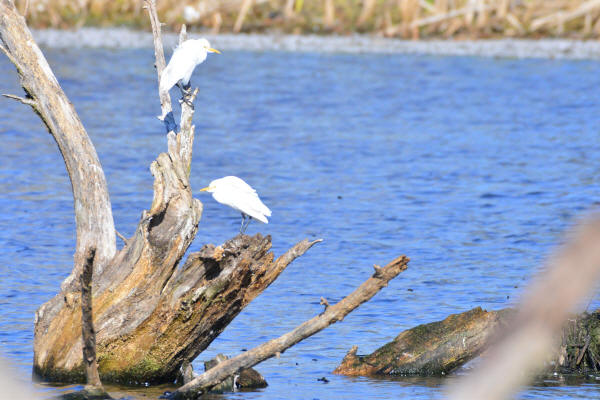 Cattle Egrets photo courtesy Bill Ahlgren
---
Bill Ahlgren on 10/22 reported via e-mail: Thursday and Saturday I found this Sora at Mirador along with nice counts of American Widgeon, Northern Pintail, Northern Shoveler, and one Rusty Blackbird.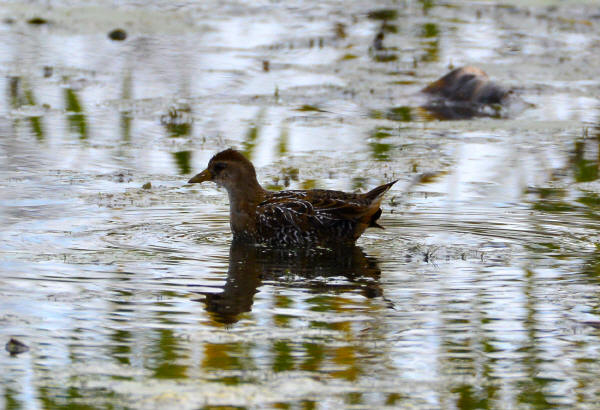 Sora photo courtesy Bill Ahlgren
---
John Heneghan on 10/20 reported via IBET and e-mail: Went by the Rt 47 fiddle after Jude's report this AM. Farmer was in the bean field, no HUGO. Checked Prairie and Gordon, nothing. There were Canadian geese and a few snow geese feeding in a corn field on Gordon. Sandhill Cranes and Blue and Snow goose from retention pond on Parkside Ln and Gordon in Sugar Grove and yard Golden Crowned Kinglet.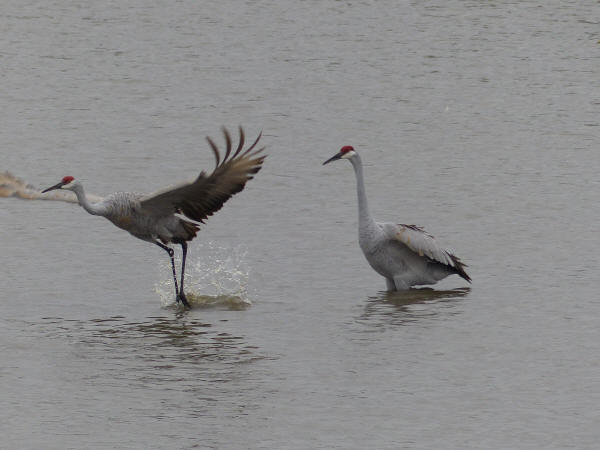 Sandhill Cranes photo courtesy John Heneghan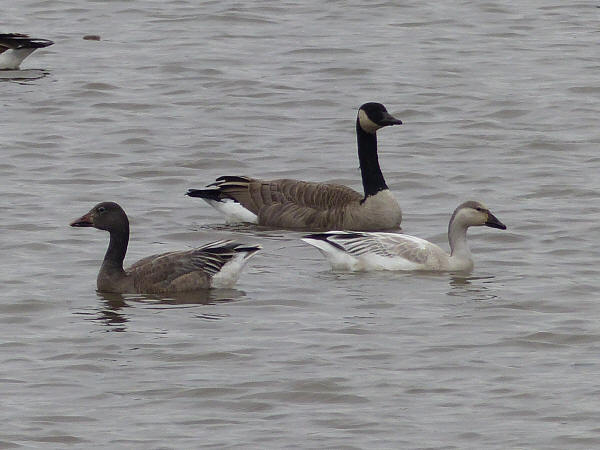 Snow Geese photo courtesy John Heneghan
Golden-crowned Kinglet photo courtesy John Heneghan
---
Jude Vickery on 10/20 reported via IBET: Hi everyone,

I just passed by the HWY 47 fluddle at 7:20am on my way to work and the Hudsonian Godwit was once again present feeding at the edge of the fluddle.

Clearly traffic or one or two birders don't bother this bird, however, the pattern would suggest that it doesn't like lots of people watching it at once, and will fly once a large group gathers.

Please stay back as far as possible, so as many people can enjoy this rarity as possible without the HUGO feeling uncomfortable.
---
Marion Miller on 10/17 reported via e-mail: Rich and I went to place the cap on the Chimney Swift tower at Brunner Family Forest Preserve on Saturday. From a distance we noticed a hawk perched on the top. We thought it was going to be a Red-tailed Hawk, but once we got a closer look we saw it was a Red-shouldered Hawk. It appeared to be a 2nd year hawk because some adult plumage, orangish feathers, are present on its front.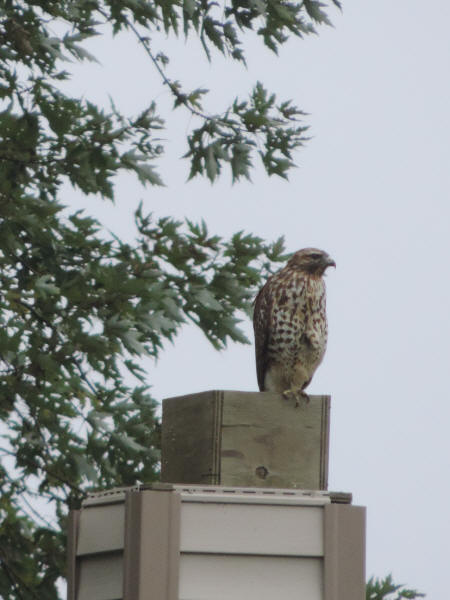 Red-shouldered Hawk photo courtesy Marion Miller
---
Al Stokie on 10/17 reported via IBET: Hello Bird People,

Former coworker Al W's life list has been stuck at 199 for a while now so our plan for today was to try for the L.B. Dowitchers reported by Oliver B on Sunday from Fermi Lab. Or that was our plan until I saw the posts about the Godwit at the Sugar Grove Rt 47 Fluddle where the B.N. Stilts had been hanging out. So we made a new plan to try for the Godwit 1st & then try for the Dowitchers in the hopes that we'd get 1 of the 2.

Arrived at the Rt 47 Fluddle south of Sugar Grove at about 7:45-7:50 a.m. & as I pull off the road onto the shoulder Al W says "That's an awfully big shorebird in the water!" & indeed it was since it was the hoped for HUDSONIAN GODWIT. Watched it with bino's & the scope for about 10 min when up pulled 2 & then 3 & 4 cars with birders inside. 1st out of the cars were Matt W, Don L & Wes & I told them they were in luck as the bird was right here. Except that it wasn't any longer as we all watched it fly up, circle & head back in the direction of where Ryan & Jude saw it later by Gordon & Prairie. This wasn't appreciated by the others as that's where they were coming from after NOT seeing the Godwit there. Next Jon & Joy D arrived & they just missed seeing it flight & another birder, who had been monitoring the Stilts all Summer, also missed the Godwit. All headed back to Prairie & Gordon where I assume they all saw the bird as I later ran into Don & Wes at Nelson Lake & they said they had about 10 min looks at the Godwit before it once again flew off to who knows where. Later Andrew A said when he arrived later the Godwit was a no show. Another case of the earliest birders getting the bird!

Of interest to those who may see the Godwit later is that it seemed to walking with a pronounced limp which (when we saw it on land) proved to because it was completely missing it's left foot. Hard to walk normally when 1 leg is longer than the other leg! Also seen at the Rt 47 location were Killdeer (7), Lesser Yellowlegs (1) & Dunlin (1).

A quick visit later to Nelson Lake found that almost all the Geese were gone & we saw no Pelicans. Andrew, Don & Wes mentioned some of the ducks seen but I didn't check them out very hard.
---
Daryl Coldren on 10/17 reported via eBird: Three American White Pelicans continue at Nelson Lake.
---
Theresa LeCompte on 10/17 reported via e-mail: Thanks to Brendon Lake's find & Ryan Jones and Jude Vickery relocating it, I was able to add a HUDSONIAN GODWIT to my life list yesterday (seen at the corner of Prairie St./Gordon Rd.)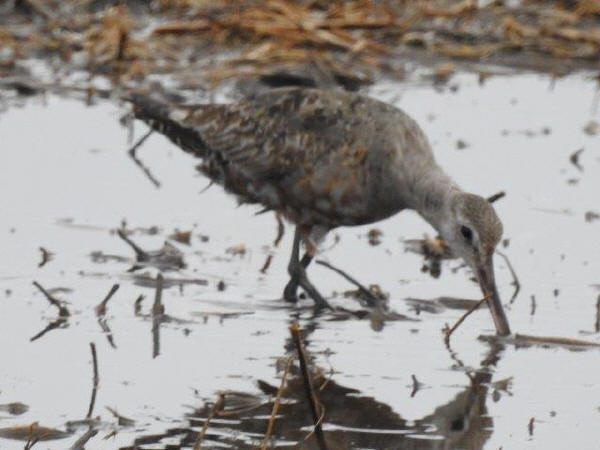 Hudsonian Godwit photo courtesy Theresa LeCompte
---
Bill Ahlgren on 10/16 reported via IBET: After reading Oliver B's fine report at Nelson Lake this morning, I thought I'd have a look for myself. Met up with Daryl C. and later joined by Art J. we found many waterfowl. Greater White fronted Geese, Northern Pintails, Ring-necked, Gadwall, American Widgeon, Mallard, both Teal spp. Northern Shoveler, several Pied-billed Grebe, 1 BC Night Heron spotted by Daryl C. 1 American Bittern seen by all flying along the cattails, and 3 American White Pelicans still present, and 1 maybe 2 Northern Harriers doing what they do best. Driving home I got a text from my wife reporting a first in yard Red-breasted Nuthatch.
---
Oliver Burrus on 10/16 reported via IBET: Hi everyone,

I and Benjamin S. conducted our first WBC bird walk with just the two of us.
We started out at Nelson Lake at 6:50 AM (Benjamin came later at 8 AM) early on the walk was good with Sedge Wrens (along with some Sparrows) all along the trail. When we got to the observation deck thousands of Canada Geese and hundreds of Coots suprised us and as we looked a little closer (with scope) we saw Wigeons, lots of Cackling Geese, three Pelicans, Mallards, a flock of about 15 GREATER WHITE-FRONTED GEESE!, and Blue-winged Teal oh and all of this is before the sun rose.
When the sun rose (7:20 AM) the Geese started to leave (about a thousand in five minutes at one point) but the Ducks were persistent as we picked up Pintail, Lesser Scaup, Redhead, Snow Goose, and Shoveler.
Once Ben arrived the waterfowl were mostly gone with just a few lingering Teals, Coots, and Canada Geese but the three Pelicans were still there...
---
Brendon Lake on 10/16 reported via IBET: Locating an Hudsonian Godwit in a fluudle along Route 47 south of Sugar Grove - the same fluddle that hosted the Black-necked Stilts earlier this year. Later reports indicated the godwit had relocated to the east, to the intersection of Prairie Street and Gordon Road in Aurora.
---
Ken Schneider on 10/16 reported via e-mail: Immature White-crowned Sparrow, OCT 14, 2016 in Batavia. The feeders in our daughter's back yard had run out but there was still some seed scattered on the deck. Two immature White-crowned Sparrows flew in and perched on the deck railing at eye level only about 4 feet from where I was sitting (photographing a junco in nearby tree). They were too close to focus and also more than filled the viewfinder of my telescopic lens system, so I cautiously switched on the macro setting. One flew off but I obtained a burst of portraits before it too fled.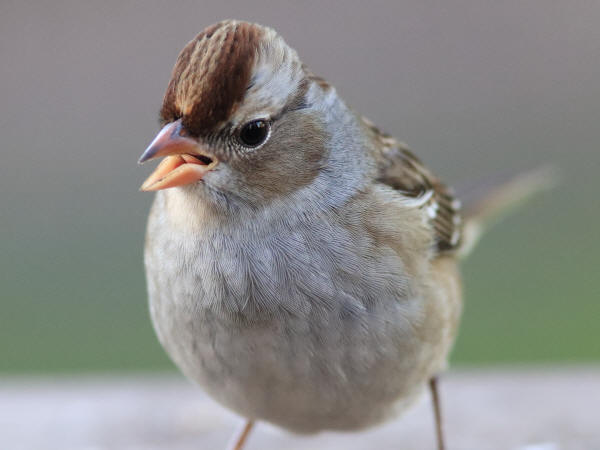 Immature White-crowned Sparrow photo courtesy Ken Schneider
---
Wanda Griffith on 10/15 reported via e-mail: I got to see and hear a large flock of sandhill cranes fly over about 630pm this evening and another flock again about 830. I live in South Elgin on the fox river. I'm not good at directions but from my house they went towards the damn or the village of South Elgin...what a treat.
---
Tori Jenkins on 10/14 reported via e-mail: I just spotted 3 Great White Pelicans landing at Nelson Lake. So excited to see them!
---
Ken Schneider on 10/13 reported via e-mail: At the Lippold Park parking lot this morning (OCT 13), Mary Lou and I saw a Red-breasted Nuthatch which was being closely followed by an Orange-crowned Warbler. They were moving along the row of cherry trees at the far north side of the lot. The nuthatch flew across to the east side and the warbler followed, then returned with the warbler still right behind. I got photos of both in the same frame but only focused on one of the birds. We watched the two for at least two minutes before they flew away to the north together. Also saw a Hermit Thrush, a Swamp Sparrow, a Gray Catbird and 3 Belted Kingfishers plus usual suspects among the 24 species logged.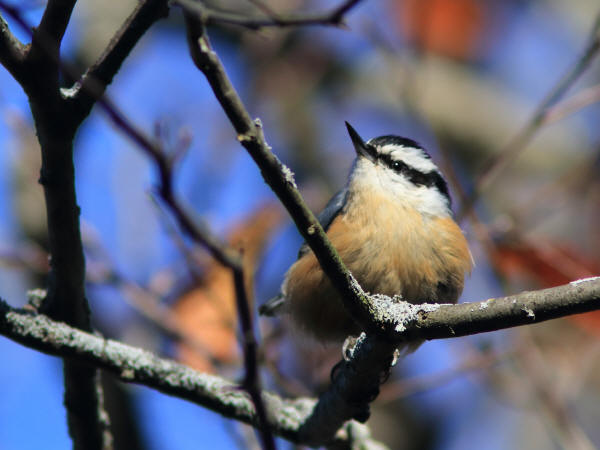 Red-breasted Nuthatch photo courtesy Ken Schneider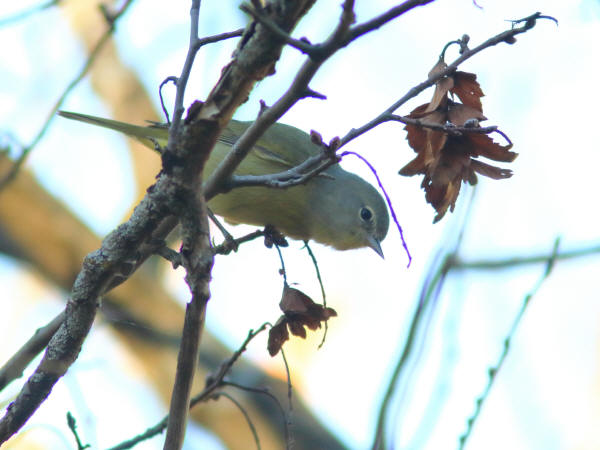 Orange-crowned Warbler photo courtesy Ken Schneider
---
Henrey Deeze on 10/13 reported via eBird: Reported both a Veery "Very gray thrush, with a gray face. No buffy feathers on the face and no spectacles. The tail was the same color as the back and wings." ("Brownish-gray thrush with pale brown speckling on the throat and few speckles on the chest.") and a Gray-cheeked Thrush ("Very gray thrush, with a gray face. No buffy feathers on the face and no spectacles. The tail was the same color as the back and wings.") at Burnidge Forest Preserve.
---
Scott Latimer on 10/10 reported via IBET: Thanks to Matt W's earlier post I was able to find [Prairie Green Wetlands] of Geneva. Not sure if same birds but there were 2 Le Conte's present. See Matt's great directions from his 10/4 post. They were in the southern end of the field, approx 20 yards west of the soybean field. Some bushwacking and patience required.
---
Richard Prather on 10/9 reported via e-mail: Kayaking on the Fox River Sunday 10/9 I spotted a Osprey sitting in a tree just south of the Fabyan bridge on the east side of the river.
---
Ken Schneider on 10/9 reported via e-mail: Over the past few days the American White Pelican flock at Nelson lake appears to have reduced in number. This morning I saw 7. Six took wing and gave a precision air-sea show, descending downwind wing-to wingtip formation, then banked and landed single file on the near side of the lake. Also had a nice flock of sparrows along the east entrance trail including Swamp and Lincoln's Sparrows. Small flocks of Golden-crowned Kinglets were present.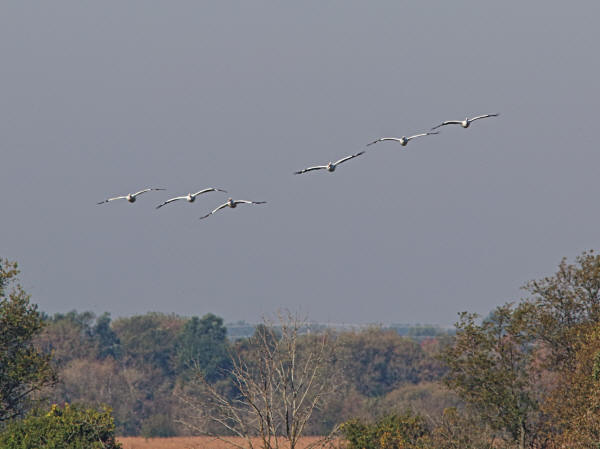 American White Pelicans photo courtesy Ken Schneider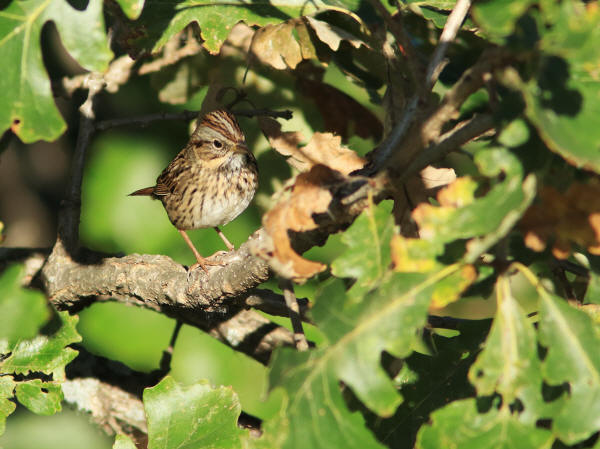 Lincoln's Sparrow photo courtesy Ken Schneider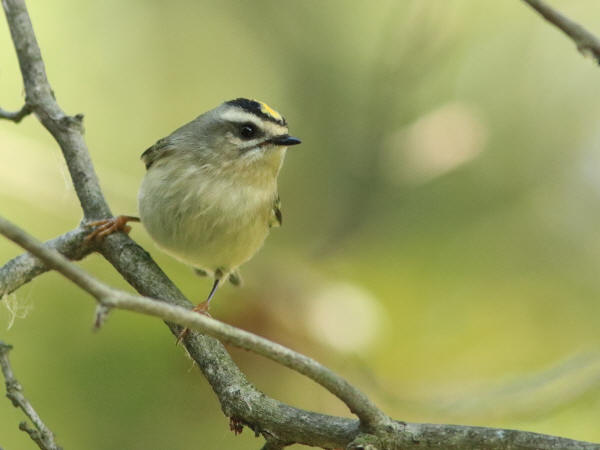 Golden-crowned Kinglet photo courtesy Ken Schneider
---
Chris Madsen on 10/9 reported: Carla and I visited Prairie Green Wetlands yesterday. The pond has been reduced to a few puddles in which the birds are enthusiastically bathing. We were hoping for unusual, migrating sparrows. We whiffed on them. But we did stumble upon this lone Wilson's Snipe huddled in the grasses growing in the middle of what once was the pond basin.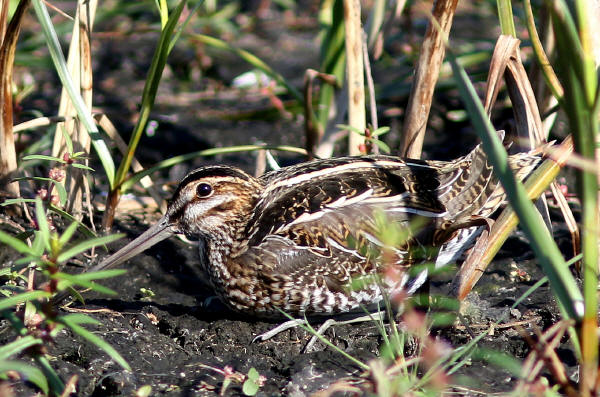 Wilson's Snipe photo courtesy Chris Madsen
---
Matt Wistrand on 10/4 reported via IBET: Good morning,

There are two LE CONTE'S SPARROWS at Prairie Green off Peck Rd in Geneva (Kane Co). Both are in the same general area. From the parking lot take the trail south. It will curve west, and then begin to curve south again. At this point there is a mowed path that heads toward the tree line. Take this path, and then head south in the field, hugging the field's east edge for a few hundred meters before coming to a stand of what I believe is broomsedge (the tall reddish grass). The first bird was in here, while the second was in the foxtail directly west of there.

The easiest way to locate these bird is by their long, thin, descending flight call that is much longer than that of Savannah Sparrow. This is how I found them, but it took a while and a bit of patience since they really don't call frequently.

Good birding!
---
Marion Miller on 10/3 reported via e-mail: On Monday evening, I counted 2218 Chimney Swifts going into the [Geneva] post office chimney. Most going in between 6:46 - 6:52pm.
---
Daryl Coldren on 10/3 reported via eBird: At Bliss Woods Forest Preserve, a female Summer Tanager near the parking lot and shelter.
---
Bill Ahlgren on 10/2 reported via e-mail: I was surprised to find this "squadron" of American White Pelicans at Nelson Lake this afternoon. First spotted 9/27/16 and still there 10/2/16. Viewed from the east platform.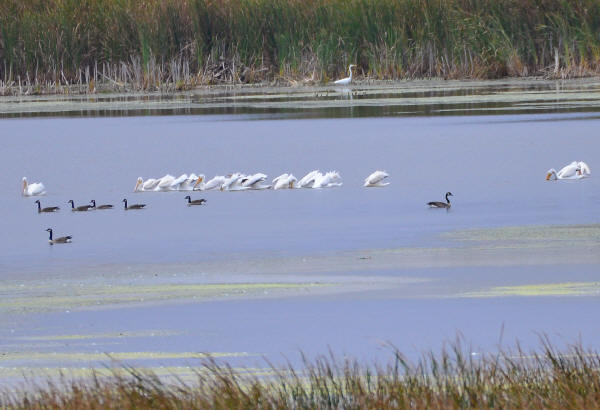 American White Pelicans photo courtesy Bill Ahlgren
---