Jack Pomatto on 9/30 reported via e-mail: Today, 9/30/08 I was participating in a staff meeting when a female Black-throated Blue Warbler showed itself foraging outside, about twelve feet from where I was sitting. The whole staff got to see her, quite a treat for the staff here at the Tekakwitha Nature Center.
Chris Bowman on 9/30 reported via e-mail: 9/30 Peck Farm Geneva notables: orange breasted-- brown faced-- first year male Rose-Breasted Grosbeak, Yellow-rumped Warblers, Nashville Warbler, Swamp Sparrow, beautiful pair of Yellow-Bellied Sapsuckers, several Pied-billed Grebes (unusual sighting one sleeping on a log), several Coots.
On 9/28 I spotted a single Blue-morph Snow Goose mixed in with a flock of about 100 Canadian Geese at the retention pond at the corner of Lewis and Caldwell in Geneva --- flock took off about 2 hours later with the Snow Goose.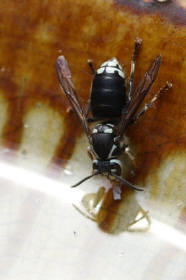 Bald-faced Hornet photo courtesy Sue Wagoner
Sue Wagoner on 9/29 reported via e-mail: Sunday 9-28 there was a flurry of activity with about 10-12 late migrators in our backyard trees-- only a few of which I could identify against the bright white morning sky- male and female Cape May Warbler, male Magnolia Warbler, female Redstart, and Empidonax flycatcher. Also a White-breasted Nuthatch has returned to my feeder for now, and a couple of Flickers have been passing through.

I have to mention my delight at seeing a huge Bald-Faced Hornet's nest in my Ginkgo tree... What an impressive work of engineering. My neighbors were very nervous about it, but I tried to alleviate their fears as I have photographed these handsome guys with a macro lens as they continuously drank from my bird baths (water used to make their nest?) and they ignored me completely.
Ken Schneider on 9/27 reported via e-mail: The new Hawk's Bluff Park in Batavia was chock full of robins and grackles, gobbling up the fruits of the harvest. Three deer were out on the trail eating crab-apples when I took a midday stroll and photographed this Cedar Waxwing. Back in our daughter's yard nearby, I captured views of a Palm Warbler's field marks.

Cedar Waxwing (top right) and Palm Warbler photos courtesy Ken Schneider
Chris Bowman on 9/23 reported via e-mail: Birding at Sauer Preserve this mourning (9/23 Tuesday) ---- 5 Marsh Wrens scattered about the wet field surrounding the ponds (often chattering, so easy to find -- they allow close approach within just a few yards, so can get great visual on them). Also flushed up 2 Sora's as I had on knee high boots to go through the flooded field areas. 2 colorful Swamp Sparrows, and a pair of Wood Ducks were also notables -- Male Wood Duck was in cool fall color with navy green back. Field surrounding the ponds are under water, often ankle high, so need boots to max birding. Also Bug spray needed as standing field water has produced mosquitos, and don't have any exposed cotton or it will be coated with plant seeds.
Bob Andrini on 9/22 reported via e-mail: We were pleasantly surprised when Kath heard a Screech Owl giving his 'winnowing' call last night near our backyard. I don't know why it was calling now, but was nice to hear.
Pete Moxon on 9/19 reported via phone: Pete and Steve Bailey spent the day birding today. Some of that time was spent in Kane County. Les Arends FP was reported to be dead for birds, with nary a warbler to be found. On Deerpath Road south of Nelson Lake they saw 2 Sandhill Cranes in a backyard and 2 Cackling Geese among a flock of about 200 Canada Geese. At Dunteman's Sod Farm, lots of Horned Larks, 1 Short-billed Dowitcher, and about 150 Golden Plovers.
Pete Moxon on 9/18 reported via phone: Pete ran into Darrell Shambaugh this afternoon at Sauer FP and Darrell related that he had seen Golden Plovers at Dunteman's Sod Farm on Main Street just east of Kaneville. Pete hustled over there and saw approximately the same number as Darrell, 80 or so. In addition, Pete reported 3 Buff-breasted Sandpipers, 1 Semi-palmated Sandpiper, 3 Black-bellied Plovers, 35 - 40 Killdeer, and lots of Horned Larks. Pete also had some additional peeps that couldn't be identified because of the distance. Darrell also told Pete of some American Pipits, but Pete didn't relocate them.
Darrell Shambaugh on 9/16 reported via IBET: I've still not seen a Buff-breasted Sandpiper this year, so I've been hitting sod farms, ball diamonds, and other grassy areas for the last week.

Monday and Tuesday afternoon Dunteman's Sod Farm in Kaneville, and the one across the road from Johnson's Mound Forest Preserve, had only a few Killdeer and some HORNED LARKS.

Monday Fabyan Forest Preserve and Johnson's Mound combined for 5 SWAINSON'S THRUSH, but nothing else. There was a guy in very flashy suit fishing at Fabyan on Monday. He had the handkerchief in his pocket, a tie, and the jacket was buttoned.

I saw 7 RED-TAILED HAWKS between Geneva and Somonauk today, one at Hoover, 2 more in Kendall County, and 4 in Kane County.

There was a Turkey Vulture sitting on top of the Geneva Watertower tower today. Last fall this water tower was a favored hangout for Turkey Vultures. A few weeks ago there were about 8 TVs on it, but I haven't seen them any more until today.
Chris Bowman on 9/15 reported via e-mail: 9/15 notable birds around Peck Farm Lake: group of 3 chattering Sedge Wrens, sharply colored Black-throated green Warbler, Black-crowned Night-heron.
Melinda Ketelsen on 9/15 reported via e-mail: I saw three Sandhill Cranes at Resurrection Cemetery (Fabyan Parkway, west of Randall Road) this morning. They were grazing in the yard area at the north end of the cemetery.
Christopher Cudworth on 9/11 reported via IBET: Yesterday a Peregrine falcon was hunting the fields 2 miles west of Kaneville (Kane County) The immature plumage bird caught unidentified prey in a recently harvested field, then moved pole to pole along Main Street as it tried to settle and eat. I was biking and did not have binoculars, but was only 40 yards from the bird when I first saw it rise from the field. It moved east as cars went past.
To reach Kaneville, take Route 47 south from Elburn to Main Street (or Main street west from Batavia). Turn west. On the way you'll pass the Dunteman sod farms where Buff-Breasted Sandpipers and Golden Plovers are frequently seen. Continue straight west through downtown Kaneville. The spot where the peregrine was hunting is 1.5 to 2 miles west of town.

This morning at Nelson Lake/Dick Young preserve in Batavia, I was out before sunrise and had two sightings of great horned owls, sandhill cranes, and when the light finally broke at 6:40 (most of my walk wound up in the dark) two hummingbirds working the prairie at dawn.
The (R)Andrini Ramblers©, led by guest conductor Ginny Widrick, on 9/9 reported via e-mail: ...we saw Philadelphia, Yellow-Throated, Blue-Headed and Red-Eyed vireos plus great warblers among many Least Flycatchers and possibly an Olive-sided Flycatcher which were some of our 43 species that we counted (today at LeRoy Oakes Forest Preserve).
Chris Bowman on 9/8 reported via e-mail: Brother Mark and I checked out Sauer Preserve today: 2 sharply colored American Wigeons; about 10 Green-winged Teal in non-breeding coloration; the usual Blue-winged Teals - about 20 in number; 2 colorful fall plumage Bobolinks; multiple Dickcissels; shore birds were surprisingly very low in number --- only 1 Lesser Yellowlegs and 2 Pectoral Sandpipers and 2 Least Sandpipers.
Debbie Wisser on 9/8 reported via e-mail: I got called off my first four hours of my shift both Saturday and Sunday, so with the surprise free time I decided to bird from my backyard. I parked in a chair outside my back door with a view of the neighbor's walnut tree ahead of me and some overgrown bushes and crab trees to my left. I was pleasantly surprised when I saw something very small flitting around the leaves of the walnut tree. I found out warblers pass through the neighborhood! Between both days I saw American Redstarts, Yellow-Rumped, Wilsons, Magnolia, Golden-Winged, one Canada and one Black-And-White as well as a few more I couldn't identify. Two beautiful mornings!
Pete Moxon on 9/1 reported via phone: Kaneville-area sod farms today yielded mostly Killdeer. Coon Creek sod farm west of Hampshire FP on Allen Road had one Upland Sandpiper off in the distance.
Rutland FP, which was nasty with mosquitoes, had the following: Two pair of Virginia Rails, five total; 2 Sora; Green Heron; a calling Great Horned Owl; Yellow-billed Cuckoo; Eastern Kingbird; 50 Chimney Swifts and 20 Barn Swallows that appeared to be migrating while feeding.
From the warbler group: Tennessee; Nashville; Chestnut-sided; Redstart; Common Yellowthroat.
Moving on to Lone Grove FP in the southwest corner of the county: Yellow-throated Vireo; Black-billed Cuckoo; Redstarts and Tennessee, Chestnut-sided, and Nashville warblers.