Ed and Trudy Vedral on 9/30 reported via e-mail: This morning we saw a Junco on our ground feeder. To us this is unusual as we still have a humming bird here. We also had a female Rose-breasted Grosbeak on one of our feeders.
---
Bryan Hix on 9/27 reported via e-mail: Went out briefly this afternoon to Burnidge FP. The last cold front pushed out a lot of the warblers that were here last week, but it brought in a lot of Chickadees and Yellow-crowned Kinglets. They seemed to be everywhere along with Yellow-Rumped Warblers. I saw 5 Hermit Thrushes (see photo) and managed to get a few shots of them. I was attempting to get a good shot of one when I noticed something out of the corner of my eye above me. It turned out what I thought was a big hawk flying through the woods really was an beautiful Great Horned Owl. He briefly stopped on a branch very high up in a hickory and by the time I pointed my lens at him, he was gone again. Very cool encounter at 2pm in bright sun! There are large numbers of Cedar Waxwings as well. The other new bird I saw was a White-throated sparrow; small flocks were seen throughout my walk.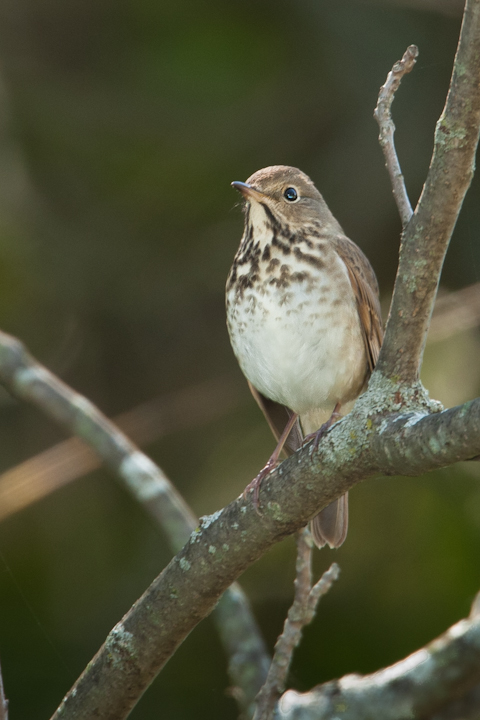 Hermit Thrush photo courtesy Bryan Hix
---
Sue Wagoner on 9/26 reported via e-mail: Have you ever wondered how Hummingbirds take a bath?
Saturday after a few sprinkles of rain, I saw "my" hummingbird fly into my "Peking Lilac" tree, which has many small leaves close together. The bird began to fly from leaf to leaf, rubbing its head, wings and body on each new leaf it flew to. It took me a minute to figure out it was actually bathing in the raindrops on the leaves. Eventually it stopped and preened its feathers. Then flew away. A short time later a Ruby-crowned Kinglet flew into the same tree and followed the same process. Fun to watch.
---
Julie Long on 9/26 reported via e-mail: I had both types of kinglets in my yard today, plus black and white warbler and r. thr. hummingbird.
---
Marion Miller on 9/23 reported via e-mail: After reading about Bryan Hix's great warbler outting, I decided to visit J. Duerr F. P. on 9-23. There were many warblers present, with the first being on the trees in front of my car that was parked on the lower lot. After only a short distance on the path that goes right (facing the river) I saw many Black-and-White Warblers, an American Redstart, Northern Parulas, and Magnolia warblers. Also saw a Red-bellied Woodpecker, Downy Woodpecker and a Yellow-bellied Sapsucker.
---
Christopher Cudworth on 9/22 reported via IBET: At the "old" entrance or northeast corner of the [Nelson Lake] preserve there were several warblers active on an otherwise quiet afternoon.

Well marked CANADA and MAGNOLIA warblers were in the company of a NORTHERN WATERTHRUSH along the small pond in the area.

Also YELLOWTHROAT, a few singing aerial songs before dropping into the cattails.

I was focusing on a photo of a monarch when a shape caught my eye that had all the makings and markings of a MERLIN, but it seemed a tad small even though its shape and flight pattern were more direct in the manner of that falcon. And I have had them in that marsh in September before.

KCFPD notes on Facebook that 15 White Pelicans stopped by during the day. The gentleman farmer who lives directly across from the resident noticed them on his walk this morning as well.

There were WILLOW FLYCATCHER and ROSE BREASTED GROSBEAK in the brushy habitat bordering the north end of the trail.
---
Kim Girard on 9/22 reported via e-mail: This little Ovenbird was sitting on my front step this morning. May have been recovering from a window collision; seemed fine after a few minutes. First time I've seen one of these around my house in Campton Township.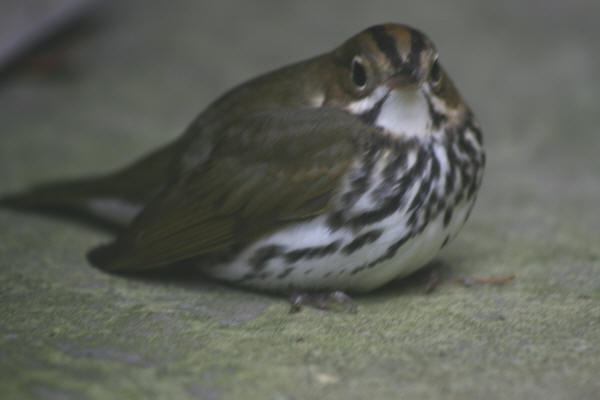 Ovenbird photo courtesy Kim Girard
---
Bryan Hix on 9/22 reported via e-mail: Had my best warbler day ever today at John Duerr FP between 10:30-1:00. It was unbelievable how many birds were around and I had 2 lifers today!! The strange thing was as the sun came out, the activity dramatically slowed down. I saw the following warblers and there could have been more, but a lot were females which made identification very difficult:

Black-Throated Green
Yellow-Rumped (way too many to count)
Wilson's (lifer)
Bay-Breasted
Magnolia
Nashville
Black and White
Chestnut-Sided
Black-Throated Blue (lifer)
I also saw tons of Cedar Waxwings, Catbirds, Robins, Downy Woodpecker, Yellow-bellied Sapsucker, Brown Creeper, Chickadee, Osprey, Coopers Hawk, Bald Eagle.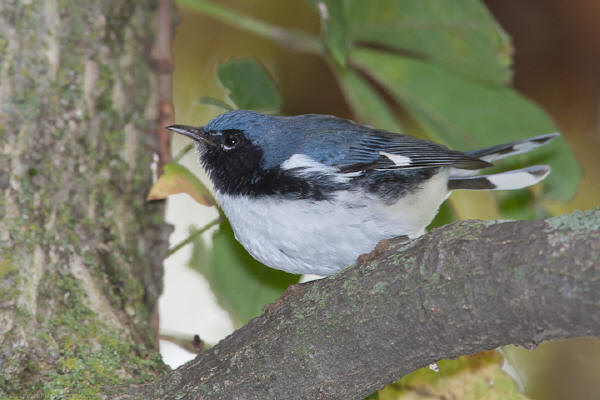 Black-throated Blue Warbler photo courtesy Bryan Hix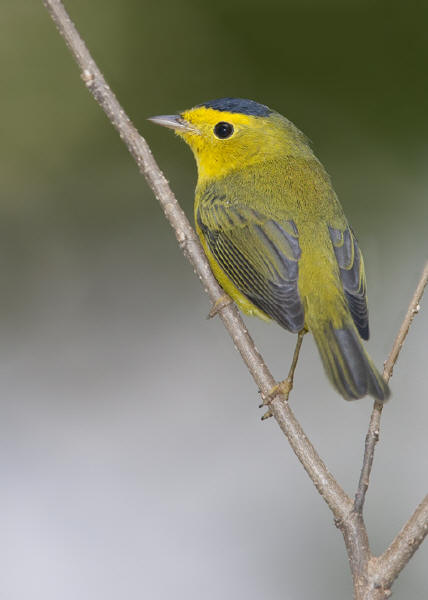 Wilson's Warbler photo courtesy Bryan Hix
---
Randi Bolt on 9/22 reported via phone: In addition to the bird she reported by way of Nancy yesterday, she saw at least 10 American White Pelicans in the southwest corner of Nelson Lake this morning.
---
Nancy Schnaitman on 9/21 reported via e-mail: A friend has called reporting what appears to be an immature White pelican swimming in a 'swamp' at the corner of Prairie St. and Gordon Rd. (between Sugar Grove and Aurora). From her description, the bird is immature as she described it as dirty looking.
---
Eric Secker on 9/21 reported via IBET: I had a nice late morning at Hampshire Forest Preserve in NW Kane Co. I reached the warblers around 10:30am. The highlight was seven different BLACK-THROATED BLUE WARBLERS. This easily beats my previous personal high count of three (LaBaugh Woods in 2007) and supports Scott Cohr's observation from yesterday that these birds are moving through in unusual volume this fall at least in our area. The birds I had were easily counted. I had two distinct groups of three birds, and one other lone adult male all in a short span, in separate areas, and the birds were moving slowly by this time of day. I had three nice adult males in all.

Other warbler numbers were not that high but there were a few good birds and I had 15 species in all. Other warblers included: 1 BLUE-WINGED, 1 GOLDEN-WINGED, 12 TENNESSEE, 1 NASHVILLE, 2 CHESTNUT-SIDED, 5 MAGNOLIA, 2 YELLOW-RUMPED, 5 BLACK-THROATED GREENS, 2 BAY-BREASTED, 1 BLACKPOLL, 2 BLACK-AND-WHITE, 7 AMERICAN REDSTARTS, 1 OVENBIRD, and 6 COMMON YELLOWTHROATS.

Non-warbler highlights included two OLIVE-SIDED FLYCATCHERS (in the same area but not getting along), five PURPLE FINCHES, a WINTER WREN, two PHILADELPHIA VIREOS, and two YELLOW-BELLIED SAPSUCKERS. Sparrows included quite a few WHITE-THROATEDS, a FIELD, and other regulars.

There were a few large pockets of warblers but the best area was all along the north-south trail that is south of the road and the horse trailer parking area. Also along the trails that run to the east and west from that area.
---
Jack Pomatto on 9/21 reported via e-mail: The woods were alive with warblers today, 9/21/10 at J. Duerr F.P. The proportion of Tennessee Warblers to all others warbler species was finally under 50 %. Only 11 species of warblers , but good numbers of Magnolias, Bay-breasteds, and Blackpolls.
The warbler highlights were a Connecticut Warbler and two super cooperative individual birds. A colorful Bay-breasted came within 3.5 feet and a Wilsons came almost as close, but stayed around for two minutes. On the walk back a Bald Eagle soared over following the Fox down stream. A delightful day of birding, but the signs of migration changing were evident. White-throated Sparrows were about and more Yellow-rumped Warblers were seen along with Ruby-crowned Kinglets.
---
John Heneghan on 9/20 reported via IBET: We had quite a few Black Throated Green Warblers in the trees out back [in Sugar Grove] this AM. Also seems that Chickadees and White Breasted Nuthatches are moving through as we had more than the few we have had all summer. We also have 3 hummingbirds that have been around for a while.
---
Sue Wagoner on 9/19 reported via e-mail: While I have had several Swainson's Thrushes in my [Aurora] yard this fall, I had my first Gray Cheeked Thrush today. Both were in the same tree at the same time and were easy to compare. The Gray Cheeked had almost no eye ring, no warm wash over the cheek and was generally brown-gray all over. I attribute the visits from the thrushes to my now out-of-control Poke Weed plants and their great berries. The Robins love them too.
---
Karen Land on 9/15 reported via IBET: I sat out on my back porch [in Batavia] for a bit this morning and enjoyed the chatter of what seemed to be a zillion chickadees darting between my feeders when I noticed a RT Hummingbird feeding off impatiens in a large pot on my patio. Suddenly there were 3! The 3 zipped between the patio and another pot of impatiens that sit next to a water feature a few feet away, then they would go over to a hanging basket of fuchsias that were a few feet from where I was sitting. The 3 kept darting, then would land and sit on a branch or the top of the hanging basket or would hover in mid air 5 feet in front of me! I watched this for about 15 minutes before they flew off over the fence. We have pretty consistently seen a single one come to the fuchsia, which hangs right outside our family room window, all summer but this is the first time I have seen 3. It was fun!
---
Darrell Shambaugh on 9/14 reported via IBET: After my work day was over I went for a bike ride along the Fox River between Batavia and St. Charles. I found 10 species of warblers, PHILADELPHIA, WARBLING, and RED-EYED VIREOS, plus a female SCARLET TANAGER. I found good numbers of three warblers, 18 BLACKPOLL, 14 CAPE MAY, and 12 TENNESSEE. Other species included 3 BAY-BREASTED, 3 AMERICAN REDSTART, and single BLACK-&-WHITE, male GOLDEN-WINGED, female BLACK-THROATED BLUE, NASHVILLE, and female BLACKBURNIAN.

Most of the warblers were at the Batavia River Walk. This place was loaded with warblers. I have birded the Batavia River Walk in September before and it was an excellent location.
---
Bill Koch on 9/13 reported via e-mail: I visited LeRoy Oakes FP today on a lunch break to look for warblers. I ended up getting the same amount of vireo species as I did Warblers. On the Wooded Loop path I spotted 2 White-eyed Vireos. One came within 10 feet of me and allowed me to get a great look at him. Never have had more than 1 of these guys in one day. Wish I would have had my camera. Warbling, Red-Eyed and Yellow-Throated Vireos were seen in several locations along the path. Lastly a Blue Headed Vireo was viewed as I was walking back to the parking lot in the very back of the preserve. Warblers viewed today included Magnolia, Tennessee,
---
Nashville, American Redstart and Ovenbirds. There were also many Ruby Crowned Kinglets in various locations.
---
Marion Miller on 9/13 reported via e-mail: Rich and I went to Hawks Bluff on 9-12 and we got to see our first Black-and-white Warbler going up one of the trees in the forested path. Robins, Wood-Pewees, White-breasted Nuthatch, Northern Flicker and Downy Woodpeckers were also seen. Our backyard was also the busiest I have seen with hummingbirds all weekend.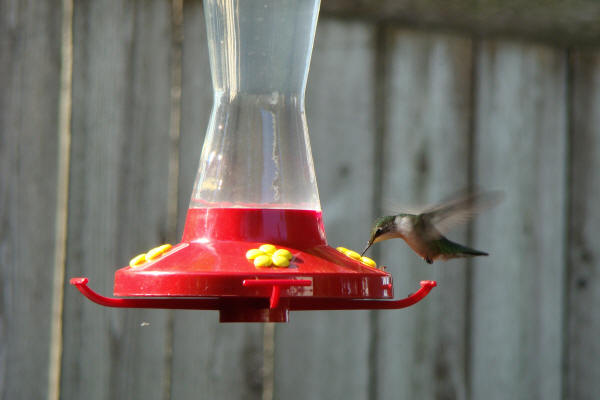 Ruby-throated Hummingbird photo courtesy Marion Miller
---
Pete Moxon on 9/12 reported via text message: Four Buff-breasted Sandpipers still remain at Dunteman's sod farm in Kaneville. They can be viewed from Merrill Road. He also reported that water levels at Sauer FP were too high for shorebirds, but he did spot a Northern Harrier.
---
Eric Secker on 9/12 reported via IBET: My fiance Sally and I went birding at Jon Duerr FP in Kane Co. this morning.

There are a lot of bugs flying around by the river right now, and there were a few locations where the warblers were concentrated including west of the boat launch, down by the bike path intersection, and out on the island between the two sections of the bridge.

At the path intersection next to the path closed sign, I heard a BLACK-THROATED BLUE WARBLER chipping from in the bushes and we soon located both a female and adult male. The next best warbler was probably the WILSON'S WARBLER that was foraging on the west side of the island. We had about 15 species of warblers in all. Other warblers included TENNESSEE (many), NASHVILLE, CHESTNUT-SIDED, MAGNOLIA, CAPE MAY (7), BLACKBURNIAN, BLACK-THROATED GREEN, PINE, BLACKPOLL, BAY-BREASTED, BLACK-AND-WHITE, NORTHERN WATERTHRUSH, and AMERICAN REDSTART.

Along the river, we also enjoyed watching an OSPREY fly down, catch a fish, and fly off with it right over our heads (the fish was still wiggling for life). It was followed shortly later by a second OSPREY that was probably hoping for a share of the meal.
---
Christopher Cudworth on 9/12 reported via IBET: On my way out to visit Prairie Green from Peck Road west of Geneva my attention was caught by a solo bird in the scrubby grasslands facing the red farm buildings next to Keslinger. Turned out to be a Clay Colored Sparrow. Not much else to note as I ran out of time to wander out to the wetland.
---
Chris Madsen on 9/11 reported via IBET: Thanks to a "heads up" call from Scott this morning, Carla and I located the Pileated this mid-afternoon as it flew the perimeter of the north meadow at Big Rock FP, making left turns before disappearing over the trees to the north.

We then drove north to a fluddle on the south side of Route 38, .9 mile west of Meredith Road, where we spotted 2 Red-necked Phalaropes. Jon Duerr later observed a Short-billed Dowitcher in the same fluddle with the phalaropes.
---
Scott Cohrs on 9/11 reported via IBET: I found a Pileated Woodpecker at Big Rock FP in southern Kane County this morning. I know down-staters are yawning/laughing at this point, but this is a darn good bird locally. In fact, I don't think Pileated was included on a recent Kane County checklist update that was compiled using historical data. So, it's not that common around here.

The bird was originally about 150 yards north of the main suspension bridge, on the east side of the path that parallels the creek. It was working the top of one of the tall dead trees. It eventually flew south, but I found it again at the suspension bridge as I was leaving.

Otherwise, just a few warbler/vireo migrants were present at Big Rock, but nothing unusual. Barred Owls called a couple times in the drizzle. I had missed them on a few previous trips to Big Rock this summer.

On my drive home, a Merlin was working a field east of 47 along Jericho Rd.
---
Ken Schneider on 9/9 reported via e-mail: There were several flocks of Tennessee Warblers at Lippold Park this morning. At least a dozen were mingled in with the goldfinches in the flowers along the river bank, and many more were in the treetops along the bicycle path. We also saw one Magnolia and one Nashville Warbler as well as several redstarts. A Traill's flycatcher in trees along the bank posed an ID challenge, as it did not vocalize. It had a narrow complete eye ring.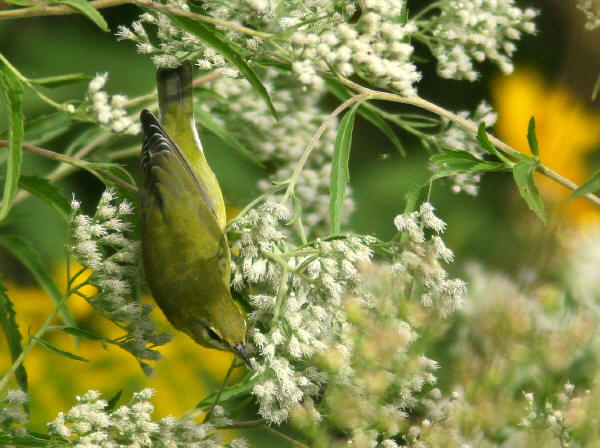 Tennessee Warbler photo courtesy Ken Schneider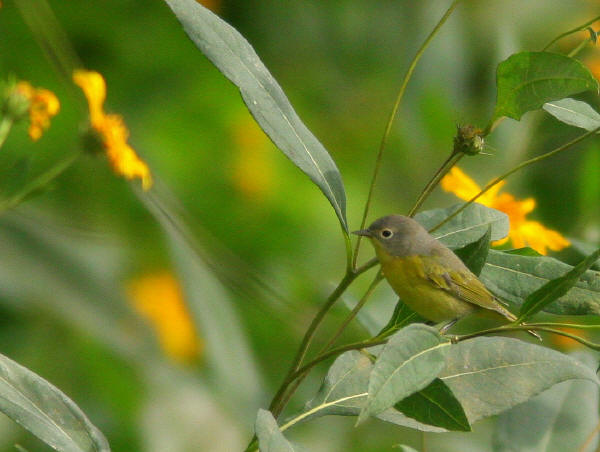 Nashville Warbler photo courtesy Ken Schneider
---
Ken Schneider on 9/8 reported via e-mail: At Nelson Lake we encountered a small flock of warblers just south of the east observation platform. We identified 3 Nashville, 2 Magnolia, and 1 Tennessee Warbler, as well as a singing Warbling Vireo. A wren with an unusually short tail suddenly appeared on the side of the ramp on the platform. Its tail was so short and the barring on its breast and sides so pronounced that I thought at first it was a Winter Wren, but on close examination of the photos it was too light in color and lacked a pronounced eye line-- I am quite sure it was a House Wren. We saw an Eastern Wood-Pewee that had an unusually bright yellow breast. Two pewees chased one of the three Least Flycatchers that we saw along the trail on the east side of the lake. We also saw 4 hummingbirds and 2 Rose-breasted Grosbeaks (one in adult male plumage). We had 31 species, plus three peeps at the far SE end of the lake that were too far away to ID without a scope. We were not able to re-locate the Olive-sided Flycatcher that I photographed on Saturday. The lake level is down a bit and there are mud flats developing.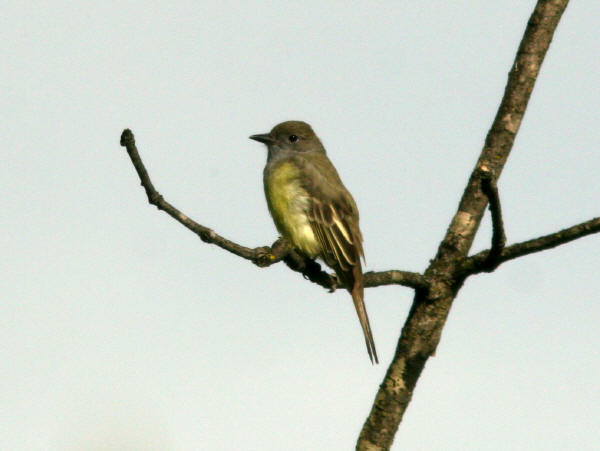 Eastern Wood-Peewee photo courtesy Ken Schneider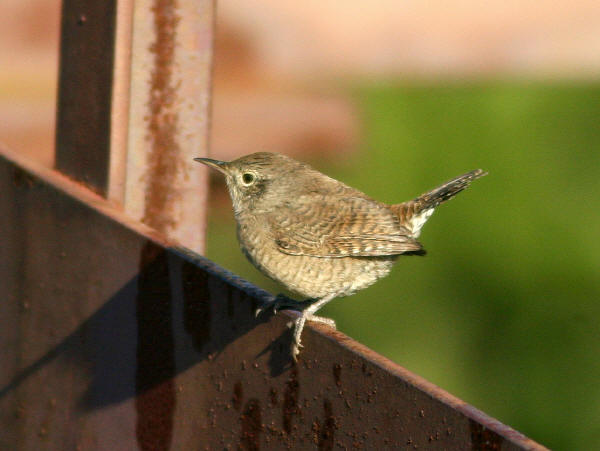 House Wren photo courtesy Ken Schneider
---
Bryan Hix on 9/5 reported via e-mail: This morning 6:30-8:30am, Burnidge FP:

American Redstart male and female (15+)
Magnolia Warbler (4)
Chestnut-Sided Warbler (1)
Black-throated Green Warbler (female)
Nashville Warbler (2)
Connecticut Warbler (1 chasing off a male Restart)
Eastern Towhee (male, female, and 2 juveniles)
Pectoral Sandpiper (1)
Solitary Sandpiper (1)
Spotted Sandpiper (1)
Least Sandpiper (3)
Lesser Yellowlegs (1)
Nighthawk (several)
Wood Ducks (12+)
Ruby-Throated Hummingbirds (4)
Catbird (~6)
Robin (dozens)
Eastern Wood Pewee (2)
Eastern Kingbird (1)
Acadian Flycatcher (1)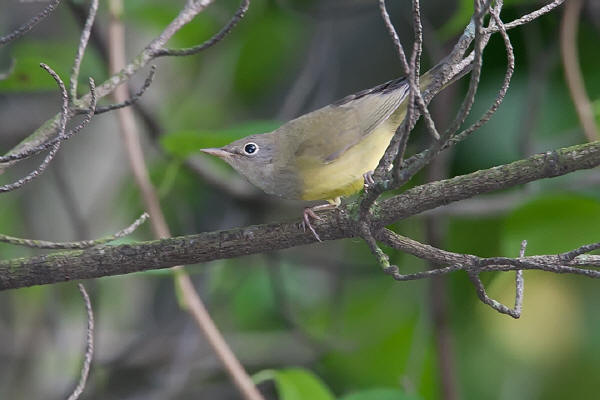 Connecticut Warbler photo courtesy Bryan Hix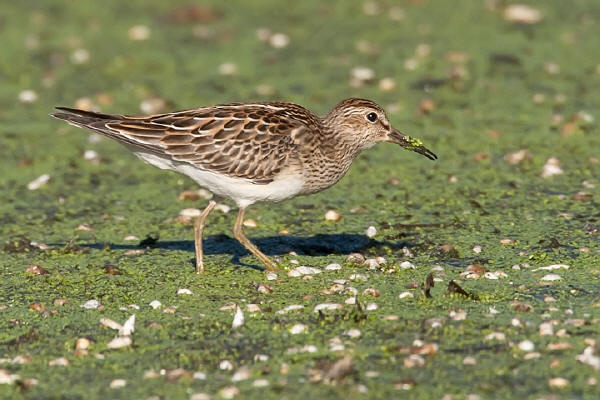 Pectoral Sandpiper photo courtesy Bryan Hix
---
Bryan Hix on 9/4 reported via e-mail: After spending 3 hours at Montrose and the magic hedge this early this morning, I went for a lunchtime walk with my son over at Burnidge FP. We actually had some nice sightings. We saw 3 Chesnut-sided Warblers, 1 male Magnolia Warbler, a Red-Eyed Vireo, 1 Osprey, Eastern Wood-Pewee, Lesser Yellowlegs, 3 Least Sandpiper, 2 Solitary Sandpipers, Great Blue Heron, Great Egret, and Belted Kingfisher.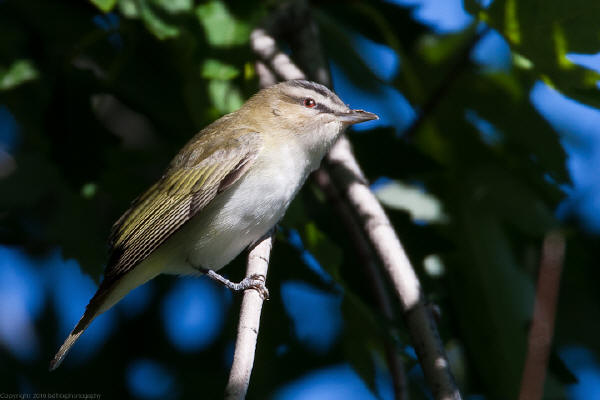 Red-eyed Vireo photo courtesy Bryan Hix
---
Ken Schneider on 9/4 reported via e-mail: While holding up the rear of the KCAS bird hikers who circled Nelson Lake this morning, several of us saw an Olive-sided Flycatcher. The entire group also got nice views of a Solitary Sandpiper, Cedar Waxwings, a soaring Red-tailed Hawk, and lots of hummingbirds and goldfinches, among over 30 bird species.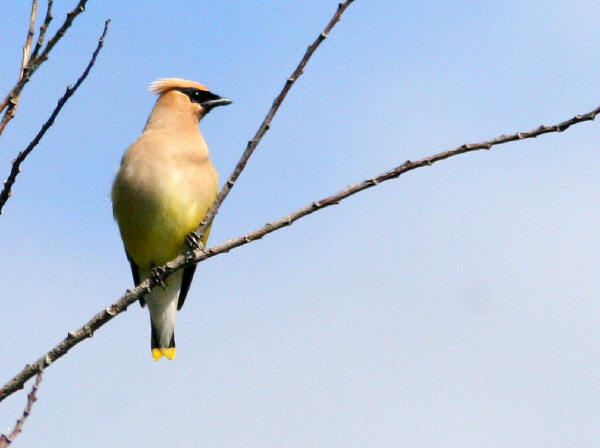 Cedar Waxwing photo courtesy Ken Schneider
---
Ari Shavit on 9/3 reported via IBET: The Buff- breasted Sandpipers that Darrell reported at Dunteman turf [in Kaneville] yesterday were still there today.
---
Sue Wagoner on 9/3 reported via e-mail: Backyard birding for the past two days has been exciting- many migrating warblers- a few I could not identify, but those I could were: a bunch of American Redstarts (one mature male, the rest female and immature), Blackburnian, Cape May, Black-throated green, several Black and white, a very bright Nashville, and an immature Magnolia (undertail colors helped to ID it). In addition a Swainson's Thrush at my out-of-control pokeweed plant, Eastern peewee, and [an] immature male Cardinal.
I hope the forest preserves are just as active.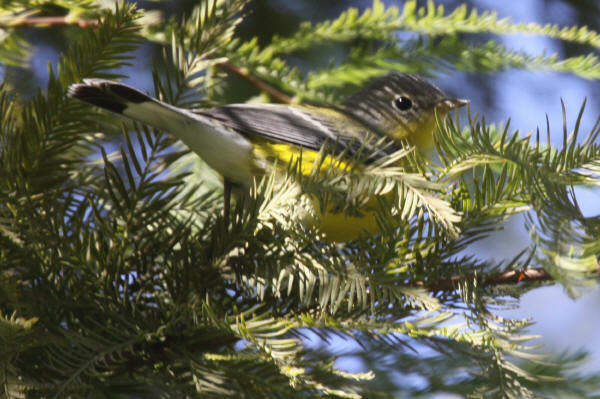 Magnolia Warbler photo courtesy Sue Wagoner
---
Darrell Shambaugh on 9/2 reported via IBET: This afternoon there were two BUFF-BREASTED SANDPIPERS at Dunteman's Sod Farm in Kaneville (Kane County) this afternoon. The Buffies and a couple hundred KILLDEER, STARLINGS, 2 CROWS, and a couple HORNED LARKS were south of Main Street south of area of cut sod. There was also a flock of TREE SWALLOWS, maybe 35, out in the sod farther south. I think there was standing water there and the Tree Swallows and a few BARN SWALLOWS were there.
---
Walter Lutz on 9/1 reported via e-mail: 50+ Nighthawks in a group over west Elgin Wednesday evening. Quite a sight.
---
Bryan Hix on 9/1 reported via e-mail: This evening I walked the Jelkes C.B.S. and saw 4 Great Egrets, 12-15 Kildeer, 5 possible Least sandpipers in the NW end of the park, 100+ Nighthawks (some within 25 yards), 50+ Chimney Swifts, hundreds of dragonflies, and a small flock of Blue-Winged Teal in one of the terraced ponds at the North end.