Jackie Bowman on 9/29 reported via e-mail: Thanks go out to Scott Cohrs, for his report of the Nelson's and Leconte's Sparrows at Prairie Green. We got out there this morning before the North winds started to blow, and got great looks at an immature Leconte's Sparrow who was just sitting on the top of a reed in the sun, and we saw at least 5 Nelson's Sparrows on the North side of the marsh. Other sightings included: Swamp Sparrow, Vesper Sparrow, White Throated Sparrow, White Crowned Sparrow, Marsh Wren, Green Heron, Cooper's Hawk, Red Tailed Hawk, and a Northern Harrier. It was a great way to spend my birthday!!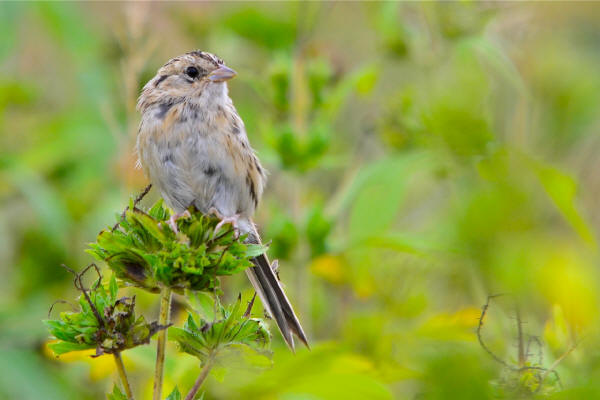 Immature Le Conte's Sparrow photo courtesy Jackie Bowman
Nelson's Sparrow photo courtesy Jackie Bowman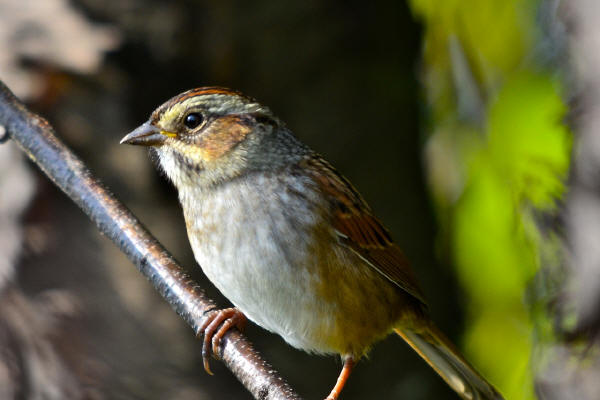 Swamp Sparrow photo courtesy Jackie Bowman
---
Kurt Frieders on 9/28 reported via IBET: Today Oakhurst was quite birdy in the half hour I had to walk around. The birds I saw were:

Black-Throated Blue Warbler
Golden-Winged Warbler
Yellow-Throated Warbler
Blackpoll Warbler
Northern Cardinal
Blue Jay
Black-Capped Chickadee
Robin
Mallard
Canada Goose
Northern Flicker
Hairy Woodpecker
Red-Bellied Woodpecker
American Goldfinch
Cedar Waxwing
Gray Catbird
Pie-Billed Grebe
---
Patrick Webb on 9/25 reported via eBird: A Prothonotary Warbler at Peck Farm Park in Geneva.
---
Scott Cohrs on 9/25 reported via IBET: Made a few stops this morning on the west side of St. Charles. Highlights included 2 Black-throated Blue Warblers and a Stilt Sandpiper at [Hickory Knolls Natural Area], and several Nelson's Sparrows and a LeConte's Sparrow at Prairie Green.
---
Eric Secker on 9/25 reported via IBET: I just had an adult ANHINGA fly right over by Springhill Mall in West Dundee. Bird was headed due west or just slightly WSW. Keep an eye out!

Also had a Broad-winged Hawk.
---
Marion Miller on 9/20 reported via e-mail: What a great day at the Batavia Riverwalk. As soon as I parked I saw warblers jumping around the pines. From my car I was able to identify Cape May Warblers, adult fall and first year fall. Once out of the car I got great looks at a Yellow-rumped Warbler, 1st winter, perched on an exposed branch with an insect in his bill. Goldfinches were feasting on dried coneflower seeds while Cedar Waxwings were enjoying berries on the trees across the small creek. A Belted Kingfisher was letting out its loud rattle as it swooped over the river. A Great Blue Heron, Great Egret, Mallards, and Killdeer were in the river near the small bridge. Tennessee Warblers and other warblers I couldn't get a good look at to identify were hopping in the trees along the path. A Cormorant was swimming in the waters above the dam. Between the gazebo and the observation deck, Lesser Yellowlegs, a Pectoral Sandpiper and a Solitary Sandpiper were foraging for food in the water near the muddy shore. At least 25 Chimney Swifts dotted the clear blue skies overhead.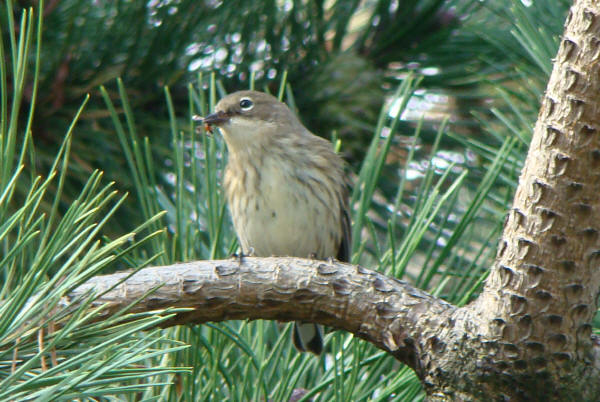 Yellow-rumped Warbler photo courtesy Marion Miller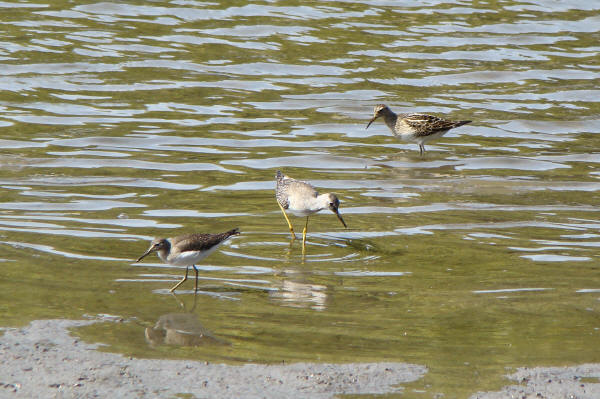 From left to right: Solitary Sandpiper, Lesser Yellowlegs, Pectoral Sandpiper.
Photo courtesy Marion Miller.
---
Curt Frieders on 9/19 reported via e-mail: On Sunday afternoon I spotted the first Green Heron I have ever seen at Oakhurst FP. It was stalking the east side of the big lake. It was incredibly tame, and let me shoot as many photographs as I cared to. Hopefully I'll get to see that bird more often. Other birds that were spotted during the short time I had to walk were American Goldfinch, Ruby-Throated Hummingbird, Blue Jay, Northern Cardinal, Black-Capped Chickadee, Mallard, Canada Goose, Cedar Waxwing, Tennessee Warbler, Hairy Woodpecker, Northern Flicker, European Starling, American Crow, American Robin, Gray Catbird, and Cooper's Hawk.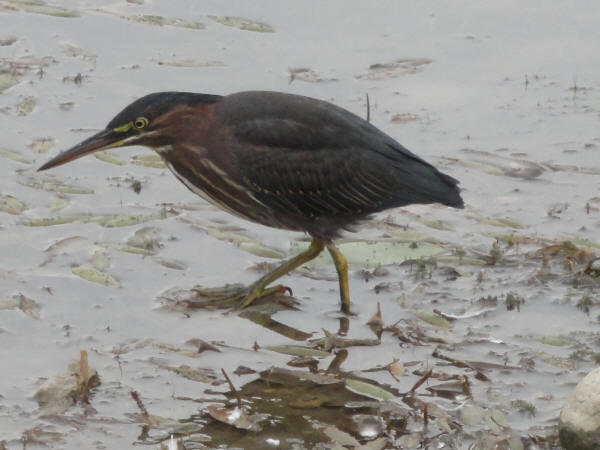 Green Heron photo courtesy Curt Frieders
---
Darrell Shambaugh on 9/18 reported via IBET: ...after work Saturday morning...Riverside Park (Route 25 and Division Street in Geneva and St. Charles, Kane County) had a BLACK-AND-WHITE WARBLER, NASHVILLE WARBLER, MAGNOLIA WARBLER, and female CAPE MAY WARBLER. The best birds at Riverside park were a LINCOLN'S SPARROW walking on the mud at the edge of the Fox River and a flock of about 30 CHIMNEY SWIFTS that flew over, heading south above the Fox River.
---
Andrew Aldrich on 9/15 reported via IBET: Oakhurst was very birdy this morning, even in the cold. The activity was mostly concentrated in the hedge along the creek, near the wooden bridge. List and counts below:

Canada Goose 30
Wood Duck 7
Mallard 5
Pied-billed Grebe 1
Great Blue Heron 1
Cooper's Hawk 1
Red-tailed Hawk 1
Killdeer 8
RT Hummingbird 1
Downy Woodpecker 2
Northern Flicker 2
Eastern Wood-Pewee 2
Warbling Vireo 1
Philadelphia Vireo 1
Red-eyed Vireo 3
Blue Jay 8
American Crow 2
Black-capped Chickadee 30
White-breasted Nuthatch 1
House Wren 1
Ruby-crowned Kinglet 1
American Robin 6
Gray Catbird 4
Cedar Waxwing 12
Ovenbird 1
Black-and-white Warbler 2
Tennessee Warbler 15
Nashville Warbler 3
Common Yellowthroat 1
American Redstart 12
Cape May Warbler 1
Northern Parula 2
Magnolia Warbler 8
Bay-breasted Warbler 1
Blackburnian Warbler 2
Chestnut-sided Warbler 3
Blackpoll Warbler 1
Palm Warbler 2
Black-throated Green W 6
Eastern Towhee 3
Field Sparrow 4
Song Sparrow 1
Scarlet Tanager 2
Northern Cardinal 6
Rose-breasted Grosbeak 1
Indigo Bunting 3
Red-winged Blackbird 3
American Goldfinch 14

15 species of warblers, 48 species total. The Kinglet was my first of the season. A few pictures from the day can be seen on my Flickr page.
---
Jackie Bowman on 9/13 reported via IBET: This afternoon we took a stroll around Prairie Green in Geneva, IL. Things were pretty quiet with not much bird activity through the fields on our way to the marsh. We did see 6 Killdeer, 1 Great Egret, 1 Great Blue Heron, a juvenile Black Crown Night Heron that kept flushing and ducking into the reeds, 3 WILSON'S SNIPE that were surprisingly accepting of our presence (they actually flew around the marsh and then past us at about 4 yards), 1 Marsh Wren, and 2 adult SORA along with many juveniles heard calling from the reeds. The Sora were located at the south end of the marsh, and both adults gave us very good looks.
---
John Heneghan on 9/12 reported via IBET: Woke last night about 3:00 AM to an Eastern Screech Owl calling. First I have heard one here in Big Rock.
---
Tim Balassie on 9/9 reported via e-mail: Walked thru the Jelke Creek Bird Sanctuary (West Dundee, Boncosky Rd) yesterday (8th), and encountered two Red-necked Grebes in the large, South pond. Also flushed an immature Rail, but could not ID. Bird resembled a barely flying black glob of dryer lint. I'm assuming Coot, but ... Nothing else of consequence.

I'd be interested if anyone else can corroborate the Grebe sighting.
---
Kurt Frieders on 9/9 reported via e-mail: We had a new visitor to our yard (in Aurora township) a couple of days ago. After returning from dinner we spotted a Merlin perched on the tower of our windmill. We quick grabbed the binoculars out of the car to confirm. We wish we had the camera with, but he left before I could grab it and has not returned since. There also has been a Kestrel appearing quite frequently along with a Common Nighthawk. We had a pair of Hummingbirds nest in the yard, and we see the fledgling at our feeder quite often including today.
---
Ken Schneider on 9/7 reported via e-mail: We got out to Les Arends this last morning before departing for Florida. We saw Common Yellowthroat, Blackburnian, Northern Parula, Tennessee, Nashville and Cape May Warblers. At the retention pond behind the auto dealers at the NE corner of I-88 & Orchard I counted 61 Great Egrets in the visible (western) part of the pond. Also 4 Great Blues, 6 Ring-billed Gulls, 3 Mallards and a Pied-billed Grebe.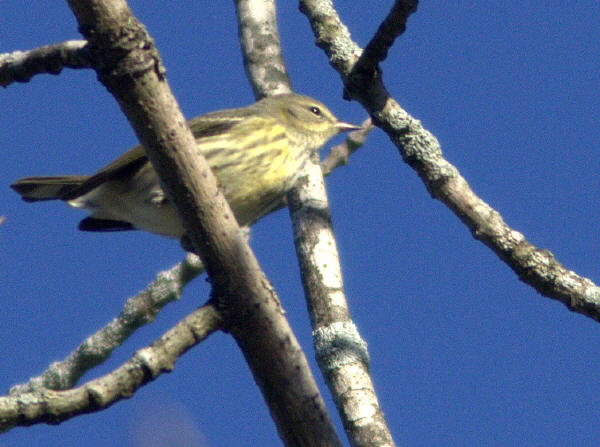 Cape May Warbler photo courtesy Ken Schneider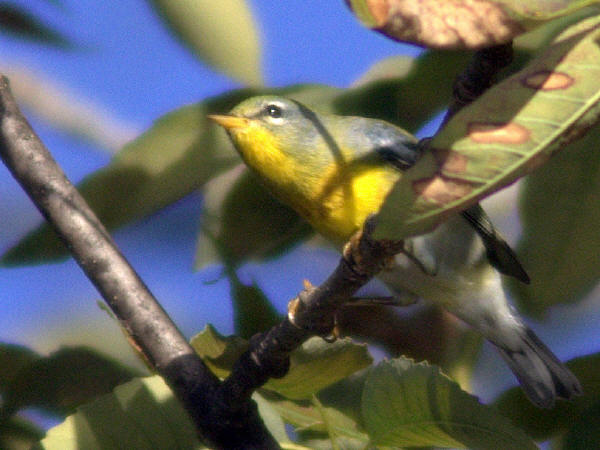 Northern Parula photo courtesy Ken Schneider
---
Andrew Aldrich on 9/6 reported via IBET: Hello! I started the morning at Les Arends FP. There was a pair of COOPER'S HAWKS, harassing everything in sight from KILLDEER & SPOTTED SANDPIPERS, to a BELTED KINGFISHER, and even a GREAT EGRET. I had the following warbler species: AMERICAN REDSTART, TENNESSEE, OVENBIRD, WILSON'S, and PALM.

I went to Fabyan with warblers on the brain, but got distracted almost immediately by a small tern. It was associating with a large flock of Swallows, and skimming insects off of the water. Turned out to be a BLACK TERN. I headed towards Geneva Island Park and along the trail I had the following migrants: SWAINSON'S THRUSH, OVENBIRD, YELLOW-RUMPED, TENNESSEE, CHESTNUT-SIDED, BAY-BREASTED, & NASHVILLE WARBLERS. There were also a few GREEN HERONs along the river banks. There were hundreds of TREE SWALLOWS near the bridge. CHIMNEY SWIFTS were also present in large numbers. Of course, all in addition to the usual suspects.
---
John Heneghan on 9/6 reported via IBET: My girlfriend called this AM to report upwards of 60 egrets at the retention pond on the NE corner of Orchard Rd and I-88 on the South side of the Automall.
---
Pete Moxon on 9/5 reported via text message: Sauer FP was bone dry on a visit on Saturday afternoon. But at least some of the following remain: Eastern and Western Meadowlark, Vesper Sparrow, Sedge Wren, and Bobolink. The Bobolinks are possible migrants or late nesters.
---
Ken Schneider on 9/4 reported via e-mail: That he has posted a pictorial review of Saturday's bird walk at Nelson Lake on his blog. You can read it by clicking here. He also shares a photo of this family of Sandhill Cranes that has been visiting for the past week near his condo in North Aurora.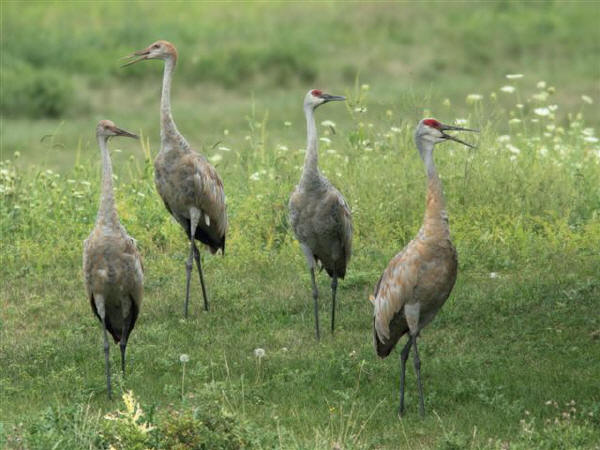 Sandhill Cranes photo courtesy Ken Schneider
---
Marion Miller on 9/3 reported via e-mail: Nineteen people started out the monthly Nelson Lake walk lead by Terry Murray. A total of 55 species were seen with some special "viewing" highlights. The east side observation deck provided views of a Northern Harrier flying low in the shrubs. The southern prairie held a Sedge wren giving a great display that many had the opportunity to view. Bushwhacking efforts on the west side were rewarded when a hidden Bald eagle flushed close to the group and a bouquet of warblers was discovered among the oak trees. Warblers seen were: Magnolia, American Redstart, Black-throated Green, Nashville and Black-and-white. The Black-throated Green warbler was a lifer for four of the participants! Ruby-throated Hummingbirds and Cedar Waxwings were sprinkled throughout the walk. An unwanted visitor was the Praying mantis that did provided the camera buffs in the group a great shot by looking at the camera.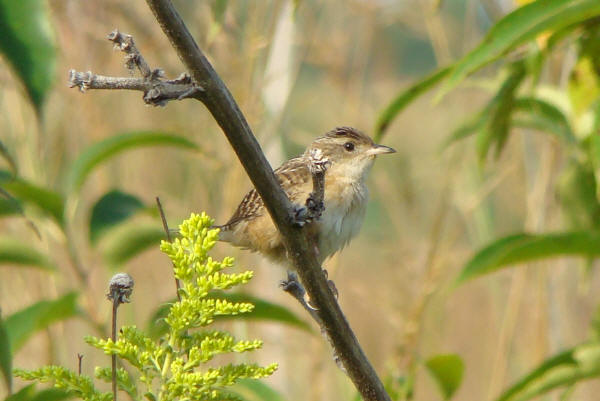 Sedge Wren photo courtesy Marion Miller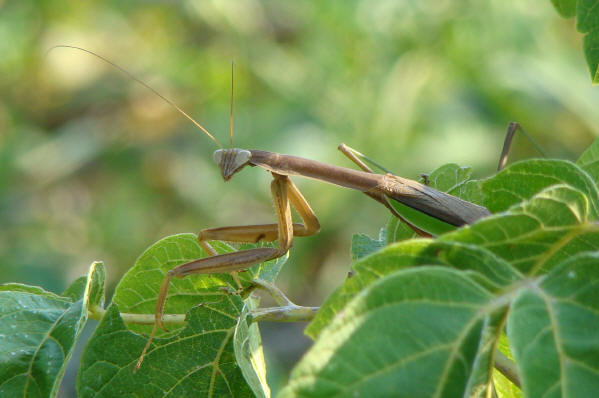 Praying Mantis photo courtesy Marion Miller
---
Andrew Aldrich on 9/3 reported via IBET: Birded the woods at Oakhurst Forest Preserve this morning and had a decent amount of warblers:

BLACK-AND-WHITE WARBLER 1
TENNESSEE WARBLER 8
NASHVILLE WARBLER 1
COMMON YELLOWTHROAT 1
AMERICAN REDSTART 5
NORTHERN PARULA 1
MAGNOLIA WARBLER 5
BAY-BREASTED WARBLER 1
CHESTNUT-SIDED WARBLER 1
BLACK-THROATED GREEN WARBLER 1
WILSON'S WARBLER 1

Also had at least 5 SWAINSON'S THRUSHES, one of which was weakly singing. Several first year EASTERN KINGBIRDS, HOUSE WRENS, EASTERN TOWHEES, & FIELD SPARROWS. Only VIREOs I had were WARBLING & RED-EYED. 39 species total...
---
Ken Schneider on 9/2 reported via e-mail: For the past two days it has been hotter here in NE Illinois than at our Florida home. Today's humidity was intense at Nelson Lake/Dick Young Forest Preserve. The few migrant warblers appeared early and then seemed to be hiding out in the shade the rest of the day. I did see one Yellow-billed Cuckoo along the east side of the lake, and re-found the Olive-sided Flycatcher in a bare tree on the south shore. For warblers, saw only Magnolias and Redstarts. The chickadees made interesting subjects.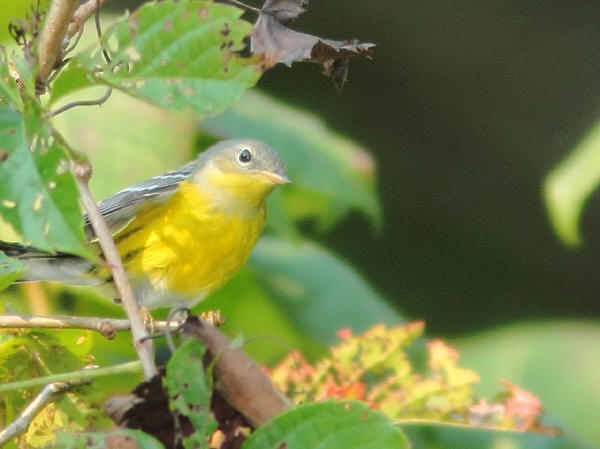 Magnolia Warbler photo courtesy Ken Schneider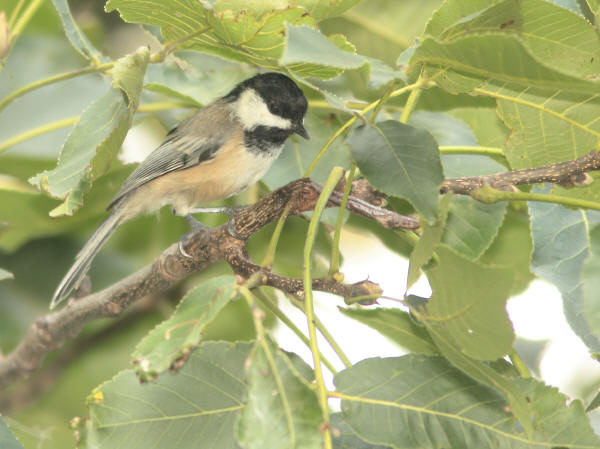 Black-capped Chickadee photo courtesy Ken Schneider
---
Pete Moxon on 9/2 reported via text message: Seeing one Upland Sandpiper at the Kaneville sod farm on a field south of Main Street and east of Harter Road at 9 AM.
---
Margaret Myers on 9/1 reported via e-mail: Had a nice surprise today. A Red-Tailed Hawk paid us a visit at our pond off of our deck [in North Aurora]. I guess he needed a drink from this extreme temperature.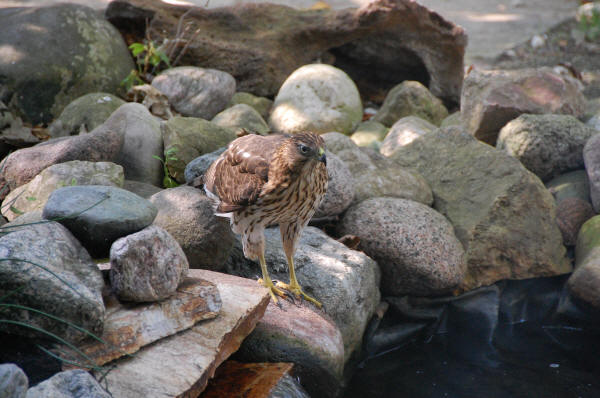 Red-tailed Hawk photo courtesy Margaret Myers
---