---
Chris Weishaar on 9/30 reported via IBET: Have a red breasted nuthatch visiting our feeders today- it's the first I've seen around the house in the ten+ years I've lived here. Off to check out the Japanese Gardens/Fabyan areas
---
Christopher Cudworth on 9/29 reported via IBET: Last year I missed [Nelson's Sparrow] at Prairie Green, located off Peck Road. The spot I birded was directly off the bike path (after its third zig zag) right next to what was formerly one of the main pools. Last fall I spooked up snow geese here on an early morning walk. No chance of that this year. The drought has left the wetlands deeply cracked and dry.

But the sparrows were there in abundance.

My target bird was the [Nelson's Sparrow] and I found one individual amongst many other birds, including:

Savannah Sparrow (50+)
Swamp sparrow
Song Sparrow
Horned lark
Probable Clay-colored (going back to confirm if possible)
Junco
Palm Warbler
Yellow rumped warbler
Goldfinch
Meadowlark
Cardinal
Mourning dove
Great horned owl
2500 Canada geese (a huge, vocal flock rose to the west at 9:20 am)
Mallard duck
Yellowthroat
Black capped chickadee
Robin
Grackle
Starling
Red winged blackbird
Red tailed hawk
Red bellied woodpecker
I'm returning over the next few days as time spent in the thickets and open spots at PG is bound to turn up more sparrow species, especially Leconte's, Lincoln's and others.

Also, at Dick Young FP yesterday, I had s single bobolink during a four mile walk on the west prairie loop.
---
Sue Wagoner on 9/28 reported via e-mail: A long walk along the bike trail at Jon Duerr Forest Preserve produced a good number of warblers- mostly Yellow Rump but also Tennessee, Nashville, Cape May, Black and White, Magnolia, Blackburnian, Bay-Breasted, Northern Waterthrush, Ovenbird. Also quite a few Lesser Yellowlegs and a few Pectoral Sandpipers seen from the Fox River bridge. I also got a photo of a formally-posing Eastern Phoebe.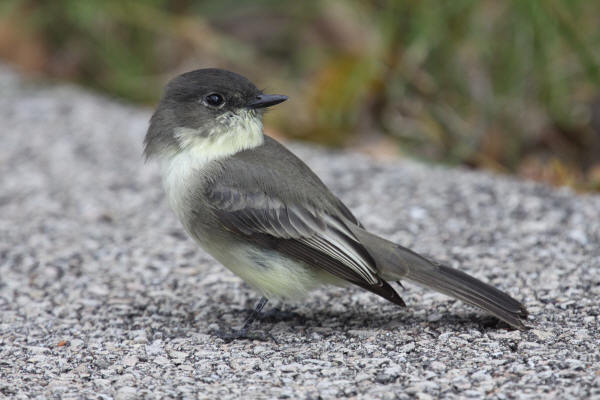 Eastern Phoebe photo courtesy Sue Wagoner
---
Marion Miller on 9/27 reported via e-mail: After work today, around 3:45pm, stopped by South Elgin Dam and relocated the Wilson's Snipe first seen by Brendon Lake on Sunday. It was feeding with the Killdeer south of the bridge. A few warblers, Yellow-rumped and Tennessee were active in the bushes along the river. Also did a quick check at Jon Duerr FP at 4:15pm and the warblers remain active and plentiful especially by the middle parking lot. I remained in my car and had some great close ups. Tennessee, Magnolia, Cape May, Nashville, Black-throated Green and Yellow-rumped Warblers were seen.

Wilson's Snipe photo courtesy Marion Miller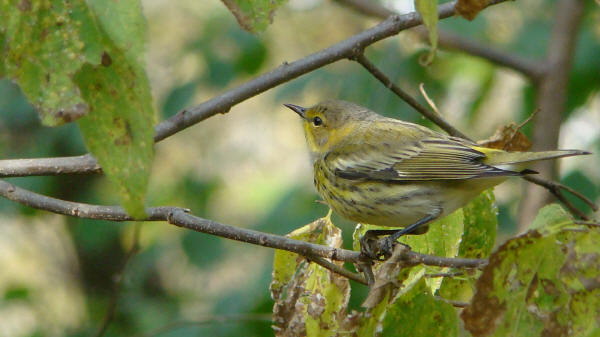 Cape May Warbler photo courtesy Marion Miller
---
Sue Wagoner on 9/27 reported via e-mail: This Great Blue Heron was up close and personal on a Batavia quarry hike this morning-- he's pictured here against the dreaded white sky!!
Also attached is this mystery bird that appears to be a hybrid- rarely seen. Any ideas for a name?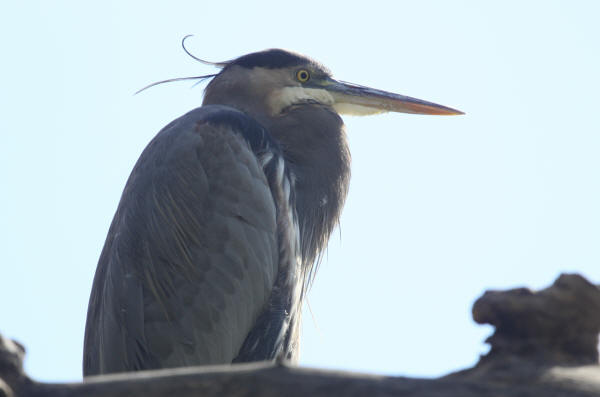 Great Blue Heron photo courtesy Sue Wagoner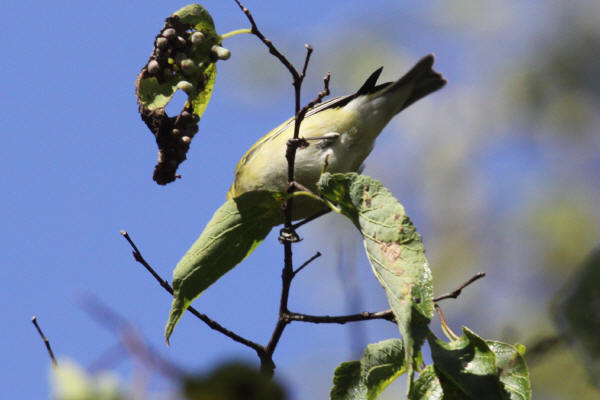 Mystery Bird photo courtesy Sue Wagoner
---
Chris Mussachio on 9/27 reported via e-mail: Of all the times I walk from north to south instead of my usual south to north at Buffalo Park, my suspicions are confirmed today with the sighting of an Osprey that I thought I saw a couple of days ago with fish in talons. The sun couldn't have been in a worse spot, but I'll take it any ways and I know I will get my chance again.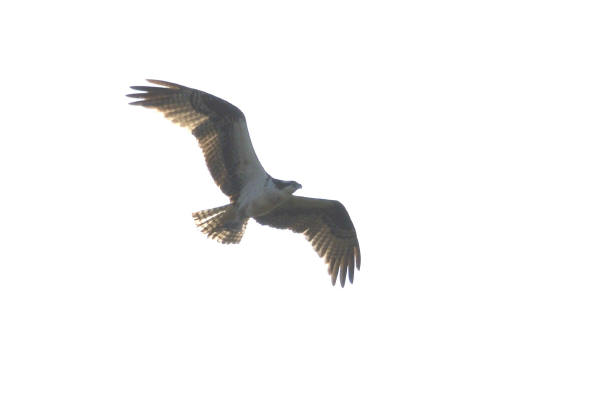 Osprey photo courtesy Chris Mussachio
---
Chris Mussachio on 9/26 reported via e-mail: While on the hunt today for the osprey at Buffalo Park and hiding under a tree, this Yellow Rumped Warbler landed about 8 feet away from me in the tree. As you can see I had better luck with the warbler and not the osprey.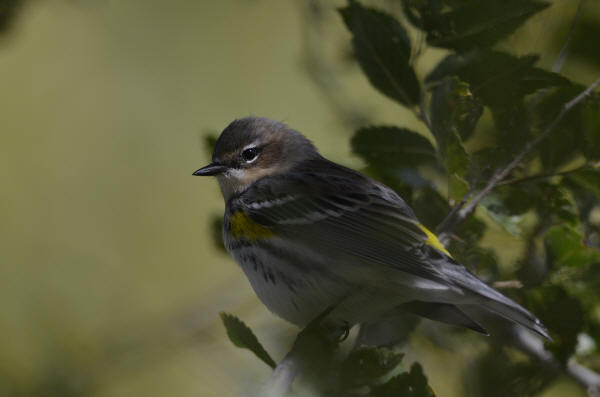 Yellow-rumped Warbler photo courtesy Chris Mussachio
---
Chris Mussachio on 9/25 reported via e-mail: This turkey vulture was a nice surprise today at the Carpentersville Dam. Made a nice meal out of this dead fish it found.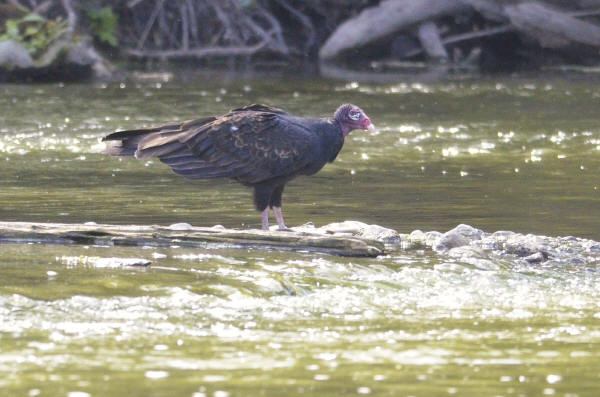 Turkey Vulture photo courtesy Chris Mussachio
---
Darrell Shambaugh on 9/25 reported via IBET: I spent about an hour and a half at Les Arends Forest Preserve in Batavia/North Aurora today. Birding was pretty good. New fall species included GOLDEN-CROWNED KINGLET, ORANGE-CROWNED WARBLER, and BLACKBURNIAN WARBLER. The birds were all in the peninsula by the Fox River. The rest of the list is below

Red-bellied Woodpecker
Yellow-bellied Sapsucker
Downy Woodpecker
Hairy Woodpecker
Northern Flicker
Warbling Vireo
Red-eyed Vireo
Blue Jay
American Crow
Black-capped Chickadee
Brown Creeper
White-breasted Nuthatch
Ruby-crowned Kinglet
Golden-crowned Kinglet
American Robin
Gray Catbird
Cedar Waxwing
2 Tennessee Warblers
1 Orange-crowned Warbler
1 Northern Parula
1 Chestnut Sided Warbler
1 Magnolia Warbler
4 Yellow-rumped Warbler
3 Black-throated Green Warbler
1 Blackburnian Warbler
1 Blackpoll Warbler
1 American Redstart
2 Ovenbirds
Northern Cardinal
---
Sean Fitzgerald on 9/24 reported via eBird: Both a Fox Sparrow and two Pine Siskins this morning at Nelson Lake/Dick Young Forest Preserve. Other species of note included Buff-breasted Sandpiper, Eurasian Collared-Dove, Black-billed Cuckoo, Golden-crowned and Ruby-crowned Kinglets, Swainson's, Hermit and Wood thrushes, American Pipit, and Boblink.
---
Sue Wagoner on 9/23 reported via e-mail: The Pokeweed in my backyard was responsible for the appearance of this Swainson's Thrush - one of 3 in my yard September 13. There was also a Grey-Cheeked Thrush who avoided the camera.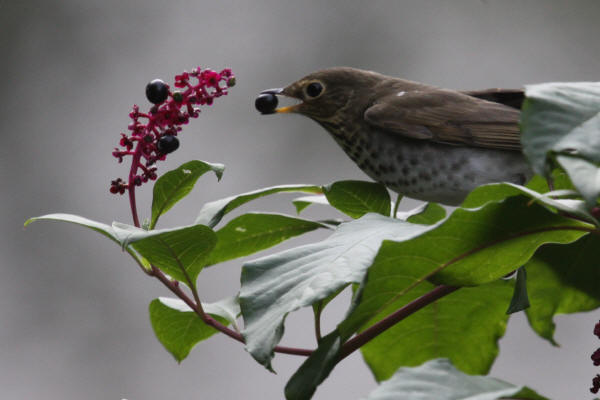 Swainson's Thrush photo courtesy Sue Wagoner
---
Marion Miller on 9/23 reported via e-mail: Rich and I visited Jon Duerr F.P. this afternoon from 4p-5:30p and had constant warbler sightings all within the parking lots areas and a short distance along the bushes going south. Ten warbler species were seen: Tennessee (14), Yellow-rumped (10), Palm (9), Nashville (2), Black-&-white (2), Cape May (2), Magnolia (2), Yellow (1), Black-throated Green (1) and Ovenbird (1). Other highlights were Red-breasted Nuthatch, Ruby-crowned Kinglet and an unexpected Black-billed Cuckoo. When we left the warblers were still flying among the trees near the river.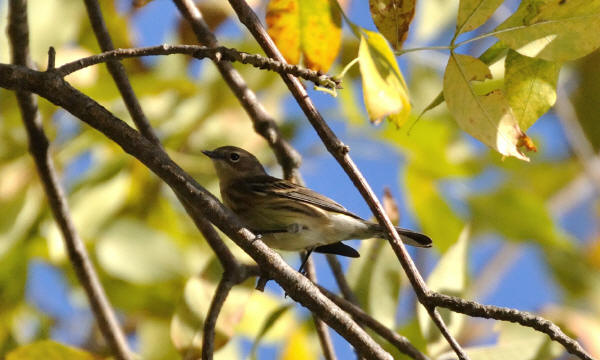 Yellow-rumped Warbler photo courtesy Rich Miller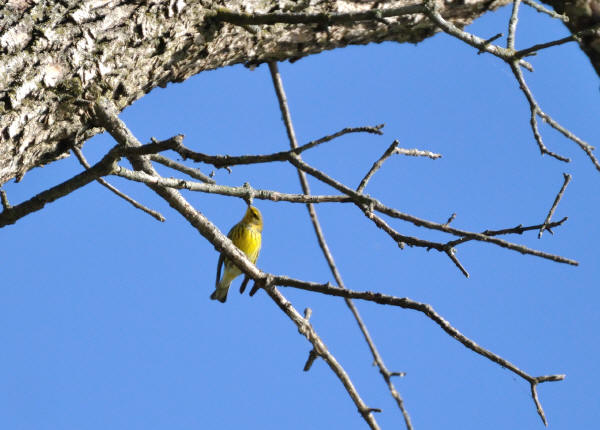 Cape May Warbler photo courtesy Rich Miller
---
Bob Andrini on 9/20 reported via e-mail: Today's ramble at Quarry Park in Batavia produced 13 different species of warblers along with many other south bound migrants. Some of the noteworthy warblers were:
Golden-winged
Northern Parula
Chestnut- sided
Cape May
Blackburnian
We were also treated to a group of Broad-winged hawks high in the sky.
---
Christopher Cudworth on 9/20 reported via IBET: Birded the bike trail loop north from Fabyan FP

Species seen:
(Note: While the diversity of species of fall warblers and vireos was not high, the numbers of these birds was impressive, with activity spread from the bottom layers of the canopy to the top of the oaks. Main activity started at 8:30 and lasted strongly through 9:00 a.m. and then quieted down completely)

*Tennessee Warbler*
*Chestnut sided warbler*
*Redstart*
*Yellow rumped warbler*
*Nashville warbler*
*Wilson's warbler*
*Red-eyed vireo*
Phoebe
Cedar waxwing
Blue jay
Catbird
Scarlet tanager (non breeding plumage)
Robin
Grackle
Starling
Chimney swift
Wood duck
Mallard
Canada geese
Solitary sandpiper
Cardinal
Black capped chickadee
White breasted nuthatch
Swainson's thrush
Ruby crowned kinglet
Downy woodpecker
Red-bellied woodpecker
Common Flicker
Ring-billed gull
Great egret
Double crested cormorant
---
Scott Cohrs on 9/19 reported via e-mail: Another harbinger of things to come… There was a Snow Goose on the campus of Wredling Middle School this morning, just west of Kirk Rd. This is presumably the same bird that Liza Gray reported just a few days ago very near to this location.

Looked to have some gray tones mixed in, so possibly a juvenile bird.
---
Sean Fitzgerald on 9/19 reported via eBird: A harbinger of winter: a Dark-eyed Junco at the Outlet Mall marsh on Farnsworth Avenue in Aurora.
---
Debbie Wisser on 9/18 reported via e-mail: I worked half a day today, and thought I would get some exercise by walking the Fox River Trail. I headed to SEBA park in South Elgin, and brought my binoculars "just in case." Any thoughts of a cardiovascular workout were dashed right away. There were pockets of warblers all along the trail from SEBA to the Sterns Road bridge. Tennessee Warblers were the most numerous, but I also saw Black and White, Magnolia, Nashville, Blackburnian, Chestnut Sided, Black throated Green, and Blackpoll. It quieted down a bit south of the bridge, then picked up again at the entrance to Jon Duerr FP. The island of trees and shrubs between the bridges was full of birds. Here, I picked up a Cape May, Bay Breasted, and a Northern Parula. I've never seen a Parula in the fall, and this one gave me great looks. There was also a Red Breasted Nuthatch and Swainson's Thrush in the mix.
Robins were very active chasing each other, and chasing warblers as well. I nearly got hit in the head by a couple as they flew by.
Great Egrets, Great Blue Herons, Green Herons, and Double crested Cormorants were busy fishing, and there were at least 30 shorebirds working the waters North of the Sterns bridge on my way back to SEBA. Mixed in with all the Mallards were some Blue Winged Teal. When I got back to SEBA, there were 28 Turkey Vultures gliding overhead. It was a beautiful afternoon, and I'm sure glad I brought those binoculars! I never would have expected so much activity during a walk that started at 1:15 pm!
---
Kurt Frieders on 9/18 reported via e-mail: We have birded Oakhurst FP Friday, Sunday, and Monday and saw a lot of good birds. Andrew reported on many of them from the walk he lead on Saturday. We saw many of the same as well some additional birds. There are currently more Blue Jays, Catbirds, and Ruby-Throated Hummingbirds than we have ever seen there. There has been a good selection of warblers including Black and White, Blackpoll, Tennesee, Northern Waterthrush, and our first ever (for Oakhurst) Worm-Eating Warbler (found on Sunday only). We also have seen Pie-Billed Grebes, Red-Tailed Hawks, Red-Bellied Woodpeckers, Northern Flickers, Common Yellowthroats, Ruby-Crowned Kinglets, Swainson's Thrushes, Philadelphia Vireos, Eastern Bluebirds (Friday only), and a single Eastern Wood-Pewee.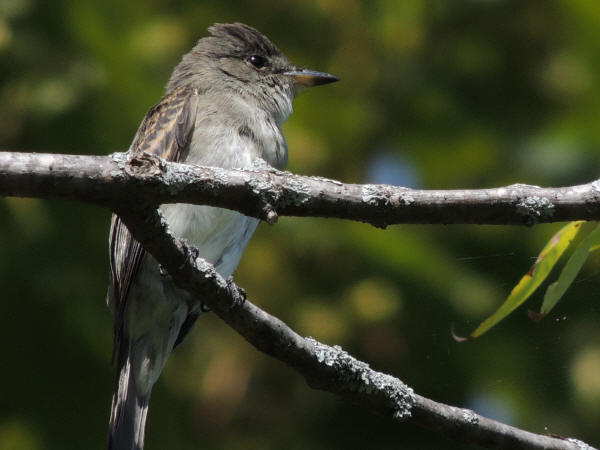 Eastern Wood-Peewee photo courtesy Kurt Frieders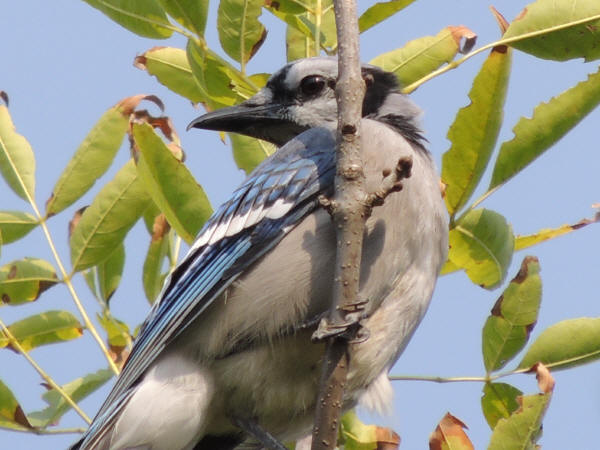 Blue Jay photo courtesy Kurt Frieders
---
Pete Moxon on 9/18 reported via e-mail: A fine day at John Duerr Forest Preserve on Monday. Here's what I had:

Tennessee 648
Nashville 26
Magnolia 33
American Redstart 23
Cape May 43
Blackpoll 38
Bay-breasted 31
Black and white warbler 17
Black throated green 16
Chestnut-sided 13
Northern waterthrush 11
Blackburnian 7
Ovenbird 6
Northern Parula 5
Wilson's 4
Common yellowthroat 3
Canada 2
Golden-winged 3
Blue winged 1
Yellow 1
Palm 18
Yellow-rumped 6
Gray-cheeked thrush 7
Wood thrush 2
Swainson's thrush 26
Veery 1
Lesser yellowlegs 42
Greater yellowlegs 2
Solitary Sandpiper 4
Spotted Sandpiper 2
Osprey 1
Peregrine Falcon 1
Broad-winged hawk 3
Philadelphia vireo 5
Red-eyed vireo 13
Yellow-throated vireo 3
Blue-headed vireo 1
Scarlet tanager 2
---
Julie Long on 9/17 reported via IBET: Yesterday, Sunday, Sept 16 there were three dunlin along with 7 lesser yellowlegs and 1 greater feeding in the shallow lagoon at boy scout island, just north of downtown St Charles along rt 31. The river is so very very low that the lagoon only has a few inches of water in it.
---
Sandy Olsen on 9/16 reported via e-mail: Tonight heard the familiar sound of a great horned owl on a neighboring house in Geneva township, but then heard a loud unusual screeching noise that went from tree to tree and then settled about 2 houses from where the Great Horned Owl was sitting. After doing a search on the web, I am convinced it was a Barn Owl. Very exciting for an owl nut like me!
---
Marion Miller on 9/16 reported via e-mail: After a beautiful Oakhurst Bird Walk on Saturday, Rich, Theresa, and I stopped by a subdivision pond in Aurora. Highlights in the water were Pied-billed Grebes, a Green Heron, and a Sora. Our surprise sight was a "lifer" Blue-headed Vireo in a small sapling within 6 feet of where we were standing.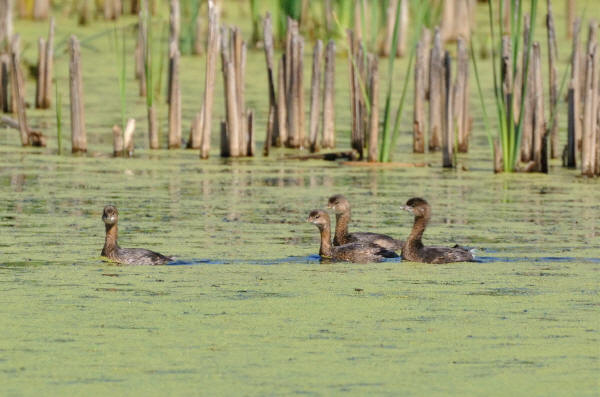 Pied-billed Grebes photo courtesy Rich Miller
---
Sue Wagoner on 9/15 reported via e-mail: Friday, 9-14 I also saw some of the many warblers along the Fox River at Jon Duerr Forest Preserve- apparently a "fallout" from the rain Thursday night-- Also seen was this immature Red-Headed Woodpecker.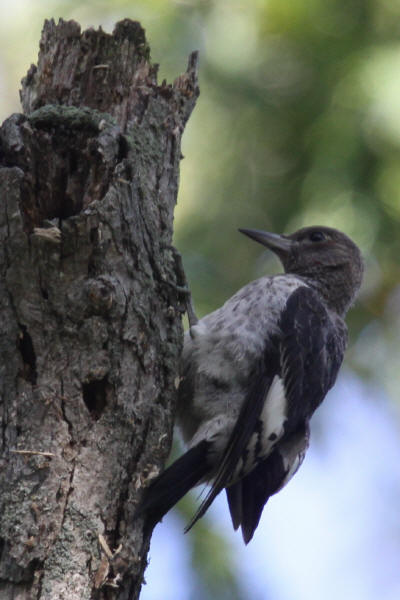 Juvenile Red-headed Woodpecker photo courtesy Sue Wagoner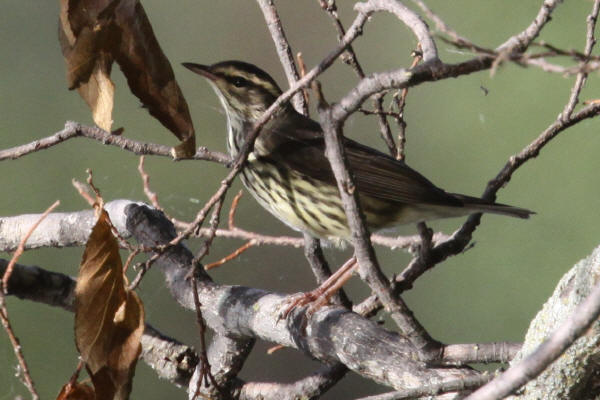 Northern Waterthrush photo courtesy Sue Wagoner
---
Andrew Aldrich on 9/15 reported via e-mail: 22 people spent a few hours at Oakhurst Forest Preserve in Aurora this morning. Although the weather was beautiful, the warbler numbers seem to have dwindled. Still, we managed to find 52 species. The highlight was flushing several Broad-winged Hawks throughout the course of the hike, and seeing them form kettles overhead. We had at least a dozen. Other species of note: Ruby-throated Hummingbird, Red-headed Woodpecker, Philadelphia Vireo, multiple Red-eyed Vireos, 4 Red-breasted Nuthatches, Carolina Wren, Ruby-crowned Kinglet, multiple Swainson's Thrushes, Brown Thrasher, Common Yellowthroat, American Redstart, Black-and-white, Tennessee, Nashville, Magnolia, Chestnut-sided, and Blackpoll Warblers, Eastern Towhee, Rose-breasted Grosbeak, and Eastern Meadowlark. Pied-billed Grebes and American Coots were the only species of note on the lake.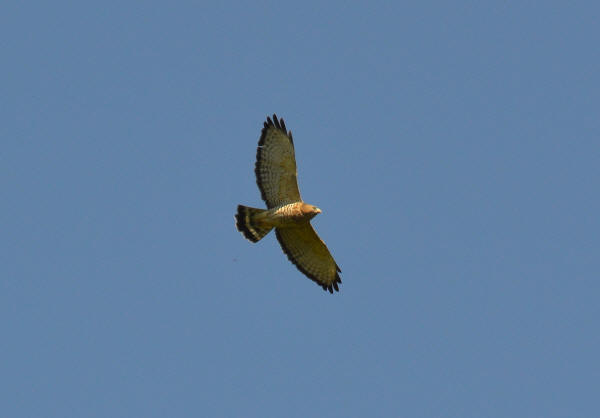 Broad-winged Hawk photo courtesy Larry Granat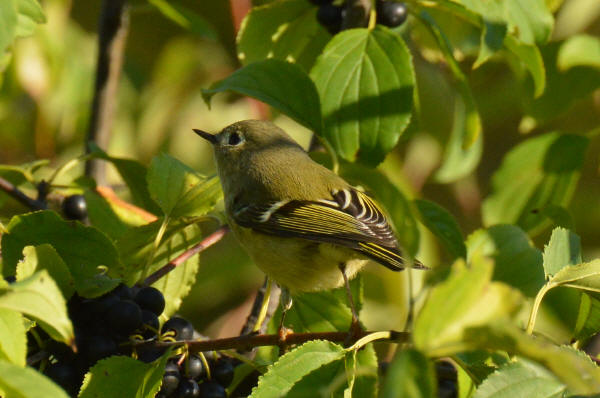 Ruby-crowned Kinglet photo courtesy Larry Granat
---
Julie Long on 9/15 reported via e-mail: There were hundreds and hundreds of a variety of warblers at Jon Duerr forest preserve on Friday morning along the Fox River, feasting on the little mosquito type insects among other insects. They were low in the shrubs to high in the treetops. It took two hours just to go from the parking lot to the bike trail! It was just one of the only a few in the lifetime opportunities! I assume they had come in the night before ahead of or during the rain with the northwest winds.
---
Pete Moxon on 9/14 reported via text message: I'm at Nelson Lake and there are literally thousands of swallows and swifts. They are swarming over the marsh specially the north end at first and now over the entire area but especially over the vegetated areas over the marsh. In my scope in bins even on the other side I can see song that I just dots. A female hairier is hunting the marsh. The group of swallows contains all 5 of the expected swallows but mostly trees and rough wings. 2 pair of sandhill cranes There's a couple black bellied plumbers on the other side of the marsh And a group of what appears to be Pectorals with a few Lesser yellow eggs--
---
Julie Long on 9/11 reported via e-mail: Today, Sept 11 I was having lunch in the cantina at the south end of Third St in Geneva, and noticed a red shouldered hawk circling fairly low above the train station.
---
Chris Mussachio on 9/11 reported via e-mail: 30 plus great egrets today at the Carpentersville Dam. What a sight to see. Half a dozen ring-billed gulls doing some fishing and a couple of straggler great blue herons to add some color. Took over 100 shots and wasn't even there and hour. On a sad note. Our much loved "eagle tree" is down and in the water in Carpentersville just south of the Main Street bridge. Hopefully they'll find another tree to hang out in. Can't wait for there return.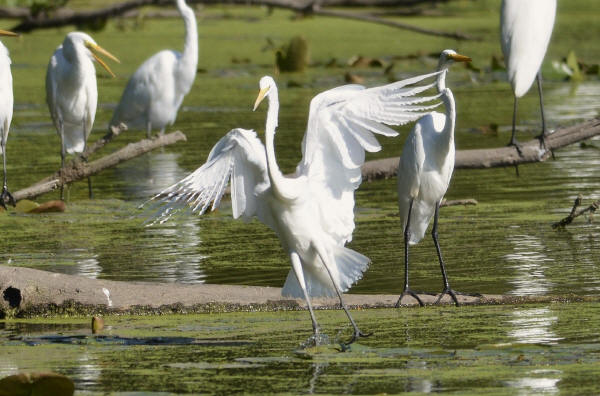 Great Egrets photo courtesy Chris Mussachio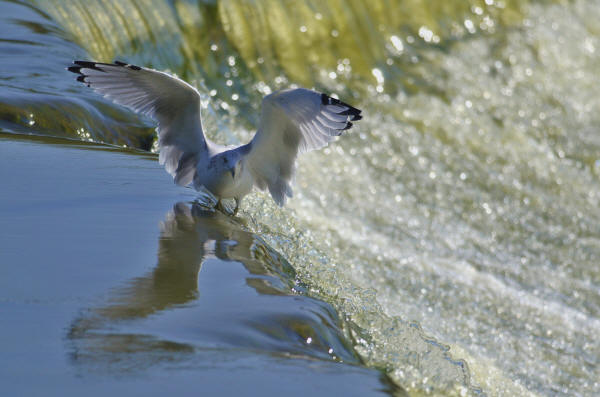 Ring-billed Gull photo courtesy Chris Mussachio
---
Marion Miller on 9/10 reported via e-mail: Although I wasn't planning to bird today because of a "To do" list a mile long, I decided to do a quick Leroy Oaks FP drive through. As I drove near the newly paved areas, I noticed a puddle of water on the old gravel road. Some American Goldfinches were drinking and bathing there. I pulled my car near the puddle and watched. What a great show began. A total of 13 species came to enjoy the puddle, with the highlights being Tennessee Warblers, Nashville Warbler, Blackpoll Warbler, American Redstart, Swainson's Thrush, Eastern Bluebird, Chipping Sparrows and a Northern Flicker. Other birds of interest seen while at Leroy Oaks where Brown Thrasher, Black-and-white Warbler, Philadelphia Vireo and Red-breasted Nuthatch.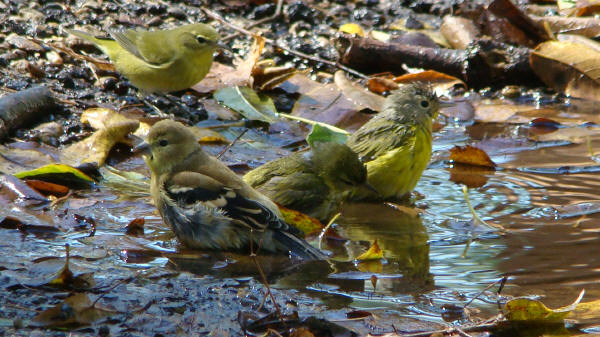 Bird Spa photo courtesy Marion Miller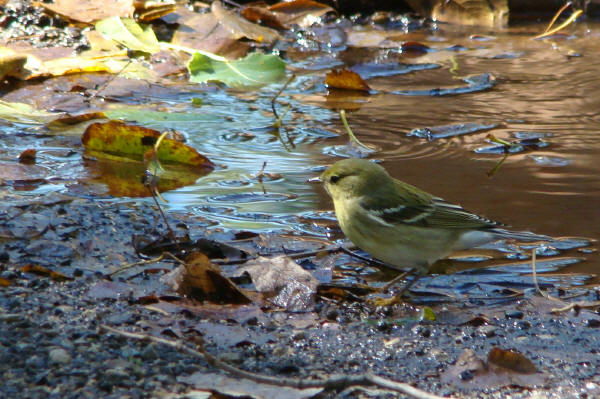 Blackpoll Warbler photo courtesy Marion Miller
---
Kurt Frieders on 9/10 reported via IBET: There was quite a bit of bird activity in our [Aurora township] yard yesterday. We had a pair of Ruby-Throated Hummingbirds fighting over the same feeder. We have three different hummingbird feeders, but of course they wanted the same one. We also added a new yard bird to our list. Until yesterday we had never observed a White-Breasted Nuthatch in our yard. For some reason this very common bird had never visited our yard until a mature male showed up on our peanut feeder yesterday morning. The are still a lot of Cedar Waxwings in our our yard. Other birds seen were Cardinals, Goldfinches, Red-Tailed Hawks, Killdeer, and a Blue Jay.
---
Ken Schneider on 9/8 reported via e-mail: During a brief visit to Nelson Lake this morning, I encountered a small flock of warblers, of which I identified 4-5 as Tennessee. Then two Cape May Warblers appeared, foraging together. Also saw a (presumed) Least Flycatcher. In mid-morning we proceeded to Bliss Woods, which had lots of Redstarts, a Black-and-white and a few Tennessee Warblers, but was otherwise not very birdy. We did see a nice Swainson's Thrush and a Hairy Woodpecker.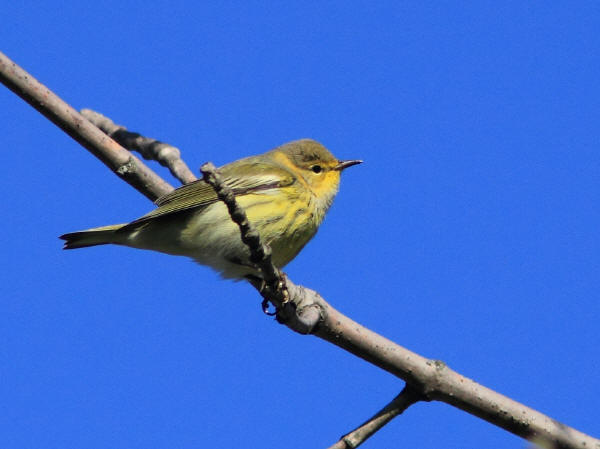 Cape May Warbler photo courtesy Ken Schneider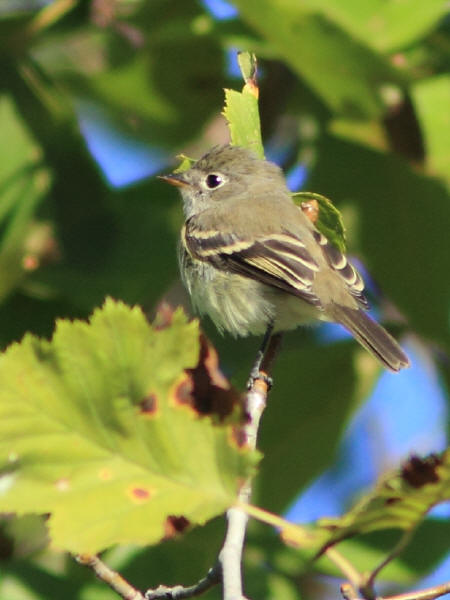 Least Flycatcher photo courtesy Ken Schneider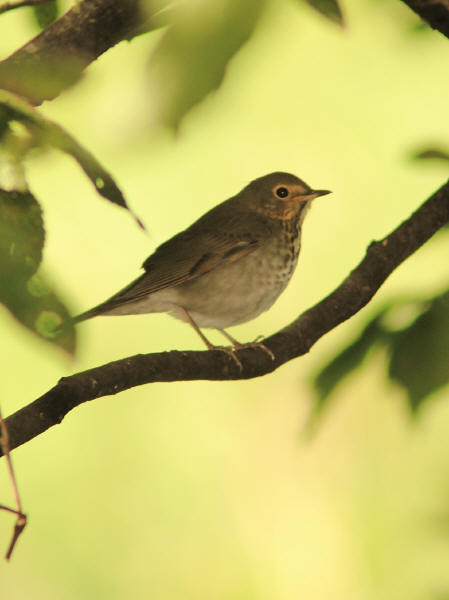 Swainson's Thrush photo courtesy Ken Schneider
---
Christopher Cudworth on 9/8 reported via IBET: ...I got out to bird this morning at Les Arends FP in Batavia.

Had 11 species of warblers including Wilson's, lots of Redstarts, Chestnut-sided.

Was a little hampered as I've got a broken collarbone from a cycling accident last weekend and wasn't quick enough on the draw in some cases when the warblers all came alive at 8:15. But it was still fun.

Also had RBGB [Rose-breasted Grosbeak] and Brown Thrasher, but nothing really exotic.
---
Pete Moxon on 9/7 reported via phone and text: Although some may be hiding in the vegetation, no shorebirds were visible at Nelson Lake. Literally thousands of swallows and swifts, though.
At the Kaneville sod farm, four Buff-breasted Sandpipers at first were at the east end where the sod starts, then began working their way west along the grass line.
---
Ken Schneider on 9/6 reported via e-mail: At Bliss Woods this morning Mary Lou and I had 32 species. I photographed an Olive-sided Flycatcher high in a dead tree near the top of the paved loop, as well as a Philadelphia Vireo. We saw 2 Swainson's Thrushes, and encountered several small warbler flocks along the paths near the parking lot. I photographed Golden-winged, Black-and white, American Redstart, Magnolia, Bay-breasted, Chestnut-sided and several Black-throated Green Warblers. Also ID'd a Tennessee warbler.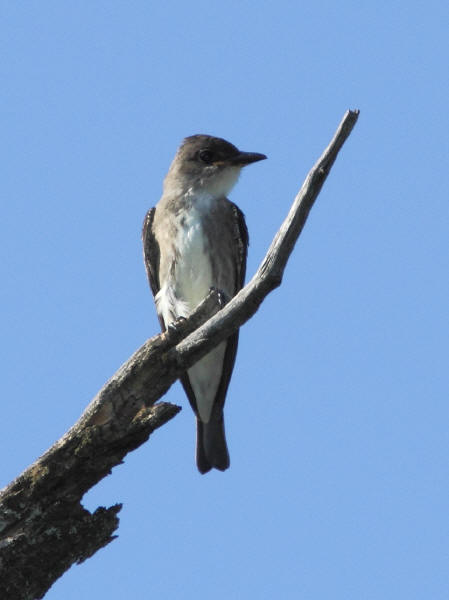 Olive-sided Flycatcher photo courtesy Ken Schneider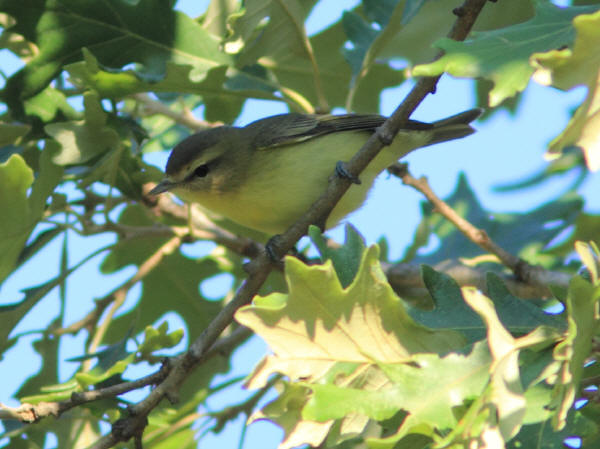 Philadelphia Vireo photo courtesy Ken Schneider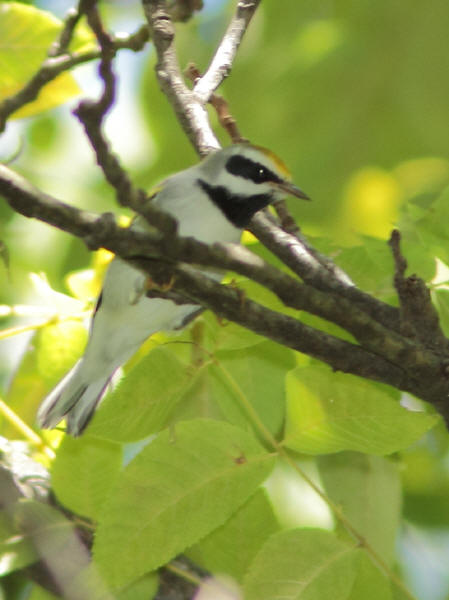 Golden-winged Warbler photo courtesy Ken Schneider
---
John Janunas on 9/6 reported via e-mail: Found this and a herd of Blue Birds at Bliss Woods but no iced tea!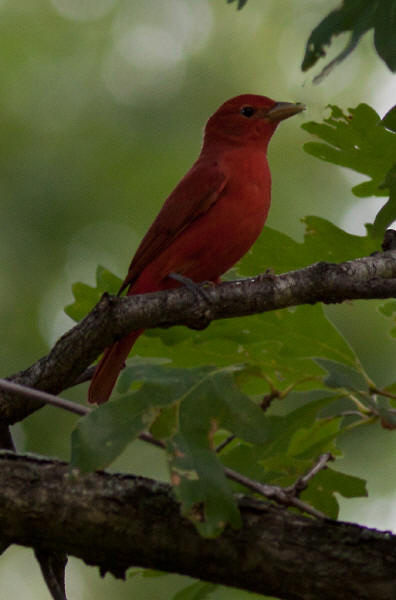 Summer Tanager photo courtesy John Janunas
---
Chris Madsen on 9/4 reported: Carla and I made a quick stop at Bliss FP yesterday afternoon at about 4. Considering the hour and the heat, the preserve was relatively birdy. Some of the more interesting birds seen while seated at a picnic table, sipping our iced tea were Red-headed Woodpecker (2?), Red-eyed Vireo, Eastern Bluebirds, American Redstarts, Tennessee, Chestnut-sided, Magnolia, and Connecticut warblers. The highlight of the stop - a pair of Summer Tanagers.
---
Al Stokie on 9/3 reported via IBET: ...Dunteman's Turf Farm had very little to look at today. All I saw were about 40 Killdeer & about 10 Horned Larks. No Buffies or Golden Plovers today...
---