---
Marion Miller on 9/28 reported via e-mail: Rich and I walked Hickory Knolls prairie trails off Rt 38 and then the Southwest wetlands and wooded area. Highlights were 50+ Cedar Waxwings, Yellow-bellied Sapsucker, Rose-breasted Grosbeak, Black-throated Green Warblers and a Great Horned Owl.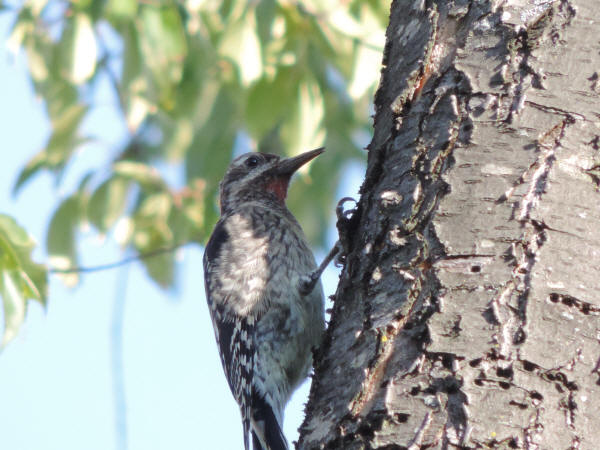 Yellow-bellied Sapsucker photo courtesy Marion Miller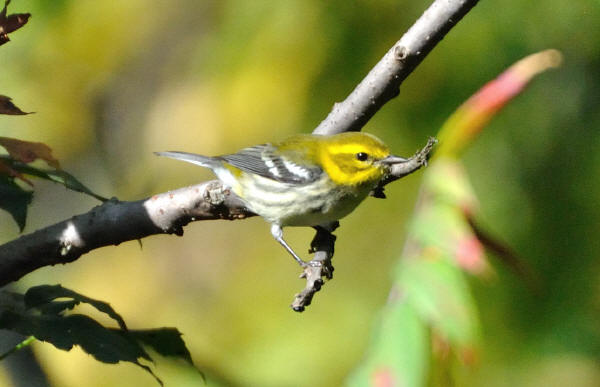 Black-throated Green Warbler photo courtesy Marion Miller
---
Jackie Bowman on 9/28 reported via e-mail: Our walk around Peck Farm late morning/early afternoon yielded a flock of 8 Greater Yellow Legs, four Lesser Yellow Legs, one Solitary Sandpiper, one Dowitcher, 2 Sandhill Crane, flock of Blue Winged Teal, and five Wilson's Snipe. The only warblers we saw were a few Yellow Rumps. Not a bad day at all!
---
Julie Long on 9/27 reported via e-mail: A group of us had a tagged red tailed hawk this morning at the bridge across the Fox river at Jon Duerr Forest Preserve. I believe it was probably one of the ones that are being tagged in the Ohare airport study.

We also had four species of vireos, blue headed, red eyed, yellow throated and philadelphia. Lots of yellow rumped warblers, too.
---
Sue Wagoner on 9/25 reported via e-mail: On a different note, there seems to be an "explosion" of White-Lined Sphinx Moths, the ones that look like hummingbirds coming to our flowers. An entomologist from Peggy Notebaert Butterfly Museum confirmed this via the radio, although he did not say why. I had two in my yard for over two weeks-- they are slowing down now. How can you not love a "bug" with an eye like that?
Also, I had a Robber fly in my yard earlier in the summer- they can imitate other insects in their appearance and this one was a perfect Bumblebee imitation when it landed in front of me with a Soldier Beetle in its jaws! They apparently catch their prey on the fly.
My third "fun bug" was this Giant Swallowtail, also at my flowers...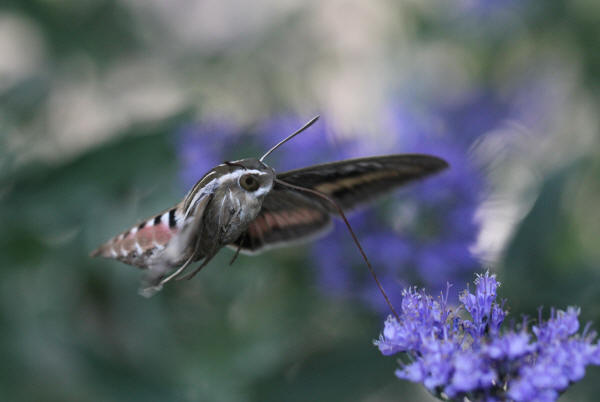 White-lined Sphinx Moth photo courtesy Sue Wagoner
Robber Fly photo courtesy Sue Wagoner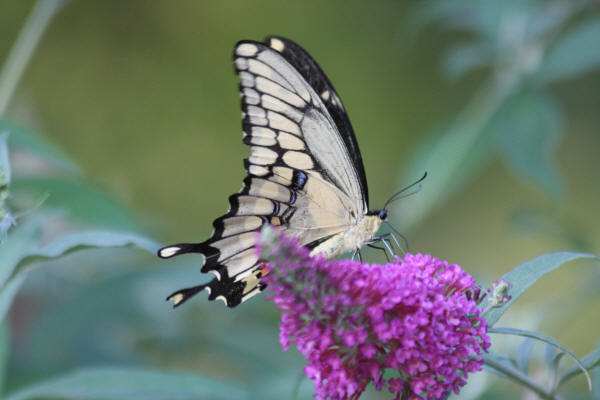 Giant Swallowtail photo courtesy Sue Wagoner
---
Marion Miller on 9/24 reported via e-mail: Went to Settler's Ridge (Sugar Grove subdivision) marsh yesterday. I found Nelson's Sparrows near the water edge and on the grasses near the water. Also Song, Savannah, and Swamp Sparrows present. Other notables were 2 Greater Yellowlegs and 1 Lesser Yellowlegs. Today we had our first of season Red-breasted Nuthatch at our peanut feeder.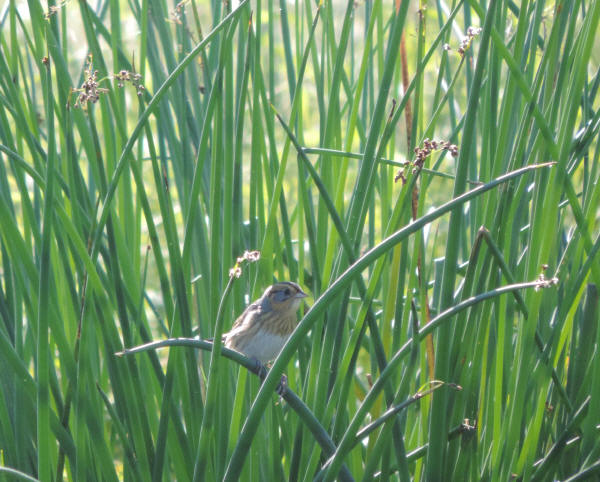 Nelson's Sparrow photo courtesy Marion Miller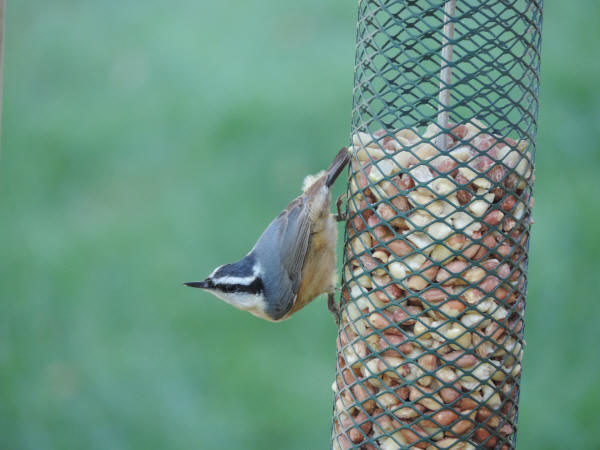 Red-breasted Nuthatch photo courtesy Marion Miller
---
Chris Mussachio on 9/23 reported via e-mail: Didn't pass this buck in Carpentersville.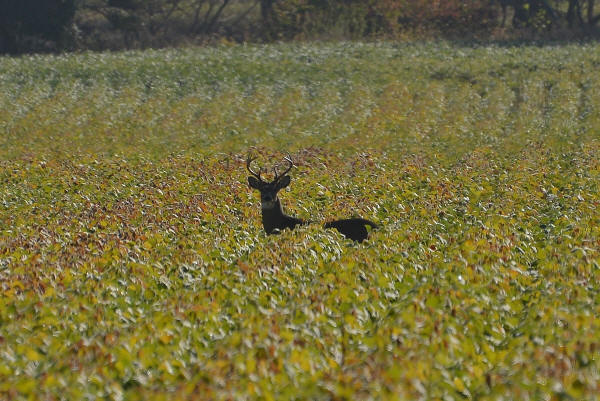 White-tailed Deer photo courtesy Chris Mussachio
---
Julie Long on 9/22 reported via eBird: Seeing a Golden-winged Warbler in her yard in St. Charles.
---
Jack Pomatto on 9/20 reported via e-mail: Today, 9/20/13, along the bike trail south of Quarry Park in Batavia a few of us had 11 species of migrant warblers. There were large numbers of birds in many flocks with the majority being Tennessee Warblers.

Warbler Species:
Am. Redstarts
Nashvilles
Tennessees
Black and white
Black-throated greens
Chestnut-sideds
Blackpoll
Blackburnians
Yellow-rumped
Cape May
Orange-crowned

Others of species note;
Red-eyed Vireo ( singing )
Yellow-throated Vireo ( singing )
---
Jackie Bowman on 9/17 reported via e-mail: This afternoon we took a walk out in search of shore birds at Prairie Green. As we approached the marsh it was evident there were no shore birds to be seen. Rounding the southeast corner of the marsh we found out why.....a Merlin was sitting on the mud flat!! He flew off to the north chasing some Savannah Sparrows. Other sightings there included Marsh Wren, Palm Warbler, female Rose Breasted Grosbeak and a group of Bobolinks.

While the numbers were few, the Merlin sighting made our walk worthy.

On a side note - we did see a Nelson's Sparrow at PG Saturday morning.
---
Tim Balassie on 9/16 reported via IBET: I apologize for the late post. Encountered two BAIRD'S SANDPIPERS on Saturday at Hickory Knolls Natural Area. The birds were located at the retention pond on the south side of the athletic fields complex. Also present were LESSER YELLOWLEGS, SEMI-PALMATED PLOVER AND PECTORAL SANDPIPER, along with the usual waterbirds and gulls.

Had an interesting bird later in the day at Fermi. I am assuming the bird was an AMERICAN GOLDEN PLOVER, located in the dry lake bed at the far south side of A.E. Sea. The bird was molting, and had a smudgy black stomach and the start of white neck stripes, but retained a white vent. I also did not see an exceedingly white supercilium or very dark cap. I was thinking BLACK-BELLIED PLOVER because the rear was still so white, but am not familiar with this species and just wasn't sure. Was thinking that American would show emerging black from throat to rear. I know a few birders were there on Saturday; did anyone else see this bird?
---
Tim Balassie on 9/12 reported via IBET: Just a mention for those looking that Bill Koch and I observed two Stilt Sandpipers today at Jon Duerr FP. The birds were on a low spot on the Fox next to the Stearns Rd. bridge. A few warblers were seen as well, including Golden-winged, Magnolia, Redstart, Black and White, Yellow-rumped, Bay-breasted, Nashville, Black-throated Green, Parula and Tennessee (probably missed some, Bill).

Also observed four or so Solitary Sandpipers off of the bike bridge between Duerr and Tekawitha. I thought these birds interesting because of - in my opinion - the large thick bills on three of the four. At first I couldn't reconcile the bill size to the rest of the bird; I'm used to seeing SOSAs with thin, medium-length bills. A function of age?

Norris Woods Park in St. Charles had a nice movement of warblers. All of the above, as well as Black-throated Blue and Chestnut-sided.
---
Darrell Shambaugh on 9/12 reported via IBET: Wednesday about 1:30 PM 9 AMERICAN GOLDEN PLOVERS were north of Main Street at Duntemanís Sod Farm in Kaneville. Other species there were KILLDEER, HORNED LARK, and BARN SWALLOWS. The plovers were close enough to Main Street to identify thru binoculars, but a scope gives much better views.
---
Ken Schneider on 9/11 reported via e-mail: Thanks to a heads-up from Marion, we made our sixth trip to the Kaneville sod farm over the past three weeks and finally saw two American Golden-Plovers. They were far down at the east end of the field past the houses at the north end of Bateman Rd., just SW of I-88. Images were from quite a distance and are heavily cropped.

American Golden-Plover photo courtesy Ken Schneider
---
Marion Miller on 9/10 reported via IBET: Looking at 4 American Golden Plovers in the field next to I 88 at the back of the [Dunteman] sod farm. They are in the area being watered with the sprinklers right now. Scope needed.
---
Chris Mussachio on 9/9 reported via e-mail: Saw this Red-Tailed Hawk at Buffalo Park doing the strangest thing I've ever seen a hawk do. It was going across the river and back and doing that over and over again, but could not tell what it was looking for. Lucky for me it came close enough one time to get some shots.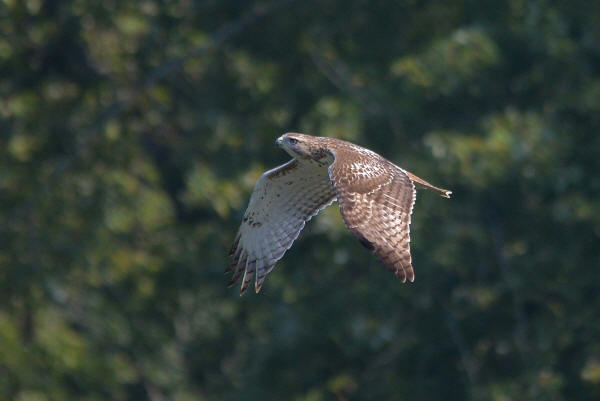 Red-tailed Hawk photo courtesy Chris Mussachio
---
Jack Pomatto on 9/6 reported via e-mail: Today, 9/6/13, at Quarry Park, Batavia (along the bike trail) we had four nice flocks of migrating warblers with the vast majority being Tennessees , but comprised of six species. The winds were out of the ENE and NNE through much of the night.
Species:
Tennessee Warblers
Blackpoll Warblers
Bay-breasted Warbler
American Redstarts
Nashville Warblers
Golden-winged Warbler
and a Yellow-bellied Flycatcher
---
Ken Schneider on 9/5 reported via e-mail: At Lippold Park this morning Mary Lou and I saw 38 species including 9 warblers plus a couple of "Baypolls." The light was horrible and we probably missed a few in the two or three flocks of up to a dozen that moved through along the river and the trail from the parking lot. Pretty sure of ID of one Blackpoll-- pinkish legs, white undertail coverts. Also saw and photographed Swainson's Thrush, Red-eyed Vireo, Hairy Woodpecker and Great Crested Flycatcher. Almost certain we heard a Yellow-bellied Flycatcher but could not see it. (I recorded its call at Hannaford Woods two days ago and also could not find it). Other warblers: Black-and-white, Black-throated Green, Blackburnian, Tennessee, Magnolia, Chestnut-sided, American Redstart and Common Yellowthroat.

At Bliss Woods on September 3 there were at least two House Finches with eye infections. More photos on my FLICKR pages.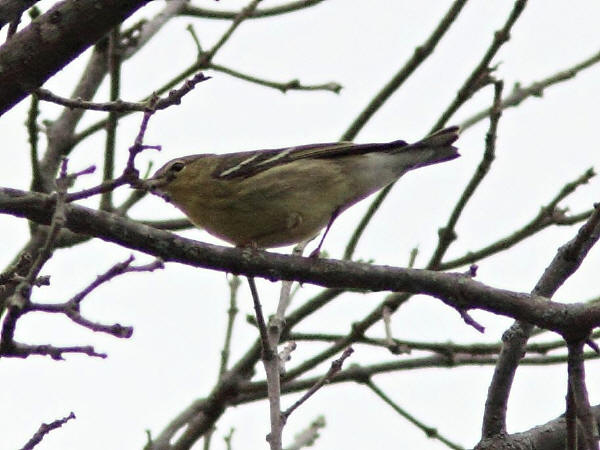 Blackpoll Warbler photo courtesy Ken Schneider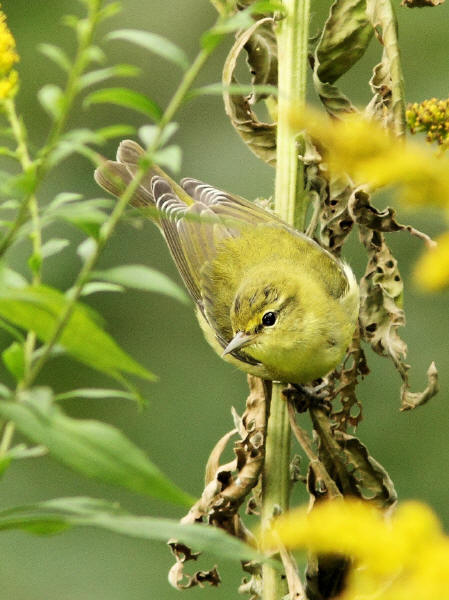 Tennessee Warbler photo courtesy Ken Schneider
---
Steve Smith on 9/5 reported via IBET: I got a quick look at an adult and a juvenile BC Night Herons on the pond off Bowes between Randall and McLean on the Elgin/S. Elgin border tonight at 7:15.
---
Ken Schneider on 9/2 reported via e-mail: At Quarry Park this morning Mary Lou and I only saw two Tennessee Warblers, our only warbler species. I heard a Carolina Wren singing and found two at the area cleared of vegetation along the bike trail behind a home about 200 yards south of the parking lot. At Fabyan West FP, I heard quite a commotion in an oak east of the rest room and found two and possibly a third Red-headed Woodpecker. There was one adult but I was only able to get a poor photo of an immature that showed a bit of red on its head. Also saw a Hairy Woodpecker NW of the Japanese Garden.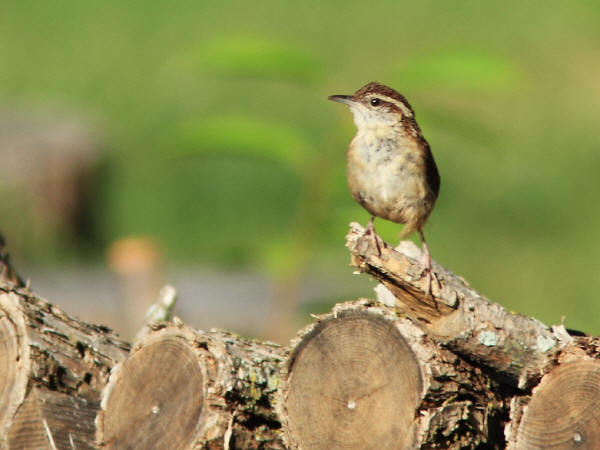 Carolina Wren photo courtesy Ken Schneider
---
David Philips on 9/2 reported via IBET: There was 1 Osprey just north of the dam in Batavia from around 2PM to 3PM. It was circling the area so it was possible to get a lot of very good looks at it. It then flew slightly to the north towards Fabyan and just out of view.

There was also 6+ Great Egrets and 3 Great Blue Herons around the dam, as well as one Kingfisher on the east bank about 1/4th of the way toward Fabyan. Of course, about 20 Cormorants scattered around as well. Nothing else except some Goldfinches, Killdeer (on the island) and Mallards, but the Osprey and nice weather made it all worth it!
---