---
Diane Trautt on 9/30 reported via e-mail: I spotted this white pelican this morning just to the north of the North Aurora dam. My first pelican on the Fox River.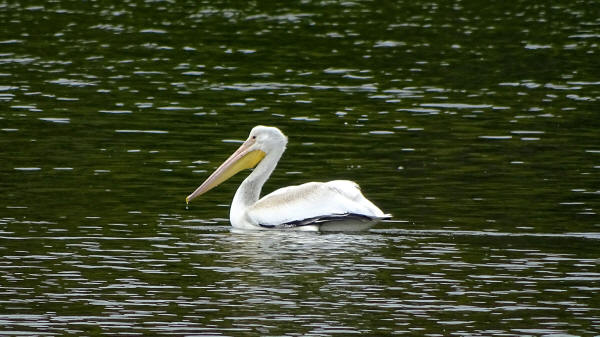 American White Pelican photo courtesy Diane Trautt
---
Ken Schneider on 9/29 reported via e-mail: Thanks to advice from Marion, we visited Prairie Green looking for three target sparrows: Swamp, Lincoln's and the unlikely Nelson's. We got all three, and my first ever photos of the Nelson's as well as the Marsh Wren which has been my nemesis photo bird.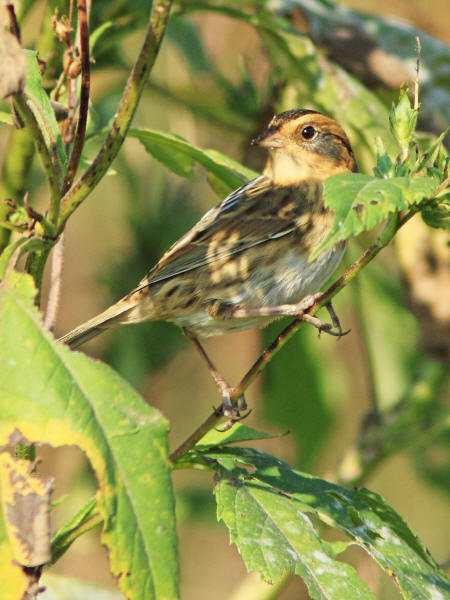 Nelson's Sparrow photo courtesy Ken Schneider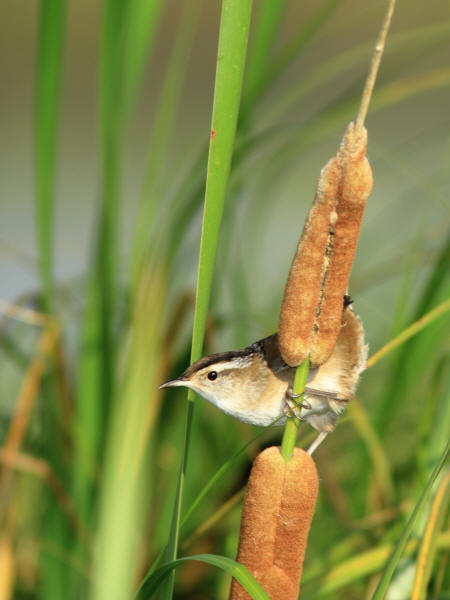 Marsh Wren photo courtesy Ken Schneider
---
Marion Miller on 9/26 reported via e-mail: Checked out the marshy and prairie areas off Parkside Dr. in Settlers Ridge subdivision (Sugar Grove) for Nelsonís Sparrows on Thursday afternoon, but came up empty. While exploring I enjoyed the many Palm Warblers and Savannah Sparrows blending in the autumn foliage colors. On Friday, Theresa LeCompte and I went to Prairie Green and were able to relocate the Nelsonís Sparrows found on Sunday by Scott Cohrs. Many Marsh Wrens, Lincolnís Sparrows and Swamp Sparrows also present.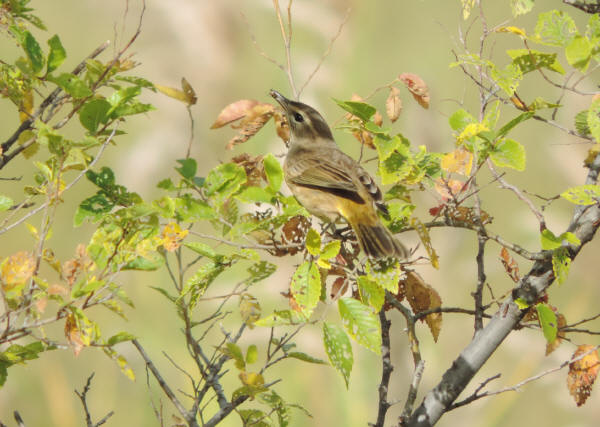 Palm Warbler photo courtesy Marion Miller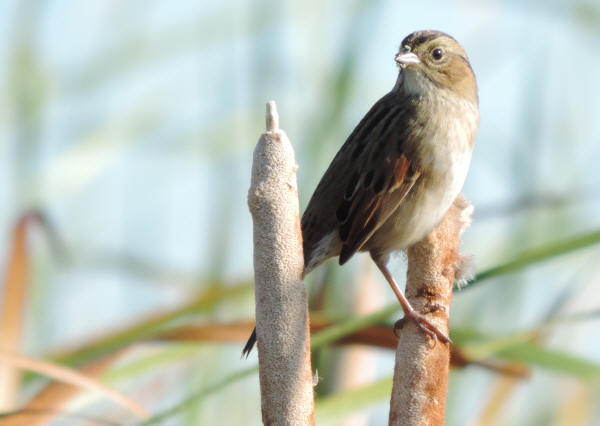 Swamp Sparrow photo courtesy Marion Miller
---
Chris Mussachio on 9/26 reported via e-mail: Surprise visit by this Great Horned Owl along the Fox River in Carpentersville.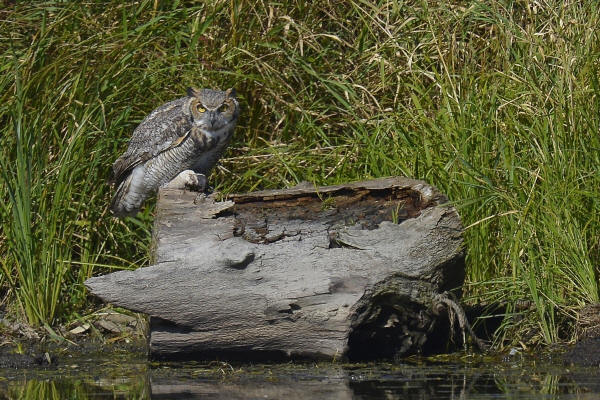 Great Horned Owl photo courtesy Chris Mussachio
---
Walter Lutz on 9/25 reported via e-mail: Still huge number of Chimney Swifts going into the Marberry Cleaners chimney Thursday night. Started roughly 6:50; all in by about 7:12. Pretty amazing.
---
Ken Schneider on 9/25 reported via e-mail: This morning 9/25 Mary Lou and I arrived at the sod farm in Kaneville at about 8:15 AM and found no birds out on the fields until we drove all the way in to the north end. There, in addition to hundreds of starlings and scores of Killdeer we found three American Golden-Plovers. No other sandpipers were in sight. We also checked the sod fields across Main Street to the southwest and found them vacant. All irrigation was being carried out at a distance from the roads.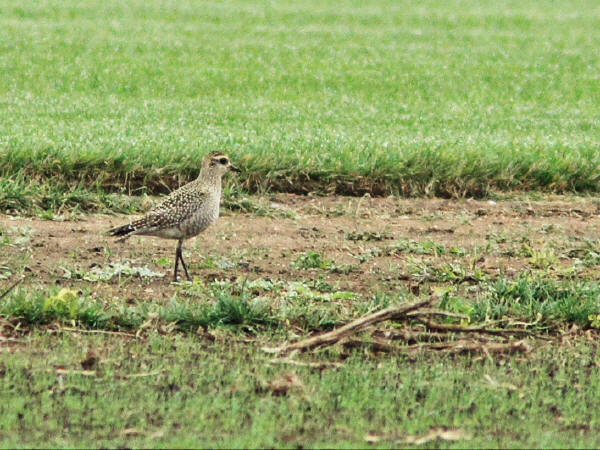 American Golden-Plover photo courtesy Ken Schneider
---
Chris Mussachio on 9/25 reported via e-mail: Spotted this flock (if that's what its called) of American White Pelicans in West Dundee.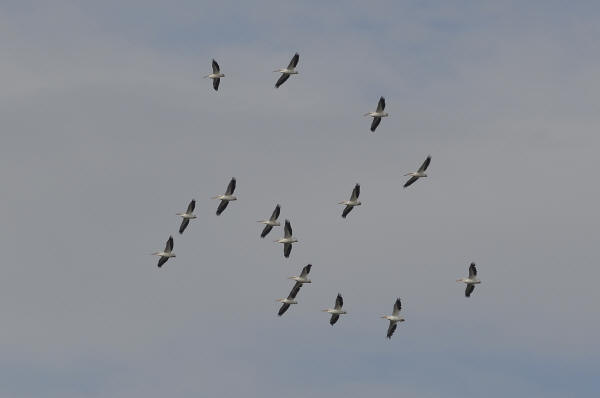 American White Pelicans photo courtesy Chris Mussachio
---
Sue Wagoner on 9/24 reported via e-mail: While working in my garden this morning, this Blackpoll Warbler almost flew into me! It stayed awhile working my shrubs. Also in my yard a (Yellow) American Redstart that stayed for at least 3 hours... sometimes it's good to have a "buggy" yard!

The butterfly was seen at Big Rock Forest Preserve... it is most likely a Clouded Sulphur (female because there are yellow dots in the black edges of the wings)-- there were many! (I probably snapped about 100 shots to get this one!!)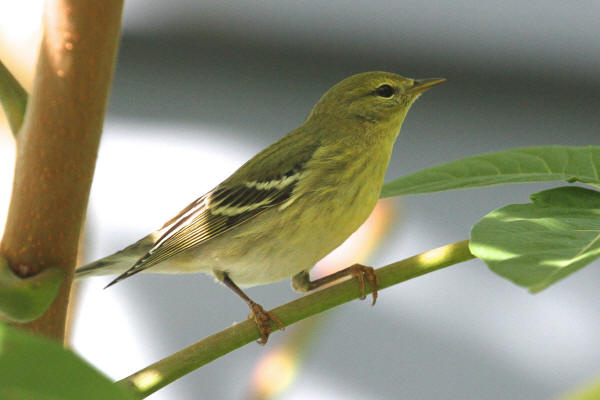 Blackpoll Warbler photo courtesy Sue Wagoner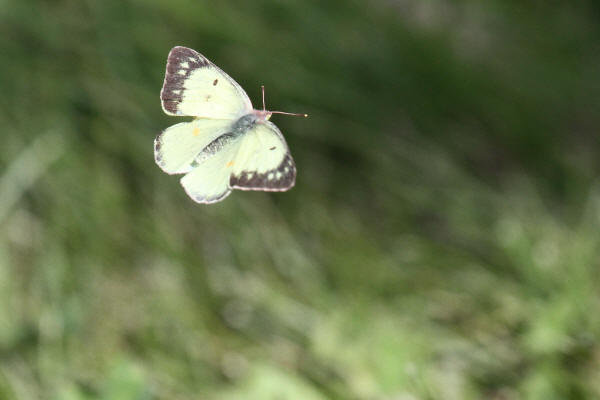 Clouded Sulphur Butterfly photo courtesy Sue Wagoner
---
Jon Duerr on 9/23 reported via e-mail: Joy guesstimated 2300 Chimney Swifts entering the Marberry Cleaners chimney this evening in St. Charles! We got there at 6:55 and only found 15-20 high flying Swifts. As we watched they keep coming from all directions. They were all in by 7:14!!
---
Ken Schneider on 9/23 reported via e-mail: Had 31 species plus an unidentified Empid this morning at the east side of Nelson Lake. Documented several views of a Philadelphia Vireo and heard a Rose-breasted Grosbeak singing a full song, and also saw one Swainson's Thrush. Many Yellow-rumped Warblers have arrived, so maybe they are telling me that I got back to Illinois too late for fall migration. There were over 80 American Coots on the lake and I identified one Northern Pintail and two American Wigeons with them. One swimmer looked like a possible grebe or merganser but I could not ID it.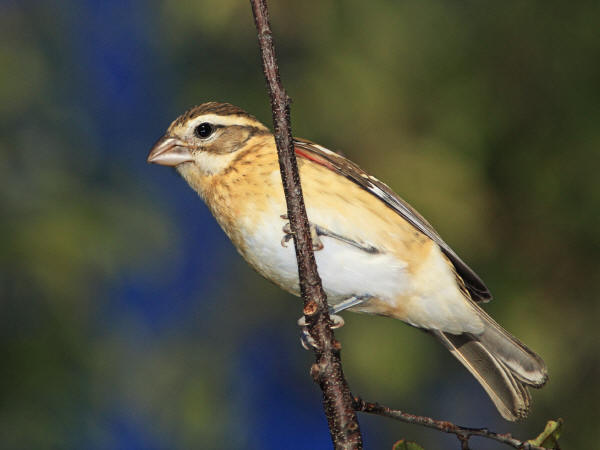 Rose-breasted Grosbeak photo courtesy Ken Schneider
---
Sue Wagoner on 9/23 reported via e-mail: I had an unusual encounter with a Red Fox at the Quarry Park parking lot Monday, 9-21. The fox headed from the pool area to the north parking lot where he stopped and appeared to be marking his territory. After I approached him on foot (going to my nearby car), he remained in the parking lot and would not move, even when I slowly drove toward him and made noise, to make him leave the lot. He appeared unafraid, and perhaps tired, and I wondered if he had been chased from a territory and was looking for his own. Not having much experience with foxes, I could not tell if he was a young one. I wish him luck!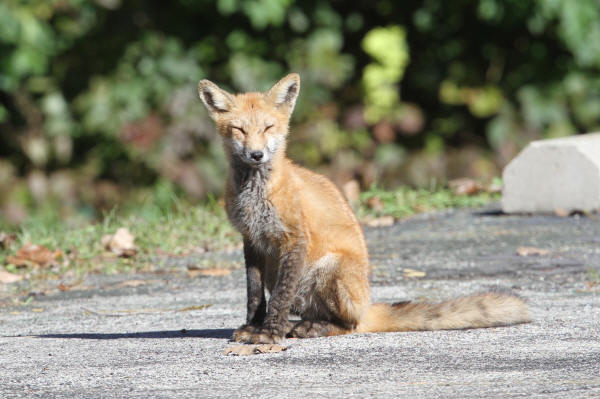 Red Fox photos courtesy Sue Wagoner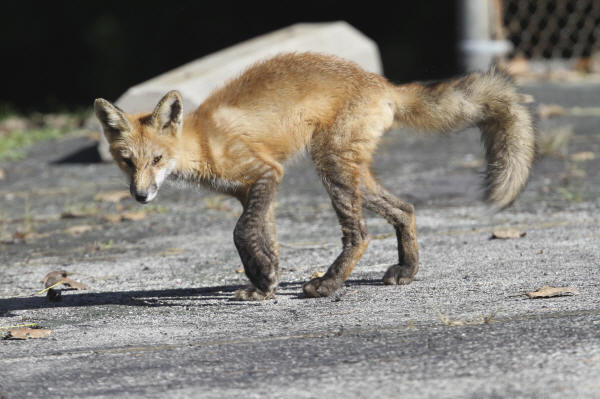 ---
Ken Schneider on 9/23 reported via e-mail: On September 21, while watching Cedar Waxwings among the berry patches at Hawk's Bluff Park in Batavia, I had this Scarlet Tanager pop up out of the foliage only about 10 feet away. Other birds of note were an adult male Yellow-bellied Sapsucker and a problematic warbler that, in the field I thought to be a Tennessee. It was present only for a couple of seconds but my photo shows a face pattern and yellow undertail coverts that suggest it is an Orange-crowned Warbler.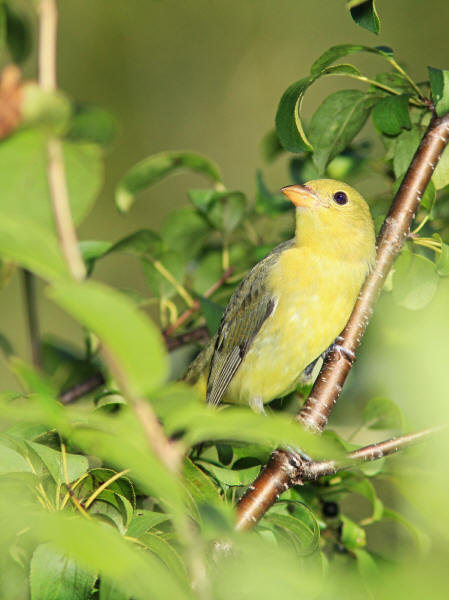 Scarlet Tanager photo courtesy Ken Schneider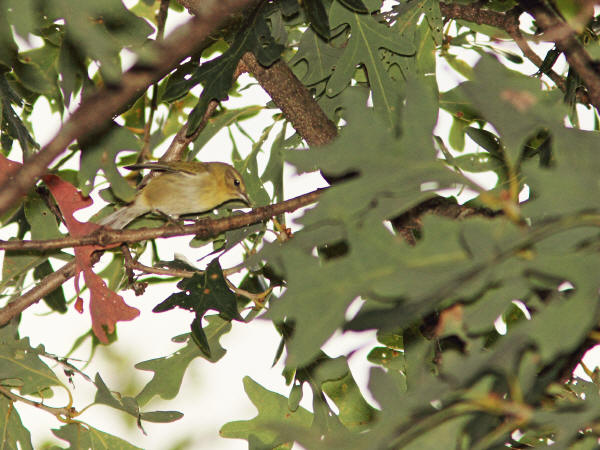 Orange-crowned Warbler photo courtesy Ken Schneider
---
Sue Wagoner on 9/21 reported via e-mail: This American Redstart was providing insect-removal services in my shrubs today (9-21). I have had Redstarts coming through almost daily for the past 10 days or so. Also seen were a couple of Magnolia Warblers and one Tennessee Warbler (working my goldenrod).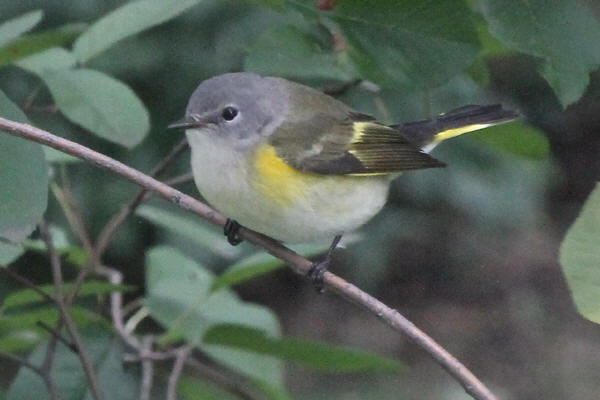 American Redstart photo courtesy Sue Wagoner
---
Walter Lutz on 9/20 reported via eBird: Finding a Monk Parakeet in his neighborhood in Elgin.
---
Wes Sadler on 9/19 reported via e-mail: Warbler numbers were low this morning at Oakhurst Forest Preserve the best bird of the outing was a Connecticut Warbler.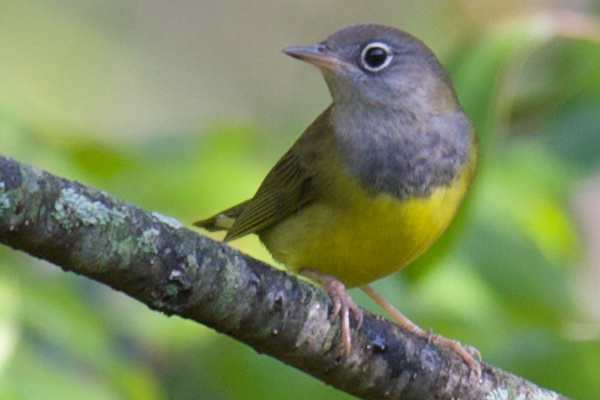 Connecticut Warbler photo courtesy Wes Sadler
---
Diane Hansen on 9/19 reported via e-mail: I made my usual stop above the South Elgin dam before and after Jazzercise Monday and Wednesday mornings. Having seen an immature Bald Eagle Monday I was hoping for another look on Wednesday if it was still around but instead of an eagle there was an Osprey in a far off tree. As I watched the osprey a singe hawk flew in and continued going higher and higher to eventually join in a group of about a dozen others with a couple Turkey Vultures mixed in. I had never seen a group like this before but realized from the mention of the Broad Winged Hawks from yesterday that this must be a small group of them. So much to learn. My next challenge is to hopefully be a better warbler spotter than I was this spring!
Another sighting yesterday right at the Elgin dam was 1 adult and 2 juvenile Black Crowned Night Herons. First time I have seen one there.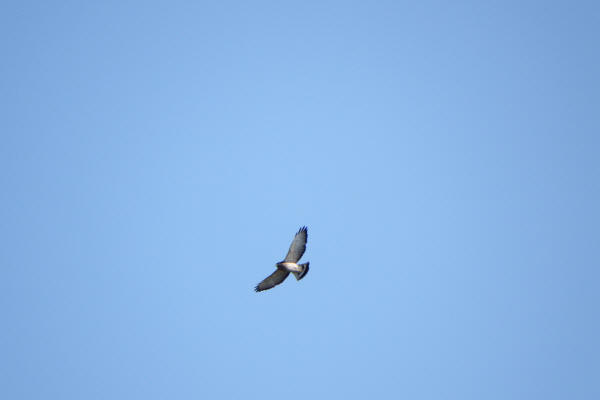 Broad-winged Hawk photo courtesy Diane Hansen
---
Ken Schneider on 9/18 reported via e-mail: It was hazy but wonderfully cool this morning at Lippold Park. Having just arrived from Florida I hoped to see some warblers, but only ID'd one Tennessee, a couple of "Yellowstarts" and a Nashville. Lots of Cedar Waxwings. A Cooper's Hawk cut one of them out of a flock and almost caught it before it somehow made its way back into the flock. Saw two Lincoln's Sparrows, several White-throated and many Song Sparrows.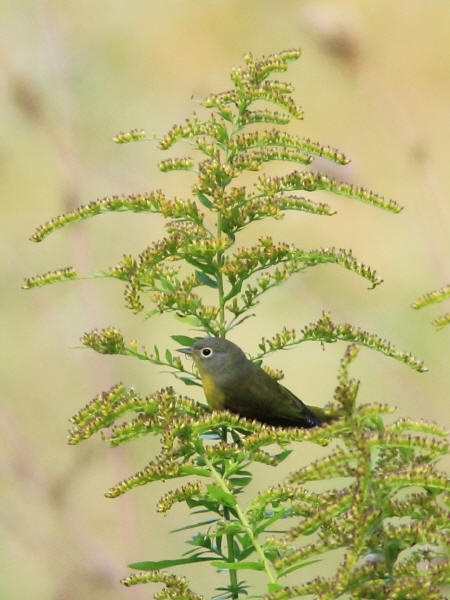 Nashville Warbler photo courtesy Ken Schneider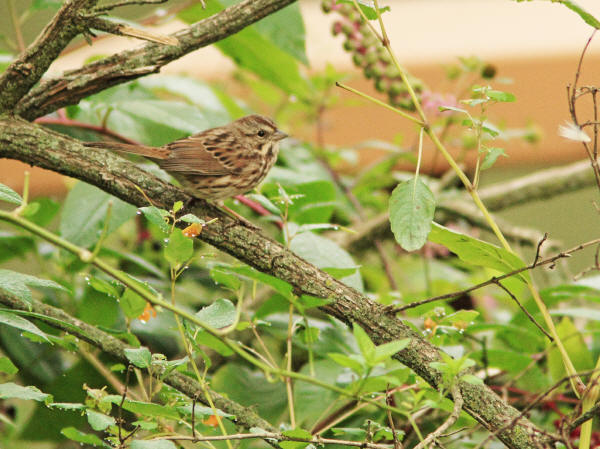 Song Sparrow photo courtesy Ken Schneider
---
Bob Andrini on 9/18 reported via e-mail: Yesterday the Rufous was continually being chased by a Ruby-throated Hummingbird, and not sighted later in the day. This morning, it has not been observed (I'll post if it is seen again). But keep your eyes on the skies - yesterday those looking for the Rufous were treated with at least 300 Broad-winged Hawks (3 separate groups of about 100) passed right over our house. They were very low.
So keep alert and look up for hawks on their way south.
---
Chris Madsen on 9/14 reported: Kathy and Bob Andrini yesterday kindly hosted a steady trickle of people, who came to see the vagrant Rufous Hummingbird that has been frequenting their hummer feeders.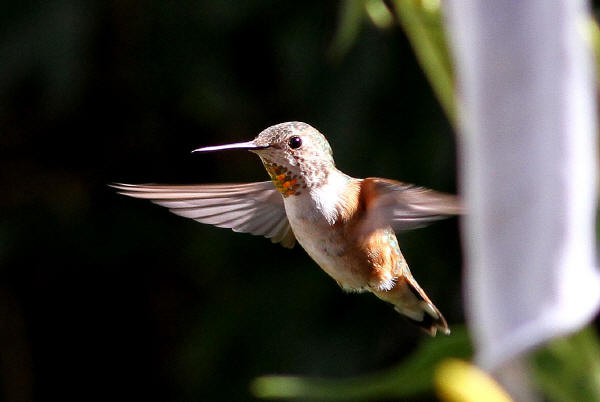 Rufous Hummingbird photo courtesy Chris Madsen
---
Jon Duerr on 9/13 reported via e-mail: A nice warbler day on Saturday on the KCA walk at LeRoy Oakes Forest Preserve produced 10 species including:

2 Ovenbird
1 Blue-winged Warbler
3 Golden-winged Warbler
4 Black-and-white Warbler
7 Tennessee Warbler
1 Nashville Warbler
10 American Redstart
1 Magnolia Warbler
1 Chestnut-sided Warbler
2 Black-throated Green Warbler
The group also saw 14(!) Red-eyed Vireos.
---
Bob Andrini on 9/12 reported via e-mail: Late this afternoon we had a very special surprise at our hummingbird feeders - a Rufous Hummingbird! They have been see in past years in our area, but I don't think they have appeared this early. I will post tomorrow if the bird keeps coming around.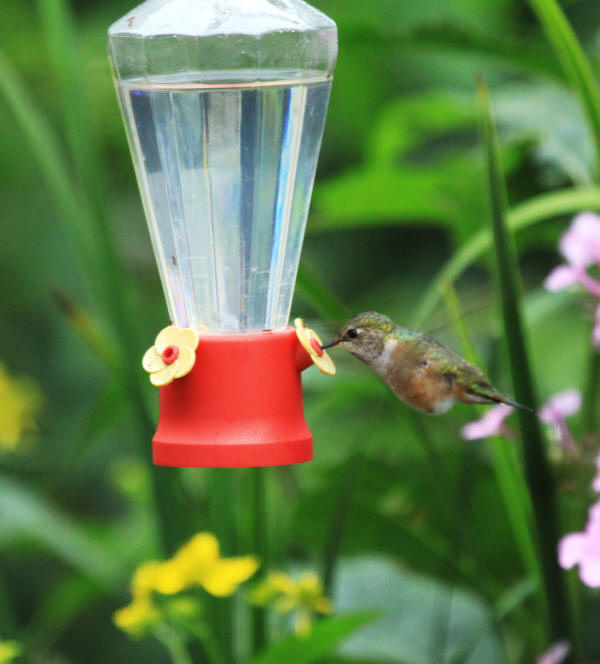 Rufous Hummingbird photo courtesy Bob Andrini
---
Rich Miller on 9/12 reported via e-mail: Yesterday Marion and I braved the unseasonably cool weather at Les Arends figuring that the trees would be dripping with Warblers, but unfortunately, we only had a few pockets of birds moving through. Warblers seen were; Black-Throated Green, Black-and-White, American Redstarts, Ovenbird, Chestnut-sided, Magnolia, and Tennessee. Many Cedar Waxwings. Time to break out the winter gear.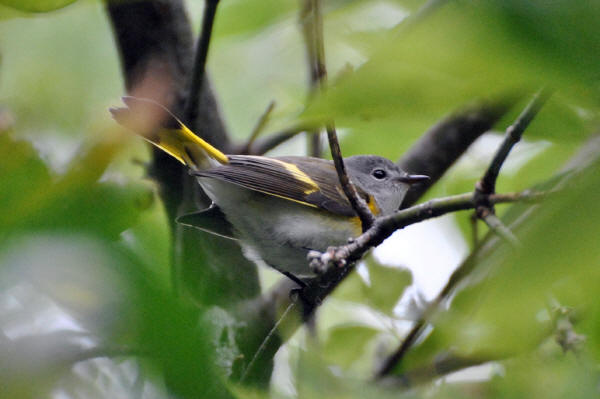 American Redstart photo courtesy Rich Miller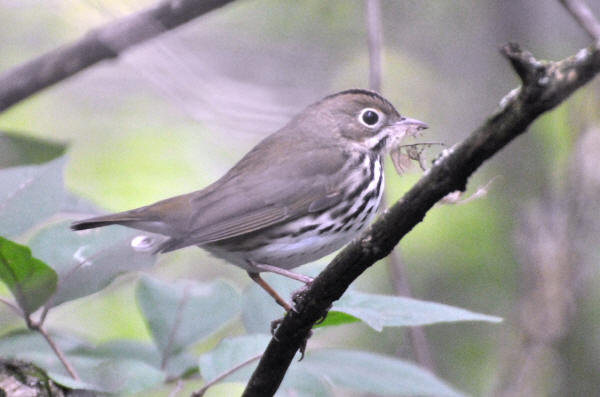 Ovenbird photo courtesy Rich Miller
---
Sue Wagoner on 9/10 reported via e-mail: While watching the immature Yellow-Crowned Night Heron at Fermilab yesterday (Sept. 9), Gloria Dimoplon, Debbie Wisser and Margaret Mechtenberg saw this immature Black-Crowned Night Heron fly in and conveniently land in a tree overlooking the pond with the Yellow-Crowned. Good opportunity to compare morphology, when compared with the Yellow-Crowned shaking its feathers.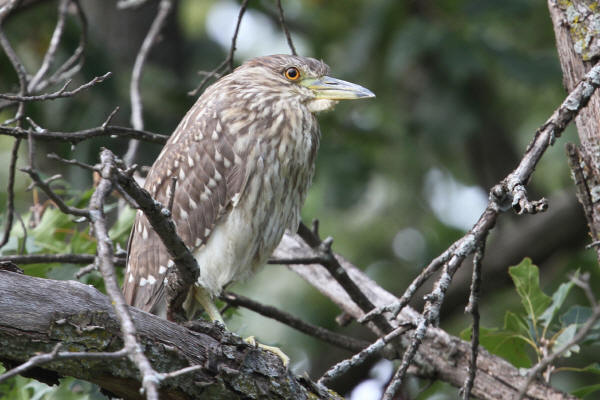 Black-crowned Night-Heron photo courtesy Sue Wagoner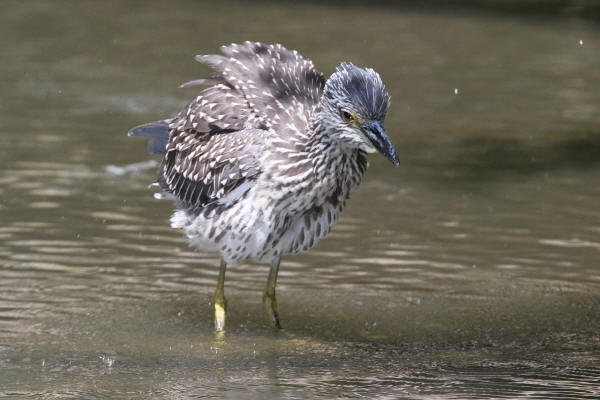 Yellow-crowned Night-heron photo courtesy Sue Wagoner
---
Ed and Trudy Vedral on 9/9 reported via e-mail: Today Trudy saw a Junco on our patio, the first of this season. Hummingbirds are still here too and most of them are fat. We are in Campton Hills, between Campton Hills Road and Rt 64. This year the chipmunks have eaten at least 60% of the bird seed that we put out and that includes the corn for the Pheasants. The male Pheasant has been around, although he has been quiet. We haven't seen the females since April or May.
---
Marion Miller on 9/8 reported via e-mail: I keep waiting for the real photographers to send you good pics, but if it doesn't happen, here is one of the Yellow-crowned Night-heron at Fermi, Kane County side on Sunday 9-7.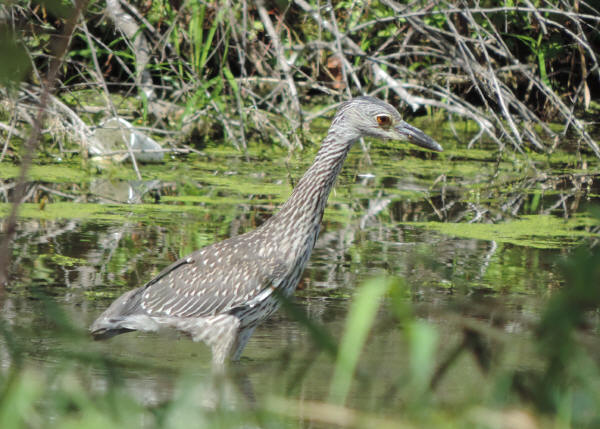 Yellow-crowned Night -Heron photo courtesy Marion Miller
---
Julie Long on 9/8 reported via e-mail: There was a Connecticut warbler hopping around in my Joe Pye weed and woodland sunflowers in my yard this morning in the Wild Rose part of St Charles. Unfortunately it did not want to have its picture taken and moved too quickly and was in and out of the foliage.
---
Brendon Lake on 9/7 reported via IBET: Hey all, the Yellow-Crowned Night-Heron was still being observed in the creek corridor where it had been seen when I arrived at 6:40pm. I watched it for a little over an hour, in that time it hunted along the banks, once with an adult Black-Crowned Night-Heron in the same binocular view. It was in DuPage County for most of the time I was there, but at 7:36pm, the bird took flight, briefly entering Kane County, and disappeared behind some trees after circling over the reeds once. By this time, it was too dark to continue observing, so I left.
---
George Lada on 9/7 reported via e-mail: Saw an osprey along the Fox River at Ferson Creek, eating what appeared to be a smallmouth bass, high up in a dead tree. I was fishing in my kayak at the time and observed it for at least 15 minutes. Sunday, 9/7/2014 at approximately 10:00am.
---
Glenn Perrricone, Marion Miller, Jude Vickery, Andrew Aldrich, Scott Cohrs on 9/7 reported via eBird: A Yellow-crowned Night-Heron in the Kane County portion of Fermilab to the west of Wilson Hall.
---
Eric & Sally Secker on 9/6 reported via IBET: Here's my list from a short walk at Judson this morning in Elgin, IL. We had 13 species of warblers and a fair mix of other birds.

2014-09-06 08:05
Judson University
Protocol: Traveling
1 Miles
60 Minutes
Observers: 2
All birds reported? Yes

2 Canada Goose
6 Wood Duck
4 Mallard
2 Great Blue Heron
1 Great Egret
1 Green Heron
1 Bald Eagle
1 Killdeer
1 Solitary Sandpiper
2 Ring-billed Gull
2 Mourning Dove
1 Red-bellied Woodpecker
3 Downy Woodpecker
1 Hairy Woodpecker
1 Northern Flicker
1 Warbling Vireo
2 Red-eyed Vireo
3 Black-capped Chickadee
1 White-breasted Nuthatch
1 House Wren
1 Blue-gray Gnatcatcher
2 Wood Thrush
6 American Robin
2 Gray Catbird
14 Cedar Waxwing
1 Ovenbird
3 Golden-winged Warbler
2 Black-and-white Warbler
27 Tennessee Warbler
1 Nashville Warbler
1 Common Yellowthroat
6 American Redstart
3 Magnolia Warbler
1 Bay-breasted Warbler
1 Blackburnian Warbler
2 Chestnut-sided Warbler
2 Blackpoll Warbler
1 Black-throated Green Warbler
3 Song Sparrow
1 Scarlet Tanager
1 Northern Cardinal
9 Rose-breasted Grosbeak
2 Common Grackle
1 Baltimore Oriole
2 American Goldfinch
8 House Sparrow
---
Jon Duerr on 9/6 reported via e-mail: Last night we discovered a large flock of Swifts using the chimney at the Trinity Vineyard Church (7th Ave and Walnut Ave in St. Charles). They are also still at 5th and Main. Interesting, these 2 chimneys are only a block apart. The combined flock is larger than the flock seen earlier at Thompson Middle School.
---
Marion Miller on 9/4 reported via e-mail: Just an FYI. Thursday evening I counted 541, yes I'm sure there was that one, chimney swifts going in to the chimney behind limestone Cafť in Batavia. the address is 8 West Wilson St. The majority went in between 7:35 and 7:45. Also had three nighthawks present.
---
Chris Mussachio on 9/3 reported via e-mail: Carpentersville is now Woodpecker Woods. I saw 1 pair of adult Red-Headed Woodpeckers, 2 juvenile red-headed woodpeckers and at least 5 juvenile Northern Flickers at one time. They were having a ball.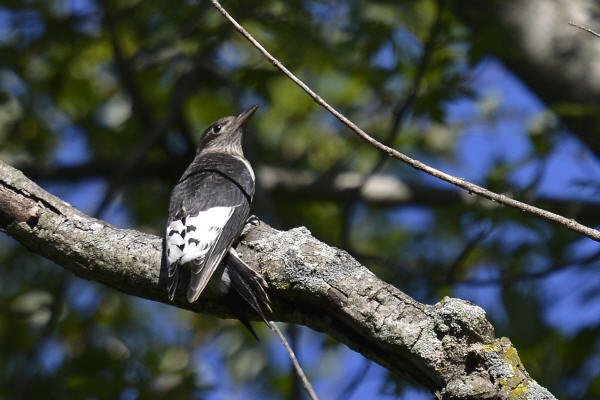 Juvenile Red-headed Woodpecker courtesy Chris Mussachio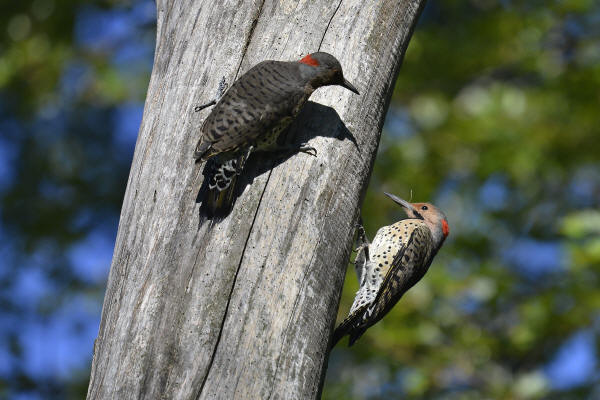 Northern Flickers photo courtesy Chris Mussachio
---
Debbie Wisser on 9/2 reported via e-mail: I took a walk today starting at Jon J Duerr then out to the Fox River Trail north and back. On the river, were 2 Green Heron, 2 Great Blue Herons, and a Great Egret. Also seen was a female Common Merganser. This is possibly the female of a pair that has been seen on and off during the summer. There were two small groups of warblers out on the trail on each side of the Stearns Road bridge. I saw Tennessee and Black-and-white in these groups. As I was finishing my walk back at Jon J Duerr, there was a larger group of warblers that were very active. The highlight of this group was a male Black-throated Blue Warbler! Chestnut-sided Warblers, Golden-winged Warblers, and Magnolia Warblers, American Redstarts, more Tennessee and Black-and-white were seen as well. I'm sure I missed some due to the leaves.
---
Brendon Lake on 9/1 reported via e-mail: Hey all! After seeing that the fluddles on Meredith Road, just south of Route 38, were productive yesterday with 7 species of shorebird, I checked them again today. Once again it was the fluddle furthest to the south that was most productive, as the other fluddle had only Killdeer. The second fluddle had 8 species of shorebird this afternoon.

Short-Billed Dowitcher- 2 (continuing)
Killdeer
Semipalmated Plover- 1
Least Sandpiper
Pectoral Sandpiper- increased numbers, 10-15
Semipalmated Sandpiper
Solitary Sandpiper
Lesser Yellowlegs

The second fluddle (the one furthest south) has a tendency to dry up faster and more completely than the first fluddle. The difference wasn't subtle today, so I assume this fluddle will only be good for the next 2 days without any measurable rainfall. However, the first fluddle holds water longer, and is where I normally find the best diversity. That fluddle may be ideal for the next 3-6 days.

Spent some time at the South Elgin Dam on the Fox River this afternoon, where 2 Black-Crowned Night-Herons (1 adult, 1 immature) a flyover Osprey and an adult Herring Gull were most notable. Gunnar-Anderson Forest Preserve was slower today, with only Magnolia and Chestnut-Sided Warblers (1 each) as notable sightings.
---