---
Jon Duerr on 9/30 reported via eBird: 450 Chimney Swifts continue at the Marberry Cleaners chimney in St. Charles on 9/29. All were safely tucked away by 7:04 PM.
---
Julie Long on 9/28 reported via IBET: I just had a wonderful visit from ten Tennessee warblers plus a Nashville and two Black throated green warblers in my St Charles yard. They were very close to me when they were feeding on insects on the native Drummonds asters under my kitchen window. But then they enmasse decided to bathe in the very small waterfall area of our small pond just beneath our windows. I wish I could have taken better photos through glass.

The birds have also been feeding heavily in our native hackberry and hawthorne trees in our yard.

The birds obviously found many insects in the native plants. Consequently I would like to encourage all of you to consider planting some natives in your yards also. Do it for the birds.
---
Jason Newton on 9/27 reported via eBird: Spotting a Buff-breasted Sandpiper at Dunteman Sod Farm at 5:30.
---
Justin Wrinn on 9/27 reported via IBET: Same flock of pipits still present at 2pm this afternoon [at Dunteman Sod Farm], joined by about 40 Horned Larks. Today they were in the south half of the dirt field close to Main. They are staying on the dry side of the irrigator. A lot of geese milling around, but couldn't find the Snow Goose reported yesterday evening.
---
Allen Yow on 9/27 reported via IBET: A good number of Marsh Wrens and several Great Egrets at the marsh at the Hampton Inn in Aurora, Orchard Road.
---
Justin Wrinn on 9/26 reported via IBET: I made a quick stop at Dunteman this afternoon (just the Bateman Rd area). The large fluddle west of Bateman, just south of the farm buildings still has a decent amount of water, but there were ZERO birds of any kind in or near it. I only found one shorebird period, and it was a Killdeer. I did find find a flock of 41 American Pipits right in the middle of the dirt field along the west side of Bateman. Nothing else of note.
---
Marion Miller on 9/25 reported via e-mail: Rich and I did our annual fall walk out to Prairie Green in search of some "good" sparrows. We found one of our two target birds, the Nelson's Sparrow(s). There are most likely at least 2 there. Other notable sightings: Lincoln Sparrow, Common Yellowthroats, Wilson Snipe, Eastern Meadowlarks and Blue-winged Teal. There is a good amount of water in the pond and lots of muddy edges. Paths are not well trodden down around the marshy area so be ready to bushwhack. The Nelson's Sparrow was west of the marsh toward the northern section of the reeds.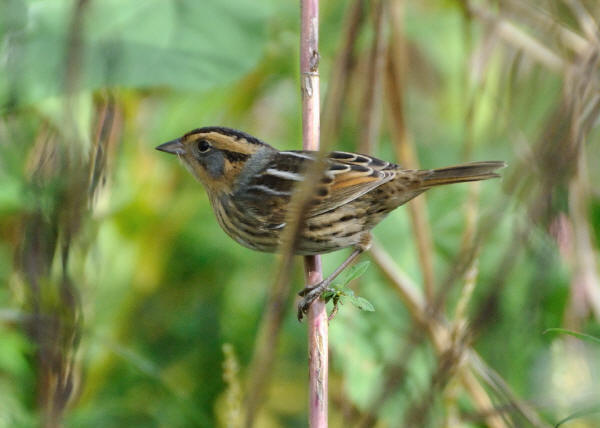 Nelson's Sparrow photo courtesy Marion Miller
---
Justin Wrinn on 9/25 reported via IBET: I had a rather late Henslow's Sparrow at Burnidge this morning. I didn't get a visual, but it was singing for several minutes in the Henslow's breeding habitat in the center of the big field in the NW corner of the park (heard from the mowed path along the east edge of the field). I had one singing in the same location on 9/4, but I am guessing they were two different individuals and both migrants since I have been checking that location almost every morning.

Nothing else rare, but other birds of note included 1 (maybe 2) Woodcock continuing, 1 Marsh Wren, 7 Sedge Wrens (new influx this week), and 1 Pine Warbler. After my big warbler day on Sunday, Burnidge has been almost devoid of warblers this week except for numerous Yellowthroats continuing. I don't know if most of them have moved on or if I just don't have enough daylight in the mornings before work any more.
---
Ken Schneider on 9/24 reportd via e-mail: At the east side of Nelson Lake, we sighted 47 species, including a Merlin that was alternatively pursuing and being chased by a flock of Blue Jays and flickers, a Broad-winged Hawk and a Northern Harrier. Several Yellow-rumped Warblers seem to be saying "that's all, folks!," although there were a few American Redstarts, Tennessee Warblers, a Magnolia and a B&W Warbler. At the muddy spot where the small creek crosses the trail, I caught sight of my first Lincoln's Sparrow of the season. It posed nicely for a few seconds. Saw one Chestnut-sided Warbler female but did get a good photo of a male at Nelson Lake on September 16. Back home to Florida this weekend with nice memories of cool morning walks and fall migration!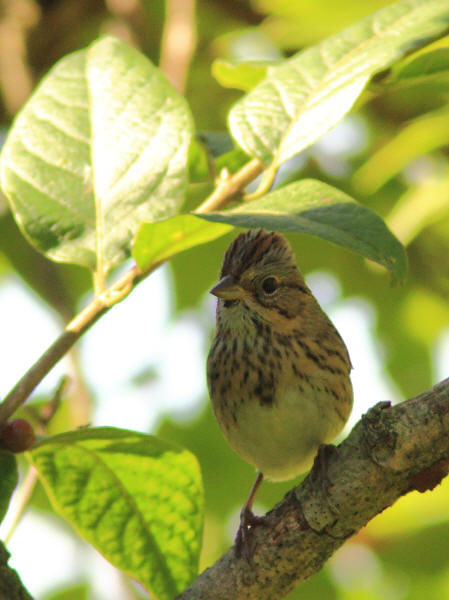 Lincoln's Sparrow photo courtesy Ken Schneider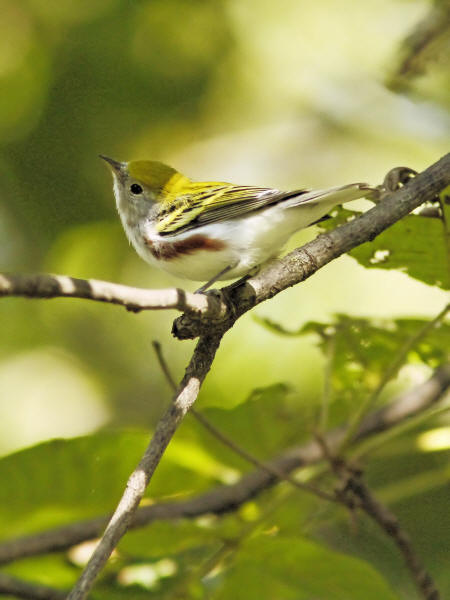 Chestnut-sided Warbler photo courtesy Ken Schneider
---
Jon Duerr on 9/23 reported via e-mail: We went to the Bluff City chimney in Elgin tonight. The Chimney Swifts were all in by 7:11. The pattern of entry is different than at Marberry's chimney in St. Charles. The birds are much higher before entry in Elgin and they drop directly into chimney, many more at one time. Once started Elgin is finished faster than St.Charles with more birds in the flock. The chimney in Elgin is higher and I think wider. No Merlin Monday or tonight.
---
Chris and Jackie Bowman on 9/20 reported via e-mail: We spent a few hours strolling through Gunnar Anderson and Fabyan Forest Preserves today. Highlights included: Northern Parula, Black-throated Green, Tennessee, Yellow-rumped & Nashville Warblers, Swainson Thrush, and Yellow-throated Vireo.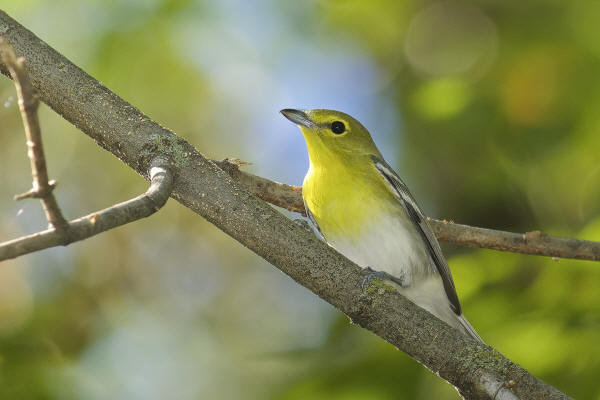 Yellow-throated Vireo courtesy Jackie Bowman
---
Justin Wrinn on 9/20 reported via IBET: I spent almost 8 hours at Burnidge today enjoying the beautiful weather and 81 species of birds. I didn't add anything new to my site list, but there were still a lot of goodies that fell out of the sky last night, including several FOS for me (Sharp-shinned Hawk, Yellow-bellied Sapsucker, Ruby-crowned Kinglet, Dark-eyed Junco, Purple Finch). I also had 15 species of warblers:

Golden-winged (1)
Black-and-white (1)
Tennessee (4)
Orange-crowned (1)
Nashville (2)
Yellowthroat (28)
Redstart (7)
Northern Parula (1)
Magnolia (3)
Bay-breasted (3)
Blackpoll (1)
Black-throated Blue (1)
Palm (1)
Yellow-rumped (6)
Black-throated Green (3)
Also worth noting, the rain Friday night covered up most of the mudflats on the lake, so shorebird quantity and variety were way down (just a few Lesser Yellowlegs, Solitary Sandpipers, and Killdeer). There are also still a couple of Woodcocks hanging around - I have been seeing them regularly about 30 min. before sunrise near the west entrance parking lot, either flying back into the woods for the day or flushing from the road or the mowed path that heads north from the road opposite the parking lot.

Full list of birds is here.


Notable birds I had yesterday but not today at Burnidge were an adult Bald Eagle soaring around near the west entrance and FOS Lincoln's Sparrow.
---
Joan Norek on 9/19 reported via eBird: Seeing at about mid-day, 2 Buff-breasted Sandpipers at Dunteman Sod Farm in Kaneville.
---
Debbie Wisser on 9/14 reported via e-mail: Today at Burnidge, I was treated to the sight of a kettle of about 70 Broad-winged Hawks overhead. Smaller migrants were few and far between, but I did see a couple of Ovenbirds, a Black-throated Blue (male), Chestnut-sided Warbler, Nashville, and Tennessee Warblers.
---
Vera Miller on 9/13 reported via IBET: We checked out Dunteman Turf Farm today at 4 pm. No Buffies were around, but there were instead five AMERICAN GOLDEN-PLOVERs feeding together on a slight rise in the field north of Main Street and just east of Merrill Road. One still had some black below and on the face, which was a treat to see.

We also watched a distant probable SHARP-SHINNED HAWK that was circling high near the farm, then suddenly stooped on and caught a bird (starling?) and flew into the bushes with it. I just read that supposedly they don't hunt this way... but this bird did! (definitely accipiter, Cooper's or Sharpie)
---
Justin Wrinn on 9/12 reported via IBET: Apparently there is size overlap between female Cooper's Hawk and male Goshawk. Because of that and being very early for a Goshawk, eBird isn't going to accept my sighting (or the one reported by others at Fermilab last month). I still believe it was a Goshawk, but I am going to change it to Accipiter sp. as requested. This underscores the importance of trying to get photos of unusual sightings.
---
Justin Wrinn on 9/11 reported via eBird: Seeing a Northern Goshawk at Burnidge Forest Preserve Friday morning: "Immature. Large accipiter with brown back mottled with white, long brown tail with thick blackish bands and rounded tip, light breast with heavy vertical brown streaking, and brownish head with very noticeable white or pale supercilium. Seen chasing Cooper's Hawk over the west entrance lake (NE corner of lake), then landed in a tree maybe 150 feet away from me and allowed decent binocular views for several minutes until it flew off while I was checking info on my phone. It was considerably larger and bulkier than the Cooper's, much too large to be a Harrier, plus the profile was basically the same as the Cooper's, not so long winged relative to body size like a Harrier. It was also too large and too long-tailed for Red-shouldered Hawk or Broad-winged Hawk. The smaller bird was definitely a Cooper's - there is a resident Cooper's that I see often and am very familier with the size and shape. An immature Goshawk was also reported at Fermilab late last month, although apparently the record hasn't been accepted by eBird. Unable to get photos (was pouring rain when I got there, so I left my camera in the car), and unable to relocate it this evening."
---
Ken Schneider on 9/9 reported via e-mail: This morning at Bliss Woods Mary Lou and I sighted one Osprey circling overhead and moving away towards the south. A Red-headed Woodpecker perched atop the tallest bare tree near the foot bridge. Later, an Olive-sided Flycatcher appeared on the same tree. Light was harsh and we had trouble identifying a few warblers, though there were several American Redstarts, a Nashville, at least one Magnolia, a few Tennessee and Black-and-White Warblers. Also saw one Eastern Bluebird.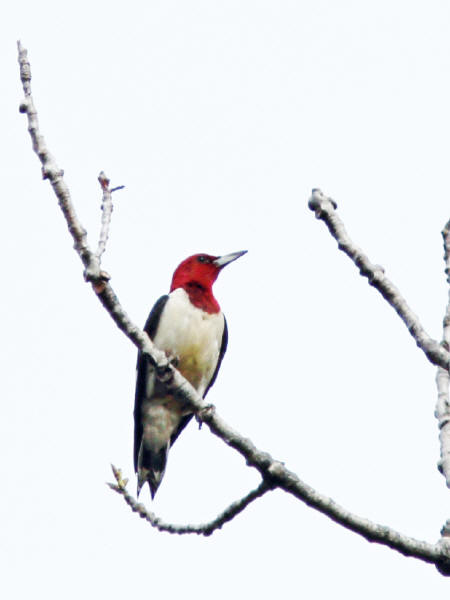 Red-headed Woodpecker photo courtesy Ken Schneider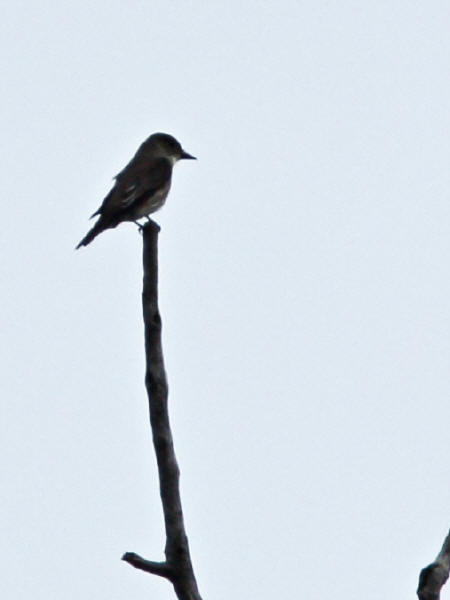 Olive-sided Flycatcher photo courtesy Ken Schneider
---
Dan Swendsen on 9/7 reported via e-mail: On the morning of Monday Sept. 7, 2015 at approximately 8:30 a.m. three Anhingas, two male one female were on the fox river in St. Charles between the Prairie St bridge to the south and the footbridge to the north...Two of us observed these birds for more than 20 minutes, with good quality 7x50 binoculars, and were not more than 50 feet from the birds. Living along the river, we are very familiar with the double-crested cormorant. These were definitely not cormorants. The female, while having the tawny brown neck and breast, had a sharp delineation to its black belly. The upper surface of the males' wings were silvery-gray. They had long tails and thin, sharp-pointed beaks (not hooked, or thick at the tip).
Unfortunately, we do not have photographs of the birds...We became convinced of what we were seeing after exploring...the difference between a cormorant and anhinga (referring to the Audubon Field Guide among other sources). The birds were scared off by a canoe and have not, as yet, returned.
---
Justin Wrinn on 9/7 reported via IBET: I spent 26+ hours of my holiday weekend birding Burnidge Friday through Monday and came up with exactly 100 species. I was helped by the west entrance lake starting to dry up and now having a fairly extensive mudflat that had quite a few shorebirds today. Below are a few highlights:

-Sora (high count of 3 Saturday and today)

-7 Shorebird Species, all of which were seen today (Killdeer, Spotted SP, Solitary SP, Lesser Yellowlegs, Baird's SP, Least SP, Pectoral SP) - they are mostly towards the back side of the lake, so a scope is recommended

-Both cuckoo's including at least 3 Yellow-billed today, all in different locations

-6 Vireo Species (White-eyed, Bell's, Yellow-throated, Blue-headed, Warbling, Red-eyed)

-17 Warbler Species (I won't list them all, but highlights were Connecticut and Black-throated Blue today plus a humerous coincidence yesterday where Nashville and a Tennessee were alone together in the same tree)

-Brewer's Blackbird - one seen along the north edge of the large field in the NW corner of the park, same location where I saw one a week or two ago, so probably the same individual
---
Marion Miller on 9/5 reported via eBird: Thirty-eight people turned out for her announced "Chimney Swift sit" on Bluff City Blvd. in Elgin. The group was treated to the sight of an estimated 2,500 Chimney Swifts entering a single chimney. And 2 Common Nighthawks and a Merlin.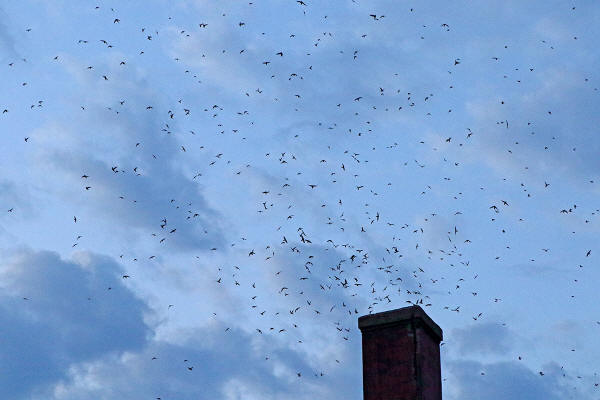 Chimney Swifts at Bluff City Blvd. chimney photo courtesy Gordon Garcia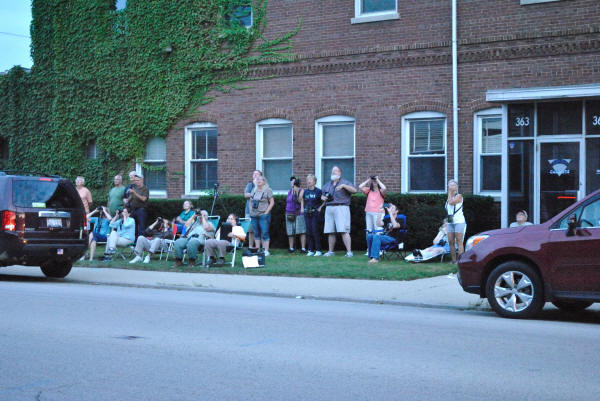 Some of the crowd at the Chimney Swift Sit. Photo courtesy Rich Miller
---
Eric Secker on 9/4 reported via IBET: A couple nice birds this week at Judson University in Elgin. On Wednesday the highlight was an immature Black-crowned Night-Heron that flew in and was looking for fish in Tyler Creek.

Today I also had nice close looks at a Merlin perched in the half dead willow tree on the point down by the Fox River.

Shorebirds have also been present but nothing unusual. Best are some Least and Semipalmated Sandpipers. I did have one Baird's a couple weeks ago but it didn't stay long.
---
Walter Lutz on 9/2 reported via e-mail: My wife & I went to see the Chimney Swifts at Bluff City Boulevard (NE corner of Bluff City Blvd & Raymond St.) in Elgin that Marion Miller reported on eBird on September 1st. It was quite a sight. The action starts about 7:30 pm and lasts till about 7:58. I would estimate easily 2,300. You can park on the south side of Bluff City just east of Raymond and get a clear view of the tall chimney. Definitely recommended.
---
Justin Wrinn on 9/2 reported via IBET: I ran into Pete Moxon on my way to Dunteman this evening. I found out the Red Knot had been seen in the small fluddle along Bateman Rd. just south of the semi-abandoned farm buildings. He had gotten there around 2:30 I believe. And apparently shortly thereafter a Peregrine Falcon flushed all the birds in the fluddle including what may have been the knot before he got a good look at it. Long story short, it did not return from then until when I left around sunset (there was at least one person there the whole time). Hopefully it will turn up again tomorrow.
As a consolation prize, I saw 9 American Golden-Plovers and 4 Buff-breasted Sandpipers (thanks to Jason Newton for pointing them out right after I arrived) in the far NE field between Bateman Rd. and I-88. All of the Golden-Plovers were still largely in breeding plumage, and none of them looked like a good candidate for the Black-bellied Plover that was seen earlier today.
---
Julie Long and Tim Balassie on 9/2 reported via eBird: Seeing a Red Knot in a fluddle at Dunteman Sod Farm in Kaneville. Their description: "Plump bird. Size of killdeer. Transition plumage brownish gray. Bill shorter than dowitchers. In the water so couldn't see the legs. Whitish breast when it flew. Head lighter than dowitchers." They also reported seeing 4 American Golden-Plovers, a Black-bellied Plover, 2 Semipalmated Plovers, and 3 Buff-breasted Sandpipers.
---
Justin Wrinn on 9/1 reported via IBET: This is mainly of local interest only, but Brendan Lake found 3 immature Redheads at Burnidge this morning, on the lake near the west entrance. Since this is the first eBird record for Burnidge and also a little early in the season for Redheads, I stopped by on my way home from work in spite of the 90 degree heat and was able to find them right out in the middle of the lake together with some mallards and teal. It's possible to pick them out with binoculars if you know what to look for, but a scope is recommended.
---
Brendon Lake on 9/1 reported via eBird: Seeing 3 Redheads at Burnidge Forest Preserve on Tuesday morning: "A group of three young Redhead ducks, just beginning to develop gray to their backs, and black to their rears. The bills were those of Aythya sp. and just beginning to turn blue from black. Eyes were yellow...."
---
Ken Schneider on 9/1 reported via e-mail: Yesterday morning (August 31) at the north end of Nelson Lake/Dick Young FP a flock of about 10-12 Bobolinks was foraging right next to the pavilion. Also saw two hummingbirds but not any target Dickcissels or Grasshopper Sparrows. Later, in early afternoon during a brief visit to Jones Meadow Park in North Aurora I saw one Marsh Wren.

Bobolink photo courtesy Ken Schneider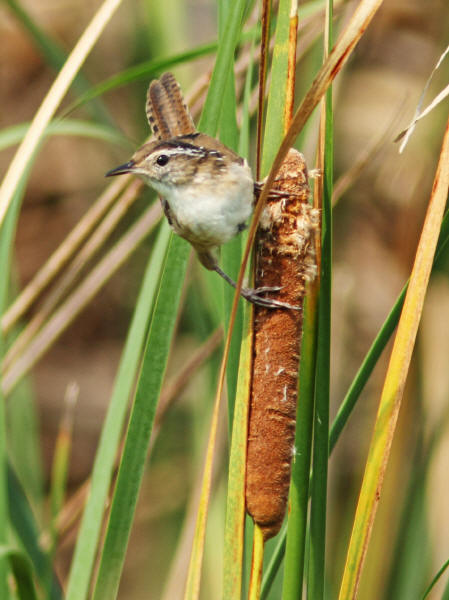 Marsh Wren photo courtesy Ken Schneider
---
Jim Narovec on 9/1 reported via e-mail: Spotted this Coopers Hawk this morning in my Carpentersville front yard waiting patiently for a chipmunk to appear from its tunnel. It left disappointed.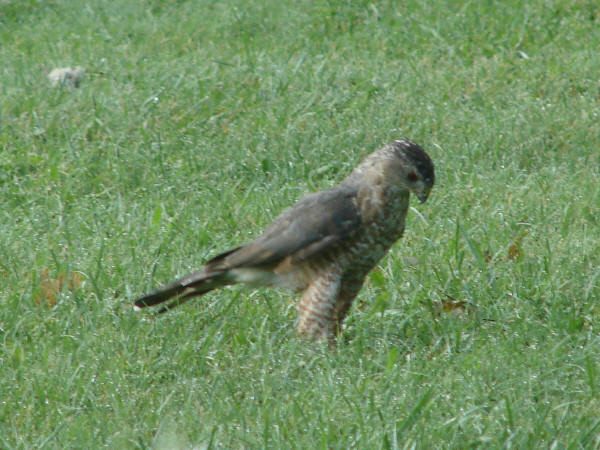 Cooper's Hawk photo courtesy Jim Narovec
---